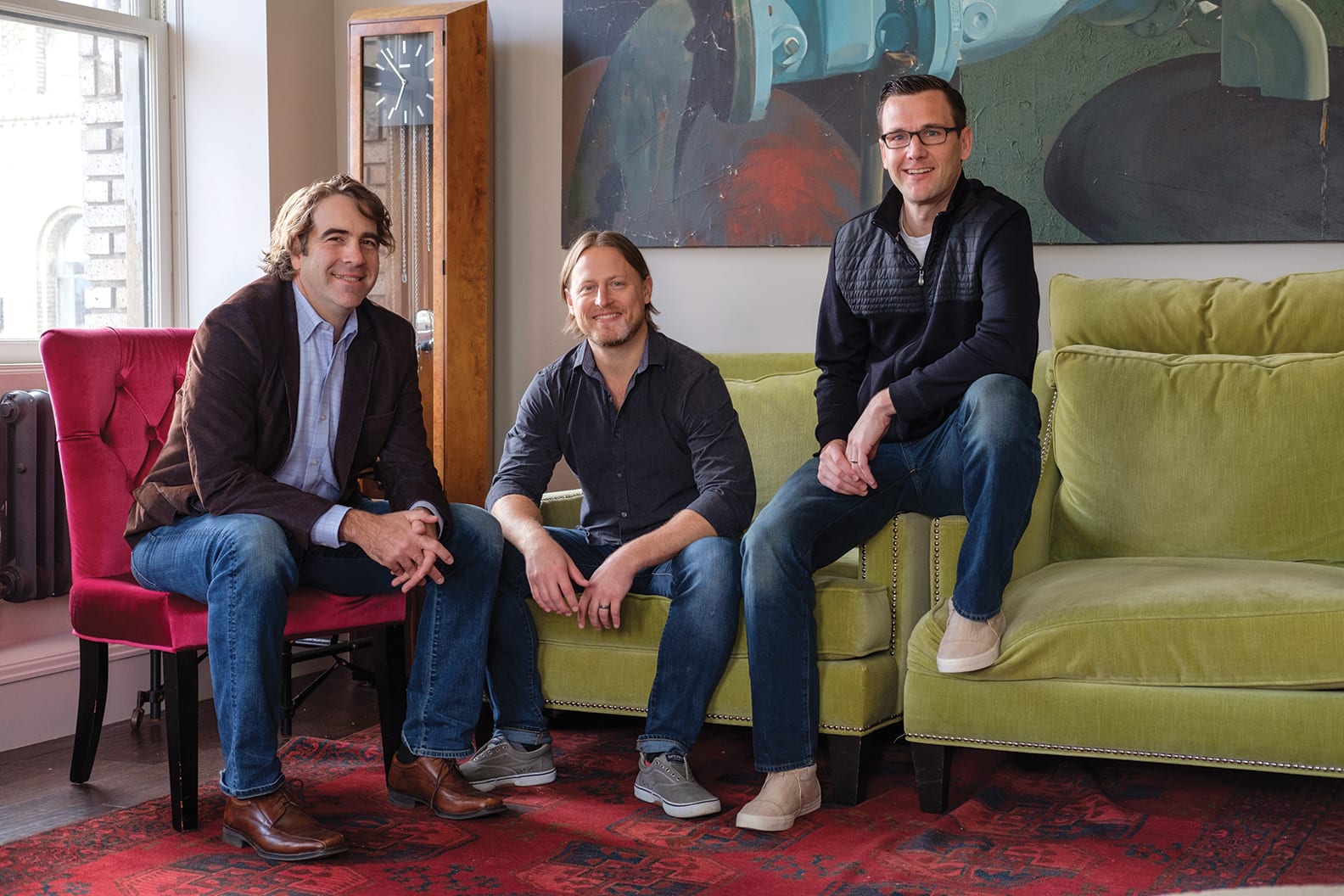 MyVR's founders, from left: Jonathan Murray, Markus Nordvik and Mike Stachowiak, photo courtesy MyVR
02 Dec

MyVR Simplifies the Vacation Rental Business
Startup company provides the tools to empower property managers
Some business adages never get old. For Jonathan Murray, chief executive officer of MyVR, it is this: If you see a void, fill it.
Seven years ago, MyVR co-founders Murray, Michael Stachowiak and Markus Nordvik saw such a void in an absence of easy-to-use software solutions for helping small vacation rental managers and owners manage their businesses.
So they set out to fill that gap, creating MyVR as a San Francisco-based startup that now operates a second location in downtown Reno with a total of 25 employees and counting.
Murray credits MyVR Senior Software Engineer CJ Avilla, who worked for the company remotely from the Reno-Tahoe area, for heightening his awareness of the region and its attractive quality of life compared with the rat race that is the San Francisco Bay Area.
"We thought we had a good thing going with CJ in Reno, and as we got funding and started thinking strategically, Reno became very attractive," Murray says.

Reno's MyVR team, from left: Kevin Poglitsch (support), Dan Collins (sales development), Lindsay Barrett (support), Elise Leben (sales development), CJ Avilla (engineering), Jess Milligan (customer success), George Spark-Stahl (engineering), Phil Hynes (customer succes), Amber Diehl (support) and Alaina McBride (program manager), courtesy MyVR
First, he cites Reno-Tahoe's proximity to the Bay Area: an easy 45-minute flight or, if time allows, about a four-hour drive.
And then there are the intangibles—notably Reno-Tahoe's community energy, a growing factor as new companies, from startups to established names such as Tesla and Switch, plant beachheads in the Reno-Tahoe region. That trend helped shrink the jobless rate in Washoe County, encompassing greater Reno-Sparks, to under 4 percent in 2018 as 12-month job growth swelled by more than 3 percent.
Another key consideration: cost of living, at least compared with the Bay Area. Housing costs rose to record highs in Western Nevada in 2018, as Reno/Sparks Association of Realtors' data showed the median sales price for an existing home in Reno reaching $400,000 last spring before easing a bit by fall.
But even so, that was far below the Bay Area, where in August the nine-county region's median sales price was $860,000, according to real estate data firm CoreLogic.
Murray sees that as an enduring lure for workers seeking a quality-of-life balance with their work.
"Over the next year, I expect Reno's growth to outpace San Francisco's," he says of MyVR's two offices. "Overall, I'm positive and bullish on Reno."
And he points to himself as proof.
"I try to get up there once a month," he says. "I've fallen in love with the area. I'm an outdoorsman. I get a good vibe. Reno's headed in the right direction."
Murray says he sees beyond the established gaming presence in Reno-Sparks to the potential for even more tech-based and other emerging industries in Northern Nevada.
"I've been pleasantly surprised by the energy there," he says. And among the workforce, he cites one key difference between Reno-Tahoe and the Bay Area: commitment.
"We're seeing really talented tech people in the Bay Area, but after a few years they want to start their own business," Murray says. "In Reno, there seems to be more of a focus on developing skills and not jumping to the next thing. There's more of a career path in Reno."
Hence, Reno is a "sweet spot for us," he says, with MyVR now occupying two offices inside the Wells Fargo Building at 200 South Virginia Street in downtown Reno, and potentially more to come in the next year.
MyVR is not their first venture into the startup world. Murray and Stachowiak delved into e-commerce advertising networks and invested in rental companies before they brainstormed new ideas over coffee in 2011.
"We were spending so much of our own time complaining how difficult it was to manage our vacation properties," Murray recalls. "There was a lack of modern software to manage properties, and Mike and I wanted our own website—tools to automate the day-to-day workflow such as information on the areas, return deposits, daily stuff. We researched the industry and got excited."
The deeper they researched, the more intriguing the idea of creating a business became.
"We found this was really big and really broken," Murray says. "We saw the need for back-end technology."
What they created is essentially a "centralized dashboard with a layering of tools," Murray says. "It connects a lot of disconnects. We're solving connectivity issues, whether it's a single property or a property management firm at Lake Tahoe."
The bottom-line value of MyVR, he says, is reducing hassle and time.
"It's not necessarily a sexy thing to sell, but it's important. I may have 12 properties and want to grow but can't add another property. We make that a lot easier," Murray says. For example, he adds, the company can automatically distribute and update property information to major travel websites and keep everything in sync.
It's also a potentially vast, global market—estimated at as much as $100 billion, according to MyVR's website—that fits right into MyVR's backyard: the Reno-Tahoe region where vacation rental properties abound.
"We're largely focused on North America, 90 percent," Murray says. "The challenge is, it's a very fragmented industry. As we start to test local marketing, Tahoe is obvious for us."
He says as costs of online distribution channels rise for property managers seeking to get their rentals before consumers' eyes, so too does the desire to do business directly with travelers, thereby bypassing those channel fees. Murray says MyVR provides customers their own web presence to transact with travelers directly, particularly with repeat customers.
"That's our value proposition," he says. "We like to tell people to take control and build their own brand while they tap into channels for new customers."
So far, Murray says, MyVR has amassed $7.5 million in funding from a variety of sources, notably True Ventures, a Bay Area venture capital firm.
"I don't think we're done fundraising or hiring," he says. "I still feel like we're in the second inning of a nine-inning game. There's so much more evolution to come. I get really excited about the market."