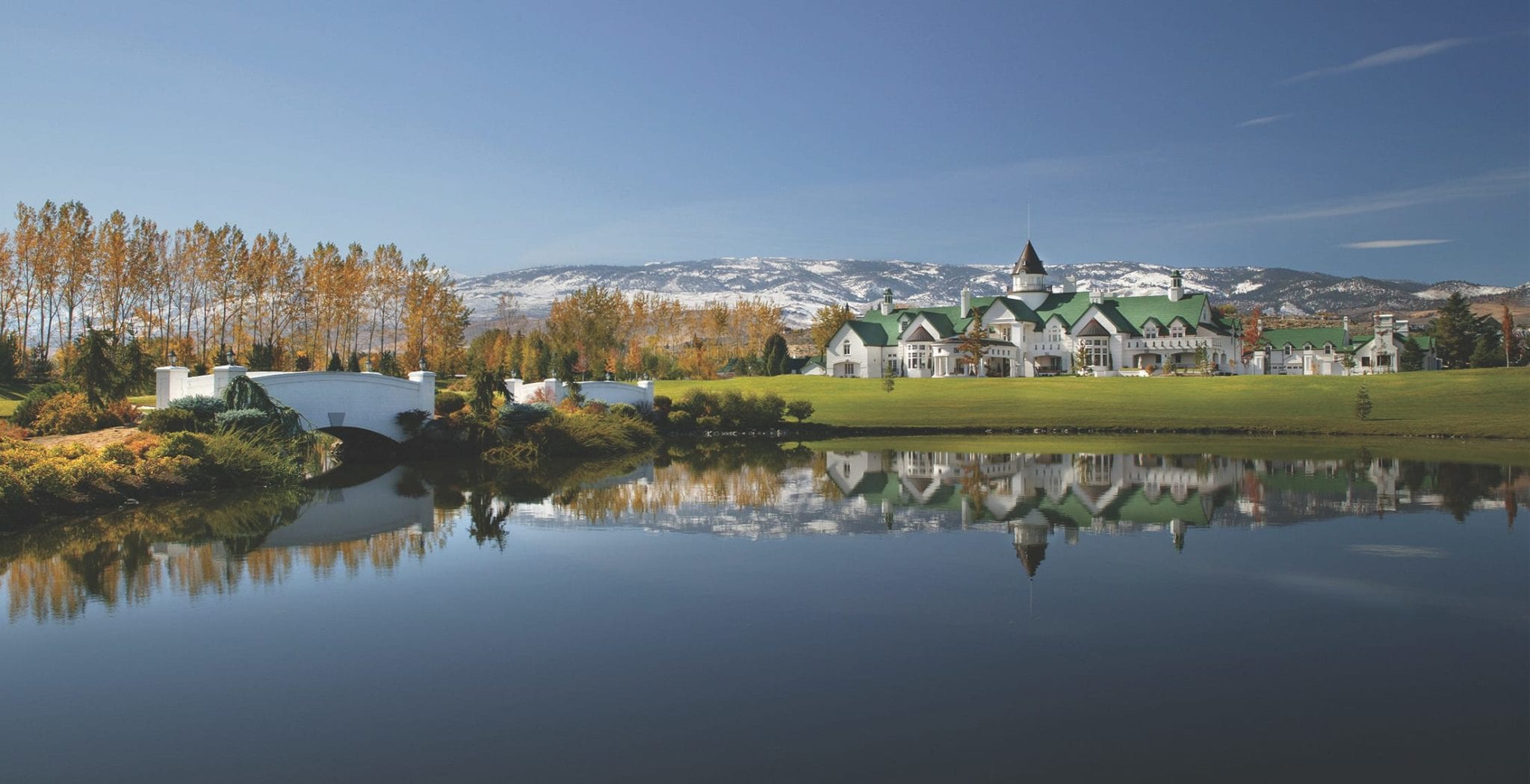 The Club at Rancharrah, photo by Jeff Dow Photography
02 Dec

Transforming Reno Icons
After nearly calling Nevada quits, Reno Land, Inc. has taken center stage in the city's burgeoning business spotlight
When he talks about the Great Recession, Chip Bowlby, managing partner at Reno Land, Inc., is at the same time bullish and chagrined.
At the time, he said he'd never again develop here after the Northern Nevada housing market burst spectacularly into recession. But then again, his shrewd eye for opportunity saw something in an emerging business park to keep him around.
And then there's the matter of geography, specifically to the west—Bowlby's former home of California—and its tightening screws on business opportunities. Add the quality of life in Northern Nevada to the mix, and Bowlby, who came to Nevada in 2003, is glad now that he stayed.
"Reno is in an excellent position to capture the California market looking for affordability and quality of life," he says. "How many places can you go as nice as Lake Tahoe? And we can drive there in minutes. The benefits of living here are astounding."
He sees Northern Nevada's potential for new housing, particularly housing that's affordable compared with California. But he has interests, too, in business development.
Therein lies the mix that Reno Land, Inc. is now pursuing in earnest with two high-profile projects in the Truckee Meadows—Park Lane, once Reno's premier shopping center, and Rancharrah, the bucolic southwest Reno home of Reno-Tahoe's iconic gaming pioneer, Bill Harrah.
They are names deeply rooted in the collective memory of Northern Nevadans, and Bowlby knows it.
So when Reno Land, Inc. sat down with advisers to consider what to call its two prized acquisitions set for reincarnation as mixed-use developments, it was no surprise the Park Lane and Rancharrah names were retained and will be, in some fashion, on the projects' marquees.
"We invested quite a bit of time and resources on the branding and marketing when we bought Rancharrah and Park Lane," says Bowlby. "Then as we went through possible new names, we came back to Park Lane and Rancharrah. We wanted to honor the history and authenticity, understanding that the Reno community had a connection with the original names."
Indeed, Bill Harrah and Sonner Greenspan—the Park Lane developer who, in a black-and-white photo cherished by Bowlby, poses alongside a sign announcing the shopping center in 1964—would be proud.

Conceptual image of the rooftop amenity at Park Lane, courtesy Chet Frohlich Photography
Getting to this point has been an adventure for Bowlby. The company's website boasts that it has, over three decades, undertaken over 30 residential, multi-family, commercial and industrial projects totaling more than 5,000 units and over 4 million square feet in Northern California, Idaho and Northern Nevada. That includes homes in the Arrowcreek and Somerset areas of Reno built early in the new millennium.
Then came the Great Recession on the heels of the 2008 financial crisis. Home building, with many still under construction, stopped seemingly overnight, the mortgage business withered and Nevada led the nation in loan defaults and home foreclosures.
Bowlby figured he was through with Reno.
"Reno was burnt to the ground in recession, 14 percent unemployment," he says. "I said, 'I'll never, ever develop again in Northern Nevada.' Obviously, I had a change of heart."
He'd been watching the emergence of the Tahoe-Reno Industrial Center (TRIC), a 106,000-acre business park east of Sparks, and after conferring with TRIC's owners, he couldn't resist jumping in and acquiring four sites there, including a planned hotel and restaurant, the biggest covering 736 acres for possible future technology and advanced manufacturing business.
"I took the bait. I'm a land junkie," Bowlby says.
Then in 2013, John Harrah, son of the late casino magnate, put Rancharrah with its lush pastures, equestrian center and imposing ranch house along Del Monte and Kietzke Lanes on the market.
Bowlby's daughter took him for a tour of the property where Bill Harrah once entertained the likes of Frank Sinatra, Sammy Davis Jr., Tony Bennett and others who performed at his Reno and South Tahoe hotel-casinos before his death in 1978.
"She told me, 'It's for sale, Daddy,'" Bowlby recalls. "I've never been able to tell my daughter 'No.' Two years later, I bought Rancharrah."
The Club at Rancharrah, 

where Bill Harrah once entertained the likes of Frank Sinatra, Sammy Davis Jr., Tony Bennett and others who performed at his Reno and South Tahoe hotel-casinos, photo courtesy Reno Land, Inc.
Now, with the acquisition of Rancharrah well into its transformation as a 141-acre master-planned community, and the 45-acre Park Lane at Plumb Lane and South Virginia Street, where buildings will begin to emerge this winter, Reno Land, Inc. has taken center stage in the Reno business spotlight.
"We're not shy, and we have a lot of positive backing with our capital partners," Bowlby says. "We can say we were very right with this market. This is just the start, something that has legs on it."
There's more to come for Reno Land, Inc., Bowlby says. He sees opportunities in downtown Reno as well as in the outer reaches, including the Interstate 80 corridor.
Home development opportunities are also being mapped out, to include 581 multi-family units on 26 acres near the Summit shopping complex on the Mount Rose Highway; 825 residential units on 783 acres at the company's Meridian 120 location near Boomtown along Interstate 80; and 200 multi-family residential units on 9.4 acres in Fernley 30 miles east of Sparks in the fast-growing industrial corridor that includes TRIC.
"TRIC got us very excited," Bowlby says. "We're trying to raise the bar."
Joel Grace, Reno Land, Inc.'s vice president of development, helped land Tesla Motors' giant battery Gigafactory at TRIC during his tenure at the Economic Development Authority of Western Nevada.
Grace, too, is bullish about Northern Nevada's post-recession horizon.
"Being from the East Coast, I have friends who don't understand what's going on here," Grace says. "Everybody in town is opening their arms and welcoming new companies to town."
Bowlby readily chides himself for his once-pessimistic view of the region. He now points to the "BELIEVE" sculpture in downtown Reno to illustrate his mindset.
"I say we're not done. This time we have jobs. We're pulling contractors and subcontractors out of Idaho, Sacramento," he says. "We've got national attention now. The image of Reno has really been transformed."
---

Conceptual image of a residential building at Park Lane, rendering by Clusters Creative
Reno Land Projects bY THE NUMBERS
Park Lane:
• 45.6 acres
• 1.3-acre park
• 1,687 residential units
• 175-room boutique hotel
• 44,000 square feet of retail space
Rancharrah:
• 146 acres
• 25 acres of commercial, retail and 270 units of senior living
• 700 residential units
– 36,000-square-foot mansion renovated into The Club at Rancharrah
-52,000-square-foot Indoor Equestrian Arena