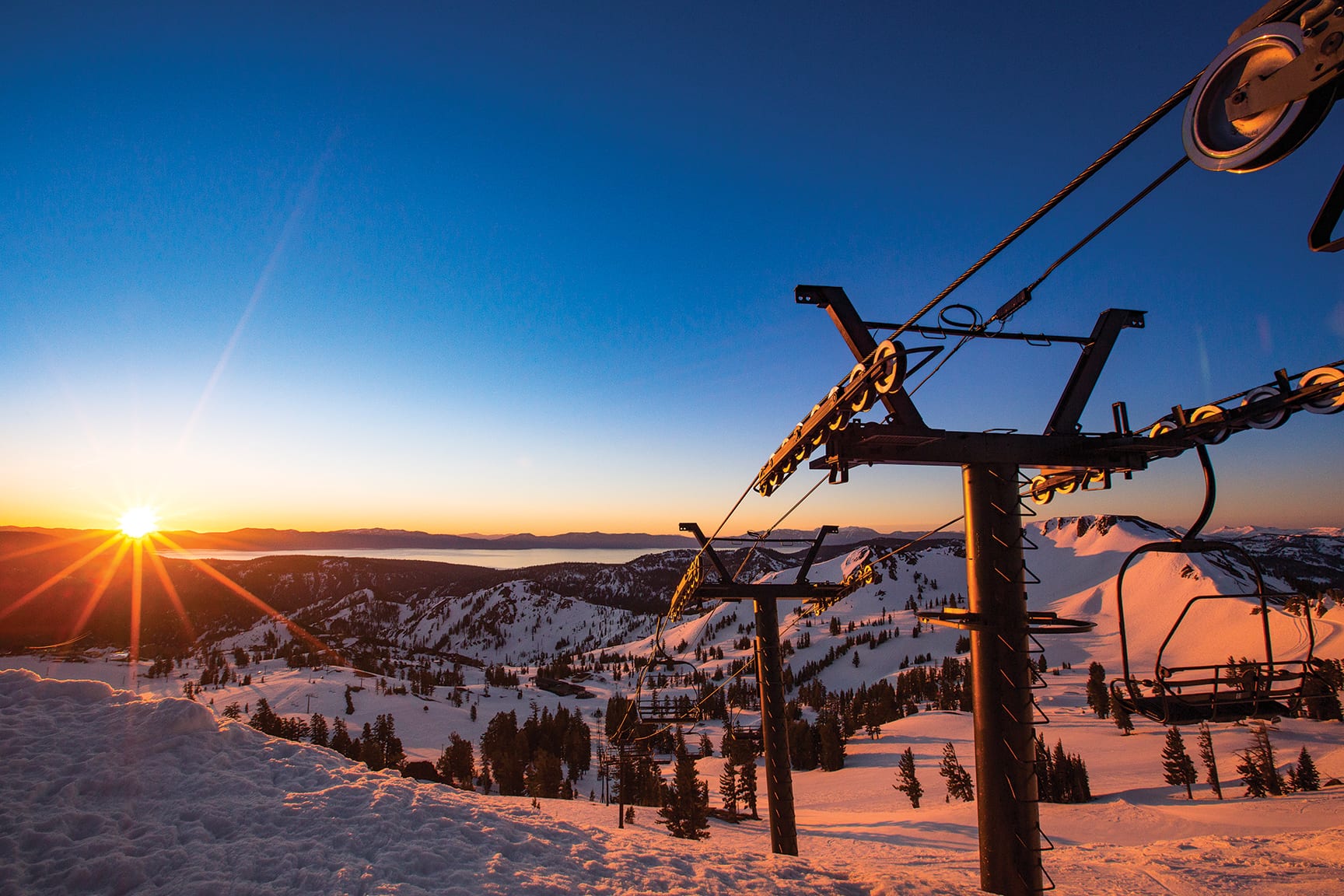 Sunrise from Squaw Valley, photo by Grant Kaye
02 Dec

Squaw Valley Alpine Meadows' New Leader Seeks a Fresh Start
Ron Cohen takes the reins of the world-class resort after a polarizing eight-year stretch
Like a skier picking a line through treacherous terrain, Squaw Valley Alpine Meadows must navigate through a ski industry undergoing rapid and transformational change.
The iconic resorts, which combined hold some of the boldest inbounds terrain in North America, will enter this era under the guidance of a new leader.
Ron Cohen assumed the helm of the resort this past season, bringing with him experience purchasing and managing his own backcountry resort in the Eastern Sierra, and working his way up the ranks at Mammoth Mountain to become chief administrative officer and deputy counsel.
Cohen joins Squaw Alpine following the eight-year stint of Andy Wirth, who announced his retirement in April. Wirth's tenure was marked by unquestionable accomplishments. He merged Squaw Valley with its next door neighbor Alpine Meadows, mended fences with neighbor Troy Caldwell—which paved the way for a possible gondola that could connect the ski resorts—and spearheaded the approval of a comprehensive redevelopment project hailed by some and reviled by others.
Wirth was a polarizing figure in the community, with some praising his can-do attitude particularly as it related to transportation issues and his work at Reno-Tahoe International Airport.
Others claimed his combative style was unnecessarily divisive, leaving some in the community feeling bruised. Many of Squaw and Alpine's longtime skiers were left to wonder if the resort's more corporate structure had watered down a place where athletes like Scot Schmidt and Shane McConkey gravitated in order to precipitate generational revolutions in skiing.
Regardless of where people come down on Wirth, it is apparent Cohen is eager to distance himself from the style of his predecessor and move forward.
"What you have seen over the past few years—several years or whatever period of time you want to pick—it hasn't been as good as it can be," Cohen says. "There are lots of issues. There's division in the community and quite a bit of negativity around—in person, on social media, in the press. This can weigh on the team, and can keep them from having that swagger that a high-performing group has."
But Cohen says he is determined to restore that swagger and provide a fresh vision for Squaw and Alpine as it moves forward.
"Squaw and Alpine is obviously a legendary ski area," he says. "During my time—going on six months now—it has been made very clear to me that we have an incredibly staff here who are pretty remarkable in their experience, their desire to innovate and their willingness to work."
The Early Days
Cohen was born in Chatsworth, California, on the northwestern outskirts of the San Fernando Valley about 40 miles from downtown Los Angeles.
His parents were both public school teachers, meaning they had their summers free to explore the vast and picturesque geography of the American West via a Volkswagen van and later a motorhome.
"I went to most of the national parks in the Western United States and a decent amount of Canada," Cohen says. "I got to see a lot of Western North America as a kid."
That combined with frequent backpacking forays into the Sierra Nevada helped Cohen cultivate an abiding passion for the outdoors. However, he really didn't pick up skiing until high school, when he learned how to make turns at Snow Summit, which is now under the same company umbrella as Squaw Valley Alpine Meadows.
After graduating from UC Santa Barbara, he went to law school at Northwestern in Chicago and joined a law firm in Los Angeles.
One day while tooling away on a Friday afternoon with a colleague at the law firm, he saw an advertisement for an open position at a single-person law firm in Mammoth Lakes, California. Since he spent the better part of every spare moment in the winter escaping Los Angeles to go ski Mammoth, he figured the move might make sense. He applied and got the job. Soon he was working on cases pertinent to Mammoth Mountain and some of the other ski and outdoor-related businesses in the area.
"That's where I first started to learn about the ski business," he says.
One case in particular would prove to be a catalyst for the next chapter of his career. He was representing a small backcountry operation called Tioga Pass Resort, which was attempting to force the phone company to install a line up to the resort and improve its communication infrastructure. Over the course of that case it became clear the owners were ready to sell, and Cohen convinced nine of his close friends to put up the money necessary to purchase the business, with Cohen agreeing to serve as the general manager.
"It was a life-changing experience," he says. "I went from being a lawyer to learning all the stuff you need to know to run a resort like that—plumbing, electricity, small engine work, large engine work, equipment operation, running a kitchen, running a staff, doing the payroll and doing the books."
He ran a staff of 25 people in the summer and about five or six employees in the winter. After eight years running the resort, which he continues to own to this day, Cohen applied for a job in management at Mammoth Mountain.
Once the company got wind he had a law degree, it began to lean on his legal expertise, meaning Cohen steadily worked his way into the position of general counsel and chief administrative officer.
When Mammoth Mountain and June Mountain Resort bought Big Bear Mountain Resort, which also includes Snow Summit in Southern California, it became clear consolidation was the new default setting for the ski industry.
"The ski industry has been through a number of cycles in the past 40 or 50 years," Cohen says. "Clearly, currently we are in a consolidation cycle."
For Cohen, that culminated in the creation of Alterra.

Olympic rings at High Camp, photo courtesy Squaw Alpine
Buying Bonanza
In January 2018, about four months before Wirth stepped down, Squaw Valley Alpine Meadows announced the creation of Alterra Mountain Company, a new larger company that folded in 12 resorts across five states and three Canadian provinces and includes one of the largest heli-ski operations in the world.
Alterra is formed in part by KSL Capital Partners, the private equity group that bought Squaw Valley in November 2010. Its executives, Chairman Michael Shannon and CEO Erik Resnik, have extensive experience in the mountain resort industry, having served as Vail Resorts executives before helping establish an investment fund that also owns stakes in golf courses and luxury hotel properties.
The other major component of Alterra is comprised of Henry Crown and Company, a large family-owned business established by Chicago-based industrialist Henry Crown—the son of poor Lithuanian immigrants who embodied the rags-to-riches rise so firmly embedded in the American story.
Crown started selling sand, gravel, lime and coal to businesses in and around Chicago. He soon graduated to steel and eventually took a controlling stake in the General Dynamics Corporation—one of the country's largest aerospace and defense companies.
By the time Crown died in 1990, he had owned the Empire State Building for a decade, and the investment firm named after him, and run by his progeny, owned stakes in hotels, skyscrapers, meat packing plants, railroads, coal plants and sugar. 
Henry Crown and Company also owned Aspen Mountain in Colorado.
"They have been long in the ski industry," Cohen says.
KSL and Henry Crown then combined their holdings and bought Intrawest, which owned Snowshoe Mountain in West Virginia, Steamboat Springs in Colorado and Mont Tremblant Resort in Quebec, among others.
Alterra also bought Mammoth Mountain Resorts, which had already acquired Big Bear and Snow Summit, and purchased Deer Valley in Utah.
What was the impetus behind this buying bonanza?
"Somebody had to fill that gap Vail created," Cohen says. "Vail has come up with that business model and they have pursued it aggressively. They've gone public and bought one resort after another. As a result, they opened up a huge distance between their company and the rest of the industry."
Along with Vail, Beaver Creek, Breckenridge and Keystone, the Broomfield-based company bought Crested Butte in June, bringing their Colorado-based resort total to five. At the same time, the company bought Stevens Pass outside of Seattle, completing an investment in the Pacific Northwest that began in earnest when they bought a stake in the iconic Whistler Blackcomb resort in British Columbia in 2016.
In the Lake Tahoe area, Vail got going early, buying Heavenly Mountain Resort in 2002, adding Northstar California in 2010 (at roughly the same time KSL bought Squaw Valley) and punctuating their California spending spree with the purchase of Kirkwood Mountain Resort in 2012.
"They've done a good job," Cohen says. "They've driven value for their guests. They sell a lot of Epic Passes because people really like that model of a pass."
The Epic Pass allows customers to pay one price for access to resorts across North America or tailor their experience to a more local area. In an effort to compete, Alterra has also offered a similar pass package called the Ikon Pass, which offers one price for the opportunity to ski at Alterra resorts and other partner resorts, like Jackson Hole in Wyoming and Big Sky in Montana.
But Cohen says Alterra isn't content to simply provide a carbon copy to Vail's model, but is looking for ways to separate itself.
"We approach it from a different perspective," he says. "Vail is really good at churning out a Vail product. When Vail buys your ski resort, they back up the truck and unload Vail so your ski area starts to look like every other ski area."
Cohen says Alterra wants to retain the unique attributes of each of its resorts, a feat that he says is harder but ultimately worth it.
"We believe in supporting the unique individual cultures of these mountain communities," he says. "Doing that is way more difficult than cranking out a homogenous product. It's a really easy thing to say, here's the playbook, go do it. It's very command and control and it makes it easy to succeed but you get a homogenous result. That's not what we like."

KT-22 towers over the Village at Squaw Valley, photo courtesy Squaw Alpine
Squaw Culture
Cohen's vow to retain the unique cultures of Squaw and Alpine will be music to the ears of its passionate local skiers, who have fretted that the iconic resorts have lost some of their individual flair after KSL bought the properties.
"I've been a little frustrated with the corporate culture at Squaw," legendary freeskiing pioneer Scot Schmidt told Tahoe Quarterly during a recent interview.
It's a stunning admission for the influential skier who—along with Greg Stump, Glen Plake and Mike Hattrup—brought fame to Squaw Valley with the release of the seminal Blizzard of Aahhh's film in 1988. The video features Schmidt and others skiing daring lines on some of Squaw's most advanced terrain.
Those exploits were repeated and improved upon by the next generation of skiers like Scott and Robb Gaffney, Kent Kreitler and the late Shane McConkey.
Scott Gaffney, like Schmidt, recently expressed dismay at what he perceived as a watered-down corporate culture at Squaw.
"In the last decade, we've seen a cultural shift in what the ski area wants to promote," he says.
Cohen says he is aware of these criticisms and is determined to do something about them.
"I saw a recent interview with Scott Gaffney and he said that Squaw had tried to take the mountain and make it G-rated," Cohen says. "I don't disagree with that. For me, I think we need to have room for G, PG, PG-13 and some room for rated-R."
The R rating is an obvious nod to G.N.A.R., a chapter in Robb Gaffney's Squallywood book written by McConkey detailing a game that awards points for skiing exploits and various comedy hijinks—like skiing naked.
When the Gaffneys attempted to host a game of G.N.A.R. at Squaw in honor of McConkey, who died during a ski BASE jump accident in 2009, the Squaw Valley Ski Corporation shut down the competition.
While Cohen says he plans to be more tolerant of the inherent edginess of skiing, he also says there are limits to what he deems "the worst parts of bro culture."
"Skiing has always been part of the counterculture, and that's part of its success," Cohen says. "But I've also seen it said that families shouldn't come here, and that Squaw should only be for the true bad-asses. I don't believe that. We need to make room for you to be the best skier on the hill, but that means you have to make room for the kid who is learning how to be the best skier on the hill."
Cohen says conflicts between skier groups is a natural corollary of having such a vast and iconic mountain, and he is confident that the mountain can achieve the appropriate balancing act that allows families a quality experience while "providing a ton of room for unique, disruptive iconoclasts and rebels because they are often the characters who catalyze ski culture."

The expansive terrain of Squaw Valley, photo courtesy Squaw Alpine
The Village at Squaw
Valley Redevelopment
Competing skier groups and their culture clashes are not the only controversy Cohen must contend with as he assumes the mantle at Squaw Alpine.
The Village at Squaw Valley Redevelopment plan has been a divisive issue for residents in and around Olympic Valley, pitting neighbors against each other and mobilizing environmental organizations that say the project will harm the valley. On the other side, Squaw Valley executives contend that the redevelopment is crucial for their business to survive and thrive.
The redevelopment plan—which was devised, proposed and ultimately approved by Placer County during the Wirth tenure—includes 1,500 hotel and condominium units and a 90,000-square-foot indoor recreation center.
Critics of the project say the plans are too grandiose, but Cohen says the project fits within an already developed area.
"We're not talking about a pristine area. It's not a wilderness area; it largely sits on a paved parking lot," Cohen says.
Cohen also takes issue with what he says are mischaracterizations of the project. For instance, critics of the project have taken to comparing the proposed indoor recreation center with Walmarts, something he says is intended to mislead. He says it's indicative of an embittered and strident fight that has grown up around the redevelopment plan and other issues at the resort.
"It's all designed to divide people, to put people into camps, which is the absolute thing we don't need," he says. "I think we can revitalize the ski area and revitalize the village infrastructure in a way that people will love and will be meaningful for the resort in a number of ways."
Environmental organizations like Sierra Watch have consistently opposed the project because of the size and scope of the redevelopment and the additional traffic, creating problems not only for Olympic Valley, but for Lake Tahoe itself.
"The project would take 25 years to construct and add thousands of car trips to Tahoe's crowded roads," Sierra Watch said in a recent release.
Sierra Watch filed suit against Placer County in late 2016, saying the board of supervisors failed to fully consider the environmental impacts the redevelopment project would have on the region, including impacts to Lake Tahoe's water quality, a regional water scarcity and the increased potential for wildfires.
A Placer County Superior Court judge ruled against Sierra Watch in August and upheld the development plan approvals, but the group has vowed to keep up the fight and has appealed. The case is currently in the California Court of Appeals.
Cohen says he believes that a bigger and more diverse village with more hotel space will actually help alleviate the growing congestion problems on Highway 89 by encouraging more people to stay mid-week and park their cars and stay in the valley.
"There's no doubt that Highway 89 is an issue," Cohen says. "As I get more informed about the issues here and how we might address them, it's clear to me that 89 has been a problem since before I was born."
Cohen says he is open to solutions like three lanes, bus lanes and other transportation-related fixes, but also notes that the only solutions seemingly being discussed would require enormous capital investment and collaboration from all the region's stakeholders.
But Cohen is also bullish on the future of the base-to-base gondola from Alpine Meadows to Squaw Valley, which, apart from the purely ski-related boon of connecting two resorts, could also encourage more resort users to eschew their vehicles in favor of longer stays in the village, Cohen says.
Winter Looms
As Cohen's interview wraps up on a Friday afternoon, he acknowledges that he has more work to attend to before he can knock off for the weekend. Along with the myriad issues both controversial and otherwise, Cohen is also getting prepared for what he hopes is a banger of a winter season for all Tahoe resorts.
"I'm just excited to lead Squaw and Alpine and help the team get what it needs to operate this place as the world-class resort that it is," Cohen says. "We can talk more about all this other stuff later, but for now, we are focused on operating the hell out of these mountains."
---
Matthew Renda is a Santa Cruz-based writer and former Tahoe resident.