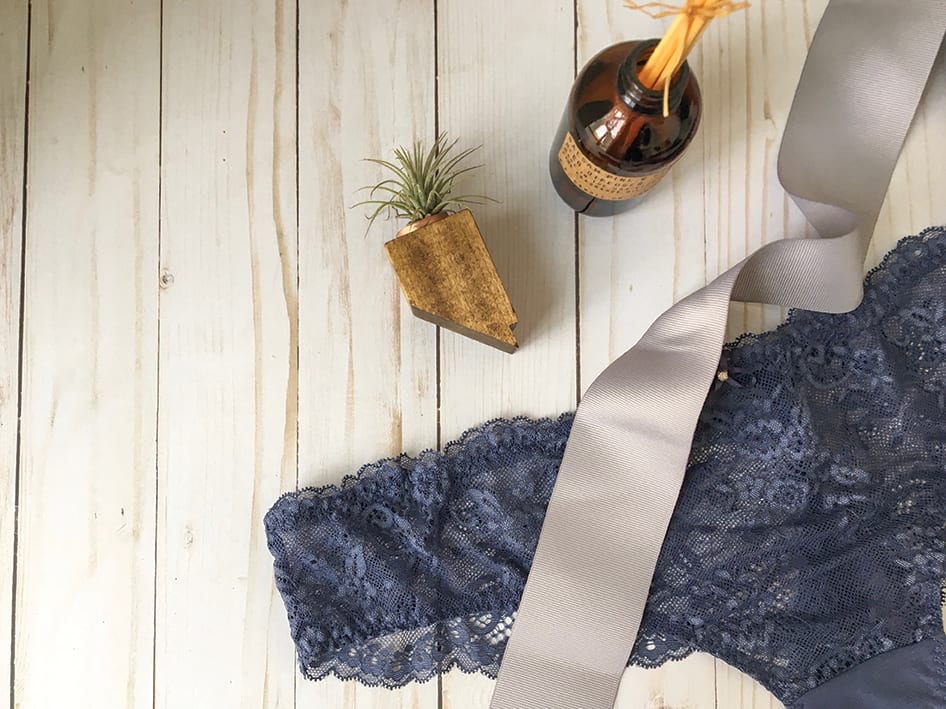 27 Nov

Panty Party
Julie Arsenault's new Reno-based subscription underwear service is enabling women of all ages to feel more comfortable and confident in their own skin
For Julie Arsenault, necessity was the mother of invention. After graduating with a degree in mechanical engineering from MIT, the Connecticut-born-and-raised entrepreneur started working in enterprise software services in the Bay Area—a fulfilling yet fast-paced career that left little time for extracurricular endeavors like shopping.
"I had this realization that I don't go shopping because of the hundred other things to do, and I can get a lot of things easily delivered to my house, but not underwear," Arsenault recalls. Recognizing a gap in the market, she became inspired to create a solution. "It was definitely a product I wanted to exist because I wanted to buy it."
  Arsenault envisioned a panty delivery service that would bring a lingerie boutique shopping experience to a shopper's doorstep on regular or recurring intervals. She also dreamed of creating a service that would redefine what sexy looks like and make it easier for women of all ages and sizes to shop for underwear online.
"There are so few options in size 2XL and up, and that's crazy because two-thirds of women are in that size range," Arsenault says. "I kept hearing from women that it was a great idea, because they couldn't always find their size in stores."
In 2014, she pitched an idea for the e-commerce company—which is now known as Panty Drop—at Startup Weekend Tahoe.
"I was living in San Francisco and thinking about moving to the (Reno-Tahoe) area at the time," Arsenault says. "I wanted to get more involved in the community and learn what was going on, and it was a perfect way to do that."
During Startup Weekend Tahoe, budding entrepreneurs pitched business ideas, met potential investors and mentors, and formed teams with fellow attendees. Four orders for Arsenault's product were placed that weekend.
"I wasn't planning to start anything at the time, so I thought I would just email everyone and tell them it was a fun project [that wasn't fully ready to launch]," she recalls. "But then I realized what I needed to do was go get some underwear, ship it out to these women, and see if they wanted a second box."
Three years later, Arsenault turned her burgeoning passion project into a full-time business. Today, Panty Drop has four full-time employees and two part-time interns based out of its Reno office. (Arsenault made the move to Reno in 2016, inspired in large part by its business-friendly reputation.) She now focuses on product and growth and employs a head of operations, an operations manager and a customer experience manager.
Panty Drop aims to bring equality to fashion and to help women feel more confident and sexy. Or, as the website cheekily puts it, Panty Drop is "inspiring women from the bottoms up." The premium lingerie e-commerce company enables women of all sizes—from XS to 6XL—to find underwear that helps them feel beautiful and comfortable in their own skin.
Panty Drop partners with large underwear lines such as Hanky Panky as well as smaller niche designers like White Rabbit, which makes sustainable underwear out of bamboo fabric.
"We've spent a lot of time carefully selecting our brand partners because we want to make sure they are making great products that our customers will love," Arsenault says. "We select for aesthetics and style as well as fit and quality."
Customers order online by filling out their preferences and choosing a box with two, three or five pairs of pretty, colorful undergarments. Choices include bikinis, thongs and boyshorts, available in lace, cotton and other performance-blend fabrics. The Panty Drop team sends individualized collections and product recommendations based on each customer's style and preferences. Buyers run the gamut from college students to a 77-year-old man who bought some underwear as a gift for his 79-year-old wife.
"Generally, most of our customers are in their 30s and 40s," Arsenault says. "They're typically in small- to mid-sized cities across the U.S. We're more likely to have customers in the San Fernando Valley than in Silicon Valley, because if you live in a smaller city you don't necessarily have a wide array of pretty lingerie shopping experiences in your backyard. Online is a really good way to be able to expand upon that."
For Arsenault, Reno has proven to be the right place to grow her company thanks to its more affordable cost of living and tight-knit community of startup supporters.
"There are an increasing number of mentorship and community efforts in Reno that are focused on helping entrepreneurs grow their businesses and successfully raise capital," she says. "It's different from Silicon Valley in a good way. If you're growing your own business and trying to do it without millions of dollars in venture capital funding from the very beginning, you can't be in Silicon Valley. It's too expensive."
While Arsenault originally started Panty Drop with revenue and her own money, she is now in the process of closing her second round of funding. Reno Seed Fund was one of the notable investors during this round. "Most of our investors have predominantly been local angel investors," she says. "The community has really come out to support us and help us grow. It's nice to be in this environment where people are really committed to helping you succeed."
Arsenault also appreciates the lifestyle that Reno affords.
"The whole time I was in San Francisco, I was coming here every weekend to ski and mountain bike in Tahoe," Arsenault says. "We're really excited to have Tahoe in our backyard. Whether it's Tahoe or Reno, people want a better quality of life than they have in the Bay Area, and they want to live in the trees or in a small city. We're starting to see a lot of really talented people moving into the area with a lot of startup experience. That's an exciting talent pool to be able to tap into."
Inspired by the community that has supported her, Arsenault is passionate about giving back. Panty Drop currently donates 1 percent of its time, revenue and product to causes that support women. Right now, the brand partners with Girls on the Run-Sierras, a nonprofit in Lake Tahoe, Truckee and Northern Nevada that teaches health and fitness skills to third- through eighth-grade girls during 10-week programs and culminates with a celebratory 5-kilometer race. In late November, Panty Drop will partner with Dress for Success Reno to give a box of undergarments to each client enrolled in their Professional Women's Group program. The program works with Dress for Success clients in their first year of employment or career change to give them practical support and assistance as they build their careers.
"Our giving program is focused on helping to close gender leadership gaps and promote women in leadership," Arsenault says. "We focus on inspiring, educating and supporting female leaders and the next generation of female leaders."
Shopping for underwear has never felt quite so inspiring.