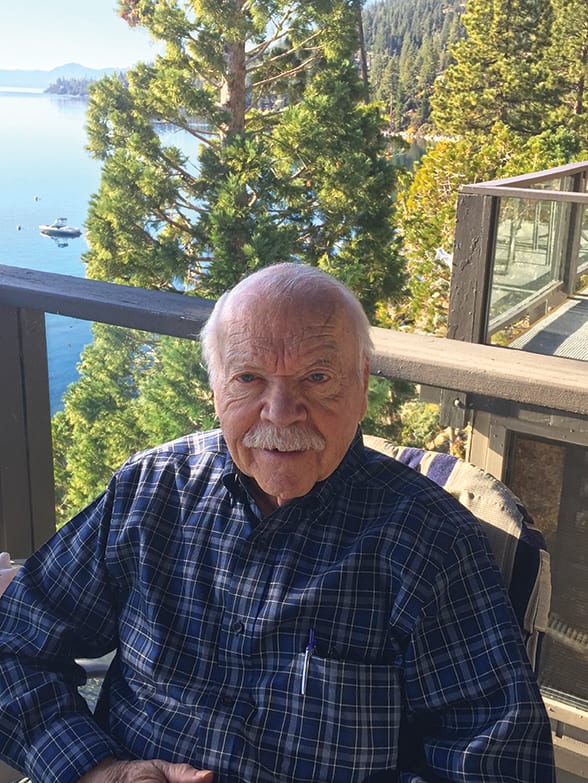 Sierra Angels founder Bob Goff, courtesy photo
27 Nov

Aided by Angels
Founded in 1997, the Sierra Angels use a collaborative approach to help local startups get up and running
Do some good, have some fun, make some money.
That's the mission of the Sierra Angels early-stage investment group, whose founder and chair, Bob Goff, lives that mantra from his lakefront home in Incline Village.
Goff, an early high-tech executive in the Silicon Valley in the 1980s, saw the vacation getaway possibilities that Lake Tahoe offered. He and his wife soon fell in love with the alpine setting, and by the mid-1990s they realized Tahoe could be their permanent home. Even better, they discovered others here who were eager to expand their business acumen into the investment world.
Already members of the Silicon Valley's pioneering Band of Angels investors, the Goffs had a dozen of their neighbors over for dinner one night to discuss mentoring, funding and networking possibilities for startups with investment-worthy business plans but were short on funds and the expertise needed to get to the next level.
In the summer of 1997, the Sierra Angels—a name coined, Goff says, by his wife—were born with the target market of startups in the underserved Interstate 80 corridor from east of the Bay Area to Reno and across Nevada to the Utah line.
At that time, there were no more than five angel groups in the entire United States, Goff says, but since then, the emergence of the Sacramento Angels, Las Vegas Valley Angels, Pasadena Angels and others has narrowed the Sierra Angels' primary investment target to the Reno-Tahoe-Northern California region.
The Sierra Angels are now made up of 40 or so mostly husband-wife investor couples, of whom about 20 percent hail from the Bay Area, Arizona or the Pacific Northwest.
"A big reason for that is they like this area, Tahoe, and other angel groups like to collaborate with us to tap into that knowledge base," he says. "Early on, angel groups tended to 'silo,' be competitive, but we've taken on an attitude of collaboration and partnership, and that's good."
Another plus for the Sierra Angels is geography. Tahoe's rustic mountain profile is a world away from the hectic life of big cities and at the same time is a central locale in the West.
"Those other groups like to visit here, come up to the lake and make presentations," Goff says.
The Tahoe name holds great value, says Gene Wong, co-founder and managing partner of the Reno Seed Fund, a Reno-centric early-stage investment group.
"There's a real brand to the Tahoe name," Wong says, and that asset extends eastward into western Nevada. "When you look at our proximity to the Silicon Valley, even to Sacramento, Oregon or beyond, we're the center point for a lot of things happening."
Among the Sierra Angels' early work was helping former Reno-based online battery vendor iGo Corp. progress to an initial public offering in 1999. More recently, the Sierra Angels have assisted Flirtey, a rising Reno company in the emerging drone delivery business.
"Our sweet spot is companies where a quarter-million dollars to $1 million to $2 million would really move them along," Goff says. "That would really move them into position to scale or meet the milestones they would then need to attract second-tier venture capital."
In its mission to break down competitive silos, Goff points to the Sierra Angels' work in sharing knowledge and collaborating with StartUpNV, a nonprofit convergence of entrepreneurs who meet at the University of Nevada, Reno's workspace-sharing Innevation Center in downtown Reno.
Goff also points with pride to the Reno Seed Fund and its focus on helping Reno entrepreneurs with everything from expert advice to seed-stage funding, typically in the $500,000 to $1 million range.
"The idea is, if we can all work together, we can move a lot faster," says Goff, citing the Sierra Angels' "close connection" to Reno Seed Fund. Wong at the Reno Seed Fund agrees.
"Northern Nevada, including Tahoe, is unique," Wong says. "People work together, rather than compete, to get things done."
Wong lives that credo: He's a member of the Sierra Angels and he established the Reno Seed Fund with the help of the Economic Development Authority of Western Nevada.
Wong wasn't sold on the Reno-Tahoe region at first. He worked as a Wall Street investment banker for 18 years into the 1990s before moving to the Silicon Valley to focus on high-tech-centric investing.
He relocated to Las Vegas in 2002 to work remotely, he says, and only after being advised that Northern Nevada held strong potential for investment growth did he take notice. He moved to Reno two years ago.
The Tahoe and Northern Nevada region, he says, is a better choice for him with its easier proximity to the San Francisco Bay Area. The Reno Seed Fund has helped startups including Clickbio, BlocWatch, Breadware and Panty Drop, but the potential is there for greater things for Reno-Tahoe, too.
"This is not Silicon Valley, or Boise, or Boulder, or Austin," Wong says. "But we have the opportunity to become another Boise, and I believe it will happen in the next five years, and the Reno Seed Fund will be an important catalyst to make that happen."
It all comes back to working together, Goff says from his Lake Tahoe home.
"As I think about what's happened in the last eight years, this region has gone from one of the least collaborative regions in the U.S. to the most collaborative," Goff says. "That's where the value of sharing is in getting things done."