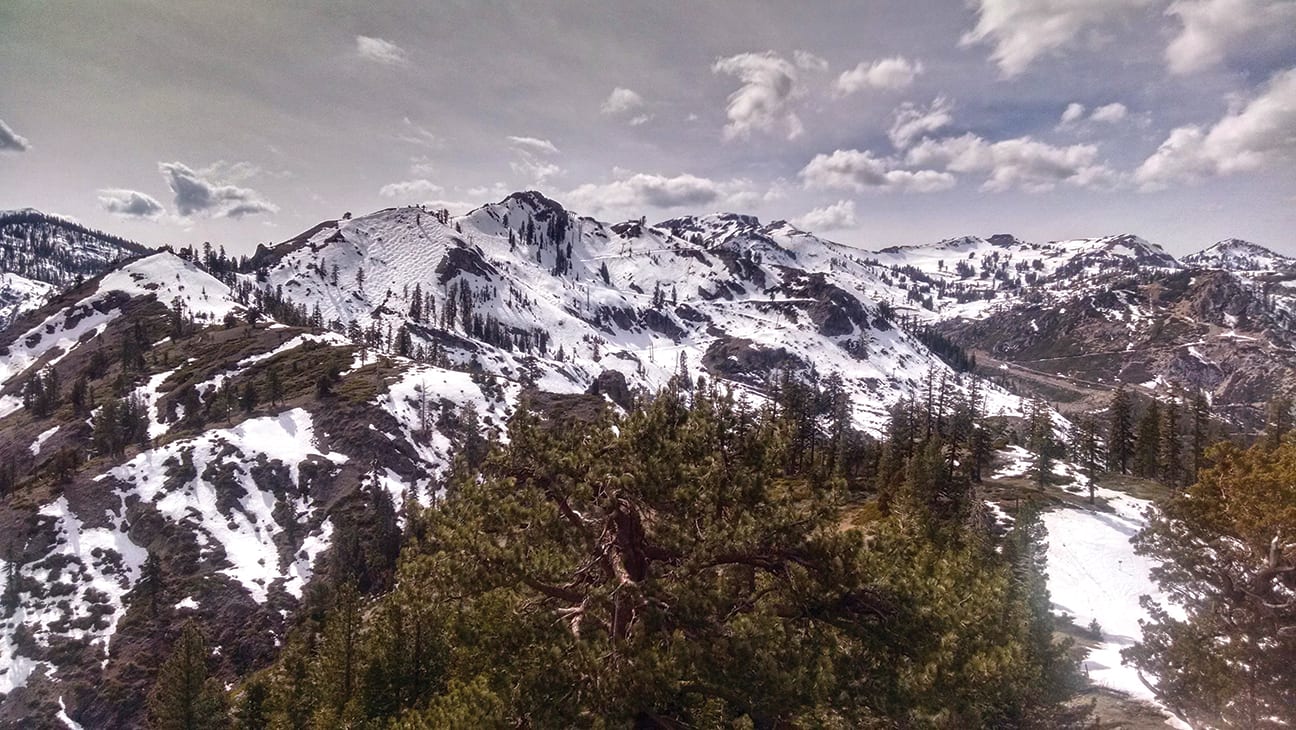 The barren slopes of Squaw Valley in March 2015, Tahoe's lowest snow year on record, photo by Hazen Woolson
27 Nov

Cyclical by Nature
A rowdy decade of snow volatility comes to a close in Tahoe
When groups of snow lovers wax poetic on the pros and cons of Tahoe, certain threads are so common they have become cliché.
"It rains a lot." "Weekend lift lines are a joke." "The snow is heavy." "The low snow years will test any skier's mettle."
But also: "The snow is stable." "There's a diverse playground of terrain." "It doesn't rain that much." And, "The big snow years will blow any skier's mind."
What these ritualistic chats unearth is an inarguable, aisle-bridging truth: Tahoe is a roller coaster. We see agonizing dry spells and atmospheric freak shows, with every upcoming winter an unknown (long-range forecasts have repeatedly been flat-out wrong).
And now, as we find ourselves at the end of the decade, we reflect on the last 10 years that many times saw meteorological limits stretched to the edge and, by several metrics, hit unseen levels in our recorded history.
"Over the last decade the variability is increasing," says Randall Osterhuber, station manager at the Central Sierra Snow Lab on Donner Pass. At 6,950 feet in elevation, the Snow Lab holds Tahoe's most complete localized source of snow data, monitoring everything snow-related since 1946 and with records dating back to 1879, taken by the Southern Pacific Railroad company. "We are seeing extremes, and we have had very dry years," Osterhuber adds. 
Demonstrating this, out of seven complete decades on record from the Snow Lab, the 2010s had the most winters (five) that broke the top 10 for either the most or least accumulated snowfall. Meaning that, on average, every other year was a top-10 year for snow, or top-10 for lack thereof.
Connected with any discussion of snow is the reality of climate change, and the future of snowpack has everyone—whether business owner, avid skier or average citizen—justifiably concerned.
Bryan Allegretto, the Tahoe forecaster for Open Snow, says he's constantly asked if snow levels are rising. To look at this, he took total precipitation (rain combined with the water equivalent of melted snow) and total snowfall for each year from 1970 through 2019 from the Snow Lab, and compared them against their respective average.
Years when the total precipitation (as a percentage of average) was higher than the total snow (as a percentage of average) fall into the negative category. The theory is that the years where this happened had more rain than snow, compared to the average.
Each of the last seven years in Tahoe was in the negative category (although several, including 2019, were close to zero), indicating more wet winters.
"In these last seven years, we are seeing more precipitation running at a higher average, compared to snowfall at the elevation of the [Snow Lab]," says Allegretto.
Of interest, however, Allegretto points out that the snowfall at the Snow Lab has stayed similar, averaged out over the last 30 years, but has decreased in the longer term. "Over the last 140 years the average snowfall has gone down 34 inches, but in the last 30 years it has leveled off," he says.
Ten Years of Tahoe Winters
So how did this decade shake out? The pow rolled in well enough for the 2010 winter, ramped up wildly in 2011, then entered a historic four years of drought. An average year followed in 2016, but the next winter, 2017, was a wet and wooly whopper, and 2018 was mediocre until a quintessential Miracle March. The decade then concluded with a banner winter in 2019.
That's 10 winters in a nutshell. But from a micro view, the last 3,652 days of Tahoe history contain innumerable tales of life in an interesting place. There was joy in the search for creative lines in the abhorrently dry January 2015, and misery from the relentless shoveling exactly two years later. Happiness doesn't necessarily correlate with snow levels in Tahoe, nor vice versa.
Here, we look back on a decade of winters, with a handful of certain days, years, eras, moments and highlights that comprise the joyful, silly, powdery—and at times heart-wrenchingly tragic—fabric of a community that rotates around the energy of the mountains.
June Pow Ends a Whopper Winter
"In early June of 2011, I recall getting blasted in the face, turn after turn, with snow so explosive it could've been in February," says local backcountry skier Brennan Lagasse, referring to a day of skiing at a closed Kirkwood resort.
While it's not generally hard to get on snow in June—many locals enjoy turns year-round in California—it is quite rare to find a morning of cold smoke that late in the season. "I vividly recall thinking, 'It's California. It's June. I'm getting faceshots," adds Lagasse.
The late snowstorm provided an ecstatic experience for powder-pigs like Lagasse, but after the stormy 2011 winter, many were loath to see a coat of fresh in June, and cursed the skies when they pulled back their curtains and found themselves in a different type of "Juneuary."
  The prodigious season featured the most snowfall of the decade, and the ninth highest in the Central Sierra Snow Lab's records going back to the nineteenth century. The Snow Lab measured 643 inches of total snowfall, Squaw counted 810 inches and Kirkwood 748 inches. Perhaps most astonishing, the Tahoe region experienced a six-week midwinter drought starting around the new year, meaning from mid-February on, the faucet was wide open.
There were deeper years (1938 remains the blue medal winner), but 2011 is considered the "Big One" by many. And maybe that's due in part from the contrast of the winters to come, as 2011 had 15 percent more snow accumulation than 2013, 2014 and 2015 combined.
Fatalities Rock the Community
On Christmas Eve, 2012, local snowboarder Steve "Rocker" Anderson was caught in an avalanche while riding Donner Ski Ranch. The same day, ski patroller Bill Foster was buried in a slide while working at Alpine Meadows. Both incidents were fatal.
Telling of the darkest defining aspect of this time period, they were not the first fatalities of the decade, and the next one would come far before the grief of the last had passed. The decade would come to take not only several of winter sports' biggest heroes, but also local legends, friends and neighbors.
"Losing people is the ultimate. In tragic moments, all your dreams get caught in a reality check of being part of this community," says Lagasse. "The highs [in Tahoe] are high, but the lows are devastating to the core."
Every mountain community experiences tragedies, yet in Tahoe it seems extraordinarily high.
C.R. Johnson, Erik Roner, Tim Dutton, Kip Garre, Allison Kruetzen, Arne Backstrom and Shane McConkey (2009) are among the well-known winter sports athletes from Tahoe who lost their lives over the past decade, as well as Tahoe locals Ben Brackett, Andy McDowell and "American Dave" Rosenbarger, among others. Avalanches were a common culprit, but not the only cause. Up-and-comer Ryan Hawks died after taking a huge air at a big-mountain competition at Kirkwood, and employee Carson May skied out of bounds at Sugar Bowl and never returned.
Some ask if the culture can be shifted and wonder if certain accidents are avoidable, pondering if the throttle is being held at an unsustainable redline. Robb Gaffney, psychiatrist, longtime Tahoe local and close friend of Shane McConkey, as well as others who have lost their lives in the local action sports community, has been vocal on the matter, contending that conversation and action are needed.
"There are a lot of people out there just like me, who feel an urgency to address the issue," Gaffney wrote in a 2016 essay in Moonshine Ink. "To go down that path we first have to examine how we rationalize and justify our culture. We have to open our eyes to the intricate ways we hold onto the path of morbidity and mortality we've already witnessed."
Tahoe Economy Suffers Amid Drought
Tahoe has big money moving through it—billions, in fact. Tahoe's total economic output was $5.1 billion dollars in 2015, according to the Tahoe Prosperity Center, and a slice of that figure hinges on how prime the skiing conditions are at any given time.
The largest sector of Tahoe's economy, $3.2 billion of it, is the visitor-serving sector, of which the ski industry is a part. Therefore, it comes as no surprise that the region took a hit during the four-year drought from 2012 through 2015.
Restaurants sat empty, the TART ski bus route was canceled, ski shop sales flatlined and competitions—including a World Cup snowboarding and ski cross event at Squaw in 2015—were moved to other locations due to low snow in Tahoe. Skier days dropped to a low of 2.6 million in 2015, compared to 4.6 million in the snow-heavy year of 2011, according to the Tahoe Prosperity Center.
Most notably, for people trying to make ends meet in an already expensive community, this meant fewer jobs, and many left the area as a result.
While it's unknown how many jobs were lost specifically due to the drought, the Tahoe Prosperity Center's "Measuring for Prosperity" report from 2017 shows that more than 1,500 jobs were lost in the Tahoe Basin between 2013 and 2015 in the food service and lodging sector, and more than 2,300 jobs were lost overall in this time period. 
"The most significant circumstance to affect the Tahoe Basin economy between 2013 and 2015 was the drought," the report states.
Worst Winter Ever
The bone-dry 2015 winter tested—and broke—some snow-lovers' patience. Not only was it the driest of the decade, it was the lowest snow year the Central Sierra Snow Lab has ever recorded going back to 1876, with only 130 inches. But going back even further is when it starts to get interesting.
"Scientists say California hasn't been this dry in 500 years," read a September 2015 Washington Post headline. This announcement stemmed from a study by Stanford University that analyzed the growth rings of blue oaks in the Central San Joaquin Valley.
And it wasn't a simple lack of powder; the weather took on the spooky overtones of a Tim Burton flick. A brutal cold spell dropped temps to zero degrees on New Year's Day, allowing for ice skating on Donner Lake, the Truckee River and the edges of Lake Tahoe, which never freezes over completely due to its sheer size and depth. On December 11, gale-force winds kicked up 7-foot waves on Tahoe, according to the National Weather Service. Bikers, meanwhile, rode quality "brown pow" up to around 8,000 feet in many locations around the Basin. Golfers were in heaven.
The culprit of these extremes came to be called "the blob," although media reports were incredibly confused on what it was and wasn't doing. Essentially a mass of warm water in the Pacific Ocean off California, this maritime mass sat sedentary all winter, and was linked to the blocking of low pressure systems and unending bluebird skies, warm temps and irked snow enthusiasts.
And then, 2015 ended with a surprise. After recording a meager 4 inches of snow the entire month of January, the upper elevations of Squaw Valley received 42 inches over April and May—showing that there's no telling when winter might show up in Tahoe.
Wettest Winter Ever
Late at night on February 8, 2017, Tahoe City resident Graham Johns was returning from work in Reno in the pouring rain along Interstate 80 and watched the taillights of the car in front of him "go almost to midnight," he says.
"The car slammed into a mudslide and the ass end shot up," says Johns, estimating that he was doing 75 miles per hour before hitting the brakes and then ramming into the mud himself. "The mud flowed around me like a river. There was a lot of earth, and it went up to the windows of the Suburban I was driving."
He and the other drivers were fine (the cars involved were totaled), but the incident exemplifies what might have been the wildest winter of the decade, and in particular an incredibly soggy one.   
During a large January storm, two young men were trapped in their cars on Highway 89 north of Tahoe City, fully enveloped in an avalanche before being dug out by rescuers.
Other accidents were more severe. The same month, a tree fell on a car traveling in a snowstorm on Highway 89 near Squaw Valley, killing the 43-year-old driver from Tahoe City.
Two years after the thinnest winter of all time came the most rain-drenched winter. While 2017 was a whopper by all accounts—with 48 feet of snow falling on Donner Pass, and a January that saw one 6-foot dump after another—it was a huge winter not only for the snow, but for precipitation received. In total, 118 inches of precipitation drenched Donner Pass, with the second highest number coming in 1981, at 112 inches, according to data from the Central Sierra Snow Lab. Lake Tahoe rose 6.5 feet.
Atmospheric rivers were the cause. These "flowing columns of condensed water vapor in the atmosphere," as defined by the National Oceanic and Atmospheric Administration, pumped snow and rain from thousands of miles away, and funneled them straight to Tahoe driveways and rooftops. There were about a dozen of them in 2017, compared with Tahoe's annual average of five.
The deluge caused losses of power, full resort closures and an "extreme" forecast from the Sierra Avalanche Center for all aspects and elevations for multiple days, a 199-mile-per-hour wind reading at Alpine Meadows, destructive avalanches and countless trees snapped like matchsticks.
It also unlocked dream lines that are rarely accessible, making possible 5,000-foot descents into the Carson Valley and technical chutes deep in Desolation Wilderness that need massive piles of snow to ride.
Many folks found their limit of how much snow they needed in their lives that year, while others asked, "What if it all that rain fell as snow?"
Josh Daiek Soars Over Highway 50
Sometimes it feels right to kick back and watch the ski heroes do hero-type things, and during the single snowiest February on record in Tahoe, Josh Daiek delivered.
In February 2019, Homewood on Tahoe's West Shore recorded 336 inches during the month while Boreal on Donner Summit was pummeled with 55 inches over two days, according to the National Weather Service. By month's end, totals hit (or came close to hitting) one foot per day for some zones.
Back to what was likely the biggest Tahoe send of the decade and perhaps the largest road gap of all time on skis. Daiek, a veteran backflipper, former Freeskiing World Tour champion, Salomon skier and Meyers resident, found the perfect conditions to stomp a gargantuan gap he had been sizing up for years.
Daiek released the footage on his Instagram account in October, writing, "Took two tries to ride 'er out! I've been eyeing this gap for the last decade. With a banner year in the Sierra last season the landing finally filled in and was ready to send. The gap was roughly 150 (feet) takeoff to landing and over 100 (foot) vertical drop!"
From tragedy to historic highs and lows, this decade saw all of Mother Nature's might. But "expect the unexpected," might be a proper adage to follow for future decades, as the volatility could potentially increase.
Already, as winter 2020 approaches, it has started. We experienced our first snowfall on September 13 (the earliest recorded was September 11, 1952, according to the Tahoe Fund). After receiving snow on Memorial Day 2019, we had nary three months sans snow. Then, temps hit the 70s in October and November.
Tahoe's weather weirdness rolls on.
---
Dave Zook moved to Tahoe in 2013. He loves a good mega-storm as much as the next ski bum, but has come to be very happy with the beauty of an "average winter" in the Sierra, with consistent, if not excessively devastating, snowfall.