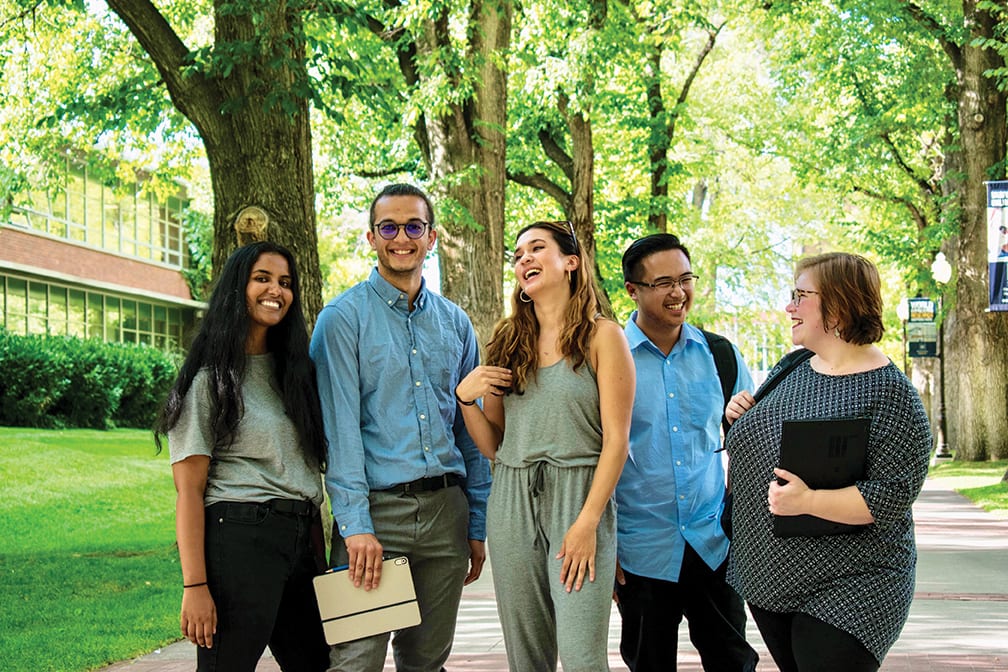 Alchemy provides software solution services for Workday's higher-education customers
27 Nov

Higher Calling
Reno-based entrepreneur Bill Wilson's software solutions company is revolutionizing the higher-education experience
A military career that spanned nearly three decades uniquely prepared Bill Wilson for his current role as the co-founder and president of Alchemy, a Reno-based software solutions company that implements Workday's platform for higher-education customers.
"I met the founder of Workday, Dave Duffield, through a mutual friend, and he said, 'Why don't you consider coming to my company and training college undergraduates on Workday's software? It will prepare them for great jobs after graduation'," Wilson recalls.
Workday—a platform that provides HR and financial systems for Fortune 500 companies and small businesses alike and rolls out updated versions every six months—had recently added a higher-education pillar and wanted someone to spearhead the process of training college students to use the new software.
Though Wilson was initially hesitant about the career change, he soon found that his military training background gave him the skills and expertise necessary to excel in the leadership-oriented role. After spending two years at Workday, he joined forces with Duffield's son, Mike, to create a company that would focus solely on providing services for Workday's higher-education customers.
"We implement Workday's Student Information System," he says of Alchemy, which is a certified partner of Workday. "We do full platform. So, half of our work is human resources and financials and half is for students. We want to do the whole platform, obviously, because we can do some configurations and make decisions on how data is migrated that affect configuration decisions later. For the student portion, we asked ourselves, 'How do you recruit and select students for a four-year college? Once they're there, how do they schedule their classes and how do you schedule classrooms?'"
Because most collegiate information systems are notoriously outdated, students have traditionally been tethered to their laptops when scheduling classes or looking at grades. Through Workday, they can now do all of that on their smart phone or tablet—and they no longer have to worry about a paper-based system. Students can, for example, drop classes online through an app instead of going to the registrar's office and getting multiple signatures.
After Workday sells its student product to a college or university, Alchemy will contract with the school to install the software system. 
"When I explain Alchemy's business to my family and friends, I use a car-buying metaphor," Wilson says. "If you bought a car the way you bought software, the car would be drop-shipped to your driveway in a giant plywood box in millions of pieces. You would then hire a team of mechanics and they would assemble and program the car for you. They would also look at the way you drive and suggest improvements.
"It's about data, configuration and business processes that customers need to run their institutions. On top of the installation there are two updates to the system (car) every year that each customer receives. We help the customer absorb and optimize these updates."
Wilson and Duffield founded Alchemy in January 2017 with one customer and three employees; today, the company has 14 customers and 158 employees. The Economic Development Authority of Western Nevada (EDAWN), which focuses on recruiting and supporting small businesses and startups, recently named Alchemy Best Company for 2019.
Wilson attributes Alchemy's rapid growth and success to having the right idea in the right market and hiring the right kinds of employees. Wilson, who still makes it a point to interview each prospective hire to assess whether his or her technical and interpersonal skills line up with Alchemy's core values, says that he specifically looks for people who are team players.
"Our focus really is on our people first and foremost," he says. "We are looking for people who thrive and love being on a team. It's the difference between 'I want to be the best on my team,' or, 'I'm going to be on the best team.' For experienced people we ask, 'What has this person done professionally? What kind of person are they?' For people right out of college with no experience, we hire for aptitude and drive."
Wilson and Duffield picked Nevada specifically for its access to a tier one research institute and more laid-back pace.
"People aren't stressed out here like they are in the Bay Area," says Wilson. "It was important for us to have a town where there was a good quality of living. We didn't want employees to have to commute for an hour and a half into the city because the apartment they could afford is so far away. That's not positive."
In Reno, he says, employees have shorter commutes, a positive tax structure and ready access to outdoor pursuits. Thanks to the cheaper cost of living, it's also easier for them to afford buying a home of their own.
Wilson is currently in the processing of renovating a home he bought in a historic neighborhood, and he has no plans to change addresses any time soon. Reno's startup-friendly culture, outdoor access and quality of life have convinced him that it is the perfect place to live, work and put down permanent roots. 
"I've moved 28 times, both throughout my childhood and in the Navy," he says. "I'm never memorizing another address again."