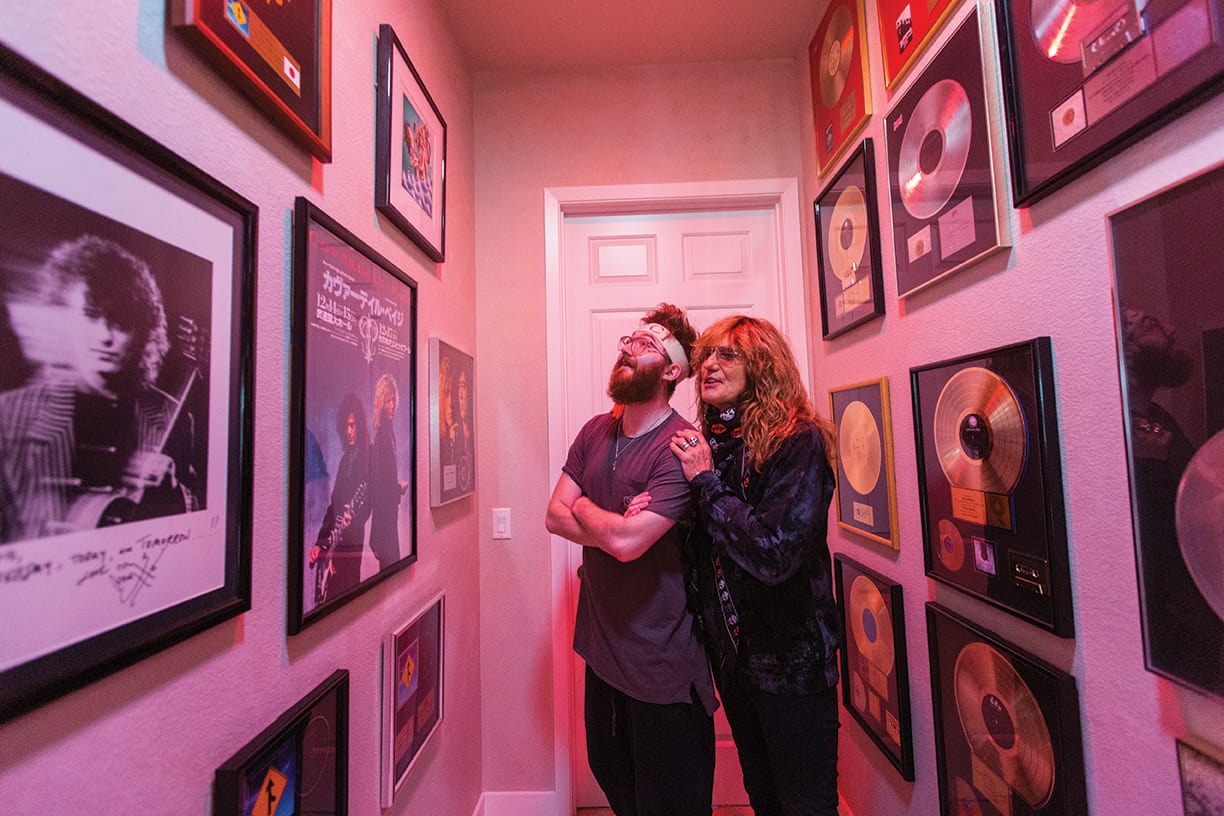 Whitesnake frontman David Coverdale and son Jasper in Coverdale's Reno recording studio, Hook City, photo by Emily Tidwell
27 Nov

Incline's Family of Rock
After creating music from the serene setting of his Incline Village estate for more than three decades, rock star David Coverdale moved his operation to a new Reno studio—where his son is finding his own voice
When Whitesnake frontman and rock legend David Coverdale first moved his family to Lake Tahoe over 30 years ago, it wasn't only for the tax break.
"The view is to die for," Coverdale says of his Incline Village home. "Jimmy Page (guitarist of Led Zeppelin) came up to stay with us and I said, 'You're going to love it. It's got four seasons.' The day he came it snowed, rained and the sun came out. Jimmy said, 'I know you said you had four seasons, but you didn't tell me it was all in one day.'"
Coverdale is a 2016 Rock and Roll Hall of Fame inductee who skyrocketed to stardom in the mid-1970s as the lead singer of Deep Purple, and then as frontman for Whitesnake, which he founded in England in 1978 and is still touring with today.
With hits like Here I Go Again, Is this Love and Still of the Night, Coverdale propelled Whitesnake to global stardom during hard rock's loudest era. During the height of his fame, maintaining a quiet place in the pines to retreat from tours, fame and fans became paramount.
"It was just impossible not to fall in love with Lake Tahoe. I've written nine or 10 multi-platinum albums here—it's a very creative place," Coverdale says in his thick English accent, his signature blond mane billowing from his shoulders as he fondly recounts memories from inside his new Reno music studio.
A Rock Star Settles
in Tahoe
Born in a seaside town in North Yorkshire, England, Coverdale moved to the Nevada side of Lake Tahoe—as a "tax exile," he says—during the height of his fame in 1987. In between world tours in 1990, he met his future wife, Cindy, when they were both getting haircuts at a small salon in Reno called Lookin' Good.
"It was my worst haircut since my father used to cut my hair," Coverdale says with a laugh. "But behind me was this beautiful woman, and when she left, the owner was forthcoming with who she was and where she worked and that was it—that was 30 years ago."
David and Cindy married in 1997 and went on to raise a son, Jasper, in the serene natural sanctuary that is Incline Village. Nestled among boulders and mature trees high above Lake Tahoe's blue expanse, the Coverdale Estate boasts more than 9,000 square feet of living space along with panoramic views and privacy on a gated acre-plus of prime land.
Though the setting was ideal for a rock star, David customized the home to his liking, adding a Roman-inspired indoor pool and a rockers lounge, where zebra-patterned fabrics, neon lights and rock memorabilia accentuate a luxurious theatre with custom seating and 135-inch screen, as well as a cocktail lounge that has played host to some of music's biggest stars over the years.
Seeking to spend more time at his Tahoe home with his family, David put band life on hold for the first seven years of Jasper's life.
"When I had my first child, 41 years ago, I didn't know anything about bonding," says David, referring to his daughter Jessica, who was born in 1978 to his first wife and now lives in Germany. "So I didn't want to make the same mistakes with Jasper."
Music eventually called again as Whitesnake reformed in 2002 and hit the road for world tours. Back in Incline Village, Cindy opened a dance and fitness studio called Vertical Fitness in 2007, while Jasper, who is now 23, found interest in the arts at a young age. With his parents' encouragement, he began performing in local theatre programs at age 7 and received his first role as a lead in the Tahoe Players musical Seussical.
"He gets the lead, the first thing he ever auditioned for," David says proudly. "It was that performance I turned to Cindy and said, 'He is definitely going to drama school.'"
Cindy agreed. "He always had that ability, as David does, to be able to connect with an audience," she says.
Jasper transferred from Incline High School to Reno's Damonte Ranch his sophomore year to hone his acting skills in a performing arts program. After high school he was accepted into the American Musical and Dramatic Academy for the performing arts in Los Angeles, where he graduated in just three years before pursuing a career in acting.
Musical Destiny
Growing up the son of a rock star, the omnipresent music coming from the Coverdales' in-house recording studio in Incline Village may have surrounded the family's daily life—but music was never forced on Jasper, who was a natural talent at guitar despite showing little interest in lessons, says Cindy. 
"He's sang on my albums, he's sang and jammed with me on stage, but never with any intention or pressure on him when he didn't want to do anything," David says. "There was never any pressure to do that."
And Jasper never felt the pull. "After seeing so much of the business side of things, all the stress that my dad was under, that actually pushed me more away from being an entertainer," he says.
To avoid the constant flow of musicians coming and going from David's in-house studio, he moved his music operations to a recording studio in Reno in 2014. "Hook City," as it is dubbed, consumes an entire home and features many of the splashy elements reminiscent of the Coverdale home—a neon Rock 'n Roll sign, guitars and rock memorabilia on the walls, glimmering furniture, zebra patterns, arcade games, and a giant skull and crossbones rug.
Within the well-appointed quarters of Hook City, David and Whitesnake guitarists Reb Beach and Joel Hoekstra crafted the band's 13th studio album, Flesh and Blood, released in May 2019. The video for the album's first single, Shut Up and Kiss Me, was shot in Reno and became a family affair featuring cameos by both Cindy and Jasper. In the video, David dusts off his iconic white Jaguar for Whitesnake's performance at the fictitious "Club Snake" while fans go crazy for the band's performance. 
Though he enjoyed participating in the Whitesnake video, Jasper says he was frustrated that his own commercial work in the acting field had not taken off. When a friend encouraged Jasper to write music about his struggles as a way to deal with a recent break-up, he was hesitant. Growing up the son of David Coverdale, questions about his future in music had been constant—to the point Jasper had almost blocked it as another form of artistic expression.
"Throughout my entire life I have been inundated," Jasper says. "Are you going to sing like your dad? Are you going to become the next lead singer of Whitesnake? Thousands of people have been curious about me following in my father's footsteps, but I wanted to carve my own destiny, carve my own path, and be unique and authentic and original, and I didn't feel like writing songs and being a musician would be original. That really kept a handicap on me for many, many years."
The realization that he could create music and retain his own artistic identity led Jasper to finally put pen to paper and write songs. He collaborated with Reno-based music producer TOMSIN to produce a musical track, with Jasper providing vocals. The result is a fusion of electronic dance music, R&B and pop with deep and insightful lyrics—far from the hard rock sound of his father's Whitesnake hits.
Currently in production, Jasper's first few tracks are unreleased, but his first EP is planned for early 2020 with two projects planned for release shortly after. Jasper sees it as storytelling through music (he plans to release a series of songs that tell a congruent story if listened to in the order that they are arranged).
"What he is doing is absolutely spectacular, and really relevant to his generation," says David. "He is writing about one of the things we have always said in our family: keeping it real. What Jasper is doing is real. It has great musical, emotional, lyrical production. It's ready to go."
 Jasper struggles to define a genre for his music, perhaps partly because he has never wanted to have to define himself.
"I didn't realize I could still be my own person and express myself in my own way. While it is still my dad's thing, the way that I do it is my thing," says Jasper. "That is something I was not able to wrap my head around for a long time."
End of the Incline Era
After surviving the snowy 2018-19 winter, the Coverdales made the tough decision in May to downsize and sell their Incline Village home and main residence of over three decades (the home remains on the market, listed by Chase International for $9.85 million).
"We recently had a bunch of brokers walking through the house, and I went and did the tour and nobody knew it was my house," says Cindy. "They're going, "Man, I bet there were some parties in here!' I thought, 'Yes, for a 5-year-old," she adds, laughing. "It was such a great place to raise Jasper. People know each other's kids and keep an eye on them." 
The move to Reno will allow David to be closer to his recording studio, which Jasper also uses as his music career begins to gain traction. It also puts the Coverdales closer to the airport to accommodate David's still-demanding travel schedule. Now 68, he continues to tour with Whitesnake internationally, performing most recently at the Rock in Rio music festival in Rio de Janeiro in September. At his side for the performance were Jasper and Cindy.
Like any Tahoe family, the Coverdales reminisce about the challenging winters, the glorious summers and the many breathtaking sunrises. Once small saplings, the trees planted long ago in the yard for his children now cast long shadows as the sun sets, signaling both the change of seasons and a life change for Incline's family of rock.
---
Cassandra Walder is a freelance journalist who resides in Squaw Valley. A South Dakota native, she is a former television news anchor, news director and nature lover who fell in love with the splendor of Lake Tahoe.