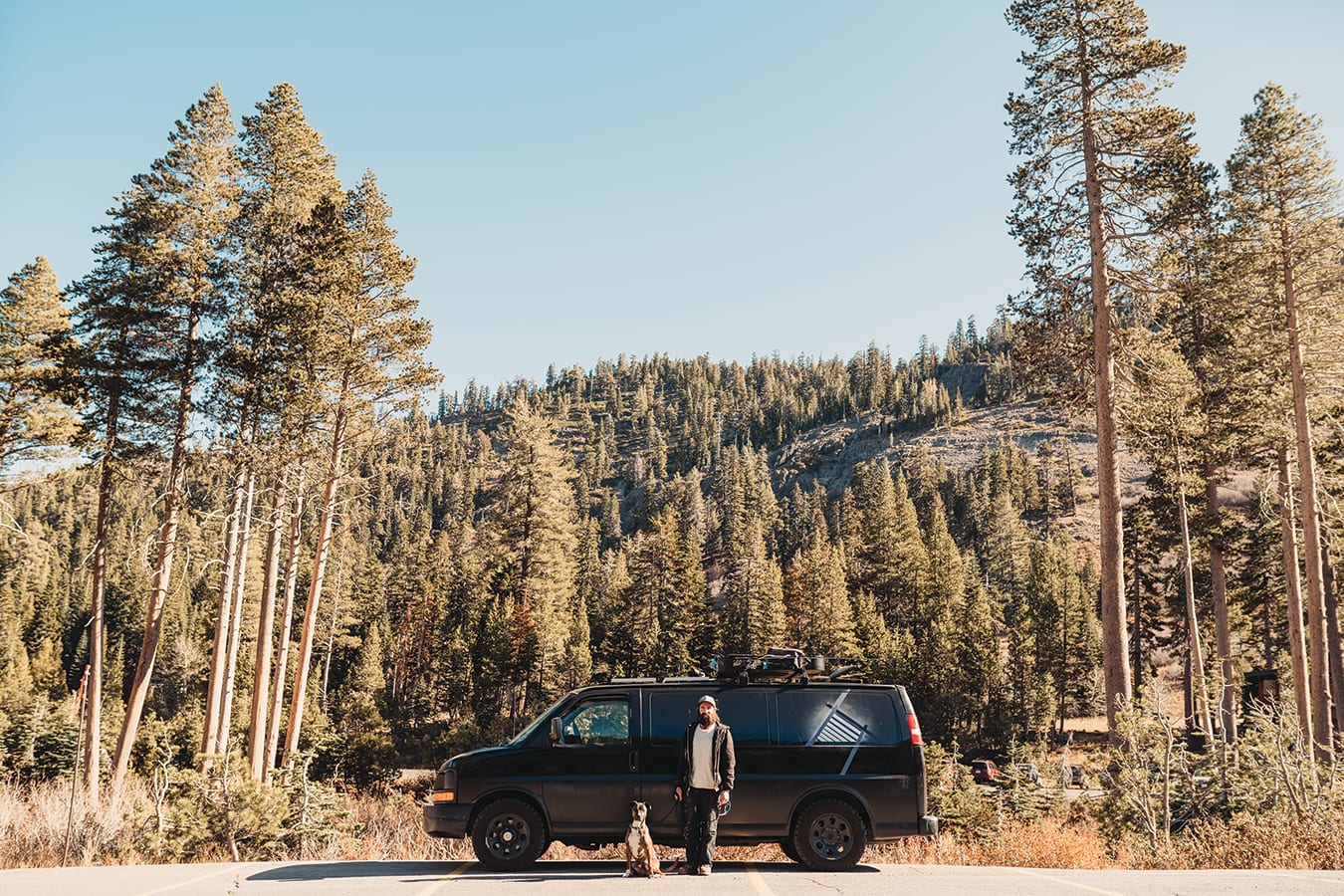 Andrew Martyn, aka "Vandrew," with his black Chevy Express 1500 van, "The White Buffalo," and dog Pinecone, photo by Wade Snider
27 Nov

Life Outside the Box
While the concept of residing nomadically in a home on wheels is far from new, the trend is gaining steam in Tahoe as housing costs continue to rise
For some, home is signaled by the jingle of keys and familiar creek of that old wooden front door. For others, it's a familiar clink, pop and swoosh: the glide of metal on metal as a van door slides open. For these folks, home comes in slightly different packaging, but it's not the size of the box that matters. It's what's inside that counts.
In Tahoe, #vanlife—living inside a converted vehicle suitable to sustain oneself long term—has changed the definition of home for some entirely. And in turn, it has provided winter travel a complete facelift. Crashing on someone's grody couch smelling of beer and potato chips just to hit the slopes early has fallen beside the alternative: sleeping in a clean bed and waking early to cook a healthy breakfast, ready to test those new K2s on the freshest powder. This option coupled with the rise of resort-collective passes makes skiing and riding multiple mountains more doable than ever. In winter, that is what van life affords: the ability to be where the snow is.
From Emergency Vehicle to Home
Knocking on the door of an ambulance, one might be pleasantly surprised to find it's the cozy home of North Lake Tahoe–based photographer Erica Zakrzewski and her partner Collin Stewart, an Alpine Meadows big-mountain ski coach. In the rig, there's a twin bed, tons of gear storage, a small combo shower and toilet area, a kitchen and even a nook for their pup, Honey Badger. But what really makes this place home are all the details: the plastic glow-in-the-dark stars on the ceiling, the wood detailing Zakrzewski's dad (a master carpenter in Michigan) helped the couple with, and a thoughtful drawing of their future permanent home stuck to the inside wall of one of the cabinets.
The ambulance turned home on wheels gives one tingles of inspiration when inside it. In part, that feeling of hopefulness is what draws many to the lifestyle; it means a home one can afford to own, and a life spent more outdoors than in, more focused on what really matters. In winter in the Sierra, it also means waking up close to the slopes on epic powder days, snagging first chair, glorious ski trips filled with all the fun and friends one could dream of, and the added benefit of a warm shower right after the lifts close.
These winter chasers began this lifestyle years ago, living out of a canvas tent and Toyota 4-Runner in summer and temporary housing in winter. When converting the ambulance became a reality, it meant an opportunity for stability, but with the flexibility to still travel. They began the conversion of the ambulance in May 2017 and moved in that July. Gone were the days of seasonal leases, living nomadically and moving from place to place—and, namely, paying rent. The ambulance was home.
"It feels like getting grounded," says Stewart. "Most people are looking for freedom and we were looking for the opposite. We live in a time where the cost of living is insane compared to what it used to be. It's really hard to get ahead. I look at people who are paying rent and I think, 'How is anyone advancing themselves, or doing anything but treading water?' I think we have to depend on ourselves a little more to get the same security our parents had." 
Everything that's in "Blanche" (the ambulance's pet name) today was designed with an eye to winter. There is a full roof of solar panels, six batteries and a propane heating element to keep the interior toasty, which is also vented to prevent humidity with wet winter gear storage.
"I came from Utah where there's great skiing and great snow, but here… you get consistent rocks everywhere so you get lots of terrain features, lots of things to jump off of. The snow's a bit heavier, so it sticks to things and really makes for a playful environment," Stewart says fondly of Tahoe's mountains.
Though Stewart and Zakrzewski have brought the rig to ski in Utah and Mammoth, it's Tahoe where they want to be, waking up on the swirling white mornings near the base of Alpine or Squaw.
"It feels like the house with the good real estate for six months," says Stewart with a laugh.
Zakrzewski is incredulous that they're living this dream.
"It's a 70-square-foot box, but every little piece of this nest is us," she says. "A big part of that is we've put so much love and care into this. This came out of our minds. We'd said, 'What if we just lived in a vehicle and had all our stuff in one place? Not have to drive to Utah to get all our ski stuff then drive up north?' We made it our reality."
Frosty The Snow Van
Winter's call is also what drew Riley and Kenzie Bathurst to fall in love with "Frosty The Snow Van," their Dodge Ram ProMaster, outfitted with a couch, countertop and portable cook-stove, wet gear storage and a Murphy bed that folds out when desired. They've opted to do without a toilet or shower, visiting friends and using their facilities instead.
After completing the build in 2018, the couple lived in it for six months, traveling across the United States and Canada. As both Ikon and Epic passholders (a benefit of Kenzie's role as a Gore-Tex rep and big-mountain ski competition judge), van life makes winter trips easy for the pair.
"The initial focus [of the van] was to be able to travel, ski, do fun stuff and go places," Riley explains. "Kenzie sort of wants to ski every ski field in America… "
Kenzie grew up in Tahoe, where her dad was a ski patroller, and she developed a passion for competitive big-mountain skiing. Riley began skiing in his native New Zealand as a child. Together they have skied every month for the last three years, finding nooks of preserved north-facing snow on the peaks of Alpine Meadows in summer and favorite secret spots along Carson Pass, even when the snow wasn't flying.
"It's a really dumb thing to do," Riley says. "The skiing sucks. But it's an easy way to have an adventure once a month."
This year, the couple will opt for a humble apartment at Alpine Meadows, and use the van for ski trips alone. All that doesn't bother Riley, a thriving photographer, videographer and graphic designer who does his best to balance work and a healthy powder day addiction.
"I just don't take part in the tailgating so much," he says. "Because I ski so much, I still have to work at some point. I'm worse at it when I'm in the van than when I'm at home, but still, whenever I get done with skiing, I need to work… "
For that reason, they've outfitted the van with a heater and solar panels so the two can be on their computers working at night.
And, when they're back in adventure mode, the van makes snow chasing easy. They meet comrades in resort parking lots, and everyone wants to share a story. Frosty's front seats are on swivels, and a table installs quickly, offering room at the dinner table when friends are around.
"It's pretty easy to turn up at most resorts these days and see someone who's got a similar something," Riley says. "No one knows exactly how to build these things… so everyone wants to look at everyone else's van and see how they've dealt with whatever the hard problems were for them."
For the couple, who travel with their dog, Blue, van life reduces the cost of travel, increases proximity to epic ski terrain and makes the whole experience that much better.
"Every day you're stoked on being where you are. You never have to think about what you're going to do. You're going to ski no matter what," Riley says. "There's just a layer less of stress than real-person life. That's kind of the whole plan of it—to reduce everything down as much as you can to be able to do the important things."
Chasing Winter
For "Vandrew"—as many call him—the "important things" are what it's all about.
Andrew Martyn was born to be outside. Be it climbing, skiing (his most recent passion) or surfing (a time-tested love since childhood), he lives to be wherever nature is calling, even if that means living in a Honda Civic. Today, his black Chevy Express 1500 van, "The White Buffalo," is a huge upgrade from those days in Pacifica. Martyn and his pup, Pinecone, share a home in the van, which has been an experiment from the day he moved in, which was also the day he bought the van.
"The winter, I don't mind it at all. I went to the Descend On Bend, a van meetup. People said, 'The winter's coming, I'm going south,' and I'm like, 'I'm going to stay in the mountains.' I don't really care. I just want to be able to go skiing," he says, adding that his financial outlook is bright because he does not pay rent.
"When I finish paying this off, I'm going to own it," he says.
  Martyn arrived in Tahoe in December 2018 and got a job on January 7 at Alpine Meadows. With wide eyes and a smile that makes his face light up, he talks about skiing like he was born to do it, though it's a passion of only just over a year. He works at Alpine Meadows year-round, allowing him the income to work on the van and the access to ski whenever the conditions are good.
Perhaps the more daring of van dwellers, he sleeps in an unheated van, with a beefy sleeping bag. The build-out is simple (a bed platform, some gear storage and a portable stove for now), and he improves things as he goes. To some, that's insanity. To Martyn, it's what makes sense, as his focus is singular.
"With the van, if a storm comes in I'm already there. It all comes back to the fact that I just want to ski," he says.
Box Truck Beauty
While the mobile home experience runs the gamut of all shapes and sizes, Tahoe is no stranger to curious adventure rigs. That's exactly where Nate Graham's box truck falls. Graham is from New York, and the call of the cannabis movement brought him to California, where an opportunity to build a permanent home also led to self-taught carpentry.
A mix of creativity, utility and a serious passion for craftsmanship, his rig is a dream on wheels, right down to the wooden detailing, a nifty use of outdoor storage compartments for tools, and even a projector screen for outdoor movies on warm evenings. The truck is also outfitted with a shower, toilet, fridge and kitchen complete with a cookstove and sink.
"I actually don't have less stuff than the average person. I have enough tools to do whatever I want, and enough toys to do whatever I want. I'm really good at Tetris," says Graham, who sometimes parks near his construction job sites, where the tools come in handy.
Mobile living, for him, isn't about checking out. Rather, it's about checking in. He opted for the box truck when living in his home felt isolated and mobility seemed optimal. Right now in his life, Graham is excited to be living on wheels, with the freedom to explore but be close to society, work, life and other opportunities.
"It's extremely liberating," he says. "The inspiration for van life, specifically, was that I don't know where home is yet. I'm still trying to find that place that draws me in."
Graham, who shares the space with Meatball the dog and Monty the cat, says the lifestyle affords them a huge majority of their time outdoors. In winter, the plan is to take the truck to Mammoth and Bishop to climb and ski.
"It's awesome. You get to come back to the pups and the cat, make dinner… and everything's right there. I have the Ikon pass, and that opens a lot of doors," he says. "[Before the van], I didn't adventure nearly as much. This has certainly opened a lot of opportunities."
The experience has even led Graham to dive into his passion for craftsmanship and start an adventure rig-building company, where he plans to help customize the inside of other vehicles. Most of Graham's van was built with reclaimed materials, including pallets, and he wants to blend this skill with the movement toward financial independence that makes van life attractive.
"Rent's out of control. You can't ever escape that," he says. "Telling someone to save money, when they might have student loans or car payments… I know so many people who can't keep up, let alone save money, especially in this town where nobody wants to pay a living wage.
"I think both of these movements are huge: sustainability and the desire to not spend 60 percent of your take-home on rent," he continues. "I think the time is right to dive in, and a lot of the companies who are doing it are very basic, bare bones, boring. I think I have a niche to fill in that regard. Bring some creativity, uniqueness, bespokeness… "
But, he adds, there's a shadow side.
"Don't get me wrong, cities are pushing back. Salt Lake City and L.A. just outlawed living in a van a couple months ago. It took me two months, literally calling everybody, to find insurance for it, because it's really hard to find full-time RV insurance," Graham says. 
Life in the Parking Lot
It's clear that the draw of epic mountains attracts van dwellers to Tahoe, but at the base of Squaw Valley, with such iconic slopes towering above as KT-22 and Tram Face, there's another way to quantify van life altogether: the parking lot scene. The wafting smoke of a freshly lit grills mixes with sounds of crisp IPAs cracking open and bubbling conversation. Vans and RVs are increasingly joining this party, making the winter van life movement truly evident.
Liesl Hepburn, Squaw Alpine's public relations director, says the resort has seen a lot of interesting rigs.
"My favorite move is the ambulance converted into an adventure van. [There's also] classic VW bugs with ski racks. And don't forget the bicycles with attached PVC pipes to hold skis for the people who commute in Squaw via bicycle," she says.
But she adds that it's not acceptable for any vehicles to park overnight at the resort, citing snow removal issues. Regulations like these leave van dwellers like the Bathursts scratching their heads in winter. In six months of travel, the couple experienced camping-friendly ski resorts mostly in Canada, and only a few in the United States.
"I'm sure it's caused problems at some point, but also these people are turning up and paying you," says Riley. "[The resorts] want to be really nice to you during the day, but they'd also really rather you have a hotel at the end of the night… There's no way we could've traveled for six months paying for hotel rooms."
Across town, mobile dwellers say they are having a hard time parking anywhere. Zakrzewski and Stewart say they know the cops well.
"People will take advantage of living in their cars and in this place and set up… like it's their backyard. We're very self-contained in our vehicle. We park, and that's it. You're not going to see anything outside of the ambulance," Zakrzewski says.
Stewart works in Tahoe City and would like to park close to work, but says that's not always possible.
"You have to move around… We have a relationship with all of the police at this point," he says. "They're nice. They know us. We work in the community and we respect them. But at the end of the day there's not the resources for this. A third of the people I know of our age group are living in vehicles and there's no resources for it."
His partner adds, "I want to live in my vehicle or live minimal, and that's a struggle, but people can build these huge houses and have this huge footprint? Square feet? We look at square inches. It makes you conscious of the issues Tahoe does have, and how we can be a voice to change them."
At the end of the day for the couple, it comes back to understanding their impact, and the idea that having less now means more in the end. They're doing it so they can one day build a more permanent home, but not without mindfulness.
"We live in this self-contained vehicle [where] we know how much water we consume every day. We know when we have to fill up water and how much water we have. It makes you more mindful of how much you use, and how much trash we make, because we have to take it out every day, and there's nowhere to take it," she says. "We're very conscious of our consumption."
She laughs. "On Instagram you see all this #vanlife stuff, and I have to literally empty my toilet in the freezing snow. When we do have something that is a house, we're going to appreciate it so much more than we would have if we didn't live in this space."
---
Le'a Gleason failed #vanlife in 2018, when her 1995 GMC Safari "VanNessa" broke down on the way to a ski movie premier. She is a North Lake Tahoe–based writer fascinated by people's unique life stories and experiences.