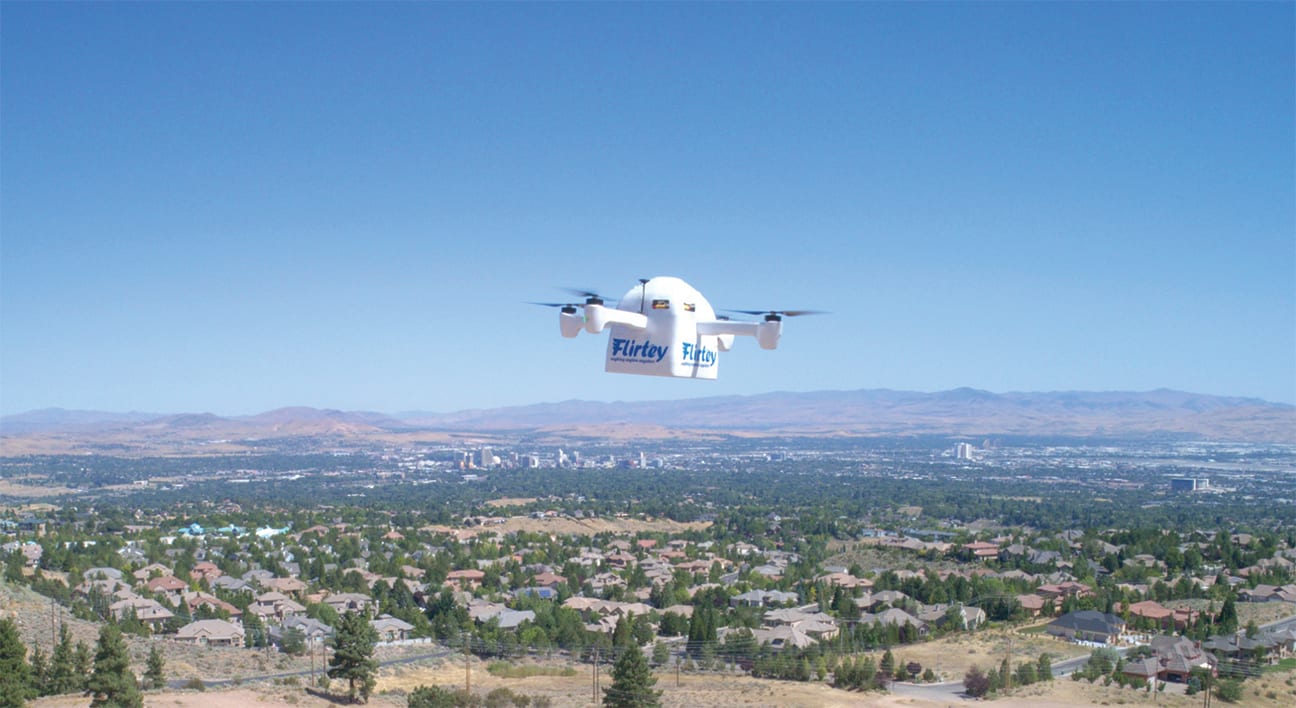 A Flirtey delivery drone performs a test flight above Reno, courtesy photo
27 Nov

Pioneering Drone Delivery
Flirtey is revolutionizing the delivery service industry from the skies above Reno
Australia native Matt Sweeny was studying abroad in Shanghai, China, when he first laid eyes on a drone—an event that presaged what would soon become the epicenter of his professional life. Like most early adopters of the technology, however, he grew interested in drones primarily as a diverting hobby.
"The early days of drone technology were like the early days of personal computing in the 1980s in Silicon Valley," Sweeny says. "There wasn't a commercial market for PCs—it was hobbyists, academics and the military."
As it relates to drones, Sweeny was in the hobbyist camp, tinkering with the machines while using them for aerial photography and the like.
However, he envisioned a potential use that was not being actively considered at the time: the delivery of materials safely and expeditiously.
"I built the world's first delivery drones in my dorm room in China," Sweeny says. "When it was time to return home to Australia, I had to choose whether to take my clothes or the drone. I packed my drones in my suitcase, left my clothes and headed for the airport."
It proved a wise choice.
Fast forward to the autumn of 2019, and Sweeny is the founder and chief executive officer of Flirtey, a Reno-based drone delivery service on the cusp of entirely remaking the courier and delivery service industry.
"With the program we are in now, we are scheduled to start regular drone delivery demonstrations in Reno by the end of this year," Sweeny says.
It's a remarkable feat given Flirtey was founded by Sweeny about six years ago, in 2013—along with co-founders Ahmed Haider and Tom Bass.
At the time, Sweeny, a philosophy major at University of Sydney, was teaching a university class about the philosophical underpinnings of American free speech when he simultaneously developed the world's first delivery drones.
"When we publicly announced the first drone delivery service in the world, we were on the front page of Fox News and CNN websites," Sweeny recalls. "The day after we announced, we received global coverage, and the following day, some of the largest companies in the world reached out to us asking for partnerships. So, I packed my bags and moved to America to raise investment from investors and family offices and build an engineering team with engineers out of NASA, Raytheon, General Dynamics, SpaceX and Lockheed Martin."
The first order of business as Sweeny cast about looking for the ideal situation to commercialize his innovative idea was to land on a headquarters. Despite initially moving to Silicon Valley, he eventually chose Reno as his base of operations. The reasons are multifarious.
The proximity to Silicon Valley, the concentration of wealthy firms and families willing to invest in disruptive technology, and a productive partnership with the University of Nevada, Reno, were all part of what made The Biggest Little City in the World so attractive.
But the piece de resistance was Nevada's approach to regulation.
"Nevada was designated as a test site, so we could earn faster regulatory approval for drone delivery if we moved to Reno," Sweeny says.
So the company left Silicon Valley behind and headed east over the Sierra.
"I remember driving a blue convertible and passing through Lake Tahoe," Sweeny fondly recalls.
Tahoe didn't only serve as a picturesque backdrop for Sweeny's plan to turn his ambitions into a concrete reality—the first significant American investment dollars came from the Sierra Angels, an investment group based in Incline Village.
Angel investors are common in the Silicon Valley startup landscape and are typically wealthy individuals or groups of individuals who provide capital to nascent businesses in exchange for ownership equity or convertible debt.
For Sweeny, the first injection of funds allowed Flirtey to start building the hardware in the form of his delivery drones and the software necessary to run the unmanned vehicles.
"The root of the idea was to develop a complex technology to give the following value propositions," Sweeny explains. "Drones are faster than any other form of delivery because they can fly over traffic congestion, and lower cost than any other form of delivery because they are autonomous. Finally, there is the magical experience of having a flying robot deliver something to you out of the sky whenever you want it."
The fanciful aspects of the business aside, Sweeny is most proud of the potential life-saving aspect of drone delivery.
"When you think about new technology, you always have to consider the benefit to society," he says.
Drone delivery has the potential to dramatically reduce the death rate from cardiac arrest, Sweeny says. Many of those who die from cardiac arrest do so because defibrillators and other life-saving devices do not reach them in time, whether that's because of ambulances stuck in traffic or slow response times.
"Our delivery drones are able to deliver a defibrillator to your home in time to jumpstart your heart," Sweeny says. "We looked at the numbers, and just one Flirtey delivery drone has the potential to save one life every two weeks on average."
Investors took notice.
After the initial round of angel funding, more investors came on board, and then Flirtey won seed funding from Y Combinator, a clear signal that the business was ready for the big stage.
Y Combinator is one of Silicon Valley's premier seed accelerators, selecting two batches of companies per year to receive funding, advice and connections in exchange for 7 percent ownership.
From there, Sweeny's operations expanded considerably.
Flirtey hired the former head of NASA's drone program to help perfect the design of the company's aircraft.
"We are in a unique position in that we have capabilities that no other aircraft manufacturer in the world has," Sweeny says. "Our drones are built from the ground up."
They are constructed in such a manner that they can make 75 percent of the deliveries currently handled by traditional couriers.
But the company is not solely about building aircraft.
Flirtey has also hired software engineers to develop the code necessary to run the drones safely and efficiently.
"We're providing turnkey solutions for any company that wants to operate a drone delivery service," Sweeny says.
That means Flirtey will have two significant aspects of its business—one competing against others in the courier industry, and the other competing against software development businesses.
While investors have taken notice, they are not alone.
In 2015, Flirtey beat out Amazon and Google to earn the first government approval for a drone delivery. A package was delivered in Virginia, and the drone that delivered it will be on display in the National Air and Space Museum in Washington, D.C., alongside the Wright Brothers' Wright Flyer.
"We are the pioneers that created this industry," Sweeny says.
Regulatory hurdles remain, as evidenced by the fact that Sweeny gave Tahoe Quarterly an interview as he was on his way to a meeting with U.S. Senators and high-ranking officials in the Federal Aviation Administration.
However, the company is set to begin drone delivery demonstrations in and around Reno by the end of 2019, signaling the imminent future of the courier industry.