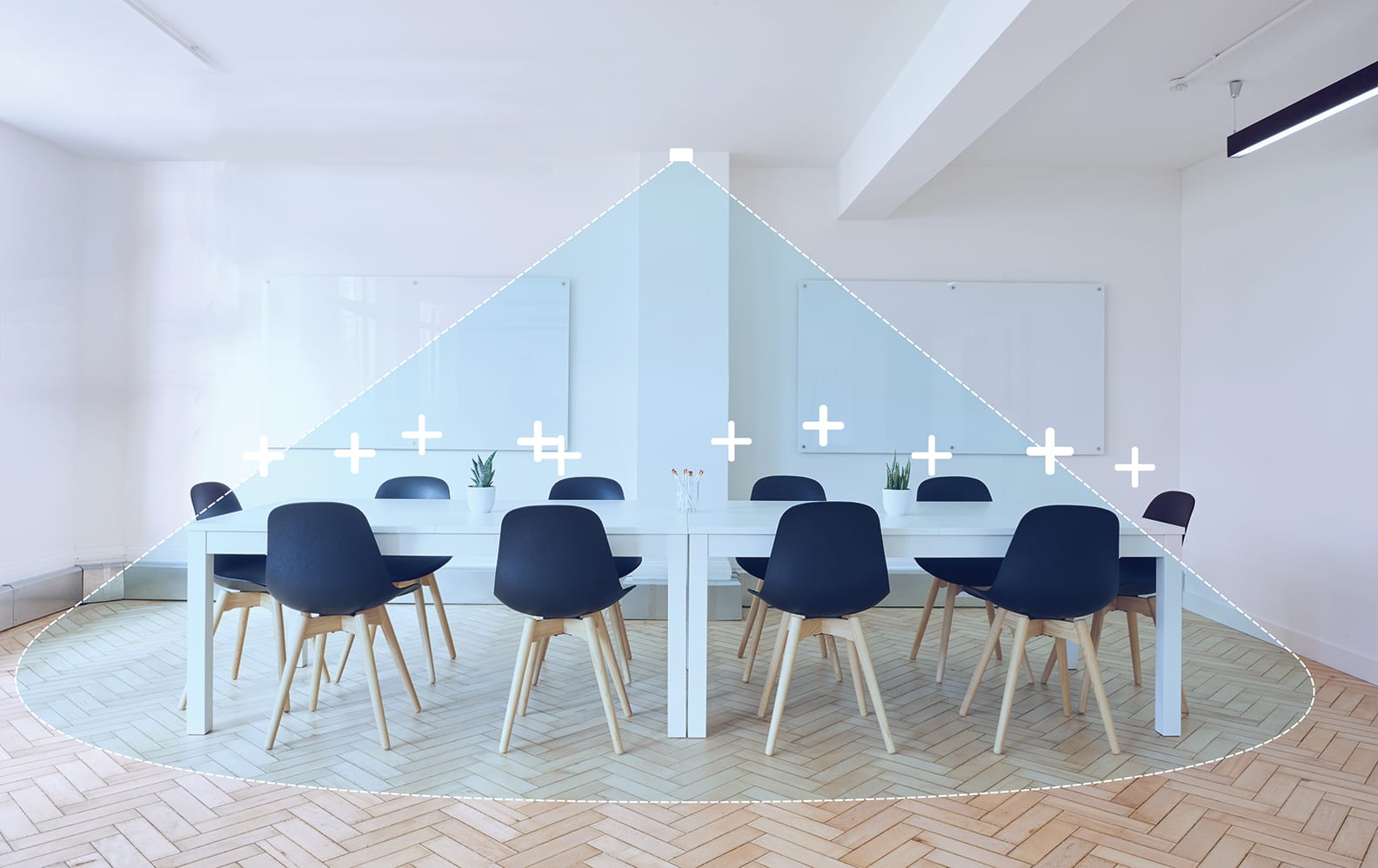 CoWorkr's sensors are designed to help companies collect activity data in workplaces, courtesy photo
27 Nov

Sensing Opportunity
Michigan native Elizabeth Redmond chooses Reno for her growing Internet of Things business, developing tiny technology that monitors movement
"We are clearly growing out of this space," says Elizabeth Redmond, flicking her eyes at the stack of cardboard boxes consuming her office inside the University of Nevada, Reno's Innevation Center, a startup incubator in downtown Reno.
It's a good problem to have for the co-founder of CoWorkr, an Internet of Things (IoT) business that uses sensors to help companies plan and transition to more modern, efficient and productive workplaces. The boxes are filled with hundreds of tiny white sensors (measuring 4 by 4 centimeters, about the size of a matchbook) that will be shipped to efficiency-seeking companies dotting the globe—from Texas to Switzerland to the U.K and beyond.
As the many boxes in Redmond's office indicate, business is booming for the Reno-based startup.
"We've doubled our revenue this year based on last year at the close of September," Redmond says. "And I really feel like, being here (in Reno), we've kind of had the wherewithal—and it's given us the bandwidth—to really push things to the next level."
Redmond was raised in Dexter, Michigan, in a household that valued sustainable practices. In fact, her father, Tim Redmond, was an entrepreneur in the natural foods industry.
"We grew up in somewhat of a 'back to the land' movement. We had a wood-fired stove for heat, a passive solar home and a massive garden that kept us busy," Redmond says.
"My parents instilled a sense of purpose in us that encouraged us to care for the planet and do what we can to get others to think outside the box."
For Redmond, her eco-conscious calling was rooted in design.
She first met her eventual business partner, Keenan May, while they were undergrads at the University of Michigan in Ann Arbor, near Redmond's hometown. There, the Dexter native attended the art and design school, her studies focused on industrial design and sustainability and efficiencies.
This, Redmond says, led to her becoming "fascinated" with a technology called piezoelectricity, which Merriam-Webster defines as "electricity or electric polarity due to pressure especially in a crystalline substance."
"It's an energy-harvesting technology that converts kinetic energy into electric energy," Redmond explains.
Inspired, Redmond spent her senior year developing a flooring tile fitted with piezoelectric brass-reinforced ceramic plates covered in nickel electrodes. She envisioned a flooring system designed to generate electricity when struck by the force of a footstep or tire.
The design earned her Metropolis Magazine's runner-up award in the 2007 Next Generation Design Competition.
"That really propelled me, because I received a ton of media exposure and started collaborating with a team doing sustainable material consulting, and life cycle analysis," says Redmond, who soon after launched her first startup, POWERleap, in 2008. 
Redmond got international commissions from the government of Saudi Arabia to put tiles in an exhibition for the King Abdullah City for Atomic and Renewable Energy, as well as energy-harvesting design and consultancy for the Abu Dhabi Water and Electric Authority and the Building Research Establishment in London.
"(They were) really fascinating projects," Redmond says. "Years in my 20s were spent traveling the world, learning about other cultures, and connecting with others who cared about our future planet."  
Years later, Redmond reconnected with May and the Michigan duo moved to San Francisco. As POWERleap, they did contract work for companies ranging from Nike to InterfaceFLOR, integrating their core technology, called SPOT (Self Powered Occupancy Tag), into companies' existing products.
In 2013, POWERleap was contracted by office furniture manufacturer Haworth, which gave Redmond and May a $160,000 loan to develop an "IoT product that could collect occupancy data and generate analytics."
"Haworth said, 'We have customers—if you can build a product, then we will bring them to you,'" Redmond recalls. "A classic 'If you build it, they will come' story."
In doing so, Redmond and May formed a new startup in 2014: CoWorkr. The company develops "simple sensors" that can be used to collect activity data on a single seating location or room, meaning the devices measure workplace utilization by sensing movement.
"It's really about efficiency of space," Redmond says. "We can see, for example, that this is where your staff is spending their time, these are the departments not using their workstations to the highest capacity. In a lot of cases we've allowed companies to mitigate a lease on an additional floor or lease out one of their existing floors in a building."
The sensors can be easily stuck to desks and chairs or mounted to the ceiling to anonymously detect activity. The data is pushed to a secure cloud environment using a cellular hub, and workplace activity can be viewed in real time. Another sensor CoWorkr developed uses computer vision technology to identify the number of occupants in a room. Their primary WorkPoint sensor can last more than five years on a single coin cell battery.
The technology, Redmond notes, is not invasive. 
"It's just saying 'somebody is here' and 'somebody just left.' And the power of that simple data helps organizations save millions in perpetuity. Property is a company's second greatest expense to people. On top of reducing real-estate footprint, we now help workers find desks or rooms or couches when they come in to the office. And that value prop bleeds into worker productivity and retention. Now we can impact the top two organizational expenses—people and property."
Clients start with a one-month pilot in which CoWorkr helps them figure out how to use the data and put it into action, Redmond says. From there, the startup typically moves into an "annual subscription that involves looking at the global real estate portfolio" with the client.
A majority of CoWorkr's clients are Fortune 1000 companies that have a global footprint, such as PG&E, GSK, Kimberly-Clark, Swiss Re and more.
"It's someone who says, 'We need to really get organized around our real estate strategy—how much space do we need, and how can we use it intelligently?'" Redmond says. 
On the other side of the spectrum, some clients are looking to downsize, and CoWorkr's sensors give them the data needed to put the wheels in motion.
Redmond says CoWorkr has been profitable since "day one" and is essentially self-funded, outside of a "friends and family" seed round of $200,000.
In September 2018, CoWorkr joined the wave of tech startups fleeing the Bay Area for Reno. They got plugged into the Innevation Center, which Redmond says has been a huge benefit to the company.
For instance, CoWorkr has collaborated with other entrepreneurs working out of the center, and even used the center's makerspace to create a foam design to improve the packaging for its demo kit.
In addition, Redmond says she's in the process of getting quotes from two manufacturers in Reno-Sparks for a battery-powered sensor.
"Here, you can just focus on your core mission and focus on your business," says Redmond, noting the stark differences between Silicon Valley and Northern Nevada. "Meanwhile, you can go mountain biking and paddleboarding and get actual fresh air."
Redmond says CoWorkr is also working on an image-based detection hardware, which they plan to have fully developed by the beginning of next year. In addition, Redmond and May are expanding the company to their home state, opening an office in Traverse City, Michigan, by the end of 2019. 
Meanwhile, in Reno, CoWorkr will eventually grow out of the Innevation Center and move into a larger office—with more space for more boxes. But Redmond is in no rush, at least not yet.
"I haven't really planned out our (next) office design and layout," Redmond admits with a smile. "Which drives me a little bit crazy… because I am a designer."