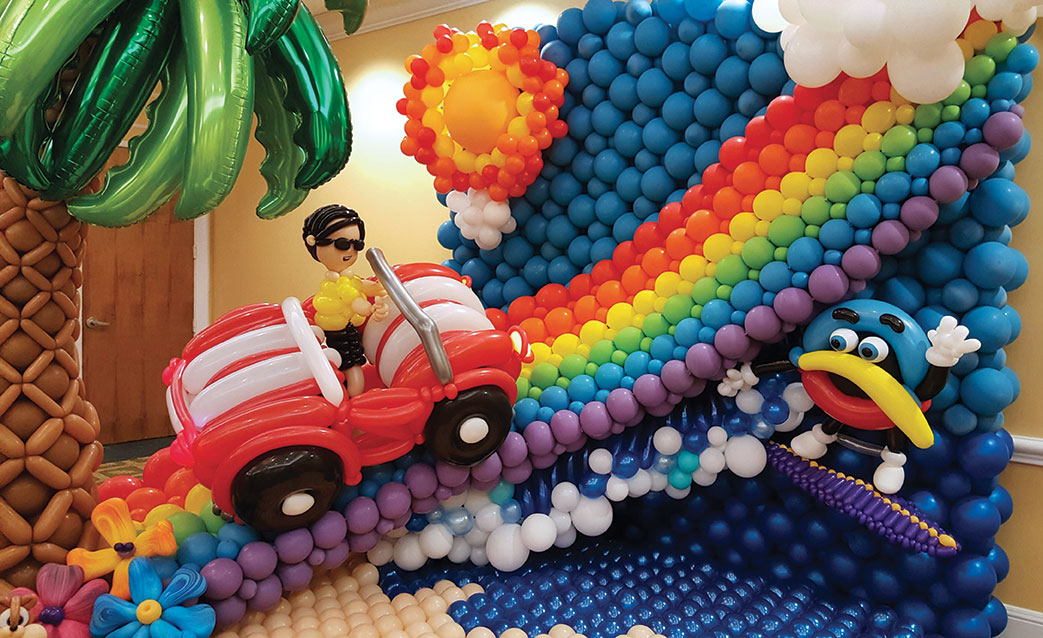 Sean Rogers entered "Road Trip to Paradise" into the large sculpture competition at the 2017 Twist & Shout event, courtesy photo
01 Dec

Inflatable Art
Sean Rogers discovered balloon-making by happy accident, and then took the playful craft to new heights
A wise man by the name of Benjamin Franklin once said, "You can do anything you set your mind to." Sean Rogers is living proof.
After dabbling in a wide array of professions, from ski instruction to landscaping to motorcycle stunt riding, the Tahoe City resident picked up balloon-making on a challenge, then worked at the craft to become one of the best in the business.
"To say that Sean is passionate about what he does would be a tremendous understatement," says Steven Jones, founder and executive producer of the FLOAT Balloon Convention, where Rogers serves as competition director. "He's one of those individuals who refuses to give up working on a design until he has it just right."
Driven by his desire to master the art form, Rogers founded a balloon décor company, Inspired Balloons, in 2009 and now makes a living designing up to $10,000 builds for communities and events in the Tahoe area and beyond. It's a creative career that is still evolving as Rogers looks toward a future on the road, sharing his craft with the world while also pursuing more permanent forms of artwork.
"I feel I have never mastered the craft fully," says Rogers. "There is, and always will be, room to expand as an artist and designer."
Roundabout Path to Balloons
A Virginia native, Rogers never attended college, opting instead to become a ski instructor at Snowshoe Mountain, West Virginia, in 1998. While there, he tried his hand at real estate, buying a few condos as he continued to teach skiing. He then started his own landscaping business.
"I built it as a grass-mowing business that grew into much more as far as design and installs over the seven years I owned it," says Rogers, adding that running the company taught him valuable business skills—and made him realize that he wanted to be his own boss.
But not before rolling the dice as a motorcycle stunt rider, fulfilling a lifelong hankering to be on a stage. Riding dirt bikes and four-wheelers, Rogers performed with a team dubbed the 540 Boyz out of Fredericksburg, Virginia, executing "all kinds of stunts" at bike shows and fairs from Maryland to North Carolina.
Next up on the career path, Rogers moved to Orlando, Florida, and began bartending. One night after his shift, he witnessed something at a TGI Friday's restaurant that piqued his interest. A man was twisting balloons into dazzling creations and selling them to customers.
Rogers says he initially heckled the balloon artist, a future friend named Eric Flynn, who responded by challenging him to attempt the difficult craft himself.
Although he couldn't even tie a balloon at the time, and had no artistic background to speak of, Rogers gave it a try. He learned how to create a monkey out of balloons, then a sword, using Flynn's pointers and an instructional video on YouTube. He quickly discovered that he had a knack for the art form.
"I learned the basics as stepping stones and then just built balloons," he says… "Balloons were definitely a happy accident."
A Career Takes Flight
Shortly after he started twisting balloons professionally, Rogers moved to Tahoe City on a whim. He had a friend living there, and the life of a ski bum was calling his name.
In Tahoe, Rogers started tying balloons for patrons at Sunnyside Restaurant, Fireside Pizza and Rubicon Pizza, making $125–$300 in tips per shift. He also worked as a bartender at Best Pies before eventually dropping the bottles for good to focus on balloon art.
"The more advanced I got, the less fun the restaurant got," says Rogers.
Looking to earn more money for his work, Rogers struck a deal to set up a booth at Fireside Pizza in the Heavenly Village, where he offered a menu of 100 balloon creations ranging in price from $3 to $10 each. He likened the atmosphere to Disneyland.
"I'd have a line as soon as I showed up in a place," Rogers says. "Half the time the parents got crazier than the kids did."
Rogers could twist a child-sized Super Mario or a Ninja Turtle out of a handful of balloons in 10 minutes or less. But he learned that to make more than $10 for a balloon, he'd have to start valuing his art more. As he explains it, if you sell a balloon on the street for $100, people may see its worth at $100.
Meanwhile, Rogers launched his own business, naming his boutique company Inspired Balloons. While the company got off to a modest start, business steadily grew as Rogers gained clients through word of mouth.
"I went from being like a clown on the side of the street to a really big décor company," says Rogers, who counts Martis Camp among his biggest, and "most fun," clients. 
The private luxury community in Truckee hires Rogers to create intricate character scenes that breathe life into everything from outdoor movie nights to holiday events to birthday parties. Highlights include giant Minions, Trolls characters, Lightning McQueen and, in what was perhaps Rogers' favorite project to date, six life-size toy soldiers, a huge Slinky Dog, Mr. Potato Head, and Buzz and Woody characters with a 9-foot Toy Story-themed backdrop wall.
Such large sculptures require anywhere from a couple of hours to build to multiple days, depending on the creation.
"He brings the characters to life through his work," says Kelly Tierney, entertainment and events manager at Martis Camp. "From Trolls to Minions, Sean creates displays that are over the top."
In addition to Martis Camp, Rogers' work has been featured at many local businesses, including casinos, hospitals and restaurants. Before COVID-19 put a damper on social events, Rogers was bringing in over $13,000 a month, with no employees, routinely working with event planners and venues to build balloon sculptures for decoration. All the while, he juggled duties as a "full-time, stay-at-home adventure dad of two" while his wife worked full-time as an occupational therapist.
Elite Company
As Rogers continued to improve as a balloon artist, he fed his competitive spirit by diving into the contest scene.
"It's what pushed me to get me where I was," says Rogers, who has earned some of the most prestigious awards in the industry, and also served as an esteemed instructor and judge at the World Balloon Convention.
At the bigger competitions, Rogers has worked on teams with upwards of 20 other designers to turn out spectacular $40,000 balloon displays, with sponsors to mitigate costs. But he stopped competing in 2019.
"I'm a businessman, not a dummy. There's no money in it," he says, explaining that the prize money pales in comparison to the costs associated with the sculptures.
Rogers credits his competition success for helping him build a portfolio, and opening the door to his gig as competition director at the FLOAT Balloon Convention.
"Sean is talented, tenacious and tremendous. He truly has the soul of an artist," says Jones, FLOAT's founder.
Jones tells a story of Rogers once creating a balloon sculpture of actress Pauley Perrette as Abby Sciuto from the television show NCIS.
"Lots of balloon artists do people sculptures, but it's really challenging to get them to look like actual people," says Jones. "Sean pulled it off, however, and with that entry won two different design awards at FLOAT in 2019."
Future Balloon-Making
Rogers, with kids ages 2 and 5 in tow, doesn't plan to give up working in balloons anytime soon. With events dwindling and a latex shortage caused by COVID-19, however, the future of Inspired Balloons is taking a twist of its own.
Rogers is gearing up to take his show on the road, quite literally. He plans to continue teaching others who are interested in learning the art of balloons, combining advanced twisting with décor planning. He's already started instructing, with for-sale online tutorial videos that walk people through different builds, including a popular set of cars.
He's even looking forward to tackling a new artform—chainsaw sculptures. But that creative endeavor will have to wait.
"I have not done any chainsaw carvings yet; just waiting for the kiddos to get a bit older," he says. "With them being with me all the time, balloons are a safer option at the moment."
Rogers' ultimate goal is to start making a living through workshops instead of only commissioned art, although he hopes to continue that, as well.
Wherever his future in balloon-making takes him, Rogers will continue to hone his skills in the craft that he discovered by accident.
---
Nora Heston Tarte is a freelance lifestyle writer based in Reno. Her biggest passion is people. She enjoys learning about individual passions, what sparked them and how people make their dreams come true.