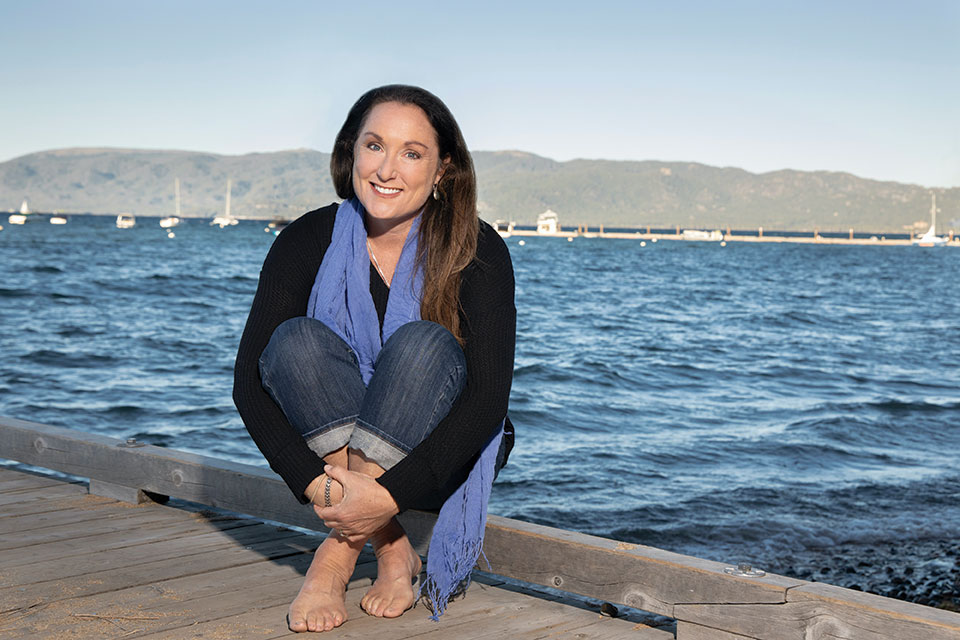 Author Suzanne Roberts at home in South Lake Tahoe, photo by Jarvis Photography
01 Dec

Tahoe Author Chronicles the Trials of Her World Travels

In her new book, Bad Tourist: Misadventures in Love and Travel, South Lake Tahoe-based author Suzanne Roberts entertains readers with brutally honest storytelling from her extensive world travels.

On a trip to Peru, for example, she escaped a mudslide, survived a deadly illness and was secretly drugged in a nightclub. In Ecuador, she crossed piranha-infested waters and encountered a farmer wearing a Richard Nixon mask while waving a machete. On another trip, while huddled in fear as a Florida lightning storm raged outside her tent, she experienced an unlikely life-changing event as her future husband passed the "love test."

"I tend to say too much and ask too many questions," says Roberts.   

It's a philosophy that sometimes gets her into trouble, but the kind of trouble that rewards readers with raw, often humorous stories that sparkle with vivid descriptions of the natural and cultural wonders that she encounters. While the book includes essays from 15-plus years of adventures across more than a dozen countries, it's more about a person using travel to work through a failing marriage and her own opinions of how a woman should act.

"I attempted to magically become someone new because I was in a new place, but that obviously didn't happen," says Roberts. "We bring who we are wherever we go. I was, however, able to gain confidence by traveling alone."
A Writer at Heart
Roberts has been a writer for as long as she can remember. "I probably put my first 'book,' a stapled pamphlet of drawings and pictures, together when I was 3 or 4," says Roberts, who was awarded "Greatest Mystery Writer" in the fourth grade.
A native of New York, Roberts grew up in Southern California and attended Cal Poly, San Luis Obispo, where she earned a bachelor's degree in biology and a masters in English. She later received a doctorate in literature and environment from the University of Nevada, Reno.
Roberts moved to South Lake Tahoe in 2000 after landing a job at Lake Tahoe Community College, where she taught writing for 18 years. She also spent the past seven years as a professor in Sierra Nevada University's Master of Fine Arts creative writing program.
A published poet as well, Roberts' first book, Almost Somewhere: Twenty-Eight Days on the John Muir Trail, won the 2012 National Outdoor Book Award. The critically acclaimed book tells the story of three women fresh out of college who tackle the challenging John Muir Trail. The story is full of evocative descriptions of Roberts' beloved Sierra Nevada, but it is also a coming-of-age, finding-who-you-are composition that is both comical and touching.
In addition to her two books, Roberts' forthright and often self-deprecatingly funny travel essays have appeared in dozens of magazines. In 2008, National Geographic Traveler named her "the next great travel writer."
Therapy Through Travel
As in her first book, Bad Tourist chronicles Roberts' challenges with men. She gets involved in several short-term relationships in an effort to figure out how to handle the more long-term ones, only to discover that "the relationship that needed the most work was the one with myself," says Roberts.
A primary purpose of her travels is to push away the fear that her life would be an ordinary one, and, according to her essay Knowing the Words by Heart, to reconcile what it meant to be a newly single woman.
"There is a line between being young and cute and old and invisible," she writes. "Kourtney (a friend and travel partner) and I were hovering on that line."
While Roberts battled her own emotional conflicts, she also wrestled with her perception that she was a bad tourist.
"I think I'm a bad tourist whenever I'm an outsider looking in, which of course happens every time I travel," says Roberts. "So, in that way, the title of my book is somewhat ironic, because we are always bad tourists, even when we aren't trying to be—at least that's true for me. There are always cultural blind spots, where we don't understand the etiquette or we bring expectations from our own culture to other places. Or we don't do enough research and we end up engaging in harmful behavior."
The premise of Bad Tourist is particularly timely, given how one of the main items of discussion among Tahoe locals this past summer was overcrowding, litter and rude behavior by visitors.
"This summer has been especially rough in terms of overtourism in Tahoe," says Roberts, "And when we add the pandemic, that has led to a lot of conflict between tourists and locals. I do think we can have blind spots even when we travel within our own country. Visitors who are not used to cohabitation with our wildlife, for example, don't understand how damaging it is to our bears to leave their trash out or how harmful it is to feed our wild birds.
"So, education is key. I think the more we as locals can both model behavior and educate our tourists, the better it will be for us and our environment."
Finding True Love
In the end, Roberts' more than 15 years of travel did bring about a profound change in her discovering not only who she wanted to be, but how to get there.
"I figured out myself, but maybe more than that, I figured out how to accept who I am, which is the hard part," she says. "We all make decisions we later regret, and we can either learn from them and move on, or we can feel guilt and shame but never do anything different. All that moving—or traveling—helped me to move on."
Roberts says that her process of transformation was not done alone, however. She got by with a lot of help from her friends.
"This book is also very much about female friendship, and the ways our friends help us through," she says. "Friends I have traveled with helped me through natural disasters like mudslides but also nightclub druggings, rocky love affairs and even accepting my aging female body."
Roberts eventually finds her true love, who passes her "love test." It begins in a tent during a raging thunderstorm in the Florida Everglades, with Roberts and her "practical boyfriend," as she pens, hunkered down as the "thunder that sounded like bombs was exploding nearby." At the height of the storm, she makes the sort of desperate confession we all fear in such a dire situation: "I have to go poo."
Practical boyfriend reaches for his knit beanie and says the six words every woman would long to hear in that instance: "You can poop in my hat." Because when you get right down to it, how could anyone say "I love you" better than that?
---
Bad Tourist: Misadventures in Love and Travel is available on Suzanne Roberts' website, suzanneroberts.net, and anywhere books are sold.