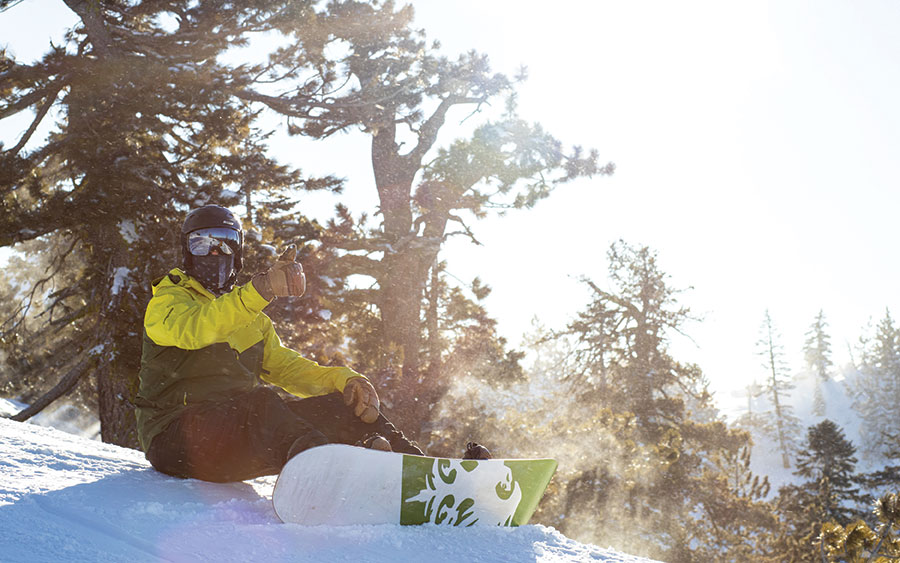 A snowboarder sports a face mask while riding at Diamond Peak last winter, photo courtesy Diamond Peak
01 Dec

Tahoe Ski Resorts Playing it Safe Amid Pandemic

Advocating for safety has always been a fundamental priority in the ski resort industry, but the 2020-21 season is requiring an unprecedented commitment to the health and well-being of skiers, snowboarders, staff and the overall community.

Following best practices recommended by the National Ski Areas Association (NSAA) and Ski California, and in compliance with additional federal, state and local regulations, Tahoe ski resorts have collectively implemented a shared set of COVID-19 protocols, in addition to unique operational strategies scaled to each resort's specific needs.

This winter in Tahoe, resort visitors can expect to see measures such as limited capacity, increased sanitation, physical distancing policies and increased signage reminding guests that face coverings are mandatory in public spaces—including chairlifts, gondolas and trams and indoor spaces such as restaurants and shops.

"Essentially, guests should expect to wear a face covering almost all of the time," states a press release by Squaw Valley Alpine Meadows. "Guests who are opposed to this are asked to avoid visiting the resort this season."

Cashless payment systems have also been implemented at all Tahoe ski resorts across the board, including online ticket reservations, food and beverage orders, rentals, lessons and lodging. Most resorts, even the family-owned, smaller destinations, are shifting transactions from in-person to online in order to streamline the customer experience.
Advanced Ticket Purchases and Passholder Access
Passholders will have the most access at all mountains in the Basin, and advanced online day-ticket purchases will be the new norm this winter.
At Squaw Valley Alpine Meadows, Mt. Rose, Homewood, Diamond Peak, Sugar Bowl and all three Vail Resorts (Heavenly, Kirkwood and Northstar), lift ticket sales will be capped via the online system while passholder sales have been restricted to a certain number at each resort, most of which are monitoring the availability by restricting purchase options until a certain date.
"These core measures will help us stay safe, open and remain open," says Tom Fortune, Heavenly's vice president and general manager.
Rentals and Lessons
Advanced reservations will be required for ski and snowboard lessons as well as equipment rentals at all Tahoe ski resorts, and guests can expect to see a reduction in the overall student-to-instructor ratios. Some resorts are also limiting ski and snowboard school operations to private lessons only, which must be reserved in advance as well.
Chairlift Capacities
New lift lines will be established to create more space between guests, and skiers and riders will be asked to self-group if riding with those in their party. Singles will be limited to two riders per four-person chair or two doubles per six-person chair—an industry standard established by the NSAA. At Heavenly, the gondola will be open for sightseeing access, but will not be available for skiing or riding access early in the season.
Food and Beverage
Expanded deck seating with hundreds of new tables, chairs, heaters, umbrellas and fire pits will be available for guests at Squaw Valley's Gold Coast Lodge and KT Base Bar, and at Alpine Meadows Base Lodge. Online ordering and grab-and-go options will be available at most ski resorts in replacement of indoor lodge-style dining. Après ski will not be available at any bars this season, as most will be closed in compliance with state and federal restrictions. Resorts such as Homewood, Sugar Bowl and Diamond Peak will have limited indoor dining options available, and are encouraging guests to make use of their personal vehicles as their food and beverage "lodge" this winter.
Mountain Access and New Terrain Features
In spite of a busy offseason preparing to reopen in the wake of a global pandemic, some resorts still found time to enhance their terrain, chairlift access and other mountain features.
Heavenly announced that, for the first time in over a decade, the resort will open the California side at the onset of the season, including the scenic Ridge Run. Mt. Rose has added to its snowmaking system on the Bonanza traverse and worked to remove obstacles in Sunrise Bowl in order to open terrain earlier in the season. Homewood has made significant investments in technology and on-mountain upgrades that will improve overall guest access, including RFID lift ticketing and scanning, and restorations to the Ellis chairlift.
Should the pandemic abate, resorts will slowly increase on-mountain services, lessons, and dining and lodging options, and perhaps expand the number of daily lift tickets available.
In the meantime, says Diamond Peak Marketing Manager Paul Raymore, there are some positive takeaways from the newfound approach to the overall ski and ride experience this winter, including a natural physical distancing that occurs in the outdoors, as well as greater communication between resorts and their customers.
"One good thing that I expect to come out of the COVID-19 restrictions this winter is the ability to collect more customer contact information in advance, which will allow us to do a better job communicating what to expect when customers arrive at the resort—things like where to pick up lift tickets and rentals, what the weather is going to be like and other tips for how to have a great experience on the mountain."