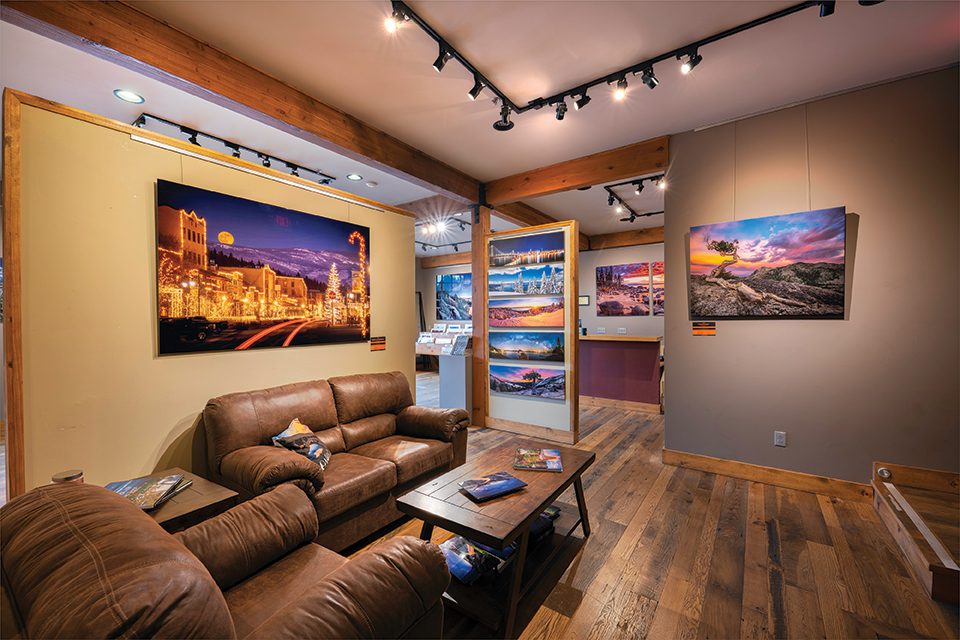 The homey interior of Alpenglow Gallery, courtesy photo
30 Nov

A Fresh Take on Tahoe Art
The newest fine art galleries in the Truckee-Tahoe region feature an array of quality works to complement the mountain home
As any business owner can attest, the past few years have been rocky at best. And yet, in the face of a global pandemic and economic uncertainty, a new wave of fine art galleries has sprung onto the Truckee-Tahoe scene—with their owners not only supporting local artists by providing places to sell their work, but also bolstering the selection of art available to mountain homeowners looking to enhance their interior space. The following three businesses and their owners have pushed through the challenging times to turn their dreams into reality, benefiting residents and visitors alike with fresh new art to complement the latest trends in home design.
Piper J Gallery
10153 West River St., Truckee
(530) 386-7735
piperjgallery@gmail.com
Inside the Piper J Gallery booth at the Made in Tahoe Festival, scenic landscapes by the gallery's owner, Piper Monika Johnson, juxtapose with Jason Forcier's mixed-media abstract artworks. The decidedly different styles of art provide a drastic contrast for passersby to enjoy—and offer a small glimpse into the vast variety of work showcased in Truckee's newest art gallery.
Opened in April 2022 in West River Street's old Garden Folly Building, Piper J Gallery represents the work of 20 talented artists, all of whom have their own distinct styles. In fact, Johnson says the art in her gallery is so wide-ranging that competition does not exist among the artists. It is a point of pride for Johnson, who also makes a point of selecting an assortment of pieces that enhance each other and do not compete.
"I think the people who live here like having an eclectic variety of art that represents more of a collection, like it was acquired over a lifetime," says Johnson. "I think it's great to intermix different styles."
Art was not always Johnson's profession. After moving to Incline Village in 1994 "to ski for one season," the hairdresser from Boston took a job as a cocktail waitress at the Lone Eagle Grille to maximize her time on the slopes. But after realizing she wanted to stay in Tahoe, Johnson went back to her "real job," opening a salon that she ran for over two decades.
In the early 2000s, one of her clients told her she had a great eye for color and design and asked if she had ever considered painting. Johnson began experimenting with still lifes, then dove into plein air painting. In 2016 she and a partner opened a gallery in Incline Village called Cobalt Art Studio, which became Piper J Gallery two years later when Johnson became the sole owner. Johnson moved to Truckee in 2021 and, upon seeing the emerging art scene in the historic downtown corridor, decided to move her gallery to West River Street. 
While she admits that opening a new gallery in Truckee—with its "other side of the train tracks" location—has presented its challenges, the move has been positive overall. She's met new people and gotten involved in events like Truckee Thursdays, while many of her art-collecting clients from Incline Village have made a point of visiting her new spot.
The gallery, a former home that was originally constructed in 1881 and renovated in 2002, features numerous rooms with art adorning the walls, allowing people to envision what the various pieces would look like in their homes. Johnson says she removed the doors so customers can peek inside the rooms or easily meander through them.
"These little rooms make for a lot of wall space, ideal for a professional and contemporary gallery," says Johnson.
All sorts of mediums and artistic styles—from traditional oil paintings to metal sculptures to glass bowls made by Carnelian Bay resident Tom Carter to resemble Lake Tahoe's translucent water—decorate the walls, which provide ample space to feature even more artists in the future.
Johnson also offers complimentary art consultations, and will even bring artwork to private homes for owners to try out for up to a week before making a purchase.
"I feel like there's a missing niche in the art around Tahoe," says Johnson. "There's touristy art and cabiny/lodgey-type art with bears, moose and pinecones. That's great for a vacation rental, but I'm trying to offer a selection of art for the people who spend most of their time already here in Tahoe and see the pinecones, bears and trees right outside their window all the time.
"Of course, we have traditional landscapes and ones that pay homage to the environment. But I feel that what we have here fits that newer mountain-modern home, minimal-type architecture, and your art should outlive your sofa. It's easier to get new pillows to match your art than vice versa."
Alpenglow Gallery
9940 Donner Pass Rd., Truckee
(530) 536-3422
info@thealpenglowgallery.com
On a lovely midweek afternoon in downtown Truckee, people stop in front of Alpenglow Gallery and flip through prints before making their way into the cozy confines of the building. Upon entry, they are treated to a striking display of fine art landscape photography—large, crisp, colorful scenes capturing Tahoe's most iconic locations (and many others).
Some of the browsers undoubtedly recall when the attractive space, with its warm-toned wood flooring and exposed beams, was owned by Elizabeth and Olof Carmel, who first opened the Carmel Gallery in 2006. After a successful 15-year run, however, the Carmels put the gallery up for sale in the summer of 2021. 
Truckee-based photographer Abe Blair, who had owned a gallery above nearby Pianeta before the pandemic, jumped at the opportunity.
"When I moved here with my wife and kid 10 years ago, I introduced myself to Liz [Carmel] and told her that someday I'd like to have a spot like this," says Blair. "I watched it sit there for a few weeks and reached out to investors and got crickets, so as a Hail Mary I reached out directly to Carmel."
Fortunately for Blair, the couple knew him and appreciated his work, and thus were instrumental in helping him secure the space.
Blair, a former professional snowboard photographer who's known more for his stunning landscapes these days, then brought in two of his photographer friends. He'd been shooting with Justin Majeczky for years—"We were the only two kooks that would be out filming the Milky Way at 2 a.m. back then," he recalls of their early friendship—while he met Doug DeVore, an Emmy winner for his work in motion graphics, through a photography class he taught in Truckee in 2019.
The three photographers became partners, forming an LLC and signing a lease in early July 2021 before opening the gallery later that summer. Alpenglow Gallery is unique in that it represents the trio's photography only, and they split the profits equally. 
"It takes the artist ego out of it," says Blair. "We don't care whose art sells." That allows the seller to focus on what fits best in a client's space rather than trying to push them into buying the photographer's own work.
The Alpenglow partners focus on offering a high-end big-print gallery (they keep a collection of more than 1,000 images among the three of them) while functioning as kind of behind-the-scenes interior design advisers. They also educate aspiring photographers through group workshops and one-on-one lessons held at various locations around the lake.
So far, business has been good.
"We love it," says Blair. 'We're proud of what we have here. Carmel has been a household name and I would love to earn that here."
Melhop Gallery º7077
(775) 771-8528
frances@melhopgallery.com
New Zealand native Frances Melhop has a storied career as a photographer in the art/fashion/design world, living and working in big cities in Italy, France, England and Australia before settling on Tahoe's East Shore with her husband in 2018. After moving to Tahoe, Melhop earned a master's degree in fine arts from the University of Nevada, Reno, taught art classes at the university and several community colleges in Northern Nevada, and formed an artists' residency program in Virginia City.
Her latest venture involved opening a contemporary art gallery in Zephyr Cove in May 2020, which she named Melhop Gallery °7077. But the endeavor is already changing forms.
Melhop believes the Tahoe art scene is unique in the sense that people don't necessarily come to the lake to shop for art, and she learned during the pandemic that she would need to approach the mountain region differently than the big cities of Milan, Sydney, London and others.
"There was an art exhibit opening every week in those places, but you just don't have that here," Melhop says. "I think people come here to hide out or for sport."
Melhop decided the best way to represent her 12 local, national and international artists—local talents such as South Shore resident Julia Schwadron Marianelli and Kings Beach native Galen Brown—would be to transform her gallery into a "nomadic curatorial project" in addition to offering an online art-selling platform.
So she began organizing guerilla-style pop-up exhibitions, starting with an event reception on November 11 featuring artist Miya Hannan held in the opium den of Truckee's Old Chinese Herb Shop, which is now the studio of HSH Interiors. Melhop says not being restricted to a gallery space allows her to provide better exposure for the artists she represents. She hopes her roving gallery, which she calls Melhop Projects, brings an inspired, novel approach to how people think about contemporary art galleries.
Melhop is also putting on a virtual winter art fair, themed "Fantastic Planet," throughout November and December, with new art being added on a weekly basis. All works will be priced under $1,000.
---
Kayla Anderson is a Tahoe-based writer who enjoys Tahoe's emerging art scene.