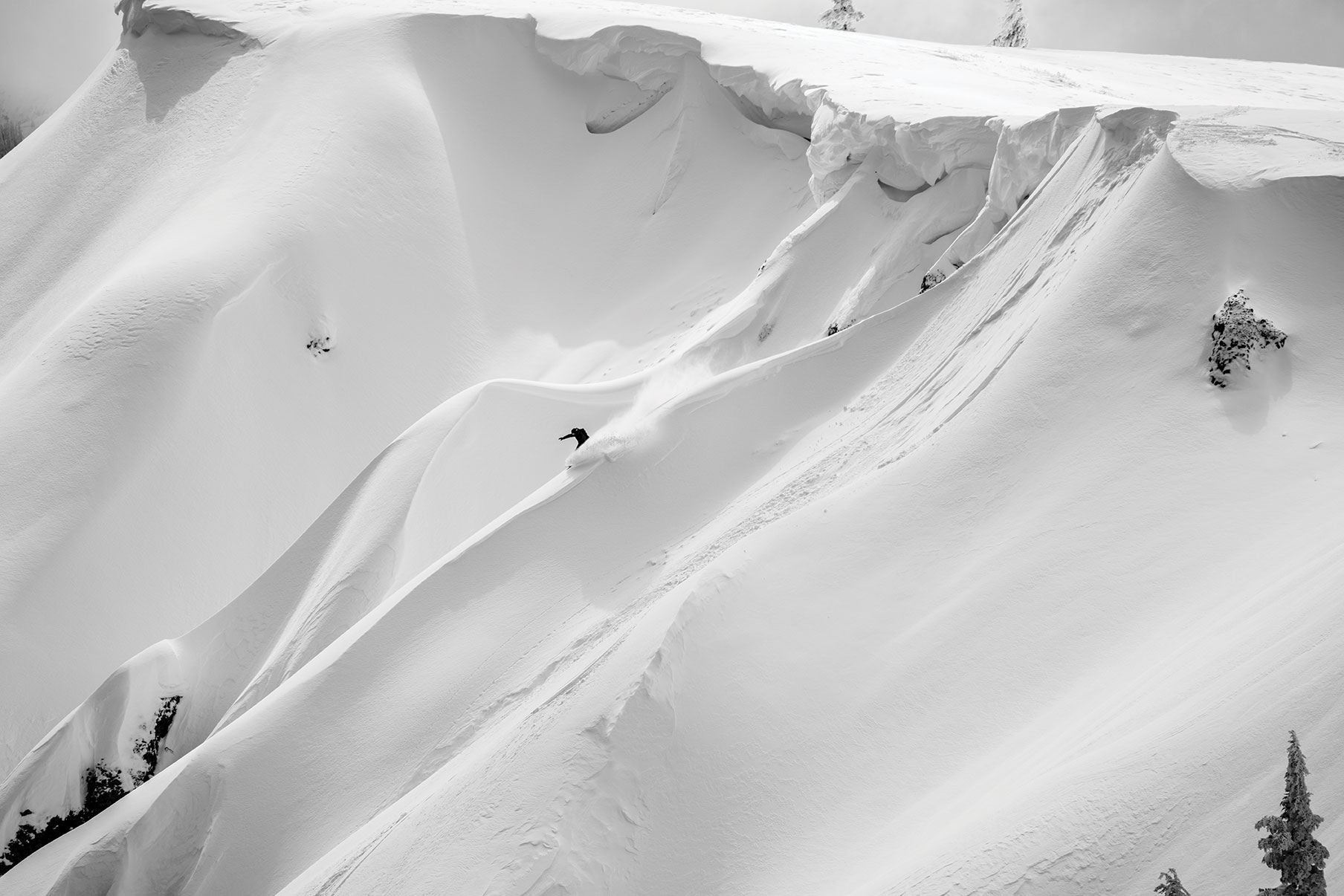 Jeremy Jones, widely regarded as one of the most accomplished big-mountain snowboarders of all time, was voted the No. 1 rider in Tahoe history, photo by Ming Poon
24 Sep

The Top 25 Tahoe Snowboarders
From big-mountain pioneers to skate-style shredders, Tahoe's best riders represent some of the sport's most celebrated stars

To be sure, ranking the 25 greatest snowboarders in Tahoe history is an ambitious undertaking. The Tahoe region, after all, is home to some of snowboarding's most talented practitioners and influential pioneers, iconic figures who helped shape the sport and continue to push the limits of what's possible today. So, how was such a list assembled? A judging panel of industry experts, of course. Six judges cast their votes based on a list of criteria intended to break down the best of the best—and as fairly and with as little subjectivity as possible. The criteria consisted of the following: overall ability (including style, technical ability and versatility); impact/influence on the sport (including progressiveness and fame); achievements/accolades (including film appearances, first descents, awards and contest success); and longevity. A points system, modeled after college football's weekly rankings, was then used to calculate the top 25. In the end, it is a standout list that represents not only the greatest snowboarders in Tahoe history, but some of the most innovative and skilled riders who ever lived.
1. Jeremy Jones
Jeremy Jones' snowboarding résumé speaks for itself. Nearly 30 years as a pro; over 50 film appearances; 11-time winner of Snowboarder Magazine's Big Mountain Rider of the Year; National Geographic's 2013 Adventurer of the Year; dozens of first descents around the world; founder and CEO of Jones Snowboards; founder of Protect Our Winters… and the list goes on. As is typical in Tahoe, Jones is low-key and unassuming, a family man who, for the uneducated, is indistinguishable from the next guy in this land of adept outdoor athletes. On a snowboard, however, Jones stands alone, a daring, immensely skilled rider who, over the course of many years, has slayed some of the burliest lines ever imagined. And at 45 years old, he continues to ride at a high level. "Jeremy's sheer ability on a snowboard when it comes to edge control and route-finding on the steeps is mind-bending," says Mike Hatchett, co-founder of Standard Films. An East Coast native, Jones learned to snowboard on a Burton Backhill at age 9 and was competing professionally by 16. He moved to the Tahoe area a year later, sharing a house on Donner Lake with 13 others as he looked to advance his career in the snowboarding hotbed. Jones also spent time at Jackson Hole, Wyoming, where his brothers Steve and Todd founded film company Teton Gravity Research. While primarily a racer, Jones was attracted to backcountry terrain from his earliest riding days. "As I started going to these amazing freeriding places for racing, as soon as the race was done the soft boots went on and I'd go freeriding," says Jones, who stopped racing at age 23. "And really, that was always at the heart of my snowboarding. It was always about top-to-bottom snowboarding for me—making good turns with airs on natural features." In addition to filming with his brothers, Jones hooked up with Mike and Dave Hatchett of Standard Films and began riding the big mountains of Alaska, where he learned the ropes from seasoned pros the likes of Tom Burt. Before long Jones had carved out a name as one of the best big-mountain riders in the world. Yet, some of his more jaw-dropping lines were filmed right here in the Tahoe backcountry, such as Grizzly Spines in Blackwood Canyon, which appears in Standard Films' 2005 release, Paradox. Jones continued to up the ante, starring in Travis Rice's 2008 hit, That's It, That's All, before embarking on a trilogy, Deeper, Further and Higher, in which he ditched the helicopter and used his own two feet to climb and ride some of the highest and most remote peaks on the planet. Jones still serves as an ambassador for the sport while fighting to bring action to the global issue of climate change. And, he still rips.
---
2. Shaun Palmer
Perhaps the craziest thing about Shaun Palmer's storied snowboarding career—and there are many—is that it could have been even better. From his teenage years when he was known as "Mini Shred" to his amazing run at the 2006 Olympics at age 38, the tattooed rider who embodied the sport's punk rock image dominated nearly every snowboarding competition he entered. All the while, he consistently impressed his peers with his aggressive style and all-around ability on a board. He was simply better than most. Between all the victories and film shoots, however, Palmer put snowboarding on hold to pursue other athletic achievements. That's when the world saw just how freakishly athletic, and competitive, he is. Palmer not only excelled in snowboarding contests, he whipped seasoned pros across multiple sports, from mountain bike racing to motocross, skier cross and even auto racing. He was named the World's Greatest Athlete by USA Today in 1998 and received an ESPY Award for Athlete of the Year in 2001. But snowboarding is Palmer's claim to fame. As a member of South Lake Tahoe's pioneering crew, Palmer and fellow ripper and friend Damian Sanders would connect with North Shore riders like Terry Kidwell to session local features and ride the few resorts that allowed snowboarding at the time. Palmer's talents were apparent even as a spindly teen. He earned a coveted sponsorship by Sims Snowboards, and, after dropping out of high school his sophomore year, won the 1986 Mount Baker Banked Slalom at age 16 while wearing a Santa Claus outfit. He won the next year as well. In 1988, in protest to what he felt were inferior conditions, Palmer rode down the middle of the World Championship halfpipe with his middle finger in the air. Two years later, he defeated the legendary Craig Kelly to claim the Swatch World Halfpipe Championship. Palmer went on to win many halfpipe and boardercross competitions throughout the 1990s, including the X Games' Snowboarder X event from 1997 through 1999, while starring in numerous snowboard films. He also proved to be a savvy businessman, founding Palmer Snowboards in 1995 and serving as the company's CEO until it closed in 2008. He also launched a successful video game, Shaun Palmer's Pro Snowboarder, with PlayStation in 2001. Thoroughly accomplished but not yet ready to hang up his board, Palmer mounted a comeback from a near-fatal cocaine overdose in 2005 to qualify for the 2006 U.S. Olympic team in boardercross. In a stroke of bad luck, a torn Achilles tendon prevented him from seeking a gold medal. Four years later, at age 41, he was narrowly edged for the final spot on the Olympic team. Some three decades after Palmer helped pioneer the sport, he was inducted into the U.S. Ski and Snowboard Hall of Fame in 2016.
---
3. Jamie Anderson
South Lake Tahoe native Jamie Anderson owns the hardware to prove her standing as the most decorated women's snowboarder ever. But it wasn't until she ventured into the backcountry in 2019 to film Unconditional that she received her due credit as arguably the most talented and versatile women's rider in the world. "Jamie went from being the best women's contest snowboarder to the best women's snowboarder. Period," Pat Bridges of Snowboarder Magazine was quoted as saying in reaction to the film, which helped Anderson earn the publication's Women's Rider of the Year award for the fourth time. The younger sister of Joanie, who enjoyed a successful career racing boardercross in the mid- to late-2000s, Anderson started riding at age 9 and qualified for her first X Games in 2004 at age 13. She's since earned a women's record 17 X Games medals, including four bronze, seven silver and six gold, her latest in the 2020 slopestyle event, which set her apart from Shaun White and Mark McMorris for the most in the discipline. She's also a three-time TTR World Snowboarding Champion, earning the prestigious titles in 2011, '12 and '14. Backed by GNU Snowboards and her home resort of Sierra-at-Tahoe, Anderson entered the inaugural women's slopestyle event at the 2014 Olympics as the favorite to win. And she did not disappoint. Needing a clutch final run to overtake the leader, Finnish snowboarder Enni Rukajarvi, Anderson put on an impressive display of amplitude and strength while stomping each technical trick cleanly to her feet to secure gold. Four years later, she repeated the feat in PyeongChang, South Korea. Based on her 2014 performance, Anderson received ESPY Awards for Best Female U.S. Olympian and Best Female Action Sports Athlete, which she also won in 2016. "She has been unbelievably dominant in park riding longer than I can keep track of," says Truckee snowboarder Andy Finch, a 2010 Olympian. "You name it, she's won it, and multiple times."
---
4. Noah Salasnek
"If there's a Mount Rushmore of snowboarding, Noah Salasnek is on it." Those are the words of Jeremy Jones (read here), speaking to Tahoe Quarterly about one of the greatest snowboarders not only from Tahoe, but among the all-time ranks. Salasnek dazzled fans throughout a scintillating decade-long career in which he excelled on multiple fronts, from park and halfpipe riding to big-mountain shredding. A pro skater from the Bay Area, "Salaz" brought stylish tricks and a rare level of talent to the mountains when he picked up snowboarding in 1988. He quickly developed into an elite rider, at a time when the snowboard film industry was just beginning to blossom. Salasnek was sponsored by Sims Snowboards (his 1993 pro model with the skateboard truck graphics is now a sought-after collector's item) and starred in dozens of videos for all the major film companies throughout the 1990s, including Standard Films, Fall Line Films and Mack Dawg Productions. A skilled freestyle rider from the start, Salasnek transitioned seamlessly to backcountry and big-mountain riding, and even pioneered the discipline with his famous descent of Super Spines in Alaska. "His descent on Super Spines really changed skiing and snowboarding," says Jones. "We didn't know that stuff was possible. Noah in that era was just so good, just his ability to do the most technical freeriding but also merge freestyle into it. Some of that stuff still hasn't been done today, really." Sadly, Salasnek's prolific career came to a halt in the late 1990s after he had a falling out with Sims and subsequently fell hard into crystal meth addiction. He contracted liver cancer in 2016 and died in April 2017. He was 47.
---
5. Tom Burt
While his high school friend, Terry Kidwell, earned a moniker as "The Father of Freestyle," Tom Burt's name is synonymous with steep, death-defying lines down the biggest mountains on earth. Burt grew up in Tahoe Vista and was among the first wave of local snowboarding talents. But while many of the early Tahoe riders fashioned their style after pro skaters of the era, Burt, a ski racing kid before picking up a snowboard in 1982, trended toward fast riding on big-mountain terrain. "I really admired his ability to ride in the mountains," says Tom Day, a former pro skier and cinematographer with Standard Films. "I think it's because he has a strong skiing background. He almost rode the fall line more like a skier than a snowboarder." Sponsored by South Lake Tahoe–based Avalanche Snowboards, along with Damian Sanders and Jim and Bonnie Zellers, Burt earned fame with starring roles in Standard Films' Totally Board series in the 1990s. Among his standout segments in TB6—Carp Diem, he flawlessly executed a brave first descent of Alaska's Cordova Peak, in which he deftly negotiated a hanging glacier in a no-fall zone above exposed rock. "Tom Burt's top-to-bottom snowboarding was a whole different level," says Jones. "Just his ability to slow down a mountain and come into these critical sections with no hesitation." Among other accomplishments in a career that spans four decades, Burt recorded the first documented snowboard descent of Denali along with Jim Zellers in 1990, became co-owner of Winterstick snowboards in 2007 and judges the Freeride World Tour. He remains a lifelong Tahoe resident and is still known to crush steep, technical lines.
---
6. Kevin Jones
In his heyday, Kevin Jones was not only fun to watch, he was widely considered a snowboarding superstar. Such a label was not possible before the golden age of the sport, when snowboarding went global as events like the X Games brought the action to the mainstream. A talented skater from the Sacramento area, Jones picked up snowboarding in the early 1990s at age 17 after watching Noah Salasnek and John Cardiel in Fall Line Films' Riders on the Storm. He moved to Truckee shortly after and started riding at Squaw Valley, where he quickly made a name for himself lapping the Riviera Park. Jones' smooth style and incredible, almost effortless, skill led to many starring film segments, starting in 1995 with Standard Films' Totally Board series. In addition to his filming career, Jones earned nine X Games medals between 1997 and 2001, was named Transworld Snowboarding's Rider of the Year three years in a row from 2001 to 2003, was ESPN's Action Sports' Male Snowboarder of the Year in 2001, and signed snowboarding's first million-dollar contract. Then, at the peak of his reign, Jones walked away from professional snowboarding to run a fly fishing guide service in central Oregon. More than five years removed from the limelight, Jones returned to the sport with appearances in Standard Films' The Storming in 2010 and TB20 in 2011.
---
7. Terry Kidwell
Tahoe native Terry Kidwell ranks highly on a short list of the most influential snowboarders of all time. Nicknamed "The Father of Freestyle," Kidwell stood out among the original crew of riders on Tahoe's North Shore in the late 1970s and '80s, performing stylish, skate-inspired tricks that set the foundation for future generations. "He had the best style of his time. Nobody could even question it," says Bob Klein, a member of the same local snowboarding crew. In snowboarding's early years, long before resort acceptance, it was Kidwell and his high school friends who took the nascent sport in a freestyle direction. As the story goes, the group discovered a natural gully-like feature by the Tahoe City dump in 1979 and shaped a couple of hits. It became known as the Tahoe City Halfpipe—the first halfpipe on snow. The site was also notable because it attracted Tom Sims, who signed Kidwell to ride for Sims Snowboards. As snowboarding slowly gained legitimacy, Kidwell and Sims were at the forefront of its freestyle progression, which stood in contrast to the more race-minded East Coast contingent led by Jake Burton Carpenter, owner of Burton Snowboards. At another early session spot, the Donner Quarterpipe across from Sugar Bowl, classic footage exists of Kidwell launching big, stylish airs, tweaking out hand-plants and even landing snowboarding's first McTwist (a skate trick named after Mike McGill). Kidwell won multiple halfpipe titles throughout the 1980s and helped innovate the first "kick tail" (twin-tip) pro model by Sims. As it goes with pioneers, however, Kidwell predated snowboarding's filming boom and mainstream media coverage, preventing many future snowboarding fans from witnessing his greatness.
---
8. Danny Davis
Michigan native Danny Davis stormed onto the pro snowboarding scene in the mid-2000s—about the time he bought a home in Truckee—and remains a force to this day. Davis made an immediate impact on the sport, earning Rookie of the Year honors in Snowboarder Magazine and Transworld Snowboarding's Rider's Poll in 2006 before carving out a career as one of the most technically sound halfpipe riders in the world. Known to embrace the style reminiscent of the sport's early years, Davis also was among the leaders of halfpipe progression for the better part of a decade. He won back-to-back X Games gold medals in 2014 and 2015 and qualified for two Olympic halfpipe teams, notably defeating Shaun White in a 2010 Grand Prix event while becoming the first snowboarder to land three double corks (the most advanced trick of the time) in a competition run. Co-founder of the Frends Crew, Davis created the Peace Park in 2011, bringing together the world's best riders annually to session a unique terrain park that merges superpipe transitions, park jumps and banked slalom berms with skatepark and surf-inspired features. "Danny has had a very long career that is incredibly well-rounded from park riding to big mountain, with results at all the major events," says Finch. "He has a massive following and he is a trend setter. Every company wishes they had that type of rider endorsing their product."
---
9. Damian Sanders
Few snowboarders in history charged as hard as Damian Sanders. In fact, in the early era of rudimentary equipment, when Sorels wrapped in duct tape passed as sufficient, the South Lake Tahoe talent famously sported a hard-boot setup to support the landings of his enormous airs, which often involved laid-out backflips. Known for his bright, flashy style and rock star hair, Sanders was among the pioneering group of Tahoe riders who helped set the young sport onto a freestyle course. He rode for Tahoe-based Avalanche Snowboards (co-owned by his brother) and starred in groundbreaking snowboarding film The Western Front, as well as ensuing classics Snowboarders in Exile and Critical Condition, by Fall Line Films. "Besides Palmer and maybe Craig Kelly at the time, Damian was probably the most well-known face out there," says Fall Line Films co-founder Jerry Dugan. "He wore hard boots and was this totally different deal. He just totally blew all our minds." Sanders' high-flying style eventually caught up with him, as multiple knee injuries ended his snowboarding career in the early 1990s.
---
10. Mike Basich
Best known these days for his creative talents, which he used to build a well-documented off-the-grid home on his Donner Summit property, Mike Basich is also one of the most skilled snowboarders to come out of the Tahoe area. Basich grew up in the Sierra foothills west of Tahoe and began snowboarding after receiving his first board as a young teen in 1985. By the early '90s he had become a recognizable figure, shining among Tahoe's second wave of pro riders before setting out to film and compete. The Kemper-sponsored rider starred in the Creatures of Habit movies by Fall Line Films and competed in halfpipe events around the world, finishing second behind Terje Haakonsen at the 1993 World Championships. He became a crowd favorite in big-air events as well, thrilling audiences with huge double backflips stomped to his feet. Basich got into photography in the early 2000s, pioneering a self-portrait style of action shooting long before the likes of GoPro debuted. In 2003, he famously captured a remote-triggered photo of himself dropping out of a helicopter from more than 100 feet above the landing (while anticipating a mere 50-foot drop). The seasoned veteran has appeared in numerous snowboarding films, as recently as 2014, and continues to ride at a high level, often on his Donner Summit property where he installed his own chairlift in true Basich style. 
---
11. Sammy Luebke
Bob Klein sums up Sammy Luebke's riding ability in a word: Underrated. "The kid is smooth and insane," says Klein, a former snowboarding agent who repped the Tahoe-based snowboarder when he first entered the Freeride World Tour. "I went to a couple of events and he was far and away a better rider with more style than any of those billy goats." Luebke is certainly not underrated in the eyes of his competition, as he claimed the Freeride World Tour title three consecutive years from 2016 to '18. Luebke has appeared in numerous films, including Standard Films' TB20 and Brain Farm's That's It, That's All, and is sponsored by Jones Snowboards.
---
12. Jim Rippey
The iconic cover of Standard Films' TB4: Run to the Hills perfectly encapsulates Jim Rippey's snowboarding career—an airborne Rippey, completely laid out backwards, spotting the landing of a massive cliff drop in Alaska. Referred to as a "stuntman" by Mike Hatchett, Rippey routinely hucked his body off jumps and cliffs, flipping and spinning in impressive fashion before returning to earth. The "Rippey Flip," his signature frontside 720 corkscrew, is named in his honor. Rippey is also known for his extensive film career throughout the 1990s and his pro model Burton, which was the world's best-selling board five of its seven years in production.
---
13. Elena Hight
Born in Kauai but raised in South Lake Tahoe, Elena Hight started snowboarding at age 6 and at 13 became the first female rider to land a frontside 900 in competition. Hight was a member of the 2006 and 2010 U.S. Olympic halfpipe teams, placing sixth in 2006, and has earned five X Games medals in her career, including gold in halfpipe in 2017. In 2013, she became the first snowboarder, male or female, to land a double backside alley-oop rodeo at the X Games. Hight has taken her riding to the backcountry in recent years, appearing in Full Moon, Teton Gravity Research's Ode to Muir and Unconditional along with fellow South Shore rider Jamie Anderson.
---
14. Chris Roach
A skater from the Sierra foothills, Chris Roach was a standout among Tahoe's second wave of riders in the late 1980s and early '90s, and could often be found sessioning the park with friend and riding partner Noah Salasnek. The Sims-sponsored rider was known for his smooth skate style and appearances in early Fall Line Films flicks The Western Front, Snowboarders in Exile and Critical Condition, as well as New Kids on the Twock by Mack Dawg Productions. Roach faded from the pro snowboard scene around 1995 due to injuries.
---
15. Hannah Teter
Sierra-at-Tahoe-sponsored rider Hannah Teter has had quite the snowboarding career. After becoming the youngest member of the U.S. Snowboard Team in 2003, at age 16, Teter went on to compete in three Olympic Games, earning the gold medal in halfpipe in 2006 and silver in 2010 while narrowly missing the podium in fourth in 2014. She owns six X Games medals, including gold in halfpipe in 2004.
---
16. Shawn Farmer
Shawn Farmer would still be a snowboarding legend had he not performed his classic rap, Farmer's Way, in Fall Line Films' 1991 classic, Critical Condition. But the track, and Farmer's swaggy delivery while cruising downtown Reno in a Porsche 911, cements his place as an equally legendary personality. Farmer was one of the biggest names in snowboarding from the late 1980s well into the '90s, starring in numerous films and impressing viewers by fearlessly sending huge cliffs.
---
17. Jim Zellers
A member of the original Avalanche Snowboards team, along with Tom Burt, Damian Sanders and his wife Bonnie, Jim Zellers was a pioneer of big-mountain riding in Alaska and remote locations around the world. Zellers rode his first snowboard in 1978 and moved to Truckee from Cupertino, California, at age 18. Among his mountaineering feats, he recorded first descents of Denali, Nepal's Pumori, New Zealand's Mt. Cook, Africa's Mt. Kenya and Yosemite's Half Dome. Zellers, whose son Dylan is a rising snowboarding talent, still lives in the area and rides for The North Face, his sponsor since 1988.
---
18. Tina Basich
Tina Basich, Mike Basich's sister, grew up in the Sierra foothills and began snowboarding in the Tahoe area in 1986. A stylish rider for her time, Basich was sponsored by Sims and had the first women's pro-model board, along with Shannon Dunn-Downing. Among her career highlights, Basich earned a gold medal at the 1998 X Games, when she became the first woman to land a backside 720 in competition. "She was dominant in an era when women received zero recognition," says Klein. "She made people recognize her. She had outstanding style for the time."
---
19. Nate Holland
An Idaho native who moved to Tahoe in the mid-2000s, Nate Holland is best known for his boardercross success, which includes seven X Games gold medals between 2006 and 2014. Holland, an overall strong rider aside from racing, is a three-time Olympian in boardercross, placing fourth in 2010.
---
20. Chas Guldemond
Chas Guldemond honed his craft on the East Coast before moving to Tahoe in the mid-2000s. The recently retired snowboarder enjoyed a successful 13-year career, from rail jams to halfpipe to slopestyle. He was the U.S. Open slopestyle champion and overall World Tour champion in 2009, the X Games slopestyle champion and Arctic Challenge slopestyle champion in 2011, and a member of the 2014 U.S. Olympic Snowboard Slopestyle Team. Guldemond appears in Standard Films' Black Winter and 2112.
---
21. Andy Hetzel
Along with Kevin Jones, the athletic Andy Hetzel was a staple in Squaw Valley's Riviera Park in the mid-1990s. Hetzel starred in Standard Films' Totally Board series, standing out with big, clean airs and his all-around ability. He also appeared in the cult classic Whiskey 2, and, in 1995, famously jumped over a train on Donner Summit along with Temple Cummins. He was sponsored by Kemper, Lamar and Palmer Snowboards.
---
22. Jimmy Halopoff
Before the antics of Johnny Knoxville and company in Jackass, there were the Whiskey snowboard videos of the 1990s. The films document a raw crew of snowboarders and skaters as they showcase their riding skills by day, while smashing bottles over their heads (with various degrees of success) and performing outrageous stunts by night. South Lake Tahoe talent Jimmy Halopoff was among the films' stars, particularly Whiskey 3, in which he trains for a backyard fight while chugging a 40-ounce beer and eating donuts. Halopoff wins the fight, and also shines with some of the strongest riding in the films. Aside from his Whiskey roles, Halopoff won the X Games big air contest in 1997, placed second the next year in slopestyle and was third in slopestyle in 1999.
---
23. Brandon Cocard
Brandon Cocard grew up in Truckee and quietly assembled one of the brightest filming careers of the 2010s, with formidable performances in a dozen films between 2011 and 2020. Known for his jibbing talents, but also a solid all-around rider with buttery-smooth style, Cocard rides for CAPiTA Snowboards.
---
24. John Cardiel
It was John Cardiel, along with Noah Salasnek, who inspired a young skater named Kevin Jones to move to Tahoe and take up snowboarding. In particular, Cardiel's segment in Fall Line Films' Riders on the Storm (1992) caught the eye of the future snowboarding star. Remembered for his eye-catching skate style, Cardiel impressed the entire snowboarding community in the film, which includes a session on Donner Summit in which the Santa Cruz-sponsored rider throws one stylish move after another, highlighted by a frontside 360 backflip that was among the most talked-about tricks of the year. Cardiel would undoubtedly be higher on this list had he not quit snowboarding in the mid-90s to focus on his skating career.   
---
25. Ralph Backstrom
Originally from Washington, Ralph Backstrom started snowboarding at age 11 and moved to Tahoe in 2005 to pursue a pro career. A skilled rider in big-mountain terrain, Backstrom earned the Freeride World Tour title in 2013 and has twice won the famed Verbier stop on the tour. Formerly sponsored by Jones Snowboards and The North Face, Backstrom stepped away from snowboarding in 2017 to start a coffee company in Truckee.
---
Judging Panel

Mike Hatchett
The co-founder of Standard Films, longtime Tahoe resident Mike Hatchett has produced over 30 action-sports feature films, including the award-winning Totally Board (TB) series of the 1990s that showcased the talents of nearly all the top riders of the era. Hatchett, who started snowboarding in 1987 on a 160 Avalanche, was named one of "The Most Influential People in Snowboarding" by Transworld Snowboarding in 1993.
Bob Klein
Bob Klein is one of Tahoe's original snowboarders, dating back to the late 1970s. He was the first Burton rider to finish on the podium in the halfpipe at a major contest (third at the 1986 Worlds), was one of the first three snowboard instructors in the world, was the first agent in the sport, was technical director for the World Cup in 1989, helped open ski areas to snowboarding, and enjoyed a long career both on and off the snow.
Rose Daiek
Rose Daiek started snowboarding in college at the age of 19 and fell in love with the sport before moving to Tahoe in 1994. Her first snowboard was a 155 GNU, the company that still sponsors her to this day. After competing in the X Games boardercross event in 2000 and 2001, Daiek got into backcountry riding and followed the big-mountain circuit for a while. Today she can be found riding Kirkwood or the surrounding backcountry.
Andy Finch
Olympic halfpipe rider and Truckee resident Andy Finch learned to ride at age 12 on a 141 Burton Air "with massive toe drag." He went on to enjoy a successful competitive career from 1997, when he earned his first sponsorship from Palmer Snowboards, until 2009, when he won the World Heli Challenge in New Zealand. His career highlights include numerous first-place finishes in World Cup, Arctic Challenge and other events throughout the 2000s.
Dave Zook
Dave Zook first snowboarded in 1993 at Yosemite's (then) Badger Pass on a used Limited 156, before moving up to the bigger slopes of Donner Ski Ranch. He has ridden throughout the West, basing himself at different times in Oregon, Utah, New Zealand and now back in Tahoe for the past eight years. He's covered the snowboard world in many publications, including ESPN.com, POWDER, the San Francisco Chronicle and Tahoe Quarterly. In an attempt to stay relevant, he still competes in big-mountain comps, with a first place at the inaugural McConkey Cup in 2018. 
Sylas Wright
Tahoe Quarterly editor Sylas Wright has been snowboarding since 1993, when he learned to ride on a banged-up 152 Rossignol purchased from a rental shop. Wright moved to Truckee in 2005 for a job as sports editor at the local newspaper, where he covered events such as the Vans Cup, Dew Tour and Legends of Snowboarding, while also profiling Tahoe's top pro riders. After starting at Tahoe Quarterly in 2016, he researched and wrote an encompassing feature about the storied history of snowboarding in Tahoe. While he is certainly no Mike Hatchett, there's no way he wasn't going to get in on the judging fun.