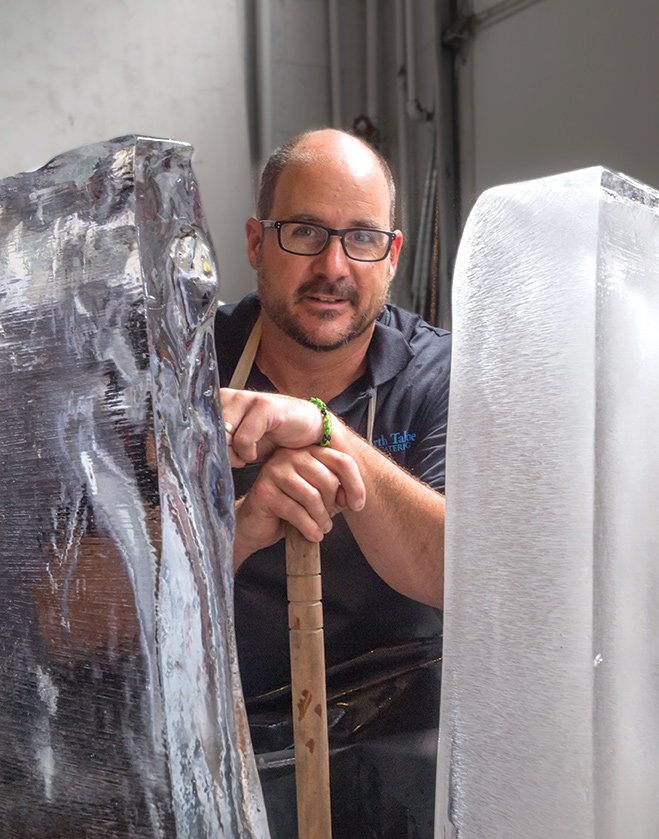 Chris Banovich, photo by Martin Gollery
17 Jan

Chopping Block: Q&A with Chris Banovich of North Tahoe Catering Company

Chris Banovich, owner of Truckee-based North Tahoe Catering Company and Bano's Iceworks, has lived in the Tahoe area for nearly 25 years. A California Culinary Academy graduate, the Castro Valley native has worked in and managed kitchens for Aloha Pacific Cruise Lines in Hawaii, Royal Gorge Wilderness Lodge, the Resort at Squaw Creek and Northstar California, where as executive chef, he launched True North. He has won numerous culinary competitions both for ice carving and cooking, including the Autumn Food & Wine Festival's Blazing Pans Mountain Chef Cook-off.
Earliest culinary memory?
Has to be cooking with my mother. She always had something great slow cooking from her Portuguese upbringing. I would also sneak out of church services and head to the kitchen to help chop vegetables with the volunteer chef for the church banquet happening that day. I still have scars on my fingers from learning to use a big chef's knife at six years old, the age when it struck me that I had a knack for cooking. My children have helped us the same way over the years and it's so great to see them willing to get dirty and learn where our food comes from.
Married? Kids? Dog?
Happily married to Ashley Banovich for 17 years; our son, Hunter, is 14 and our daughter, Josie, is 9. Sherlock is our lab.
Favorite ingredient?
Artichokes. Born and raised in California, we always had an abundance of great artichokes. Whether grilling, roasting and using them in our lemon roasted artichoke risotto, or just making pesto out of them, it is an awesome local ingredient.
What's in your fridge now?
At home, lots of condiments and homemade sauces and rubs that we use at our catering kitchen, where I  have two suckling pigs brined in cherry, thyme, black pepper and maple syrup ready for the rotisserie. Also, we just braised off some beef cheeks, crusted with horseradish and whole grain mustard bread crumbs and fried to perfection, which we serve with our pommes Dauphine and truffled demi.
Where did you learn to carve ice?
We saw a demo at chef school, but the instructor wouldn't let us try it ourselves. So, I went home, got a block of ice, my own chisel and chain saw and went crazy on my own. I learned a lot during a chef stint at Blackhawk Country Club [in Danville, California] and here at the Resort at Squaw Creek. Ice sculpting has come a long way since then.
What's the craziest/most unusual ice sculpture you have created?
That's a toss-up between a full-sized ice pool table that Emeril Lagasse broke in for me and an anatomically correct and fully functional shot luge for a bachelorette party. We have a couple huge projects slated for this winter to rival our 5,000 square foot ice and snow castle at Squaw Valley last year. Hope it's cold!
Favorite kitchen implement (besides a chain saw)?
My ice carving block maker is pretty amazing as we have been experimenting on freezing items in the ice for decoration or function. Shot luge tubes, corporate logos for branding, Red Bull cans, et cetera, can be frozen in the blocks. We can make 2 to 350-pound ice blocks every three days and we usually keep 40 blocks on hand for our big projects.
You've cooked for many celebrities. Any stories you can share?
Just a few weeks before graduating culinary school, I had the opportunity to cook a meal for Francis Ford Coppola. A little scary at first, but once that first dish was enjoyed, whew!  Great experience. Since then, many foreign and domestic celebrities have enjoyed our meals.
Which contest was harder won, Chefs Ski Race or Blazing Pans?
These two events are different monsters: Blazing Pans was more of a mental challenge, figuring out what to make from the mystery ingredient. We were able to create five courses in one hour.
The Chefs Ski Race was more of a physical storm as you had to carry all of your cooking equipment, presentation platters, et cetera, in a backpack as you ski down a giant slalom course. Our team, of course, also had an ice sculpture with us that we turned into a shot luge. Another competition we may be chosen for is Hell's Kitchen [the Fox TV culinary reality show with Gordon Ramsay]. That would be a real test of survival.