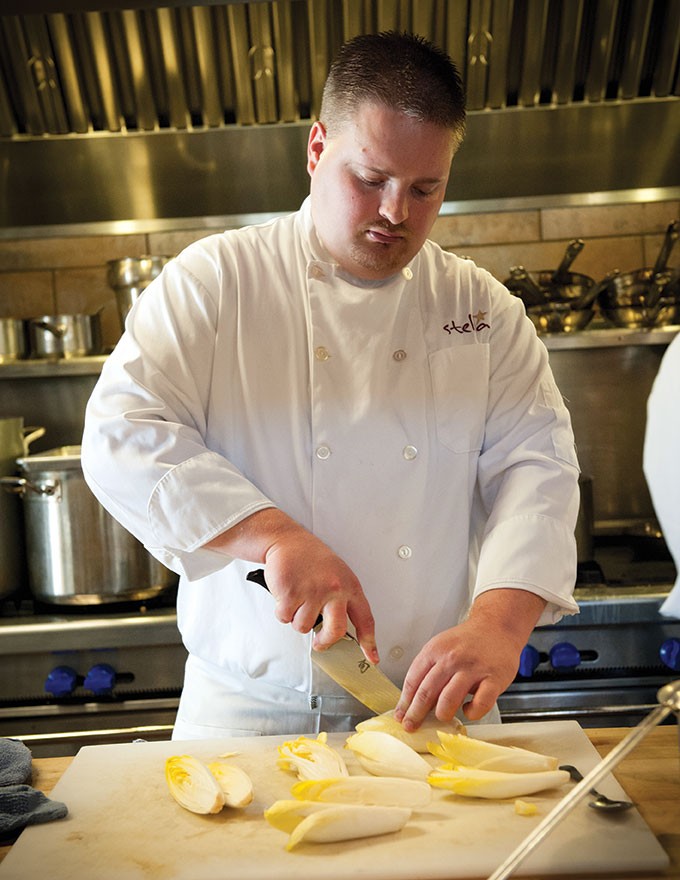 Chef Jacob Burton, photo by Shea Evans
10 Dec

Chopping Block: Q&A with Jacob Burton, executive chef at Stella

A native of Cool, California, and graduate of California Culinary Academy, Chef Jacob Burton began his cooking career at Michelin-starred La Folie in San Francisco. A small-town guy at heart, he moved to North Lake Tahoe seven years ago, honing his craft at the Lone Eagle Grille, the Big Water Grille and Fredrick's Fusion Bistro in Incline Village. He has served as executive chef at Stella at Truckee's Cedar House Sport Hotel since 2010. Find the recipe for his reconstructed berry pie here.
What is your earliest culinary memory?
A couple stand-outs are watching my great grandmother cook Portuguese food and watching Martin Yan on PBS. I was so obsessed with Yan Can Cook my parents gave me a cleaver for Christmas. It was a heavy meat cleaver instead of the lightweight vegetable version Martin Yan used, so they had to listen to me slam this four-pound bone crusher up and down on innocent vegetables for the better part of a year before they begged me to stop. I still use the cleaver to this day, albeit to break down whole pigs and lamb, not for cutting carrots.
Tell us more about your family.
I have a wife, Ana, and four-year-old daughter, Lyla. My younger brother Nathan is the front of the house manager and sommelier at Stella. He started off bussing and slowly worked his way up, learning a lot about wine, service and my style of cooking. It has turned into a unique, collaborative relationship and is part of the "secret sauce" continuing to drive Stella forward. My two other brothers, parents and extended family live in Auburn, Sacramento and the Bay Area.
How would you describe Stella's style of cuisine?
The most appropriate category would be international/California cuisine. Some people would describe my menu as eclectic or "fusion," but to me it's a product of who I am. I was born and raised in California, which grows some of the best produce in the world and is an amazing melting pot of culinary culture, whether Latin, Asian, European, et cetera. My wife was born and raised in the Philippines, and I toured China for a month my senior year of high school, both of which have exposed me to (and reinforced my love for) Asian cuisine and culture.
At Stella, we cook food that excites us, whether it's a riff on a known classic, a fusion dish from across the globe or a simple presentation of California produce at its peak.
What is your favorite kitchen tool/implement?
Stella's wood burning oven is awesome for baking our naturally leavened bread for dinner service, our immersion circulator is great for precisely cooking certain proteins or vegetables for a consistent result and our industrial-strength pasta machine is important for making low hydration, alkaline noodles like ramen and soba (I broke two other pasta machines during my "ramen-obsessed phase" before we finally spent the money on a sturdier unit).
Why did you start your online cooking school, Stella Culinary?
When I started attending culinary school more than a decade ago, I remember how frustrated I was with the cooking information available. The Internet was loaded with recipes, but no one was teaching professional technique or the hows and whys behind cooking. If a recipe failed, it was hard to find information on why.
When I moved to Tahoe, I started the website FreeCulinarySchool.com to teach professional-level cooking technique through a series of audio podcasts and blog posts. When I was hired as the executive chef at Stella, owner Patty Baird really believed in my passion for teaching. We decided to rebrand Free Culinary School as Stella Culinary. Four years later, I have the equivalent of the first year of culinary school online for free: 21 podcast lectures and 160-plus videos demonstrating everything from knife skills, kitchen prep, bread baking and charcuterie to some classic Stella dishes, and even a few really geeky food science lectures.
StellaCulinary.com attracts about 50,000 unique visitors monthly from around the globe, from professional cooks looking to learn a new trick or talk shop on our forum to passionate home cooks.
How has your cooking style changed over time?
My style has simultaneously become simpler and more complex, as oxymoronic as that sounds. I love dishes that take lots of focus and technique to prepare, but are deceivingly simple on the plate. It can be tempting for chefs to create busy plates with lots of colors and garnishes, and occasionally that's what a dish calls for. But a chef I used to work for always reminded me that "complexity hides flaws." Often it's more difficult to execute a simple dish perfectly, because there's nothing to hide behind.
I think a good example of my style is the rabbit terrine currently on Stella's menu. To me, the dish is beautiful because of its presented simplicity; the guest doesn't need to know the time (three days) and toil that went into making it, just that it tastes wonderful, especially when enjoyed with a glass of Champagne.
What was it like being nominated for Food & Wine's Best New Chef award last year?
It was really humbling, and honestly, something that took me a while to wrap my head around. Looking at the other chefs named by Food & Wine, I couldn't help but feel I was out of my league. You would think an honor like this would be a big ego boost, but it actually made me question who I was as a chef, making me ask myself if I really deserved the nomination in the first place and if I could live up to the hype.
Without my sous chef, cooks, dishwashers, bussers, servers, sommelier or the support of the Cedar House, my job and any accolades that come with it wouldn't exist. I've always taken pride in my work, and demand the same from every single person who works at Stella. The best part of the Food & Wine nomination was that an influential publication had taken notice of everyone's hard work, in a location where it's tough to be recognized on a national level in the first place. But we're only as good as the last dish we serve, so every day we show up ready to do it all over again, trying to be just a little better than yesterday.