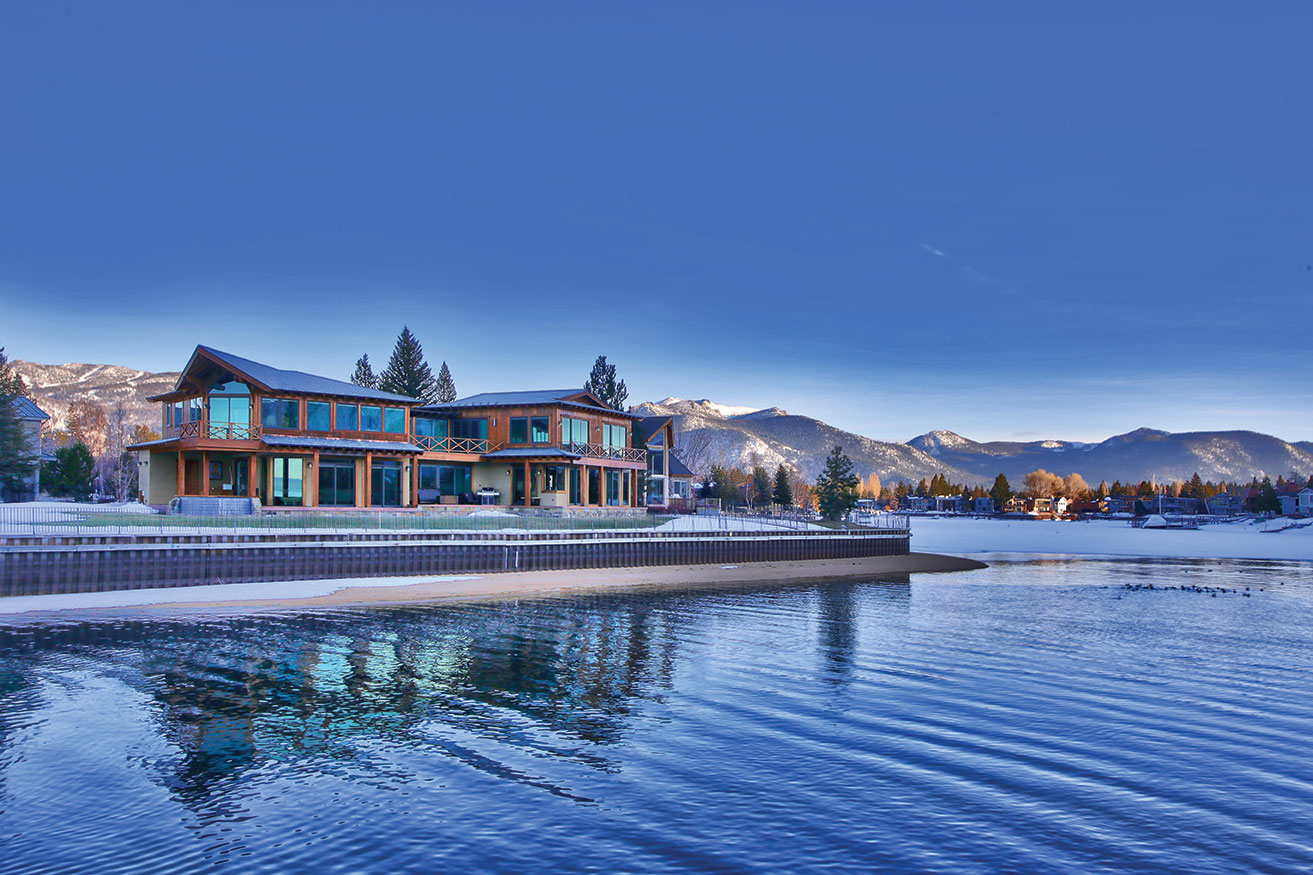 Designed in Balinese style, this Tahoe Keys home opens to expansive lake views, photo by Peter Tye
15 Apr

Tiki Tahoe

Tahoe homes are often modeled on foreign residences. It's not strange to turn through any neighborhood around The Lake and see Bavarian-inspired chalets or Nordic-themed barn-style dwellings. Mountain architecture is a hodgepodge of borrowed ideas.

In that very unspecific sense, Sean Degnan's Tahoe Keys home is no different than thousands of others. But one look at the Balinese-inspired entrance, ornate doors and sharply peaked rooflines and it's clear it's like nothing else locally.

An arched bridge signifies the entrance to the home, dubbed 'Bali Beach,' photo by Phil Mosby
Degnan, a South Lake Tahoe cosmetic physician, wanted his home to mirror the look of domiciles in Bali, a small Southern Pacific island. He latched onto the idea after his original home, located at the entrance point from Lake Tahoe to the Tahoe Keys, burned down in 2007.
"Since I was a young boy I fantasized about having a tropical house," says Degnan. "I am, self-admittedly, not a well-traveled man, but my father had a deep affection for the Trader Vic's restaurants (home of the original mai tai) in the Bay Area where I grew up. These restaurants had this sort of pan-Pacific décor with tiki roofs. I always thought, wouldn't it be really fun to go into a Pier One Imports and truly deck out your house in nothing but that type of décor? I never thought I'd have that type of opportunity on my hands."
But, following the fire, he did, and after his long hours of work as a doctor, Degnan was attracted to the notion of trading Tahoe for the tropics when he came home.
To realize his dream, he contracted Elise Fett of Crystal Bay's Elise Fett & Associates to help him design his home. Degnan was enamored by Fett's willingness to design a home alongside a client rather than in seclusion.
"He is very hands-on and wants to be a part of the design process," says Fett of Degnan, who would go on to serve as the owner-builder of his project.
When he broached the idea of doing a home in the Balinese style—lots of warm woods and intricate detailing endemic to the island's temples—Fett did a double-take.
"My reaction was 'OK… let me see what I can do to mesh the elements of Balinese style with Tahoe style to see what I can come up with," Fett says. The styles didn't easily mesh, and the home came out significantly more tropical than mountain.
"It's definitely a unique design for the area," Fett says.

A spa makes for the perfect relaxation space after a long day, photo by Peter Tye
Her emphasis on the interior stayed consistent with her other work throughout the area, though. Fett takes full advantage of the views minimizes any circulation space for maximum efficiency—guests enter the home to a very open floor plan connecting a wet bar with a great room, dining room, kitchen and sitting/guestroom beyond that can be separated with large sliding doors. Upstairs in the private quarters, workout area and office, hallways are nearly nonexistent.
Degnan handled the exotic details. A trip to Bali gave him an appreciation for the region's ornate doors and gates. Teak doors with intricate carvings greet visitors upon arriving over a bridge to the home's entrance. A personally designed handmade teak bed and headboard with a carved depiction of tropical birds and flora was ordered from the island for Degnan's master suite. A latticed, wooden screen separates the master bedroom from the master bath—which really exist in the same space, a suggestion from Fett so as not to shortchange the bathroom from the immense views of Mt. Tallac and beyond from the master bath.

A screen separating the master bath from the rest of the master suite was sourced in Bali, photo by Phil Mosby
The home also serves a nautical purpose. The roof over the jutting master bedroom and attached deck forms a prow, a beacon for boaters searching out the entrance to Tahoe Keys from The Lake. Degnan, the consummate entertainer, has a tiki bar that serves as a direct nod to Trader Vic's just off his great room—complete with a thatched roof and adjacent saltwater fish tank. He often hosts beach volleyball games in front of the home and is known to passing boaters for his friendly demeanor and the stone statue of Jedi Master Yoda greeting them as they leave Big Blue.
As for the master of this Balinese-inspired home, he can often be found on sunny summer days enjoying a mai tai and the 280 degree views of paradise—tropical or not.
Merit Award: Unique Vision
Architect: Elise Fett, Elise Fett & Associates
Builder: Owner with contracted work by Greenwood Homes
Interior Design: Owner, Elise Fett & Associates,Wendy Wood, Penny Bolen
Square Feet: 4,531
Year Completed: 2010