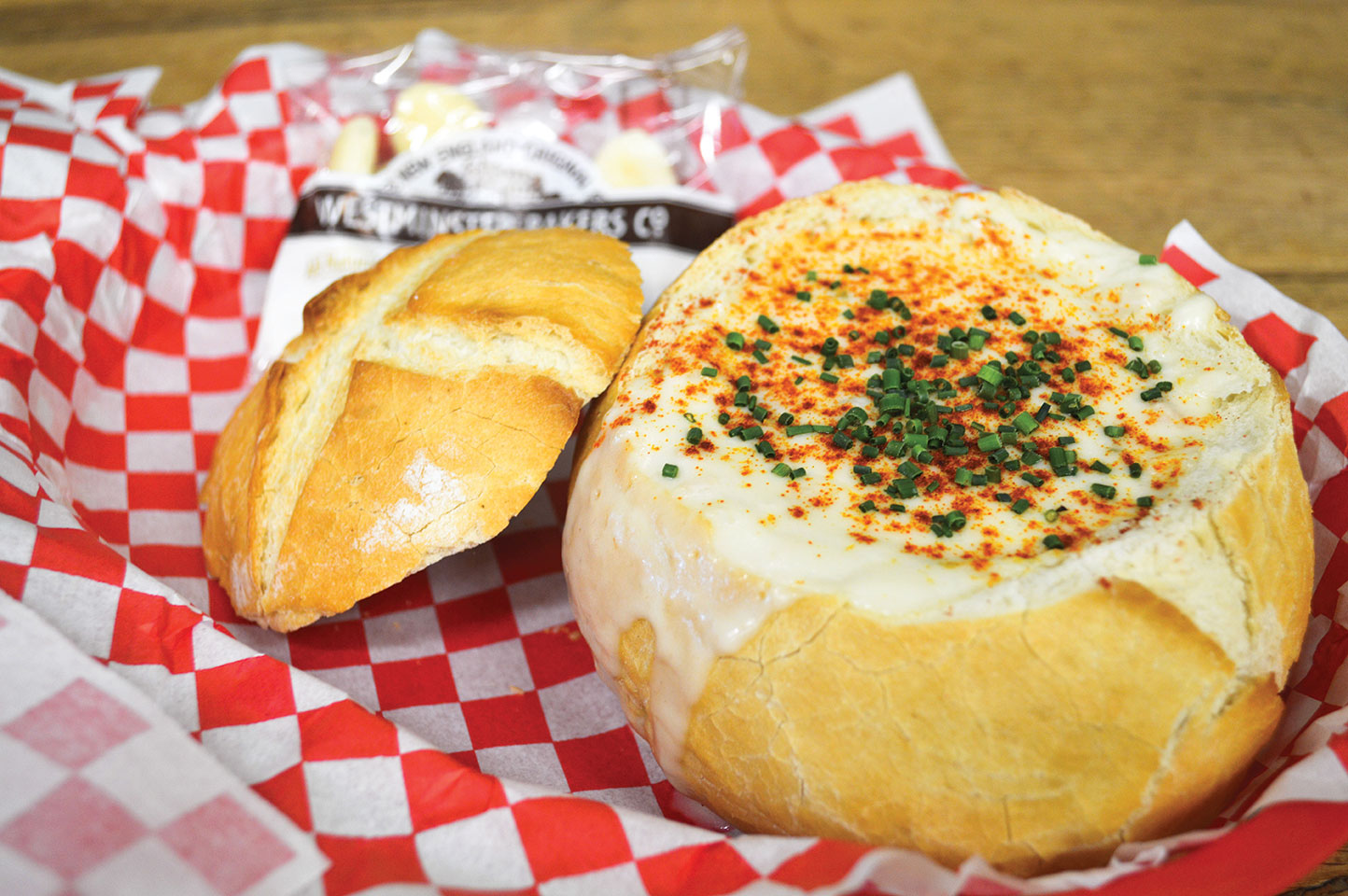 New England clam "chowda" by Morgan's Lobster Shack & Fish Market, courtesy photo
01 Dec

Soul-Soothing Soups
These local best-selling recipes will keep you warm and fed through the cold days of winter
The best way to give winter the cold shoulder—and something to go with all that bread you might still be baking in the ongoing COVID-19 era—is a hot and hearty bowl of soup. Three longtime area eateries share here the recipes for some of their most popular selections. Short on time or not in the mood to cook? Call for a container to go.
SPROUTS CAFE TAHOE
3123 Harrison Ave.  |  South Lake Tahoe | (530) 541-6969  |  sproutscafetahoe.com
Sprouts Cafe Tahoe has been serving South Shore faithful wholesome healthy food, prepared fresh daily, for three decades. South Lake Tahoe native Tyler Cannon's mother ran Fresh Apple Health Food in the 1970s and '80s before he returned to the area and remodeled and rebranded the place (and hired his future wife, Cheryl). Now, their children, too, work at Sprouts in the summer. Their vegan Thai coconut lime soup, which gets a side of Truckee Sourdough ciabatta, was created by Sara Krizman, cafe manager for 25 years.
THAI COCONUT LIME SOUP
In a large soup pot, sauté:
3 oz. olive oil
6 oz. tamari
3 oz. balsamic vinaigrette
Juice of ½ lemon, plus peel
2 finger-sized pieces of ginger root, finely diced
½ white onion, diced
Add garlic powder, brown sugar and Spike Seasoning to taste. Stir until onion is translucent
Then add:
2 stalks celery, chopped
¼ red bell pepper, diced
1 cup bok choy, diced
½ cup green cabbage, chopped
1 large carrot, diced
½ cup broccoli florets
½ cup small mushrooms, sliced
¼ cup cilantro, chopped
1 cup organic veggie broth
24 oz. coconut milk
6 oz. lime juice
Sriracha to taste
Add onion powder, ginger powder, lemon powder, black pepper, salt, turmeric powder to taste.
Simmer for one hour, top with sprigs of organic basil and enjoy.
---
SÜP
669 South Virginia St.  |  Reno | (775) 324-4787  |  sup.restaurant
Following many years of experience in restaurants and owning a private chef business, plus a weekly tradition of inviting friends and family for "Soup Sunday," Kasey and Christian Christiansen launched SÜp in 2007. They make all their soups, sauces and stocks from scratch at their Midtown eatery, and serve a rotating menu of six to eight soups daily, along with sandwiches, salads and quiches. Soups come with white and wheat demi rolls or a bread bowl, all from Reno's House of Bread.
Bacon Mac and
Cheese Soup
Ingredients
¼ cup bacon fat
¼ cup butter
1 cup onion, diced
1 tbsp garlic chopped
¼ cup flour
1 quart chicken stock
1 cup half and half
1 tbsp Worcestershire
½ tsp Tabasco
¼ tsp salt
¼ tsp white pepper
6 oz sharp white cheddar, shredded
6 oz mild white cheddar, shredded
4 oz cavatelli pasta
4 oz smoked bacon, chopped
¼ cup panko bread crumbs, toasted
Directions
In a 6-quart or larger heavy-bottomed soup pot, cook the bacon down over medium-high heat. Remove and drain on a paper towel and reserve until later. Melt the butter in the bacon fat and add the onions and garlic and sweat until translucent. Add the flour and work until there are no lumps. Add the chicken stock a cup at a time and bring to a simmer. Add half and half, Worcestershire, Tabasco, salt and pepper and simmer for 10 minutes. In a blender, add the cheese and 3 cups of soup base; blend until smooth and add back into pot. Add the pasta and bacon and simmer on low until pasta is al dente and serve, garnishing with a sprinkle of toasted panko. Make sure soup has reached 165 degrees; hold and serve at 140 degrees or above.
---
MORGAN'S LOBSTER SHACK & FISH MARKET
10089 West River St.  |  Truckee | (530) 582-5000 | morganslobstershack.com
Both born and raised in New England, Shawn and Heather Whitney met in Tahoe more than 20 years ago. Missing East Coast seafood, they launched Morgan's, named for Heather's father who had married into a lobstering family on Bailey Island, Maine. In addition to lobster rolls and flopping fresh seafood cooked to order, naturally, New England clam chowder is on the menu and comes with oyster crackers and a bread bowl option. Morgan's recipe, a closely guarded secret, is inspired by Marjorie Standish's classic Cooking Down East version, on the right.
NEW ENGLAND
CLAM "CHOWDA"
Ingredients
1 quart fresh clams, shucked raw
2 slices salt pork
1 small onion, diced
4 cups small potatoes, diced
1 cup water (enough to cover potatoes)
1 ½ quarts whole milk
1 tall can evaporated milk
Salt and pepper
Pat of butter
Directions
Using a soup pot, fry out salt pork using a low heat. Remove pork and cook diced onion slowly in fat, taking care not to burn it. Add the 4 cups of diced potatoes and the water; add a little salt and pepper. Cover pot, bring to steaming point; lower heat, and cook until potatoes are soft, about 15 minutes. In the meantime, using cutting board and a sharp knife, cut the head of each clam in two or three pieces. Do the same with the firm part of the clam and the soft part or bellies (do not remove the black part). Save any juice you can. When potatoes are soft, stir in the cut clams, cover pan again, let cook for 3 minutes (no longer, for it toughens the clams). Add whole milk and the evaporated milk. Taste for seasoning, adding salt and pepper to taste. Keep in mind that as the chowder ripens, it may be salty enough. Add a piece of butter.
The old recipes always advised to allow chowder to ripen in the refrigerator for several hours, or a day, and then to reheat it slowly over a very low heat. But when using homogenized milk, the ripening period often is omitted to avoid danger of the chowder separating, a problem sometimes associated with the use of homogenized milk. The use of evaporated milk, also helps to avoid curdling.