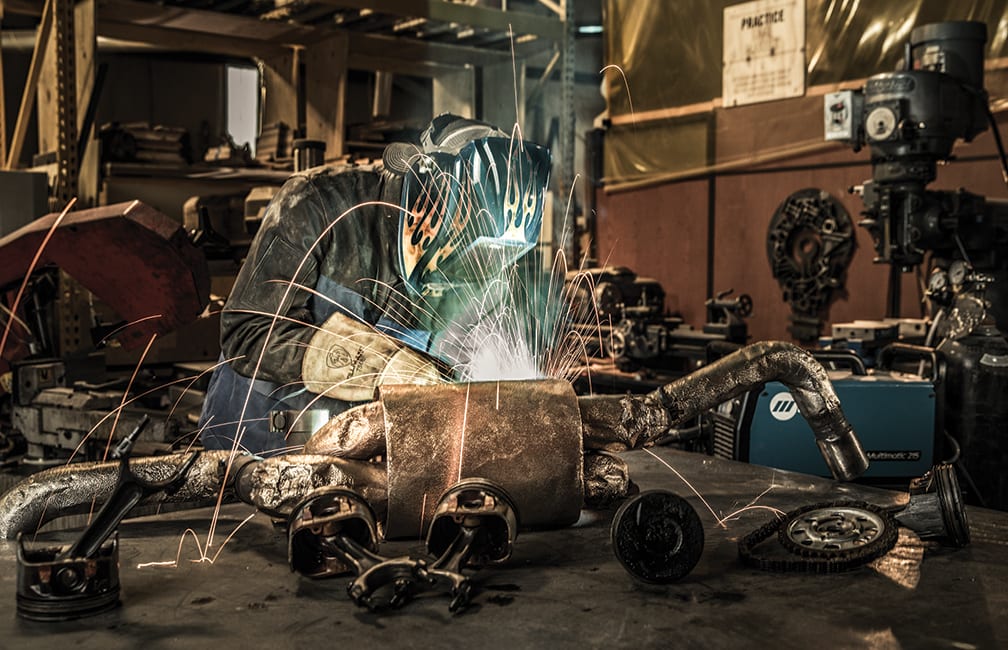 Truckee Roundhouse founding board member Chris "Chief" Gregor welds on his Ferrari 360 challenge muffler in the metal shop, photo by Grant Kaye
02 Dec

Makerspace Enriches Truckee Community
Founded in 2015, the Truckee Roundhouse provides tools and resources that are otherwise out of reach for most


Dane, left, and Sage Gaffney with a kinetic art piece they helped create for the SWEP teen welding program, photo by Grant Kaye
The sounds of things being made float through the dusty air inside sprawling warehouse E3 on the tarmac at Truckee Tahoe Airport. This once empty 3,500-square-foot space now reverberates with the tones of sawblades slicing through boards and sparks flying from metal, interspersed with the gentle hums and whirs of machinery and people at work bringing their ideas to life.
Welcome to the Truckee Roundhouse, the community's own makerspace.
"To have something like the Roundhouse here in Truckee-Tahoe—access to a space with great equipment—is something that cannot be taken for granted," says professional snowboarder Ralph Backstrom, a Truckee Roundhouse member who used the makerspace to complete numerous projects for his recently launched business, Pacific Crest Coffee Company.
A group of friends founded the Truckee Roundhouse in 2015 to give life to a vision of an open, inclusive space in Truckee where makers could gather to create things. They envisioned the space filled with high-quality specialty tools that, due to cost and size, are out of reach for the average garage craftsperson. The founders wanted anyone with a desire to make, build or fix things to have a place to gather and learn to use tools together, either through inexpensive informal classes or organic skill-sharing in a shared workshop space.
Thanks to the support of the Truckee Tahoe Airport, along with financial and material contributions from numerous local businesses and private citizens, the Truckee Roundhouse opened its doors to the public in late 2016.
The space now features five fully kitted-out shops: wood, metal, ceramics, technology and textiles. Along with traditional tools and equipment such as welders, saws, lathes, kilns and sewing machines, makers at the Truckee Roundhouse can carve three-dimensional objects out of wood up to 4 feet square on a computer-controlled router (CNC), engrave their designs into wood, acrylic and leather on a laser cutter, or print prototype products on state-of-the-art 3-D printers.
Membership works much like a fitness gym, in that non-members and members alike can take classes, and members pay by the month or year to use the tools after a safety checkout. The Truckee Roundhouse counts over 195 members and growing.
On many occasions, community members have appeared seemingly out of thin air to support the Truckee Roundhouse by donating hundreds of hours of time to share their skills in woodworking or metal working with the makerspace community as shop leads or class instructors.
"I have always wanted to be part of a creative community of artists and makers, so when I heard about the Roundhouse opening I immediately signed up as a volunteer," says Charlotte Sibley Semmes, who uses the makerspace's textile lab for her baby blanket and clothing business.
A Leader in the Community
Any community needs a good leader, and the Truckee Roundhouse found its leader in 2016 in Executive Director Karyn Stanley.
As the Truckee Roundhouse's only paid employee, Stanley left her post as expeditions organizer for Ice Axe Expeditions to lead an all-volunteer team of over 40 volunteers. Stanley reports to the seven-member Roundhouse Board of Directors. Her responsibilities range from changing blades on the saws to scheduling classes for the community to managing membership subscriptions. She also writes grants to secure funding for the makerspace and works with local public and charter schools to develop and manage school enrichment programs.
Interacting with the community is among Stanley's favorite aspects of the job. She says over 300 students from schools around the region came through the Truckee Roundhouse in 2017, while the makerspace also partnered with Tahoe Truckee Unified School District's Adult Education Program last year to offer a welding course.
"We also partner three times a year with Keep Truckee Green to offer a Fixit Clinic, in which volunteer Fixit coaches help community members fix broken items and keep them out of landfills, while also teaching skills on how to fix their items in the future," says Stanley. "It was magic to watch all these folks who were strangers moments before helping one another, and see the joy on their faces as they learned a new skill. We fixed chairs, lawn art, lots of clothes, a lamp, an air compressor and a vacuum."
This winter and spring, the Truckee Roundhouse will continue a partnership with Sierra High School's Sources of Strength (SOS) program after a successful pilot last spring. SOS's primary goals include suicide, violence and substance abuse prevention.
"It is deeply meaningful work," says Stanley, explaining how the program is designed to expose at-risk youth and teen parents to positive extracurricular activities and new vocational opportunities for the future. "It's amazing to see these students in the Roundhouse space celebrating their creativity with the help of our volunteer mentors."

The 3,500-square-foot interior of the Truckee Roundhouse, photo by Grant Kaye
Making the Future
Stanley says the future of the Roundhouse, while bright, isn't quite certain yet.
With an ambitious expansion project underway, the organization just added an additional 1,200 square feet in an adjacent warehouse to move the tech and textile shops away from the noise and the dust of the other shops, freeing up space to add a blacksmithing forge to the metal shop. Stanley notes that funding has been secured for this move, but the longterm future of the Truckee Roundhouse is dependent on grants and donations.
In the meantime, Stanley hopes the glass-fronted entryway of the newly expanded makerspace will set the stage for the organization's long-term vision for supporting both new businesses and children's learning skills.
Stanley wants the Truckee Roundhouse and its warehouse space to shine as a permanent fixture in the community, and to attract entrepreneurs and start-ups from around the country to Truckee to launch businesses that create local jobs, retain high school and college graduates, and diversify and strengthen the economy of the Tahoe region.
"The real magic happens when makers with different skill sets see each other working at the Roundhouse and share what they know with one another," Stanley says. "Truthfully, our makers come for the tools, but they stay for the people."
---

Executive Director Karyn Stanley stands at the center of the Truckee Roundhouse along with, from left, Charlotte Sibley Semmes, Alin Luchian, Nate Meyers, Ralph Backstrom and David Stratton, photo by Grant Kaye and Michael Okimoto
MEET THE MAKERS
Ralph Backstrom co-owns Pacific Crest Coffee Company in Truckee, where he acts as roaster, barista, brewmaster, social media manager—"currently underperforming"—handyman and bookkeeper. He moved to Truckee from Seattle 14 years ago to experience a complete mountain immersion, and was the 2013 men's snowboarding champion on the Freeride World Tour.
"I started my business with a limited budget, so my landlords let me do my own tenant improvements; I wouldn't have been able to complete all of the buildout work without the Roundhouse. I've built a really cool walk-in refrigerator, some countertops and tables, branding/logos, shelves and shelf brackets, pour-over stands, a tap line, and done some furniture repair. The tools and equipment, which are out of reach or not feasible to personally own, the workspace, the community, and a high number of unfinished projects make a Truckee Roundhouse membership a requirement in my life."
David Stratton, who came to Truckee 18 years ago for the skiing, works at the Truckee Tavern & Grill and serves as a part-time river guide and ski coach. He hopes to hone his skills as a woodworker and pursue a career as a furniture maker.
"The Truckee Roundhouse has given me access to the space and tools necessary to do professional-level woodworking. Since space alone is so hard to come by in this town, the Truckee Roundhouse is part of Truckee reinvesting in itself. I get a lot of good-natured flack for doing things old school, when there's a CNC router in the building, but I just love the tradition of the craft, the appreciation this town has for handcrafted local products and the ability to incorporate the influence of the mountains in my work."
Charlotte Sibley Semmes, a freelance art and design educator and working designer, artist and maker, quit her design job several years ago to travel and volunteer with an art program for refugee children in Nepal. She moved to Glenshire two years ago for the open sky, sense of community and to enjoy a slower pace of life.
"The Truckee Roundhouse has been an unbelievable source of support, inspiration and capacity-building for me. In the textile lab, I've been developing samples for my baby blanket and clothing business, Penelope Prints. I'm constantly learning from the other textiles enthusiasts, and there is an eclectic group of makers here to give me feedback on new products, which has been fantastic. I see the Roundhouse on the road to becoming a pioneering educational institution with a constant influx of students of all ages and backgrounds learning tools for creative entrepreneurship in the next five years."
Alin Luchian, a soccer referee and finish interior contractor with a degree in physical education, moved to Truckee three years ago when the Ritz-Carlton, Lake Tahoe hired his wife as a pastry chef. He has a rich background of volunteerism with organizations like Habitat for Humanity and Feed the Starving Children.
"The Truckee Roundhouse helped me to build a bakery, taught me how to weld and sharpened my craftsmanship skills. I love being a maker in Tahoe. Teaching at the Truckee Roundhouse is amazing; there are still so many thing to learn. I often wish I had a bed at the Truckee Roundhouse so I could wake up with some coffee and the smell of wood dust or the wood burns from the wood laser."
---
Grant Kaye is a professional photographer and educator who has lived in the Tahoe area since 2000, www.grantkaye.com.