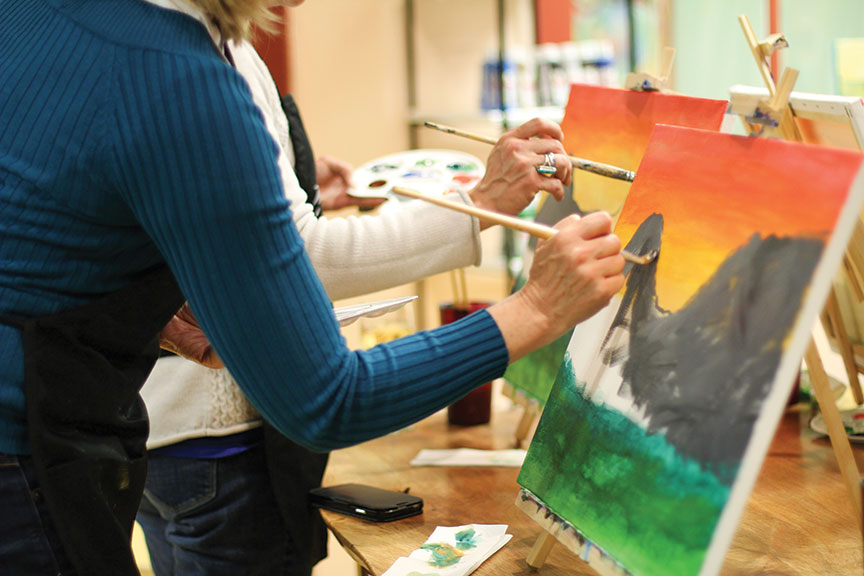 13 Oct

Eat, Drink and Paint

How would you describe your artistic ability? Free-flowing and natural? Timid and unrefined? Some have raw talent for free-handing works of art, while others adhere to the stick figure family. Many wouldn't know where to start if they were handed a blank canvas and art supplies. But what if you could paint a beautiful work of art effortlessly in a relaxed environment while drinking wine, beer or cocktails with friends? Wine and paint galleries are popping up nationwide, including in Reno-Tahoe.

Here's how it works: Participants are encouraged to leave behind self-judgment and enjoy painting in an informal, fun environment. Attendees are given all of the necessary supplies—smocks, canvas, brushes, paints—to create a specific painting, then an instructor leads aspiring artists through the motions, telling them which colors, brushes and strokes to employ during the three-hour session. By the end of the class, attendees will have created a masterpiece—and plenty of memories to go with it. The best part: you get to sip on your beverage of choice the whole time.

South Lake Tahoe, Truckee, Reno and Minden all boast wine and paint studios. Each location has its own bar, complete with wine and beer (and liquor depending upon location). Guests are welcome to bring their own food, however most venues do not allow outside alcohol. Classes range from $30 to $40 depending upon location, and can be scheduled based on the desired painting. Simply check out the calendar on each spot's website for a preview of the painting for upcoming classes.

While these classes may seem simplistic to those with a great deal of artistic education, they allow ample room for creative expression.

Classes are offered at the Painted Vine in Truckee, Lake Tahoe Paint & Sip in South Lake Tahoe, Picasso & Wine (two locations) and the Crafted Palette in Reno and Van Gogh and Vino in Minden. Visit the website of the location to make a reservation. Classes tend to fill up quickly, so it is recommended to schedule in advance. Be sure to keep tabs on any promotions, family days or upcoming special events.
---
The Crafted Palette
Cost: $35 Website: www.craftedpalette.com
Address: 130 West Street, Reno
The Painted Vine
Cost: $40 Website: www.painted-vine.com
Address: 10770 Donner Pass Road #103, Truckee
Notes: You can bring your own wine with a $15 corkage fee.
Picasso & Wine
Cost: $35 to $40 Website: www.picasso-wine.com
Address: 148 Vassar Street, Reno, and 13925 S. Virginia Street, Ste 248, Reno
Lake Tahoe Paint & Sip
Cost: $40 Website: www.laketahoepaintsip.com
Address: 900 Ski Run Boulevard #105, South Lake Tahoe
Van Gogh and Vino
Cost: $30 Website: www.vangogh-vino.com
Address: 2244 Meridian Boulevard, Minden