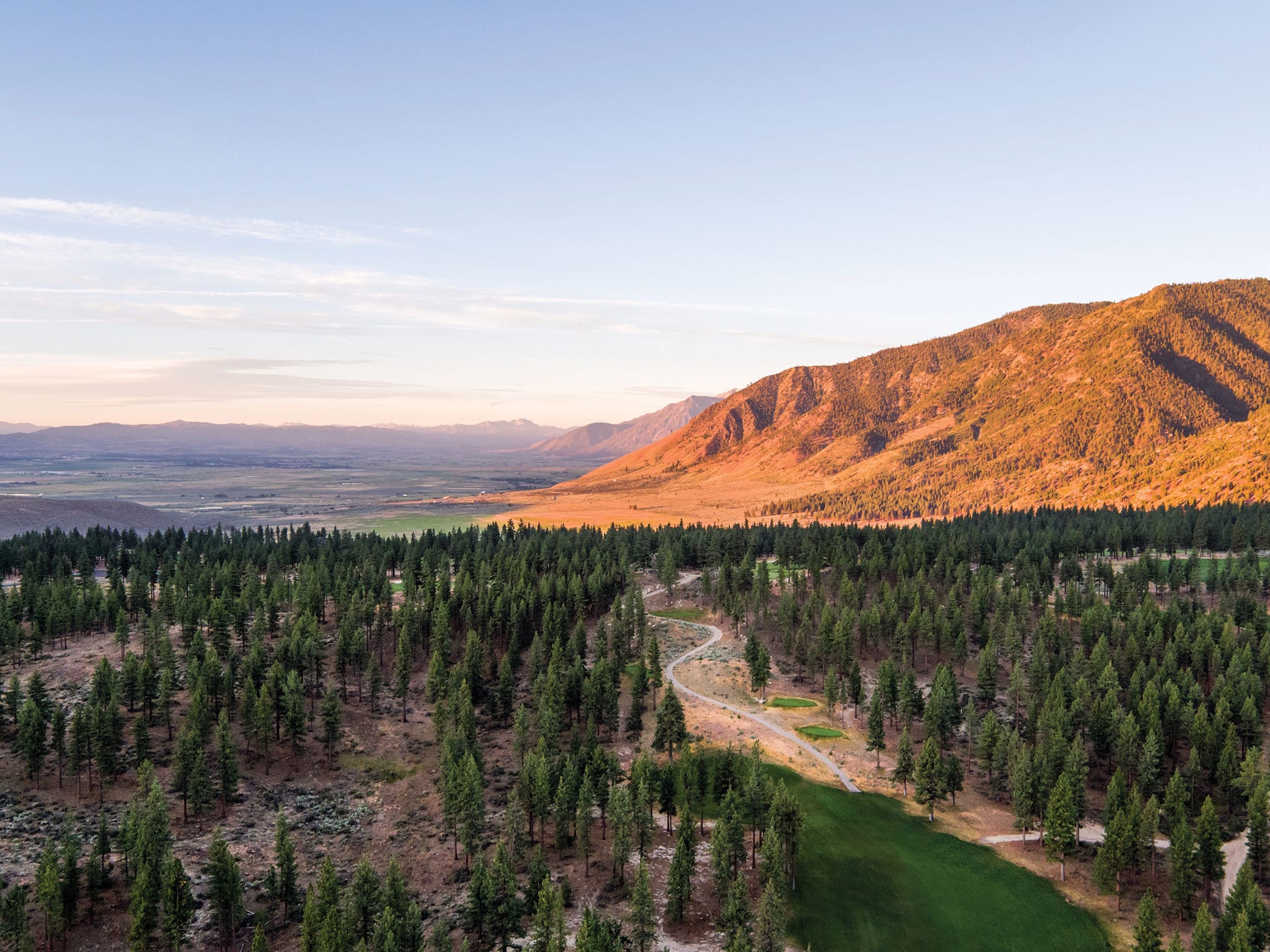 The Clear Creek Tahoe property affords dramatic views over the Carson Valley and up to Spooner Summit
27 Apr

A Clear Choice Near Tahoe

As motorists travel on U.S. Highway 50 between Spooner Summit and Carson City, their eyes peeled on the snaking contours of the road, a picturesque property tucked into the hillside below goes largely unnoticed. Even fewer drivers catch a glimpse of the emerald-green golf course that weaves through the undulating valley floor, replete with towering Jeffrey pine stands and rocky outcroppings.

This combination of forested privacy, close proximity to city conveniences and Lake Tahoe, and world-class golf is only part of the appeal of Clear Creek Tahoe.

"Our vision has always been to create something reflective of the beautiful land that Clear Creek is on," says Jim Taylor, one of the managing partners for the private residential golf club just east of the Tahoe Basin. "It really is a special piece of property."

After a modest start, Clear Creek Tahoe is now blazing forward. The club sold its first residential lots this past winter and will break ground this summer on a health, wellness and spa facility and a family pool and tennis campus, which will include a flume-like waterslide that pays homage to Clear Creek Canyon's logging heritage.

Clear Creek's vision started with the golf course, and the choice of acclaimed golf course architects Bill Coore and Ben Crenshaw as designers.

"We hired golf course architects Coore & Crenshaw, who have a reputation for only taking on projects where great golf can be created on the natural landforms with minimal disturbance. They find golf, and do not impose it on the land," Taylor says.

Clear Creek Tahoe's golf course was designed by the highly regarded architectural firm Coore & Crenshaw
The golf membership program debuted in 2016, and the club has converted nearly 100 members. David Reese, a Phoenix resident who owns a second home in Glenbrook, on Tahoe's East Shore, was among the original Clear Creek Tahoe preview members.
"I was very impressed that they had Coore & Crenshaw as the architects for the course. They are certainly among the finest architectural firms in the world, and they're wonderful guys and do superior work," says Reese, whose Glenbrook home is about a 12-minute drive from Clear Creek. "I thought, 'Well this is wonderful,' and I have never been disappointed. It is a truly spectacular piece of property, number one, and number two, it's a spectacular golf course."
Although the golf course construction proceeded in the late 2000s, the club's real estate debut was put on hold by the economic downturn, which stung the Tahoe housing market particularly hard.
"We struggled during the Great Recession and never offered any of our real estate. We basically just hunkered down and went through some difficult times," Taylor says.
After waiting out the economic storm, Clear Creek is back on track. Last summer the club, with help from its capital partner, bought the historic Twin Pines Estate in South Lake Tahoe for $8.5 million. One of two estates in Tahoe designed by Bay Area architect Julia Morgan—of Hearst Castle fame—Twin Pines includes a rustic, 2,750-square-foot home and a guesthouse, more than 180 feet of sandy beach and a pier for Clear Creek members to enjoy.

Clear Creek Tahoe's historic Twin Pines Estate in South Lake Tahoe was designed by Julia Morgan
"It was a very fortuitous, timely event, just given its availability," Leisha Ehlert of Castle Hill Partners, who represents the project's capital partner, says of the Twin Pines purchase. "We think it's so important as part of the broader Lake Tahoe community to actually have that connection with The Lake and the mountains. And while there's some pretty great architecture around The Lake, to have something that was designed by Julia Morgan become part of our club is pretty spectacular."
In addition to the lakeside estate, which includes shuttle service to Heavenly in the winter, Clear Creek Tahoe offers its members private access to prime fishing and floating on the West Walker River near Topaz Lake, a 45-minute drive away. The club also has three onsite hiking trails—two of which double as mountain biking trails—while Clear Creek itself winds 1.5 miles through the property and provides onsite fishing opportunities. It's the only perennial stream that flows year-round to the Carson River.

The Clear Creek Tahoe property has three scenic hiking trails, two of which double as mountain biking trails
In order to preserve the natural beauty of its property, Clear Creek Tahoe placed more than half of its land—853 acres—into a permanent conservation easement with the Nature Conservancy. "That includes the ridgelines and a beautiful alpine meadow, just so that it was absolutely clear that this beautiful property would never be developed," Taylor says. "So what you see driving in is what you'll always see."
Clear Creek has now shifted its focus to infrastructure and real estate. The club has closed 16 lots since January 1 and has five more under contract. Private home construction will begin this spring. Of the 384 lots available, 268 are estate lots that average 1.6 acres and go up to 5 acres. There will also be 98 cottage lots, each about two-thirds of an acre, and 18 units that are part of the clubhouse complex.
"I feel like Clear Creek is really well-positioned to have a wonderful year. We're seeing people from their 40s up into their mid-70s building homes. And I would be disingenuous if I didn't say the fact that we're in Nevada is a big factor," Ehlert says, adding that Douglas County benefits from some of the lowest property taxes in the state. "Nevada also does not have a state income or inheritance taxes. California residents, in particular, see this as a huge advantage as they plan their legacy."

Clear Creek Tahoe offers its members private access to prime fishing and floating on the West Walker River near Topaz Lake
With any new private residential golf club, Truckee's Martis Camp naturally comes to mind as a comparison, as the high-end gated community set the gold standard in the Tahoe area. While Taylor says Clear Creek does not aspire to be a Martis Camp, the club's vision is similar on many fronts.
"Martis Camp has just defied gravity. The developers are exceptionally capable and honorable people who did exactly what they said they would do at the worst of times," Taylor says. "We will have many of the same kind of amenities, but they will be on a much smaller scale. I would say that the quality of our land plan and the quality of our amenities will be commensurate."
Keith Franke is Clear Creek Tahoe's director of development and design. Having also worked with Martis Camp in the past, he envisions Clear Creek having similar architectural characteristics, including a large percentage of mountain contemporary designs "with big glass and interesting volumes," he says.
"We want to hold the bar high and get some pretty cool stuff," says Franke, who is working with architect firm Hart Howerton. "While we will not have a prescription set of what you can build with, it will have to be complementary to the existing natural terrain. Controlling the architecture and colors and materials is an important part of protecting the quality and value of the property, but we recognize the need to be flexible in the process."
Taylor says another benefit of Clear Creek is the property's milder winters compared with Tahoe and Truckee. Clear Creek ranges from 5,500 to 5,900 feet and is located on the drier eastern slope of the Sierra Nevada, whereas Tahoe is over 6,200 feet and closer to the Sierra Crest.
"We get about 20 percent of the precipitation the [western] side gets, so our season is a couple weeks on either side longer than western-facing slopes," Taylor says. "But we're up in the Jeffrey pines, and our baseline elevation of 5,700 feet provides comfortable summer temperatures for all outdoor activities."
---
Visit Clear Creek Tahoe's website for more information.