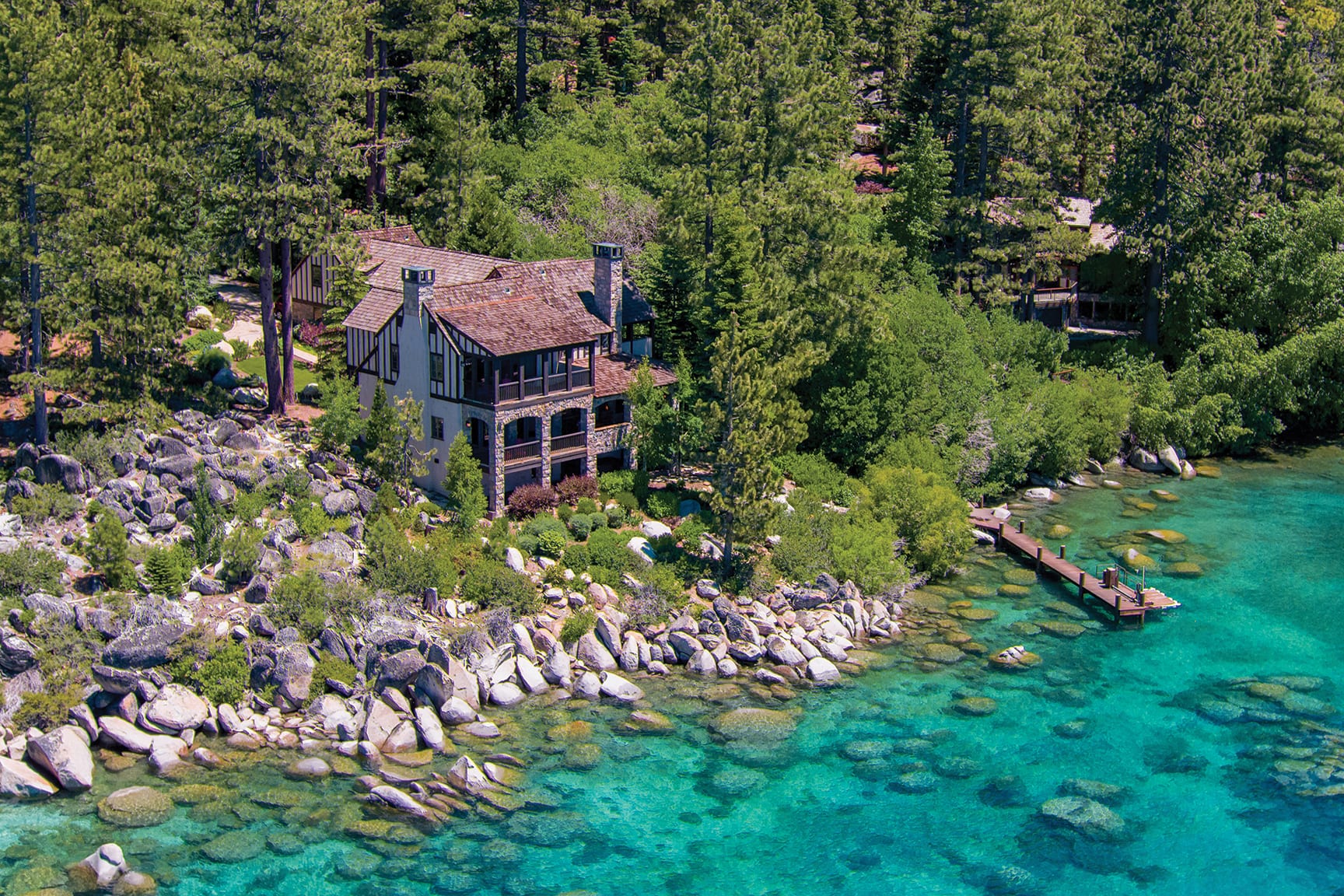 A lakefront Glenbrook home on the market in 2018, courtesy photo
27 Nov

Tahoe's Newest Land Barons
Tech industry wealth is largely driving the luxury real estate market around the lake
Tracing the ownership of Lake Tahoe's real estate is a whirlwind tour of the country's economic history, as timber barons, industrialists, shipping magnates, finance pioneers and fashion impresarios have flocked to Lake Tahoe's shoreline for generations.
Now technology giants are following in their footsteps, reshaping the Tahoe real estate market like the generations before them.
While tech's outsized influence on Tahoe's real estate market has been a long accelerating trend, the power of Tahoe to attract Silicon Valley's elite was hammered home dramatically when Facebook founder Mark Zuckerberg and his wife Priscilla Chan purchased two adjoining Tahoe estates for a reported $59 million in early 2019.
The Zuckerbergs' purchase combined the storied Carousel and Brushwood properties on Tahoe's West Shore, and highlights the fact that the next generation of wealth—and the immense economic power of the digital economy—is still flooding into the luxury Lake Tahoe real estate market.
While the 35-year-old Zuckerberg personifies the highest level of wealth in the country, he also embodies something else—a remarkably young generation of Silicon Valley executives already wealthy enough to purchase legacy Tahoe real estate. While generations past have been drawn to Tahoe for vacation real estate, it was often later in life and the purchases were more modest, says Jeff Brown, owner of Tahoe Mountain Realty.
"The Baby Boomer generations were buying cabins in the woods when they were 45 years old. They were not buying $4 million estates," says Brown.
This new generation of tech wealth has buoyed the Tahoe real estate market, driving sales along Tahoe's shoreline and in communities like Martis Camp, Lahontan, Northstar and, most recently, Clear Creek Tahoe.
While 2019 saw the overall real estate market and luxury property sales cool slightly from a record-setting 2018, the numbers were still remarkably strong, according to Tahoe Mountain Realty data.
"It's still amazing," says Brown of the pace of property sales. "It is only trailing in comparison to the last couple years. The market cooling is just a regression to something way above average but less than insane."
Indeed, 2018 was a historic year in the Tahoe-area real estate market. Approximately $1.7 billion of real estate changed hands. And while 2019 has been slightly slower than that historic high-water mark, luxury sales of properties priced over $5 million and $10 million are having their second best year in more than a decade, according to Tahoe Mountain Realty data.
And Brown sees continued resilience for the luxury market.
"As long as the Bay Area remains the center of innovation worldwide—until somewhere else steals that—you are going to keep seeing the Uber shares unlock and Airbnb shares come onto the market, and the buyers will keep coming," says Brown.
Sue Lowe, senior vice president for Chase International, says that the limited supply of Tahoe estates is as much a limiting factor as anything.
"The uber wealthy market has softened a bit, but they are still out there looking. The inventory is just really low," says Lowe.
From Timber to Tech
This ebb and flow of wealth is a familiar rhythm for Lake Tahoe real estate. The land barons of Lake Tahoe lore literally shaped the lake's shoreline.
George Whittell Jr.'s eccentric tastes and appetite for seclusion preserved much of the East Shore of the lake. The mark of Duane Bliss, who turned his silver mining and timber fortune into an outsized ownership stake of thousands of acres of Lake Tahoe land, can still be seen from Tahoe City's Tahoe Tavern to Glenbrook and D.L Bliss State Park. Henry Kaiser, whose company built the Hoover Dam, brought the same ingenuity and tenacity to the construction of his staggeringly intricate Lake Tahoe estate, which was completed in 29 days in 1935. Today that single estate is broken into 22 homes at one of Tahoe's most exclusive addresses—Fleur du Lac Estates on Tahoe's West Shore.
But even before Kaiser—now synonymous with Kaiser Permanente health system—the names of Tahoe homeowners were the same names that built the U.S. economy.
Isaias Hellman, who founded a banking empire that would eventually become part of today's Wells Fargo bank, purchased thousands of acres of land on Tahoe's West Shore and enlisted Duane Bliss' son, Walter Bliss, to design a mansion on the property. The Hellman-Ehrman mansion was a classic display of turn-of-the-century Tahoe opulence and remains a popular attraction for thousands of Tahoe visitors each year, along with the surrounding Sugar Pine Point property donated to the state park system by the Hellman family.
Meanwhile, on Tahoe's North Shore, the Bliss family sold off another piece of land to Lora Josephine (Moore) Knight, another landowner who left a lasting mark on Lake Tahoe. In 1914 (or, according to some historians, 1917) Knight built a lakefront estate called Wychwood near an area now known as Dollar Point. Knight eventually sold the property to another prominent Lake Tahoe family, the Dollars. The Dollars started in the timber business but eventually became shipping tycoons, and Robert Stanley Dollar used Lake Tahoe as his personal speed boating laboratory as he tested the limits of high-performance watercraft on the lake's waters.
Meanwhile, Knight began looking for another Lake Tahoe lakefront retreat, eventually settling on Emerald Bay and Fannette Island, which she purchased in 1928 for a reported $250,000. She went on to build the Scandinavian-inspired architectural wonder Vikingsholm at the edge of Emerald Bay, as well as the granite teahouse on Fannette Island.
Now, as the immense economic power that was once accumulated by industrialists begins to shift toward titans of technology, these new waves of wealth are lapping onto the shores of Lake Tahoe as well.
That influence has long been apparent on the Nevada side of the lake, where homeowners like Oracle founder Larry Ellison and former PeopleSoft Chairman Dave Duffield have headlined a group of technology executives scooping up tax-friendly lakefront estates in Crystal Bay and Incline Village.
Ellison went even one step further, purchasing the storied and long-shuttered Cal Neva Resort once owned by Frank Sinatra.
Beyond the Basin
Outside of the Tahoe Basin, Silicon Valley wealth has been fueling Martis Camp's remarkable luxury home success. The exclusive gated community has found success by catering not to retirees or Baby Boomers—the traditional Tahoe vacation homebuyer—but to the younger families wealthy enough from Silicon Valley success to afford the luxury of Martis Camp and the family-focused opportunities it offers, like a direct connection to Northstar and the ample activities of the Family Barn.
This phenomenon has segmented the Tahoe luxury market. Young families are attracted to Martis Camp for its obvious family advantages. Older, but still young, retirees are choosing Lahontan, which is still defined as a golf club.
Clear Creek Tahoe, on the east slope of the Carson Range, is a newcomer to the luxury market, and is selling fast, primarily to buyers in their early 60s, says Lowe.
"Both Martis Camp and Clear Creek are lifestyle buys," says Lowe. "You bring the kids and grandkids up, park the cars and enjoy the outdoors."
Lakefront properties only come up for sale so often, attracting a higher level of wealth that can both pay the steep price tag and invest in modernizing estates that often date back many decades.
"At the lake, the inventory is aging a lot and it is going to be less compelling to remodel unless you are at a Zuckerberg level of wealth," says Brown. "And that is where Martis Camp has stepped into that void, because it is new and amazing and so well amenitized."
But Brown says the Zuckerberg purchase, and the headlines it produced, could lead to a renewed interest in lakefront estate sales, particularly on the California side of the lake—which are often constrained by the supply of these unique properties and buyers who are worried to shoulder the tax and regulatory hurdles of California.
Lowe says that lakefront properties at Tahoe have always offered something that is even more coveted than design details or amenities for some high-profile buyers—the simple fact that most people in Tahoe don't care if you are famous.
"A big draw, in my opinion, for celebrities and prominent people is Tahoe is more private," says Lowe. "There are not paparazzi out the door. People tend to leave each other alone. And you are able to be out in nature and not be bothered."
The future of Tahoe's luxury real estate will most likely mirror the economic profile of the Bay Area—the predominant source of Lake Tahoe luxury home sales. But Brown sees a future where the interplay between Silicon Valley and San Francisco and the fast-growing Reno market adds an interesting new pool of luxury home sales.
Brown says he can see a day when the technology executives from large companies putting down roots in Reno start eyeing Lake Tahoe for their vacation escape.
"It will take a generation to be at that level of management and disposable wealth," says Brown, "but I do think it is on a trajectory that will get there eventually."