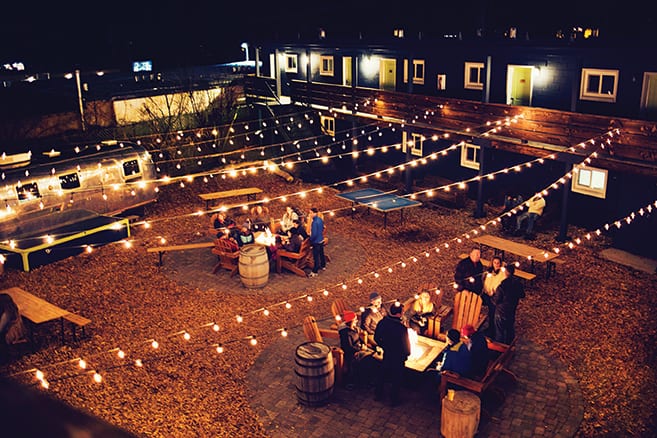 Outpost Brewing Company's outdoor fire pits in South Lake Tahoe, courtesy photo
25 Jun

New Spots
SOUTH SHORE
IZABELLA RISTORANTE ITALIANO
3967 Lake Tahoe Blvd.
South Lake Tahoe, CA
(530) 544-0400
www.izabellatahoe.com
Brought to you by the owners of the long-running and popular Scusa, this contemporary Italian eatery a short stroll from Heavenly Village features dishes such as smoked gouda fried polenta with lemon butter, spicy marinara and pesto, and grilled romaine with bleu cheese, along with chicken and veal piccata, parmigiana, saltimbocca and marsala. The menu includes classic pasta dishes, as well as a fettuccine with shrimp, calamari, scallops, clams and mussels. Gluten-free and whole wheat pastas are available on request. D; $16.95–$29.95

Outpost Brewing Company beer, courtesy photo
OUTPOST BREWING COMPANY
932 Stateline Ave.
South Lake Tahoe, CA
(530) 949-9805
www.facebook.com/OutpostBrewingco
In the Base Camp Hotel's former Beer Garden space, this kid- and dog-friendly brewpub comes courtesy of local restaurateur Ted Kennedy of Base Camp Pizza and Azul Latin Kitchen, among others. A converted hotel room serves as a production facility and a suds-pairing menu includes a variety of brats like the jalapeño-cheddar-elk sausage topped with feta, avocado and Sriracha aioli on a pretzel bun. They also serve goat cheese mac, salads, sandwiches and barbecued pulled pork sliders from sister restaurant Ten Crows. Fire pits, cornhole, ping pong and live music round out the fun. L, D; $10–$18
POKÉ ROK
4125 Lake Tahoe Blvd.
South Lake Tahoe, CA
(530) 578-0319
www.facebook.com/
pokeroksouthlaketahoe
This seafood spot in the former Sno Frozen Yogurt Cafe in the Chateau is riding the Hawaiian-inspired poke wave in Tahoe thanks to Ted Kennedy, who convinced James Clark to open this store in the Chateau at the Village (Clark started a similar biz in Las Vegas). Customers start with a base of rice or greens then pick a protein—ahi, salmon, unagi, shrimp or tofu—and sauces such as mango habanero, ponzu or sweet wasabi and toppings from avocado to edamame. Ingredients can be served in a bowl or rolled in a seaweed wrapper. Sushi and açaí bowls are also available. L, D; $9.95–$14.95
BLACK CABIN COFFEE
3894 Pioneer Trail
South Lake Tahoe, CA
(530) 600-2888
www.blackcabincoffee.com
A 15-year veteran in the coffee business, Nicki Williams and her husband Will launched this small-batch roastery and cafe after a nine-month remodel. Drinks include the Fireside Mocha—espresso with steamed milk, organic cacao, ancho and chipotle chili and whipped cream—as well as Zephyr Cove–based BlendBee loose leaf teas. Eats are breakfast focused with selections such as the Cristo with ham and Swiss on French toast with a maple Dijon sauce, and a vegan burrito rolled with black beans, soyrizo, roasted peppers and hash browns. Freshly baked cinnamon rolls, biscotti and muffins are on hand as well. B, L; $2.95–$5.95
DRAGONFLY BAGEL
1132 Ski Run Blvd.
South Lake Tahoe, CA
(530) 539-4759
www.facebook.com/dragonflybagelco
Caitlin Parker, who owned Firefly Coffee in Santa Cruz, and her partner E.J. Gammage boil, bake, slice, schmear and serve up nine varieties of New York–style bagels Thursday through Sunday mornings at this counter tucked inside Blue Angel Cafe. Their signature sandwich starts with spreads such as goat cheese, hummus, pesto, nutella or jam and then adds bacon, jalapeño, avocado and onion; the Hangover Helper comes with cream cheese and bacon, a 20-ounce brewed coffee with a double shot of espresso and a packet of Emergen-C. B; $4–$8
TAHOE POURHOUSE
2042 Lake Tahoe Blvd.
South Lake Tahoe, CA
(530) 600-3774
www.tahoepourhouse.com
Chef-pals Mark Davis and Edwin Winslow, both veterans of Tahoe resorts and beyond, launched this modern wine bar–eatery at The Crossing at Tahoe Valley next to Tahoe AleWorX (with whom they share a patio and stage). A 20-tap wine wall similarly permits patrons to taste and pour with the swipe of a card, and a gourmet menu brings breakfast items like a five-grain bowl and sweet potato hash, sandwiches such as the herb and cheese polenta with roasted poblano chile, pickled onion and citrus aioli on a pretzel roll, and salads including chicken chimichurri with pumpkin seeds, honey-infused watermelon and cotija cheese. Evening offers Spanish-style tapas from albondigas to gambas al ajillo as well as custom meat and cheese boards. B,L,D; $7–$30
PICK 6 SPORTS LOUNGE
3115 Harrison Ave.
South Lake Tahoe, CA
(530) 600-4499
www.pick6tahoe.com
Lake Tahoe Community College grad Matt DeLima launched this industrial chic two-story sports bar in the former Rude Brothers space with plenty of beers on tap, including four brewed in-house, 21 televisions, a 150-foot projection screen and dog-friendly deck. The menu features appetizers, burgers and flatbreads along with sports legend–themed selections like Ricky Henderson beef sliders, Yzerman chicken wings and Draymond Green and Ty Cobb salads. More serious entrees range from chicken Cordon Bleu to New York steak madera. L, D; $12.50–$23
NORTH SHORE
ZURI COFFEE CO.
11357 Donner Pass Rd.
Truckee, CA
(530) 536-5151
www.thezuricoffee.com
Owners Esther and Werner Ospelt opened this Euro-style spot to recreate the inviting alpine cafes of their native Switzerland. In addition to specialty coffee drinks, an all-day menu offers bagel sandwiches, avocado toast, yogurt parfaits, sweet and savory custom crepes, salads and panini like the Brienne—brie, bacon and caramelized onions on a baguette. Bakery items include croissants, cinnamon rolls and the Truckee Crown. Gluten-free options and online ordering are available. B, L; $4.25–$9.95
RENO
JOSTELLA COFFEE COMPANY
701 South Virginia St.
Reno, NV
(775) 683-3003
www.jostellacoffeeco.com
Mother and daughter Tammy and Kayla Sisson have launched Midtown's latest coffee shop. This warm wood paneling and brick spot in the former Dreamer's location makes caffeine drinks using locally roasted Blind Dog Coffee beans with specialty beverages reaching into peanut butter mocha territory. The shop serves loose leaf teas, smoothies and mocha milkshakes, as well as croissants, quiche, sandwiches, a signature breakfast burrito and build-your-own bagel. Sweet treats like mini berry and chocolate chip cream cheese bites are also on the menu. Area artists' works are on rotating display. B, L; $3–$6
ROYAL INDIA KEYSTONE
575 Keystone Ave
Reno, NV
(775) 507-7444
www.royalindia-cuisine.com
This richly decorated family-run Northern Indian restaurant serves all the classics like samosas and pakoras, paratha and roti, chicken, lamb and seafood curries, vindaloo, masala, tandoori and biryani dishes, many of which can be sampled on the daily lunch buffet. Need to cool it down a bit? Try a Flying Horse or Taj Mahal beer, or perhaps a mango lassi—chilled sweet mangoes blended with a touch of rose water and fresh homemade yogurt. For dessert there's gulab jamun—fried cheese balls soaked in honey syrup. L, D; $-9.95–$15.99
OPA GOURMET PIZZA
530 West Plumb Ln.
Reno, NV
(775)737-9445
www.opagourmetpizza.com
This Plumgate space that was formerly House of Bread and Sugarbug now houses this Med mash-up owned and operated by Stelios and Alexi Dimitriadis. Familiar Greek dishes like saganaki, tzatziki, dolmathes, spanakopita, tiropita, gyros, souvlaki, moussaka and pastitsio occupy the menu alongside Italian classics including antipasti, meatballs, ravioli, fettuccine, lasagna, chicken parmesan, panini, soups, salads and some 20 specialty pizzas. L,D; $9.95–$30.95
POLA POKE BOWLS
3594 West Plumb Ln.
Reno, NV
(775) 683-9901
www.polapokebowl.com
Back in town following stints in Vegas and the Bay Area, Reno native Brittany Walshaw started this Hawaiian-style seafood-in-a-bowl eatery in the space formerly home to BFF and Emerald City cafes. Five signature offerings include the Vacation Bowl made with mixed greens and rice, tuna and salmon with togarashi and pineapple ponzu, cucumber, sesame seeds, scallion, red onion with pineapple, seaweed salad, edamame, spicy crab, avocado, furikake, coconut and macadamia. There are also chicken, vegan and build-your-own options, as well as açaí smoothie bowls. L, D; $8.95–$12.95
BLUEFIN POKE
170 South Virginia St.
Reno, NV
(775) 683-3288
Adjacent to La Famiglia and Wild Garlic, this fresh modern space across from the Pioneer Center has also joined the local poke party. Bowls come in two sizes and diners fill them with rice, greens or wonton chips followed by ahi tuna, spicy tuna, salmon, yellowtail, shrimp or scallops, and a choice of seven sauces from spicy ponzu to wasabi aioli along with toppings from pickled ginger to seaweed salad. L, D; $11–$14
MAYA'S SOUTH INDIAN CUISINE
148 West St.
Reno, NV
(775) 813-9642
www.facebook.com/SouthIndianCookingbyAnitha
Anitha Pagidi, a native of southern India, serves lunch Thursday through Sunday at this pop-up eatery that shares a space with Thali restaurant in the West Street Market. The simple organic, vegan and gluten-free menu includes dosas, which are thin rice and lentil crepes, as well as idli, a type of fermented spongy rice and lentil patty. There's also puffy fried bread called poori and medhu vada—a fritter made from black lentils. All are served on a thali—compartmented metal trays complete with chutneys and sambhar, a lentil-tamarind stew. L; $5.99–$6.99
HOLEY SCHMIDT DONUTS
490 South Center St.
Reno, NV
(775) 683-3399
www.facebook.com/HoleySchmidtDonuts
With the motto "Keep Reno Sweet" (along with "Eat more hole foods") Galen and Cadi Schmidt launched Reno's first specialty donut shop. This family-friendly space that's part of the Terry Lee Wells Nevada Discovery Museum turns out some 50 to 75 flavors ranging from Oreo cheesecake to Nutella, marshmallow to peanut butter, along with just about any cereal or candy bar flavor imaginable, as well as themed donuts, churros and vegan selections. They also serve specialty coffee drinks. B, L, D; $1–$2  per donut.
RICK'S PIZZA
1305 North Virginia St.
(775) 420-5259
www.ricksreno.com
Looking for a spot to grab a bite before or after a Wolf Pack game? This spot across the street from campus formerly known as the Wolf Den seems a tasty match-up with UNR sporting events. There are garlic knots and oven-baked wings to start. Pizzas include Rick's Special, with smokey barbecue sauce, mesquite grilled chicken breast, sweet red onions and green bell peppers topped with parmesan cheese, and the Big Mackie, with creamy garlic, honey smoked ham, red onions, pineapple and slow-cooked barbecued pork. They also serve sandos such as the Sparks made with meatballs, mozzarella and marinara. Online ordering is available. L, D; $9–23
PIZZAVA
1043 South Virginia St.
Reno, NV
(775) 507-7077
www.pizzava.com
Batuhan Zadeh and Sabri Arslankara, two 20-something cousins of Turkish descent from Boston, launched this Midtown spot connected to the new Under the Rose Brewing Company space (see below). Some 30 thin-crust pizzas are made with dough from Mark Estee's Liberty Food & Wine Exchange, including seven breakfast pies piled with all manner of egg and steak, bacon or sausage; the Turkish version employs eggs, tomato, green peppers, black olives and feta. Wings, salads, sandwiches, calzones and pasta are also on the menu to enjoy in the 20-seat dining room, for takeout or delivery via their app. B, L, D; $9.99–$17.99
UNDER THE ROSE BREWING COMPANY MIDTOWN
1041 South Virginia St.
Reno, NV
(775) 507-4155
www.undertherosebrewing.com
After a long wait, this 5,100-square-foot exposed brick space has finally opened decorated with murals depicting Mt. Rose, for which the brewery is named, locally crafted Nevada-shaped wood and metal tables, and 24 taps. Andrea Keil, from Tahoe Mountain Brewing Company, oversees the small-batch production facility meant for testing out new styles; the Fourth Street tasting room remains open for limited hours. A brief menu includes small plates such as craft sausage sandwiches, soft pretzels with saison beer queso, and totchos—nachos made with Tater Tots. Or order a pizza from next door. L, D; $9–$18
RED'S BROKEN BAT
250 Evans Ave.
(775) 971-4534
www.redsbrokenbat.com
Owned by the Reds Old 395 folks in Carson, this baseball-themed Freight House District player subbing in for the former Arroyo Mexican Grill brings barbecue and Mexican fare to the plate. Lead off with apps like pulled pork cornbread cakes with mango tequila sauce, brisket flautas or smoky sweet and spicy pork belly with pineapple pico. Then, advance to smoked brisket and chicken, ribs, flank steak, meaty tacos, sandos or enchiladas. Sides run from smoked mushroom tamale to blue cheese bacon slaw. L, D; $7–$25
TOFU HOUSE
294 East Moana Ln.
Reno, NV
(775) 657-9181
www.facebook.com/TofuHouseReno
This family-run Korean eatery offers a great menu of traditional dishes served in a handsome dining room. Popular appetizers include crunchy kimchi pancakes and crispy fried chicken with sweet and spicy barbecue sauce. Velvety soft tofu soups are served with rice and banchan, which are complimentary condiments like kimchi and daikon, along with an egg to crack into the broth on arrival. Also on the menu are hot stone rice pots like the bibimbap made with bulgogi, veggies and fried egg, as well as noodles dishes and Korean barbecue. Cool it all down with a somaek, a mix of Korean distilled spirit Soju with beer. L; D; $10.95–$23.95
KWOK'S BISTRO
275 West St.
Reno, NV
(775) 507-7270
www.kwoksbistro.com
Kwok Chen, a former owner of Jazmine and Eldorado's Golden Fortune, opened this contemporary Asian eatery in the renovated former China Diner space downtown. Many of the menu's Szechuan-inspired selections will look and taste familiar: Five-spice chicken wings, kung pao chicken and Mongolian beef. But here, Chen ventures deeper into the more traditional chinese dishes like fish collar in a clay pot, rice porridge dishes and specials like steamed abalone and century egg with pork congee. L, D; $11–$15
KAFFE CREPE
1300 East Plumb Ln
(775) 683-9338
This cheery counter-service spot in the Costco shopping center pours, swirls and folds a wide variety of crepes. Start savory with the Madame made with mozzarella, provolone, romano and parmesan, thinly-sliced ham and a fried egg. Or a French Riviera, with that cheese blend plus grilled chicken, artichoke heart, diced tomato and basil. Finish sweet with a Cookie Butter with graham crackers, marshmallow, chocolate chips and vanilla sugar. Coffee drinks and loose leaf teas are also available. B, L; $4.95–$9.95
CHIHUAHUA'S CANTINA & GRILL
7111 South Virginia St.
Reno, NV
(775) 683-9846
www.chihuahuasgrill.com
Located in the former Cantina Los Tres Hombres space in the same shopping center as Bistro 7, this family-run restaurant is the second for the Rivera family, whose first store is in Winnemucca. Natives of Chihuahua, Mexico, Dora and Javier built an authentic menu based around recipes for Tex-Mex favorites like nachos, flautas, enchiladas, burritos, fajitas and chiles, and chimichangas, plus tacos adobo, asada, shredded beef, lengua, chicken and carnitas style. The menu also includes south-of-the-border-inspired seafood, steaks and burgers, as well as pozole and menudo. There's live music on weekends. L, D; $11–$37
BRAZIL GOURMET MARKETPLACE
145 Hillcrest Drive
Reno, Nevada
(775) 622-3861
www.facebook.com/brazilgourmet.reno
São Paulo native Ariane Tuskey opened this specialty grocery store to serve the area's growing Brazilian and Portuguese community. Traditional dishes to eat on site or take away include acai bowls, cheese breads, empadinhas and rissoles (meat or fish croquettes). Every Saturday they serve feijoada—black beans cooked with pork meat, dry beef and calabresa sausage served with greens, rice and yucca flour. B, L; $3–$8.50
DEL ITALY
185 East Glendale Blvd.
Sparks, NV
(775) 376-8719
delitaly.business.site
Felice Carrano, a native of southern Italy, is the proprietor at this family-owned no-frills spot that combines a deli stocked with house-made meats such as salumi and sausage, as well as pasta, sauces, pizza crusts and meals to go, including 23 lasagna recipes, which require advance notice. In the small dining area, patrons can order lasagna, cannelloni, pionono, pizza, meatballs and sandwiches; the Italian Special is made with salami, pepperoni, capicola, provolone and fresh basil and is served warm with melted cheese on a toasted roll with pesto. Save room for the chocolate-dipped cannoli. L; $6.49–$14.99
RECHARGE BAR & GRILL
795 USA Parkway
Sparks, NV
(775) 505-6774
rechargebarandgrill.com
Located in the sprawling Tahoe Reno Industrial Center and attached to the Studio 6 extended stay hotel, this warehouse-like spot serves up a variety of all-day dishes, many named for the complex's many energy-focused tenants: A/C D/C Avocado Toast with bacon and goat cheese or hummus and a fried egg, Model X wings, Waymo nachos, Dark Fiber power bowl, 10 Volt flat iron steak, and the Musk Meat Lovers pizza. Online ordering is available. B,L,D; $5–$12
CARSON CITY
FLAT EARTH PIZZA
2010 East William St.
Carson City, NV
(775) 434-7144
www.flatearthpizza.com
A former software engineer, Ryan Walker swapped code for dough, opening this brick-oven pizza place after training with thin-crust experts in Staten Island, New York. Located in the former Thick Slice Pizza space, choose from one of the specialty pies like the signature From Russia with Love made with tomato vodka sauce and prosciutto, or design your own from the list of some 25 ingredients from San Marzano tomatoes to broccoli rabe. Also on the menu: smoked chicken wings, ribs, meatballs, salads and sandwiches. L, D; $8.49–$24.99
BELLA VITA BISTRO & CATERING COMPANY
1304 South Stewart St.
Carson City, NV
(775) 515-4300
www.bellavitabistro.com
Lori Baxter, longtime owner of Bella Vita catering, opened this bistro in a renovated space near Schat's Bakery in the Carson Mall Shopping Center. Complimentary house-made potato chips and parmesan garlic aioli start meals here, which include selections such as black truffle fondue, steak salad and hot sandwiches from Cuban to Rueben and burgers. Dinners add entrees like a signature chicken chardonnay dish and lemon caper sole. Sunday brunch brings Benedicts, crepes, corned beef hash and chicken with waffles; grab-and-go breakfasts are available weekdays. There's a full bar and live music. B, BR, L, D; $11–$27
FLAVORS OF INDIA
1105 South Carson St.
Carson City, NV
(775) 461-0713
www.foinevada.com
Taking over the 10,000-square-foot former Tahoe Ridge Winery space, Manpreet Kaur and her mother Dolly relocated from San Jose to open this Northern Indian spot (which has no relation to the Reno establishment by the same name). Find here staples such as tandoori and butter chicken, biryanis and vindaloo, and veggie dishes like palak paneer and dal makhani—black lentils with onion, garlic and tomato finished with butter and cream. A rotating selection is served at a daily lunch buffet. On weekends, sample a selection of chaat, or savory snacks usually sold from subcontinent street carts. L, D; $10–$15