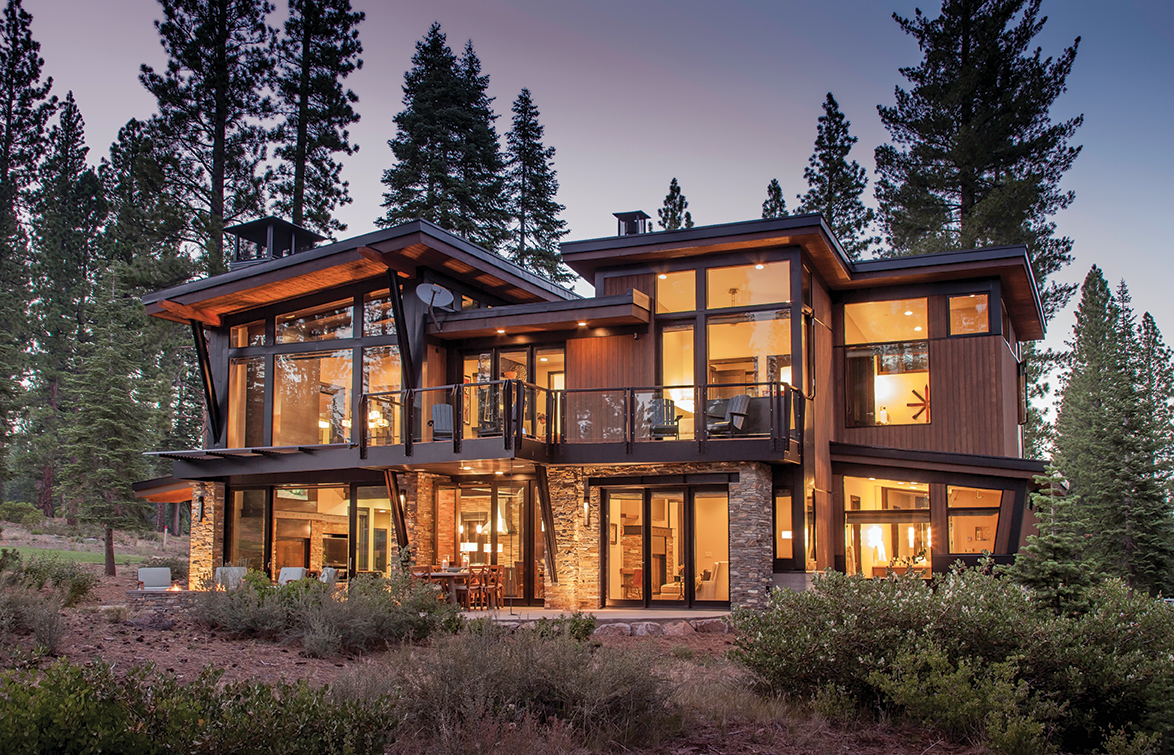 21 May

Outside the Lines
Architect, builder re-imagine the mountain cabin
"This isn't your typical Tahoe cabin," says Ryan Marsden, designer and project manager at Kelly & Stone Architects (KSa), as he walks through a Martis Camp great room. Indeed, at best, the word "cabin" may call to mind a small, cozy structure not unlike those built with Lincoln Logs in one's youth. At worst, it may conjure up dark, cramped spaces, a thousand shades of brown and unrefined, poorly conceived lines.
KSa, in conjunction with owner and builder Jeff Collins of Glennwood Mountain Homes, took the genre and updated it, using unusual materials and a clever design to create an understated, polished version of the cabin.
"Part of the challenge for us was to create a home that looked bigger that it was," says Keith Kelly, principal architect at KSa. "So when you view it from the street, it really feels like a much larger home, a grander feel to it than a cabin kind of house would."
The unique three-sided shape of the lot allowed the home to sprawl along the site a little more, according to Marsden. The view down Martis Camp's green belt, a large grassy common/social area between the homes, provides a sense of open space around the property. Part of the reason Collins selected the lot was its breathing room between the lot and the road and the access to the green belt—not an amenity available on many of the Martis cabin lots, he says.
"You don't really perceive the neighbors, which is an advantage to this site," says Marsden. "We actually rotated the house three degrees before they excavated and that three degrees was a huge change that oriented the great room straight down the green belt."
The home was Glennwood's first project in Martis Camp. The company, which is based in Michigan, opened an office in Truckee in 2012. With its history of building more traditional homes, Collins wanted to work with KSa to do something outside the box.

Glass doors by Sierra Pacific slide away to open the home up to its outdoor gathering spaces
Collins says he and his wife, Melody,  were set on a contemporary design, which led them to work with KSa.
"We toured a contemporary-style house a few years ago and my wife said she'd never live in a traditional home again," Collins says. "We loved the light you get into a contemporary house, loved that it felt like you're outside with all the glass. We interviewed several architects… and felt that KSa was passionate about that kind of look and had a lot of experience with it."
The team's use of materials like board-formed concrete, raw and corrugated steel, and wood siding creates an interaction of textures and colors that keep the aesthetics appealing and distinctive.
Flat and sloped roofs combine with outward leaning walls to produce interesting and unique angles. Rather than a typical rectangular deck, the lines are broken up to create a more geometric and visually appealing structure, while glass railings give a cleaner, open feel. Because the house and outdoor dining area essentially face southwest, the soffit material underneath the deck, comprised of corrugated steel sheets, also doubles as a sunshade to help screen the great room's large glass doors from the summer sun.
The outward tilting walls serve to separate from traditional design and open up the inside.
"We were trying to break up the two-story volume and get creative with how to do that," says Marsden. The shower and water closet in the master bathroom both share the tilted wall. "Inside the shower and the water closet, it makes the space feel bigger. The floor area in the shower, for example, is only so big but the way you perceive the space [higher up] makes it feel bigger."

A spacious great room features exposed steel beams and a generous entertaining space
In the great room, tall ceilings sloping from 22 to 24 feet open up the area while also giving the rooms in the upper level more headroom.
"When we designed that room, we wanted it to be something we could personally live in," says Collins, who sold the home shortly after it was completed. "We wanted the main area to feel nice and big."
A bridge above the great room adds volume and gives a sense of space to what could be a more compact, tighter home, says Kelly.
"The bridge element helps because when you create those really tall ceilings you want to be careful to make sure that it still has a human scale to it, and that it's comfortable and not so voluminous inside," Kelly says.
Upstairs, those higher ceilings allow the windows to capture larger views through energy-efficient panes in a junior master, media room and two more bedrooms. The elevated design also meant the team could add clerestory windows—and thus more light—to many spaces, from bathrooms to the great room.

The master bathroom
"It's important to get light from multiple directions in a room," says Kelly, explaining that different angles helped bring natural light in from various directions and brighten the home while still allowing for an element of privacy.
Downstairs in the master bedroom, a wooden ceiling with a unique light cove above the bed ties into the fireplace, allowing for more indirect lighting from multiple sources. "Another tactic to make the room feel bigger," says Marsden.
Exterior details are brought inside, such as the fireplace's stone veneer or the blackened steel trim, creating a consistency of materials.
The uniformity throughout the home is polished and purposeful. Wood trim around windows, wood running into steel, even steel collars wrapped around timber posts are all part of the team's design intent with darker woods and finishes flowing from space to space.
"All that was a part of bringing some wood elements into the house to soften things and keep it warm because if it's all just steel and concrete it can become cold," says Kelly. The wood and timber in the home are underscored by unique fasteners, faceplates and small details all integrated with the design concept.

Kelly & Stone Architects designed the modern home to feel bigger than its 3,250 square foot envelope
"That contemporary style really allowed us to create a sense that the house is much larger both on the inside and outside than it really is," says Kelly. "It's still cozy and proportionate, which is critical in any type of house, whether it's a cabin or an estate."
A cabin with room to breathe—a refreshing take on the concept.
Merit Award: Contemporary Cabin
Building Design: Kelly & Stone Architects
Builder: Glennwood Mountain Homes
Interior Design: Janet Stock, Village Interiors
Landscape Design: Rock and RoseSquare Feet: 3,250
Year Completed: 2014