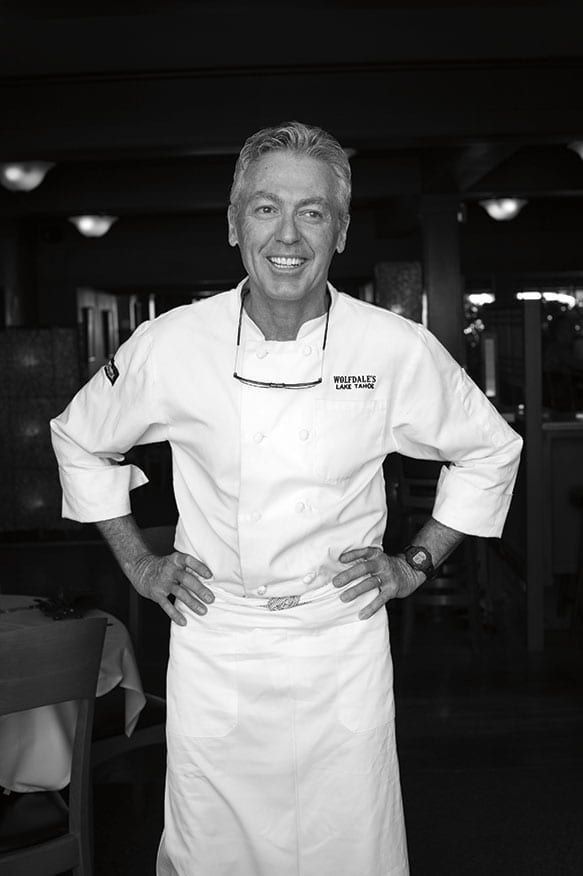 Chef Douglas Dale of Wolfdale's Cuisine Unique, photo by Shea Evans
29 Sep

Where East Meets West
Wolfdale's Cuisine Unique still going strong at 40
Forty years is a long time. In restaurant years, it's a rare dish, well done.
Wolfdale's Cuisine Unique has racked up four delicious decades of serving up its take on East-West dining nearly nightly. Douglas Dale opened the eatery in Homewood in 1978 with his brother-in-law, Jerry Wolf (the Wolf in Wolfdale's), his newfangled Asian fusion fare swimming against a tide of Tahoe's ubiquitous burger and pizza joints. Wolf soon decided that running a restaurant was not his cup of tea and Dale bought him out; by the mid-1980s, the eatery had built a large enough following to upsize to its current Tahoe City lakefront location, where it has remained a North Shore stalwart.
Fit and energetic, the 64-year-old Dale's looks belie all those years hovering over a hot stove; perhaps there is some portrait of the chef locked away deep in a walk-in cooler. As to what keeps him and the restaurant fresh, there's no secret recipe. "Family support, staying healthy and a true passion for cooking keeps me going," he says. A gluten-free diet doesn't hurt either.

D
ale checking orders in the kitchen, photo by Shea Evans
The Buffalo, New York, native, who as a boy worked in the kitchen and bussed tables at the restaurant where his father sang and danced for 25 years, studied in Japan while a student at Antioch College. Dale's experience in the Far East, where longevity looms large (it was there he learned the martial art of aikido, which he continues to practice and teach), set his course personally and professionally. Post-grad, he apprenticed at Boston's Seventh Inn Restaurant with then-celebrity chef Hiroshi Hayashi, who cooked for John Lennon and Yoko Ono and the Kennedy family.
It was during this time that Dale's culinary fundamentals of "fresh food, simply prepared"—and presented—evolved. While at Antioch he took a ceramics class with art professor Karen Shirley and artist-in-residence Michael Jones. To this day, the trio design and produce handmade ceramic dishes and serving ware for the restaurant, four times a year.
Wolfdale's 45-seat intimate lakeview dining room is done up in white linen tablecloths and creamy mustard colored walls where works by local artists such as plein air painter Andy Skaff are on changing display. There's space for another 42 spots in the bar, plus a deck that can accommodate an additional 40 diners in season.
While looking over the menu, consider starting with one of the specialty cocktails like the Emerald Bahia mixed with 1519 reposado tequila, St. Germain, agave, fresh squeezed lime juice, jalapeño and cilantro with a half salted rim. Or the Samurai Alpenglow with Prosecco, Absolut vodka, pomegranate and shoga ginger juice. A dozen beers, several sakes and a some 100 wines, many by notable California producers, are on hand, with by-the-glass pours that include on-tap options and wine cellar specials as well.

The 220-page memoir-cookbook, Wolfdale's Cuisine Unique
Service here is smooth and professional. Out first comes a tidy round bun brought on an individual plate, along with butter tucked into a small stone-like vessel. Appetizers include ahi poke cones, a longtime Wolfdale's favorite, nested in a vase of mixed sesame seeds. Wolfdale's smoked trout, on the menu since opening day, is cured in house with fruitwood in small batches, resulting in rich, smoky bites. Traditional ahi and hamachi sashimi are also standbys.


Sashimi is a longtime customer favorite, photo by Shea Evans
Crispy gyoza chicken dumplings are seated atop a creamy ginger sauce in a serpentine-shaped dish, and the Maryland soft shell crab tempura, light, crispy and placed upright on the plate, comes with Vietnamese nuoc cham, or dipping sauce, this one made with fish sauce and lime juice.
Seasonal salads might include a Caprese layered in a martini glass or watermelon gazpacho with goat cheese mint crostini. A palette-cleansing melon mint agua fresca is served in a ceramic sake-sized glass.


Seasonal Goat Cheese Salad, photo by Shea Evans 
The changing lineup of entrees might feature Alaskan halibut, seared then oven baked and served with a green Thai curry broth with pea shoots and basil pesto atop bamboo rice, all layered in a deep bowl. There's also rich grilled halibut cheeks with lemongrass caper sauce and Asian slaw. In the more distinctly California cuisine category, an Argentine-marinated filet mignon is grilled and plated with portabello mushrooms and roasted Yukon potatoes. A braised lamb shank might be served with white cannellini beans, gremolata and roasted red peppers. For those feeling less fancy, the roast beef sandwich or portobello burger with caramelized onions and truffle fries might fill the bill.


Montana elk chop, photo by Shea Evans
For dessert, look for a warm chocolate souffle torte with dulce de leche ice cream, fruit cobbler or the simple yet effective affogato.
During dinner service, you might spy Dale in his white chef's smock greeting regulars who have become friends. When he otherwise ducks out of the kitchen, it might be to lead his much-in-demand Tahoe City farmers market and cooking class, to participate in the annual Tahoe Forest Hospital's Best of Tahoe Chefs event or the Lake Tahoe Autumn Food & Wine Festival, or to work with one of several other community organizations that he supports, including the North Tahoe Boosters Club, the Tahoe City Downtown Association and Tahoe Truckee Community Foundation. Dale was also recently featured in North Lake Tahoe's Local Luminaries series.


Seafood Stew, photo by Shea Evans
Wolfdale's is not a one-Dale show, either. Douglas's wife, Kathleen, has been involved from the get-go and their three children have worked at the restaurant over the years. Daughter Christine, who can often be found tending to tables, initiated the 10-team schedule on the bocce ball court in play behind the restaurant during warmer months. She also assisted with her dad's latest creation, a self-published autobiography, Wolfdale's Cuisine Unique. The 220-page memoir-cookbook, which the pair compiled over the course of four years, contains 70 signature recipes interwoven with plenty of photos. The book is available at the restaurant and online, as well as various outlets such as the Cooking Gallery in Truckee, Nothing To It in Reno and the Culinary Institute of America in St. Helena.


Asparagus soup in a handmade ceramic bowl, photo by Shea Evans
Wolfdale's website includes an Eastern-tinged adage: "The thrill of a new taste will extend one's life." That certainly seems true for both chef and restaurant in this case.
"I never imagined 40 years," says Dale of the collective longevity. "Now I can't imagine not being a restaurateur."
Neither can we.
---
TQ Food & Wine editor Susan D. Rock is eating and drinking her way to (hopefully) a long life.
---
Wolfdale's Cuisine Unique
640 North Lake Blvd, Tahoe City, CA
(530) 583-5700
Bar opens at 5 p.m.
Dinner is served from 5:30 p.m., nightly
Closed Tuesdays
Reservations are suggested