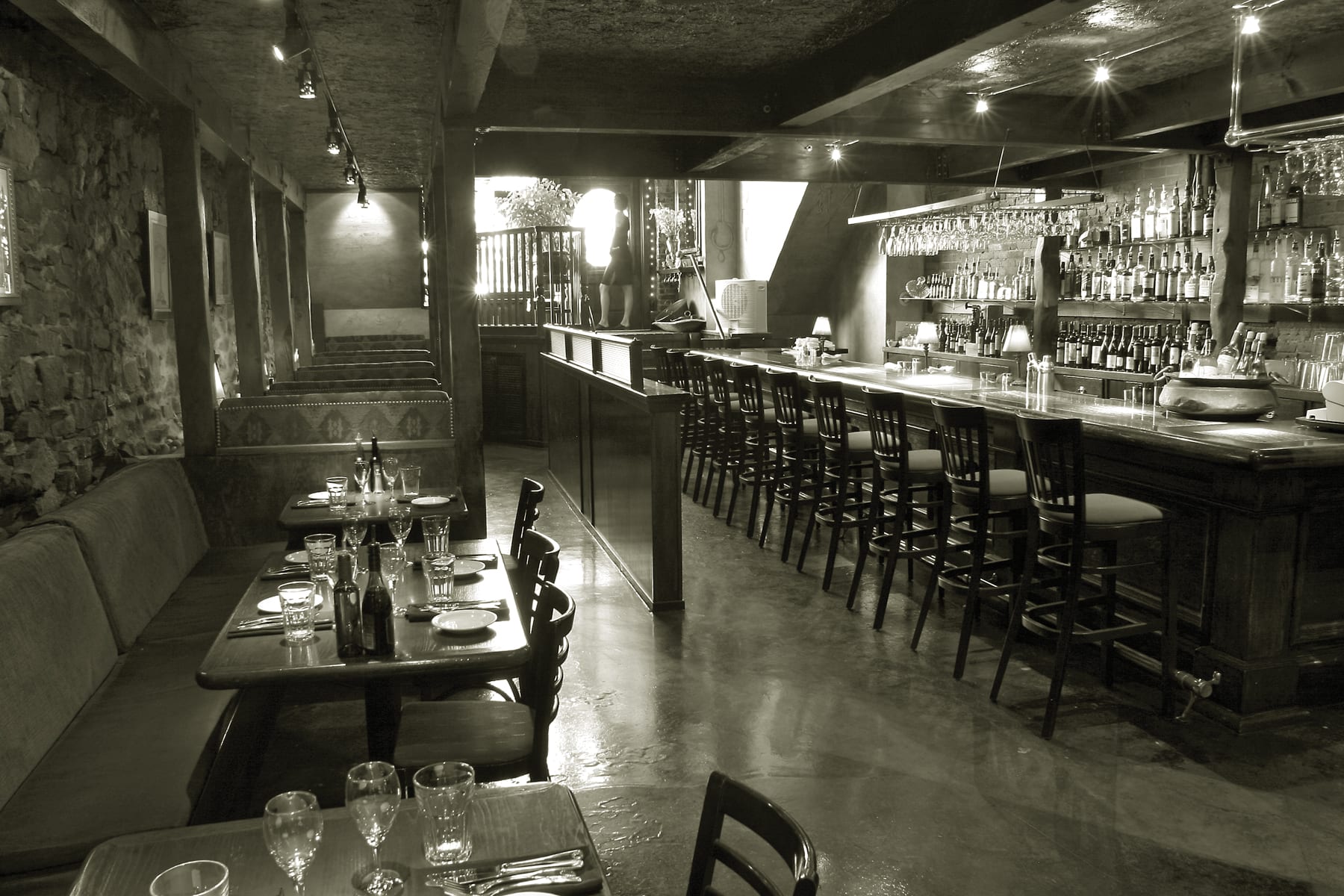 Pianeta's Old Town Truckee location oozes Old World charm, courtesy photo
24 Jun

Pianeta: Old Town's Old World Charmer
Restaurant pairs intimate ambiance with inviting Italian menu
If walls could talk, those of Pianeta, the long-running rustic Italian restaurant in Truckee's Old Town, would speak volumes. Located in the heart of historic Commercial Row, the 1800s-era site has over the years housed a couple of saloons, a U.S. Post Office, the town laundromat, a bookstore-tea shop and a French restaurant.
Pianeta, which means "planet" in Italian, was launched 21 years ago by Robyn Sills and Ed Coleman, of Bar of America, Pacific Crest Grill and Christy Hill note. They preserved the building's original exposed brick and rough-hewn stone walls and tasked local artist Pam Krone with replicating Leonardo Da Vinci's golden-hued sketches on additional surfaces. Well-worn wood finishes and warm, low lighting add to the eatery's Old World ambiance.
The snug two-story layout includes 14 seats at the front-and-center bar, where a happy hour is popular with locals, and themed cocktails include an Amaro Manhattan and the Sicilian Mule, mixed with mint, bitters, vodka, ginger beer, lime and a Giuseppe Carpano vermouth float. A rotating selection of beers includes the option to buy a round for the kitchen crew.
The wine menu, focused mainly on California and Italy, is curated by co-owner-manager Thomas Beckering, a Squaw Valley Academy grad and former competitive snowboarder, coach, backcountry guide and photographer, who with his wife Nicole partnered with Sills and Coleman in 2010. Wines by the glass include more obscure pours like Donnafugata (sounding something like a Sopranos character) made from the jammy Zibibbo grape grown in Sicily.
Executive chef Bill Arnoff, who has overseen Pianeta's seasonal menus for two decades, honed his culinary chops at French restaurant Chez Louis in Palo Alto while still in high school. He also cooked at Christopher's Café and Venezia in Berkeley and at Bay Wolf with chef Michael Wilde, who helped put Oakland on the culinary map. In addition, Arnoff did a stint at the Ahwahnee (now the Majestic Yosemite) Hotel in Yosemite National Park and corporate catering in Silicon Valley. He moved to Tahoe in 1999 to work at the Pacific Crest Grille.
Arnoff, who changes up the menu weekly, works with notable local and regional purveyors including the Habeger family's Produce Plus, whose weekly market outlook helps guide seasonal specials. He also orders from Truckee Sourdough, Leontine Gourmet Foods, Sierra Pacific Coffee, Sierra Meats, Sciabica California Olive Oil, California Grown and Reno-based Delizie Foods.
Diners may opt to start the evening with antipasti such as house-made spicy Italian fennel and mild Tuscan-style sausages with fire-roasted sweet peppers and creamy polenta, and perhaps a Caprese salad made with fresh mozzarella, grilled eggplant, zucchini, oil-cured olives, pesto and a balsamic reduction.
Naturally, pasta is a mainstay on the menu. Local Lilia Cruz arrives early every morning, as she has since the restaurant opened, to make and shape the dough by hand, using some 100 pounds of imported non-GMO 00 flour every week.
Angel hair serves as the centerpiece of dishes like pasta di olio tossed with garlic and olive oil, plus mushrooms, tomato, spinach, pine nuts, Parmesan and fresh basil. The fine noodles are also employed as a bed for grilled wild Mexican prawns, incorporating white wine, capers, garlic and tomato, and a side of marinated orange and fennel salad with sweet red pepper coulis.
Tagliatelle can be paired with veal meatballs and pesto (an Autumn Food & Wine Festival winner) or grilled sausages and marinara or the ever popular Bolognese, the classic meaty tomato sauce. Ravioli here is stuffed with ricotta and Parmesan and layered with spinach, Bolognese and melted mozzarella in a lasagna-style dish.
Secondi, or entrees, range from the lighter vongole—fresh clams with tomato, basil and white wine broth—to a seafood risotto. The classic chicken marsala is served with sauteed mushrooms, grilled spinach and orecchiette, while a ragù dish comprises a colorful hearty plate of spicy sausage, Cajun tasso (smoked pork), prawns, chicken, roasted red peppers, butternut squash and grilled Parmesan polenta. Pork tenderloin medallions get a garlic-caper rub, ruby wine port sauce, grilled greens and polenta, and the bistecca alla Modenese filet mignon is finished with gorgonzola, balsamic grilled onions and seared garlic gnocchi. The double-cut lamb chops come with goat cheese ravioli and mint pistachio pesto.
"Customers come in just for that dish," says Beckering, who can often be found chatting with customers, delivering meals and wiping tables.
Nightly specials include a fish dish such as a grilled Alaskan halibut with capers, lemon, shallots and basil or a Sicilian lamb meatball prepared with pine nuts, currants, red wine, tomato and garlic rosemary sauce.
Difficult as it may be, save a little room for a sweet finish, such as a warm banana walnut cake with caramel sauce and vanilla gelato, or a light and silky lemon panna cotta, perhaps paired with a Nickel & Nickel dolce late harvest.
If those walls could in fact talk, they would whisper a few helpful hints, well known by regulars: Make a reservation. Put the phone away. No special orders. And, of course, buon appetito!
---
Incline Village-based Food & Wine editor Susan D. Rock happily tossed her low-carb diet for a plate of Pianeta pasta.
---
Pianeta
10096 Donner Pass Road, Truckee
(530) 587-4694
www.pianetarestauranttruckee.com
Open nightly from 5 p.m.; reservations are highly recommended.