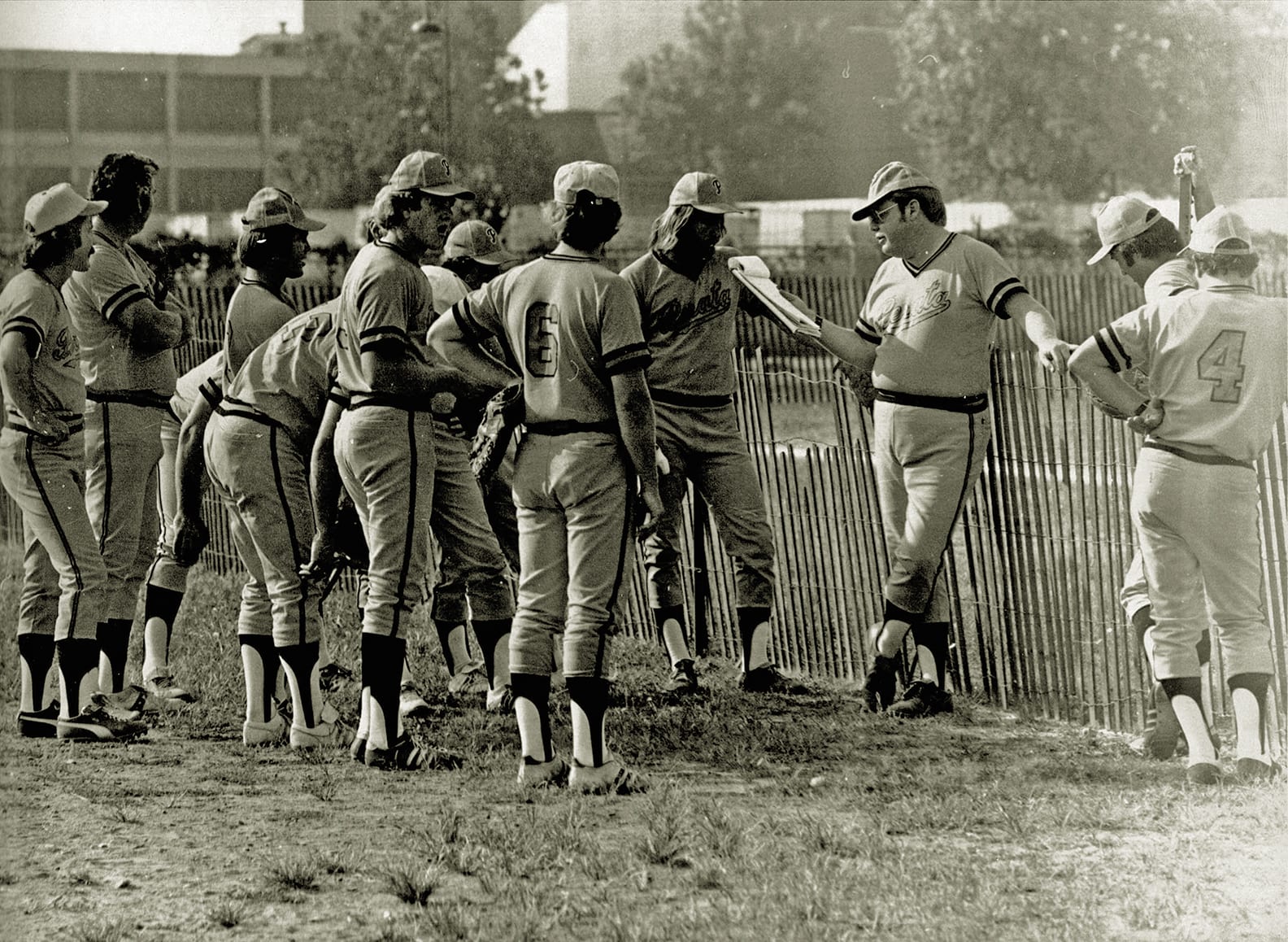 Perata Excavation player-manager Rod Stollery reads the starting lineup to teammates at the 1975 Nevada State "A" Division Fastpitch Softball Championships. Perata won the tournament to qualify for Nationals in Hamilton, Ohio, courtesy photo
24 Jun

Remembering Tahoe's Boys of Summer
In 1978, Tahoe City played host to the national fastpitch championship
Golden eras in sports are fleeting. They emerge when a combination of unlikely factors align—health, talent and the mysterious chemistry of team sports. And they fall apart just as fast.
That mysterious alchemy unique to athletics came together in Tahoe City in the late 1970s, when for a few magical seasons a group of Tahoe construction workers, skiers and bartenders gave the nation's best softball teams a run for their money, and for one exciting weekend the small hamlet on Tahoe's North Shore was the center of the softball universe.
"I think softball up here was able to hit its zenith because there was an invasion of young adults in the 1970s moving to Tahoe after college without the Vietnam war draft hanging over their heads," says longtime North Shore and Truckee resident Dwight McCarthy. "They came for the weather and the skiing. In the summer they found you couldn't beat playing softball under the millions of stars on fantastic summer nights."
McCarthy, affectionately known as "Big D" from his playing days as a hard-nosed catcher for the high-powered Perata Excavation and Pete 'n Peter's teams, came to the Tahoe area from San Jose and never left.
He was one of many who were aptly tagged in the bygone days as Tahoe City's "Boys of Summer."
"What it all comes down to is a lot of friends, coworkers and neighbors playing softball against each other," McCarthy says. "After the games we'd all go down to the local watering holes and toast our victories and drown in our losses."
Glory Day Reflections
In a late spring roundtable discussion at the fabled Pete 'n Peter's sports bar in Tahoe City, with a 40-foot-long trophy case filled with awards of past conquests providing the backdrop, the faded memories of past softball glories from the men who created them flow like they happened yesterday.
"I remember Dale Halter in a tournament in Elko throwing a ball from shortstop high, and it went through the county courthouse window," says Robbie Walters, a hitting and fielding star with the Pete 'n  Peter's team. "It's stories like that you never forget."
Walters, a building contractor now in his mid-60s, looks like he could still play seven innings without a hitch in his gallop. His family moved to the area from Saratoga his sophomore year and he became a standout athlete at Truckee High School, where he is now an assistant coach for the Wolverines' baseball team.
"It was the best times of our lives," says Walters.
In the 1970s, it seemed like everyone was playing softball in Tahoe City.
There were two men's fastpitch divisions and three women's slowpitch divisions. Teams that played included Fanny Bridge Inn, Lanza's, Conger's, Bear Creek Construction, Vail & Associates, the Totpotomaus/Tahoe City Golf Course Hawks, the Meadow Muffins, Shamrock Sweethearts, Club Innisfree, the Truckin' Tomatoes and the Conway Chuckers.
"They were very competitive leagues, especially the women's leagues," says Chendo Hernandez, ace pitcher for Perata Excavation, which later became Pete 'n Peter's. "I used to umpire in the women's division and there were some fierce rivalries." 
The Tahoe City Public Utility District Parks & Recreation Department hosted four tournaments each summer—the Vince Deal Memorial Tournament on Father's Day weekend in June, the Pete Perata July 4th Invitational and the Richard Rodarte Memorial Tournament in late August. There was also a women's slowpitch tournament in early August.
"I think the bond of friendship and camaraderie formed on the softball field is something that has lasted forever," says Rod Collins, who played and managed the Tahoe City Blues and Markstein Beverage teams, two of the last competitive fastpitch teams that played into the mid-1990s. "It's still there for the all the friendships that we made."
Bob Habeger was another outstanding pitcher for Pete 'n Peter's, Scott Construction and the Tahoe City Blues. He remembers sleeping in left field in many softball parks around Northern California.
"Sometimes we would play all day and get done on a Saturday night at 11 p.m. and have to turn around and play at 8 in the morning on Sunday," says Habeger. "By that time, left field looked pretty good."
Hernandez was a former standout athlete in the Ventura area who played quarterback at Hayward State. Following graduation, he, like many, migrated to the Tahoe area in the early 1970s and is still here.
A standout pitcher who could also swing the bat, Hernandez teamed with the veteran "Silver Fox" Ray Halvorsen to give the Perata Excavation teams a solid one-two mound punch as the talented Tahoe City team started to compete, with success, in the Reno "A" league and travel around Northern California and Nevada.
Perata's best teams were from 1975 to 1979 and were loaded with talent. Big left-handed first baseman Steve Moore's home run blasts were legendary. Third sacker Ken Charles and shortstop Dale Wolfe patrolled the left side of the infield with magnets in their gloves.
Beyond Tahoe City
Every weekend in tournaments ranging from Roseville to Lodi to Santa Rosa to Oroville, names like McCarthy, Charles, John "Tinker" Ward,  Bucky Whittier, Ted Shreve, Casey Stevens, Tim Feely, Rich Miller, Geoff Price and Keith Walters stepped up to provide the game-winning hit or big defensive play.
"We seemed to have different guys making the big plays every weekend—no big superstars, just everyone doing their job," says Pete Perata, the team's sponsor and player-coach, who also owned Perata Excavation and was co-owner of Pete 'n Peter's, along with Peter Paine.
Among the highlights of Perata Excavation's stellar 1975 season, player-manager Rod Stollery recalls defeating a competitive team from Mather Air Force Base in thrilling fashion en route to sweeping a Roseville tournament.
"They all sported crew cuts and looked down in disdain at our fun-loving team," says Stollery, who remembers Perata players having a water container on the bench filled with rum and lemonade. "We got the winning run on base and they decided to walk catcher Dwight McCarthy. He reached out and popped a single over the infield that won the tourney."
Perata Excavation left a fastpitch legacy on the local, regional and state level and also gave a glimpse of their talent at the national level.
In 1975, Perata won the Nevada state championship, which qualified the team for the ASA National Class A Tournament in Hamilton, Ohio.
Needing to raise $6,000 in three weeks to make the trip, the citizens of North Tahoe stepped up through car washes, barbecues, bake sales and donations to reach their goal in two weeks. Northstar ski area donated a bus to drive the team to and from the San Francisco Airport. Nearly 150 businesses and individuals donated to make the trip come true.
Stollery, who was then editor and publisher of the Tahoe City World, donated a full page for a big "thank you" in his newspaper with every donor listed. 
Making their first-ever appearance at nationals, Perata represented themselves well, defeating teams from New Jersey and Pennsylvania and losing close games to Indiana and Illinois to go 2-2 and finish 12th.
"We more than held our own," says Perata, who at 83 is quick to pull details from his memory bank. "It was the best competition in the nation and we played right with them."
National Hosts
With the taste of the national tournament fresh in their bat bags, the push began with the Parks & Recreation Department in Tahoe City and North Lake Tahoe Chamber of Commerce to bring the ASA National Tournament to Lake Tahoe.
Headed by recreation director Steve Boomer, the Tahoe City contingent fought what many thought would be an uphill battle to land the nationals, mainly because the tournament prior to 1978 had never been played west of the Mississippi River.
But with all their ducks in a row, Tahoe City, which had raised over $12,000 for the bid, became the smallest community ever awarded a national tournament when the ASA gave them the news in January 1977. One of the first jobs after winning the bid was having to move and raise the "short porch" home run barrier in right field at Conners Field to meet ASA standards.
"The Bechdolt Family allowed us to add about 20 more feet of easement into their Tahoe City Golf Course property so the park could become ASA legal," says Perata. "They leased it to the recreation department for one dollar a year."
Twenty teams including 15 regional champions descended on Tahoe City on Labor Day Weekend for the 1978 ASA Nationals. The host team, Perata, playing on their home field at 6,300 feet, was tagged as one of the tourney's early favorites.
But after winning over 50 games and five tournaments in the '78 season, the luck of the draw wasn't with the Perata squad. A tough first-round game pitted Perata against Granada Realty of Fremont, the tourney's eventual runner-up, and after being tagged with a loss in their opener, the Tahoe boys never recovered, going 1-2.
"The draw really hurt us," says Perata. "We were a California team but playing out of Nevada. They usually don't put two teams from the same state against each other in the opening round."
S&K Rigging of Arcota, Illinois, won a 6-2 championship game over Granada. The title game was played at North Tahoe High School because "unseasonable" rain and snow that hit Tahoe City that weekend made Conners Field unplayable.
Resurgence
A few years back, a Colfax Recreation group teamed with Pete 'n Peter's for a small tournament that brought men's fastpitch back to Tahoe City after a near 20-year absence.
Now, the only softball played in Tahoe City is men's, women's and coed slowpitch.
"Teams play and still come over to Pete 'n Peter's to rehash their games," says Pete 'n Peter's owner John Rutter, who has played a key role in keeping softball alive at the lake and for years has supported athletics at North Tahoe High School.
"We do a lot of drawings and have specials for the teams after the games," says Rutter. "It's not fastpitch, but it's softball, and everyone is still having fun."
---
Mike Ray is a sportswriter who resides in the Eden Valley area near Colfax. The former sports editor of the Grass Valley Union and Colfax Record, he played fastpitch softball for the Colfax Fireballs from 1971 to 1988, many times squaring off against Tahoe City teams.