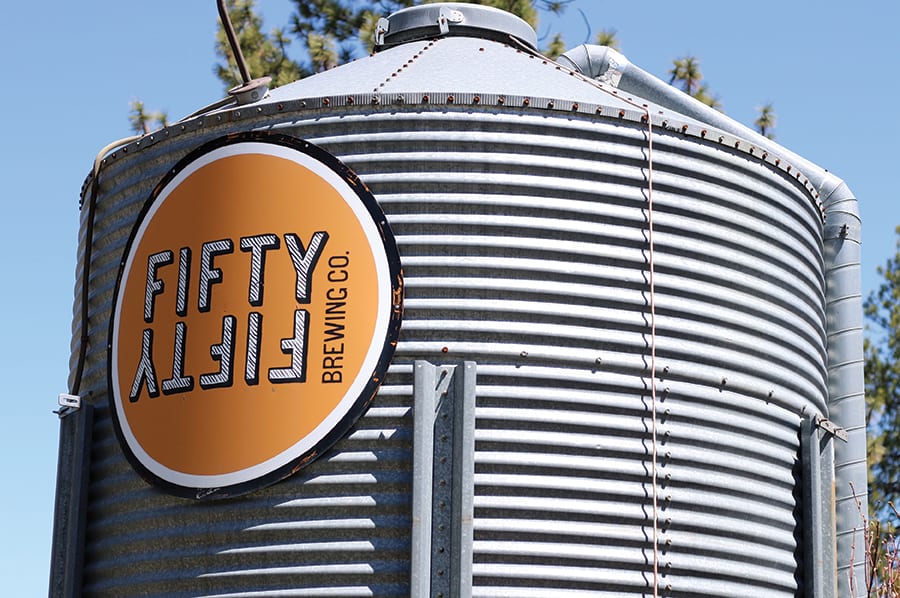 Truckee-based FiftyFifty Brewing plans to open a 9,000-square-foot brewery in Reno, photo by Sylas Wright
24 Jun

Side Dish
TAHOE CITY BAKER ON TV
Tahoe City resident Amanda Nguyen, who spent three and a half weeks on a set in London, was a runner-up on ABC's The Great American Baking Show: Holiday Edition based on the British series. Nguyen, who tested her old-fashioned classic family recipes like coffee cake and pecan pie on the North Lake Tahoe Fire Protection crew, started a YouTube channel to share her tips and tricks with others at www.bakealong.com.
NORTH SHORE BREAKFAST SPOTS SCRAMBLED
After 38 years, Carmine and Joyce Bove poached their last eggs Benedicts and closed their long-running Log Cabin Cafe in Kings Beach, citing an aging building and staffing difficulties. They are hoping to keep the ice cream parlor open in summer.
Wildflower Cafe's Ellen and George Toto also called it quits after 30 years in Incline Village. They had been ready to make a move for some time; a dispute with their landlord sealed the deal. Also, the Old Post Office Cafe in Carnelian Bay changed hands, with owners Linda and Frank Jansen selling the business to one of their employees.
MARG'S CLOSES, LOOKS FOR NEW CONCEPT
Marg's Taco Bistro in Old Town Truckee is no more. The space will be home to a new restaurant called Roco featuring a Mexican- and Japanese-inspired menu, with a concentration on tacos and ramen.
TREAT BOX CLOSES
Truckee's Treat Box Bakery, which opened in 1975, closed. Longtime owner Lee Dufresne cited health reasons, staffing challenges and a remodel required by the Health Department.
FIFTYFIFTY TO OPEN IN RENO
Truckee-based FiftyFifty Brewing, which won Brewery Group of the Year, plans to open a 9,000-square-foot brewery that will anchor the 25,000-square-foot food hall at Reno Public Market (formerly known as Shoppers Square). It will include a taproom, brewery, events, roof deck and room for brewing expansion. Construction should start this summer.
MICHAEL MINA COMES TO NORTHSTAR
Michael Mina will add to his 40-plus restaurants when his MINA group opens Bourbon Pub Northstar at the resort next season in the current Tavern 6330 location. He opened a similar concept at Levi Stadium in Santa Clara and another is set to launch at San Francisco International Airport this summer.
THUNDERBIRD LODGE DINNERS
The historic Thunderbird Lodge's fundraising winemaker dinners continue this summer: July 14 pairs Mark Estee and Geoffrey Calliger from Liberty Food & Wine Exchange with Rombauer Vineyards; September 8 is Wolfdale Cuisine Unique's Douglas Dale and Arietta wines; and on October 6 look for Thunderbird's Darren Weston and Darcie Kent Vineyards. The annual Thunderfaire Food & Wine Festival is August 11. www.thunderbirdtahoe.org
FOOD TRUCKS ROLL ON SOUTH SHORE
After a year-long effort, South Lake Tahoe passed an ordinance permitting food trucks to operate in the city. As part of the new ordinance, six private properties were to be part of a pilot project to gauge impact on brick-and-mortar restaurants.
OUTPOST IS OUT
Due to a trademark issue, Outpost Brewing located at Basecamp Hotel has changed its name to South of North Brewing. Speaking of breweries, check out the Tahoe Chamber's updated South Lake Tahoe beer trail map, which highlights South Shore's nine craft breweries. www.tahoesouth.com/beer-trail
WHOLE FOODS STILL ON PLAN
Whole Foods, which ceased building any more of their 365 stores after being acquired by Amazon.com, still plans on opening at the Bijou Marketplace in South Lake Tahoe. Construction is underway.
FIRE CLOSES CAFE AT ADELE'S
Housed in a building that dates back to 1864, landmark restaurant Cafe at Adele's in Carson City suffered extensive smoke and fire damage from an early morning blaze in March. Owners Charlie and Karen Aboud had put the restaurant up for sale and say it will remain so after it reopens, which could take up to six months.
Tahoe Food Hub moves
The Tahoe Food Hub has moved to a new 4,000-square-foot facility at the Truckee Tahoe Airport, where the nonprofit's Farm Shop sells produce from 40 farms and ranches within 150 miles of North Lake Tahoe. The shop is open Tuesday to Friday from 11 a.m. to 7 p.m. and Sunday from 9 a.m. to 1 p.m. Look for the new Harvest-to-Order program, an online farmers market that allows customers to shop online and pick up their customized food box. www.tahoefoodhub.org