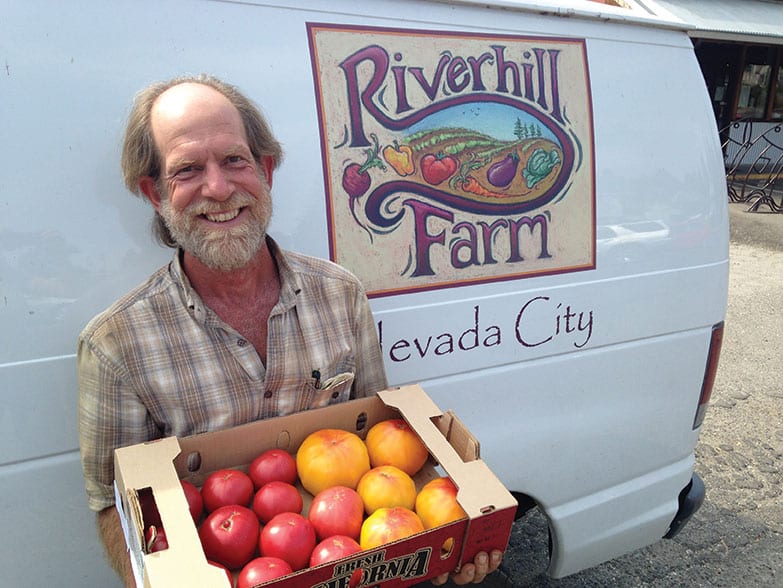 Alan Haight of Riverhill Farm in Nevada City with his signature heirloom tomatoes
26 Apr

Tahoe Food Hub: The Best Way to Eat Local

Diners like to dish about eating locally. And although we just had another warmish, climate change kind of winter, Tahoe doesn't exactly evoke "breadbasket" or "salad bowl" in terms of agricultural output. But there's a homegrown organization out to change all that.

The Tahoe Food Hub was founded six years ago with a mission to increase access to sustainably grown food by creating a network of small farms within 150 miles of North Lake Tahoe and connecting them to restaurants, grocers, schools and hospitals.

The driving force behind the Alpine Meadows–based nonprofit is Susie Sutphin, a Truckee transplant from Akron, Ohio, who worked at Couloir magazine and Patagonia. During a stint with Nevada City's Wild & Scenic Film Festival, whose motto is, "Where activism gets inspired," she developed a hunger to dig deeper into our relationship with how we eat.

"I asked myself, 'What can I do to fix the food system? How can I make a difference?'" Sutphin recalls.


Happy Farm Shop customer Ben Grasseschi with a basket of local seasonal produce
In short order, she bought a van, found cooler space, hired employees and created infrastructure to seed the Tahoe Food Hub, which started with five participating farms and restaurants. Today nearly 100 producers of fruits, vegetables, meat, dairy, eggs and specialty items serve eateries that include The West Shore Cafe, Spindleshanks, Red Truck, Soule Domaine, 22 Bistro, Rocker at Squaw, Christie Hill, Martis Camp, Northstar California, Mountain High Sandwich Company and the Sierra Cafe.
The benefits for both farmer and chef have been bountiful.
"Selling through the Food Hub has allowed us to easily reach a market that we would otherwise have to spend a lot of precious time on developing relationships and making deliveries," says Patrick Bollinger, who with his wife Diane started Foothill Roots Farm in Meadow Vista, between Colfax and Auburn, around the same time the Food Hub got off the ground. "The Food Hub has helped our farm become a known quantity in the Tahoe region and the quality of our produce is remembered."


Local summer produce available at the Farm Shop
While farmers feel like they have hit paydirt by reaching an appreciative and readily accessible market, local chefs are giddy over the easy entree to regional products.
"Working with the Tahoe Food Hub has given me the ability to be creative with great produce at a great price and quality," says chef Scott Taucher of 22 Bistro at the Village at Squaw, who has also worked with the Food Hub from the get-go, ordering items from red and gold beets to purple haze carrots.
"The ability to source local ingredients has brought great feedback and awareness to the area. Because of the seasonality of ingredients, we get to switch our menu items frequently depending on what's available, resulting in fun projects for me. They also hold bi-yearly farmer and chef meetings, which puts us in front of the farmers, giving us the ability to design our menus before the season starts."

Food Hub wholesale team
Even the big boys get to play in the dirt, with corporate chefs gaining ground on sourcing local ingredients rather than signing for whatever the head office has shipped to the loading dock.
"I could see the value in the produce and the service the Tahoe Food Hub provided to the local restaurants and hotels," says Peter Zemaitis, who until recently was sous chef at the Hyatt Regency Lake Tahoe's Sierra Cafe (he has moved on to their Beaver Creek property). "In turn, as a local business, this gave us an opportunity to give back to the local economy and feature the amazing produce that our farms in California and Nevada were producing. I basically wrote our summer menus with the Food Hub as the anchor for each dish."
As part of their mission, the Tahoe Food Hub also works with local hunger relief agencies like Project MANA and the Family Resource Center of Truckee and North Tahoe. The "Feed Your Neighbor" project partners with donors like Truckee-based Kelly Brothers Painting, which donates $100 weekly to Project MANA's efforts, providing assistance to those in need while supporting area farms.


Farm Cart in the Classroom gives students the tools to host a farmers market for their school
Another aim of the organization is harnessing Tahoe's 280-plus days of sunlight, teaching folks how to grow food using four-season growing techniques, which includes building geodesic greenhouses especially suited for winter climates. The group's own dome in Truckee has provided over 500 pounds of produce to the hungry, while also serving as an agricultural education center for students. With the Food Hub's help, Sierra House Elementary School in South Lake Tahoe built and integrated a pair of domes into its school curriculum.
Tahoe Food Hub also introduces food education into the schools via its Harvest of the Month program, bringing a mini farmstand into the classroom for students to nurture an interest in sustainably grown produce and nutrition.
With the Food Hub's Build Your Own Box (BYOB) program, similar to a farm share or a produce subscription, businesses and neighborhoods get together and have access to over 25 local farms and can pick what goes in the box each week, pay weekly, suspend service and utilize easy drop-off and pick-up options. Tahoe Forest Hospital is the biggest player in the program and enables employees to participate via payroll deduction. Individuals can purchase products from many of those same producers at the Food Hub's farm shop on Alpine Meadows Road in the winter, when there are no regularly scheduled farmers markets.

Pitchfork & the Pan pop-up farm dinner at Lost Trail Lodge
The Food Hub also hosts a cornucopia of fundraising events throughout the year, for example, Community Soup Night at Olympic Valley Lodge in conjunction with the Alpenglow Winter Film Festival.
The Farm Truck Food Fair—a circling of the wagons of sorts featuring Squaw's Mountain Roots Food Truck, Full Belly Deli and the Souper Wagon—is slated for September outside Granite Chief Ski & Mountain Shop in Truckee. The Pitchfork & The Pan pop-up farm dinners take place at various venues, where guests have the chance to chat with the farmers who grow the food being served and the chef who is preparing their four-course meal. Past sold-out events have been staged at Sagehen Creek Field Station with chef Scott Yorkey, formerly of Jake's on the Lake, and Lost Trail Lodge with Billy McCollough, who for many years owned Dragonfly.
At the end of the day, sitting down at the proverbial table together is what the Tahoe Food Hub is all about. In Sutphin's words, "We really want to connect with the community to help them understand where their food comes from and that they can contribute to something that's amazing." Amen and bon appétit.
Learn more about Tahoe Food Hub at www.tahoefoodhub.org.
---
Incline-based Food & Wine editor Susan D. Rock looks forward to this summer's crop of heirloom tomatoes.

Farmer collage of a mid-summer's harvest