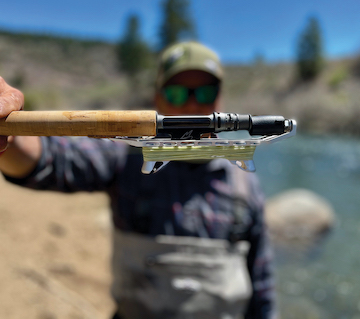 The MAVRK Stinger by Truckee resident Jeff Sasaki, courtesy photo
25 Jun

TQ Market: Cast Away

Over time, certain niche sports shift from obscurity to the mainstream. Fly-fishing, for example, while still relatively low on the popularity scale, is trending in that direction. This is particularly true in the Tahoe area, where scenic rivers and lakes teeming with insect hatches draw both avid anglers and neophytes anxious to try their hand at the sport. Luckily, neither crowd has to travel far for their shopping needs. While the following collection of fly-fishing gear was provided by Truckee's newest shop, Trout Creek Outfitters, the Tahoe region boasts numerous stores that are well-equipped with fishing gear and staffed with knowledgeable help, including Ace Mountain Hardware & Sports in Truckee and Tahoe Fly Fishing Outfitters in South Lake Tahoe, among others. Whether you are a novice or a pro, our local shops are sure to have everything you need to get on the water.

The following items are available at Trout Creek Outfitters: 10115 Donner Pass Rd, Truckee, (530) 563-5119
---
WATERPROOF BACKPACK
$298
Orvis is one of the best brands in the business, priding itself on customer satisfaction and superior fly-fishing equipment since launching in 1856 in Manchester, Vermont. The company's waterproof backpack is a prime example of its longstanding tradition of quality. With over 1,200 cubic inches of storage space, this TPU-coated, 500D nylon pack allows anglers to take everything they need for the day knowing that, no matter what the conditions, their gear will remain safe and dry—even with an unintentional swim in the river. Updated with a stylish new look, the backpack features contoured, padded shoulder straps and sternum strap that both adjust for a secure fit, as well as a padded back panel with ventilation channels for cool comfort in the heat of the day. A padded bottom protects cameras and other vulnerable gear, while a gear station on the shoulder strap, two water bottle/rod tube pockets and a D-ring to hold a landing net add convenience when on the water.
---
WADING SHOES AND BOOTS
$169.95–$199.95
When venturing along an expansive stretch of river in pursuit of trout, it's nice to be light on your feet—and comfortable. The new Simms Flyweight Wet Wading shoes and boots were designed with this in mind. Intended for moving fast on warmer days, the shoe is designed to move seamlessly from trail to riverbed or lake bottom, while allowing you to move freely without the weight of a larger boot. A high-cushion midsole adds comfort, while speed-lace hooks and lace-to-toe closure provide convenience and stability. Featuring a synthetic upper for quick drying out of the water and a Vibram Idrogrip outsole that excels in a wet environment, these hiking-inspired, wet-wading shoes are just the ticket for the Tahoe angler.
---
FLY REELS
$149–$499
Matching the right reel to rod—and that gear to your fly-fishing goals—is not an easy task. This is where an experienced team at your local fly-fishing shop comes in handy. The team at Trout Creek Outfitters can help outfit anglers of all abilities with a completely new set, or work with customers who are looking to upgrade from one to another. The shop carries a wide range of reels from Sage, Orvis, Galvin and more.
---
SAGE X FAST-ACTION FLY ROD
$950
The Sage X is one of the premier fly rods on the market. With fast-action taper and KonneticHD Technology, this stick delivers a crisper tip stop, creating tighter, more efficient loops throughout all ranges of casting styles. This unique taper allows its user to dig deeper into the rod and access the lower sections, shifting power closer to the angler. Decreased lateral and medial movement and vibrations in the blank result in a more accurate and efficient presentation, which results in a performance-driven, forgiving fast-action blank—refining the synergy between angler, rod, line and fly.
---
FLIES
$2.49–$5.99
Fly-fishing in the Tahoe region has long been a treasured pastime due to the amazing selection of waterways. From small streams to rushing rivers and numerous alpine lakes, the Northern Sierra environment features a rich ecosystem. With that, the fish feast on a variety of creatures throughout the year, changing their diets as opportunities arise. As a fly-fishing angler, knowing what the fish are biting on is key. So, too, is having access to a local shop with a wide variety of patterns to match any given hatch.
---
WADERS
$198–$750
In the Tahoe area, waders are an integral part of fly-fishing for most of the season. Trout Creek Outfitters offers a vast range of waders from Simms and Orvis in all sizes—short and tall, large and small. Waders usually include neoprene booties that fit inside your wading boots for warmth and waterproof protection. Remember that fit and comfort are just as important as durability and function for this gear, so make sure to try them on before buying.
---
MAVRK STINGER ULTRALIGHT REELS
$65 (Stinger Comp); $175 (Stinger M1)
Truckee resident Jeff Sasaki, an avid fly-fisherman and inventor, designed an innovative new reel last year called the MAVRK Stinger (see page 128). In doing so, he created what is perhaps the lightest reel in the world, earning favor with the European-style nymphing community as well as the ultralight backcountry community. The reel-less, feather-light Stinger allows greater arm extension and is guaranteed to improve dead-drift distance and casting while making your rod more sensitive to bumps and strikes. By reducing the counterbalance mass and rotational inertia of larger traditional reels, time on the water is more productive.