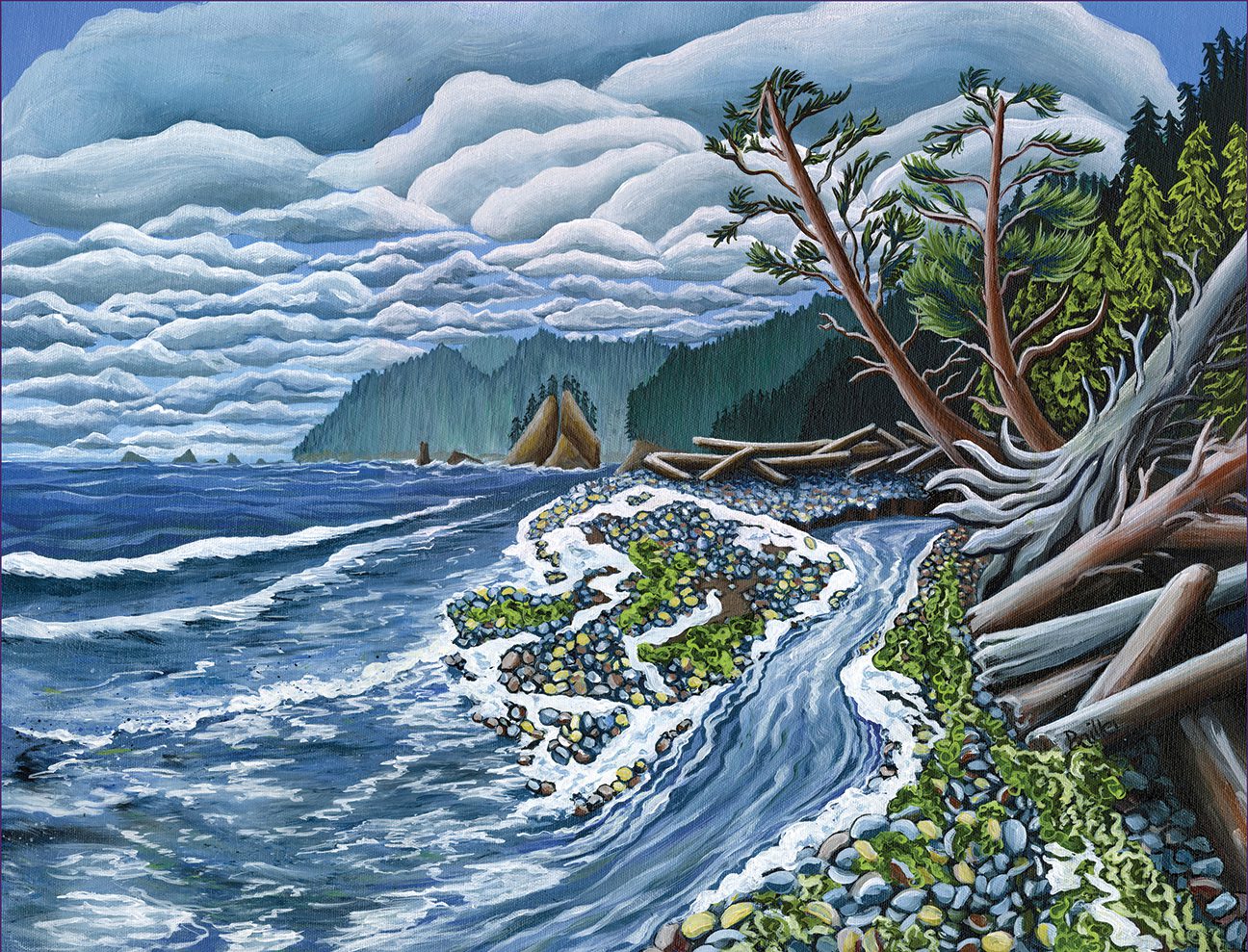 Rialto Days by Denise Miller, one of the many regional artists who will have an exhibit at the inaugural Reno Tahoe International Art Show, courtesy photo
27 Jun

Art in the Right Place
The inaugural Reno Tahoe International Art Show debuts in September, with organizers and participants alike ready to stake a bold claim in the country's cultural scene
Reno and Las Vegas are not neighbors.
You know it. I know it. But does the general art-loving public know it?
In Briana Dolan's experience, the answer is no.
"Half the people that I talk to from the East Coast? They think it's next to Vegas," she says. "They just have no idea even what it is."
Dolan is on a mission to change that perception—not just for people on the opposite side of the country, but for everyone throughout the United States and beyond. That's why she's been working with her father, Kevin O'Keefe, to bring to life the first-ever Reno Tahoe International Art Show at the Reno-Sparks Convention Center from September 8–11. Their vision is an exhibition of local talent and more far-flung artists welcoming viewers, browsers and buyers from the immediate community and broader art world.
At least, that's part of their vision. In addition to participation from more than 100 regional artists setting up in a "Heart of Reno" space, and more than 40 galleries filling the ballrooms with international work, their plan for the "city to lakeside" event also includes a First Nations and Indigenous Peoples art feature, live music, a Cordillera International Film Festival–curated short film program and a display of Burning Man sculptures hauled in straight from the playa. The desert-based cultural phenomenon ends the Monday before the show, so these sculptures will be fresh.
Dynamic Duo
The enterprising father-daughter duo is fresh to the area as well.
Dolan and her husband Michael had been living with her parents in Connecticut as a stopover while they decided where they wanted to end up. Their "stopover" turned into a four-year stay, with Dolan having two children while leading communications for Tihany Design, a luxury hospitality design firm out of New York. Her dad, O'Keefe, worked on large-scale international design trade shows. Then COVID-19 shut down both of their industries, so they took the hard stop as an opportunity to move west in 2020. Dolan's husband is the great-nephew of Tom Dolan, founder of Dolan Auto Group, so they all moved to Reno to be near Michael's immediate and extensive family.
After settling in, O'Keefe began oil painting as a stress-relieving hobby, quickly filling his garage with work. Ultimately, he asked his daughter to create a website to showcase his pandemic output. She obliged, adding in some of her own work as well.
"We started talking about expanding the idea and figuring out what actually was going on in Reno and the surrounding regions as far as the art world, because while there's tons and tons of family in this area, not a single Dolan is a creative artist type," Dolan says with a laugh. "We just had no idea what was going on. And we were shocked to find that there were so many existing art organizations."
Thus, the Reno Fine Arts Collective was born. Dolan says local groups, galleries and incredibly talented artists collaborated often, but she felt there was no united front to represent the area as a major player in the country's art scene. The message she heard repeatedly was that people who buy art turn to San Francisco or Los Angeles with the assumption that work coming from these larger cities must be of higher quality.
The collective soon held a pop-up gallery that rotated hundreds of pieces of art through the space from July to November 2021.
"We just wanted to be able to test whether or not local people would buy local art. And they did," Dolan says. "It was a great motivator for us to take the next steps.
Those next steps are what they're calling the Reno Creative Movement, an effort to show locals that they are worthy and capable of drawing national attention—and then actually drawing that attention by using Dolan's experience in hospitality design and O'Keefe's institutional knowledge of fairs and design trade shows to launch the Reno Tahoe International Art Show.
Brimming With Talent
So, will it work? Dolan points to similar shows and festivals around the United States, all coming from nowhere to anchor what are now nationally recognized art scenes and movements. Her best example is South by Southwest.
"Before it existed, Austin really wasn't on the map at all," she says, speaking in terms of the cultural scene. "And same with Miami. It used to be a dangerous place not too long ago, before Art Basel came. And now you mention buying a piece of art from Miami, and it's just, 'Oh, OK, it must be great, no matter what it is.'"
Dolan and O'Keefe are not alone in this endeavor, of course. Among their many helpers and champions is Scott Forrest, a large-scale painter, South Lake Tahoe fine art gallery owner, former president of the Tahoe Art League, co-founder of Tahoe Art Walk, Tahoe Arts Alliance member, and board member of the recently created Art, Culture and Tourism Commission.
Forrest explains that he's been pushing to establish his corner of Lake Tahoe as a cultural hub, as well, watching the South Shore art scene grow over the last half-dozen years. So when an enthusiastic pair showed up and started asking around about who could help get things done, Forrest—with his deep history in the bi-coastal art world and love for the local dynamic—stepped up with his metaphoric scissors to start slicing through the red tape.
Like Dolan and O'Keefe, Forrest sees the show as a way not only for local artists to find a wider audience, but for that wider audience—including everyone from individuals to buyers looking for large-scale art in high-end homes—to discover the talent here. He says the Reno-Tahoe area is "almost invisible" to art aficionados outside the area, but he got chills as he envisioned everyone arriving to find art on display amid the grandeur of the local landscape: "It takes a lot to wake them up. And this will wake them up."
Oil painter Kimbo Franke agrees. The local artist will be showing her work at a booth in the Heart of Reno section. Franke grew up in Tahoe and moved to Reno a few years ago. It's a beautiful city, she says, with everything "right at your doorstep, where you need it to be."
She's had a show at Martis Camp Lodge and worked as an art consultant for Clear Creek Tahoe, but the international show is potentially her widest audience yet. She's excited about engaging with both the design and collecting communities, as well as meeting and spending three days with other local artists.
Franke says she's looking to present regionally inspired pieces relevant to the local landscape—from Lake Tahoe to high desert to cityscapes.
"I feel that that's important for this first time … because I feel like we are setting the stage for Reno to become an art-centric stage," she says, "and our geography is very important to our success because it is so beautiful and offers so much."
As Forrest puts it: "L.A. offers a lot. New York offers a lot. But this is completely unique. You really are touching—well, it's God's country. What more can I tell you? Who wouldn't want that?"
---
Ryan Miller is a writer who lives in the Sacramento area. Follow him on Twitter or Instagram, @jesteram.
---
IF YOU GO
What: Reno Tahoe International Art Show
When: September 8–11
Where: Reno-Sparks Convention Center
Tickets: rtiashow.com/purchase-tickets