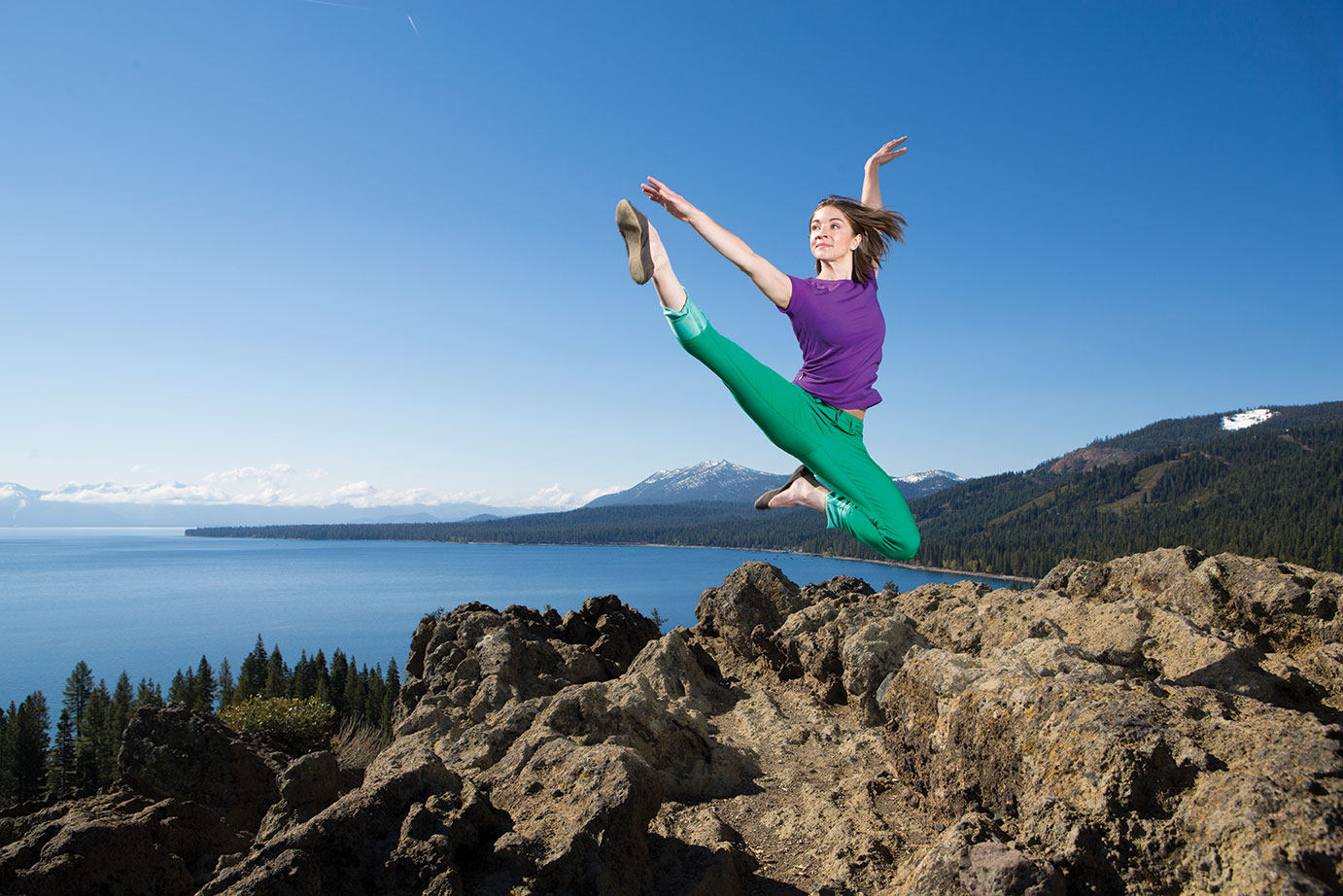 Christin Hanna was a ballerina in New York before returning home to Tahoe in 2008 to found the Tahoe Dance Collective, photo by Jen Schmidt
13 Jul

Eye to Eye with Lake Tahoe Dance Collective's Christin Hanna

Christin Hanna is many things: nationally-acclaimed ballerina, dance instructor, dogged supporter of Tahoe City and the North Lake Tahoe arts scene. The founder of Tahoe Youth Ballet, the Tahoe Dance Collective and July's Lake Tahoe Dance Festival—now in its third year—Hanna's devotion to the arts in Tahoe is tireless. Most of her various performances take place year-round in Tahoe City, where she lives and has served as a board director at the Tahoe City Downtown Association. Guest performers from New York to Los Angeles and beyond appear in her shows. We reached out to talk to Hanna about the state of the arts around Big Blue.
You grew up here in Tahoe—Tahoma to be specific—and a lot of local kids pursue sports other than dance. What got you into ballet?
My parents are classic movie lovers, and I was absolutely mesmerized by Fred Astaire, Gene Kelly and all of the old movie musicals when I was young. When PBS aired the Baryshnikov Nutcracker with Astaire and Gelsey Kirkland, my mom taped it on the VCR and I watched it over and over again. All these dancers had this amazing quality of lightness to them, a buoyancy. My father ran the race department at Salomon Skis then so I spent a lot of time around World Cup ski racers, grunting around gates with giant muscles. But here were these light, beautiful people creating these beautiful shapes to beautiful music—I was in love. Astaire died while I was a student at Tahoe Lake Elementary. I'll never forget it—my dad came to pick me up, which I wasn't expecting, and told me he had some bad news. I was too young to understand Astaire was an old man, I thought I would someday dance the night away in his arms in a ball gown.
Where did your formal schooling in ballet take place?
My first class was at the Truckee Rec Center, but my formal training came at age 12, when I joined Nevada Festival Ballet's school and company in Reno, run by the formidable Maggie Banks. Maggie built a company that performed with an orchestra and paid its dancers; we were treated as professionals and expected to act the part. By 14, I was spending summers in New York City in sweaty ballet studios: two years at the Joffrey then three at American Ballet Theater—two of the most prestigious schools in the country. My parents sacrificed everything they could to make it all happen. They drove me to Reno seven days a week for classes and rehearsals, and scraped together everything they could to send me to New York.
Your dance career took you from coast to coast and ultimately brought you home to Tahoe in 2008. Why did you return?
The biggest and most formative part of my career was with New York's New Chamber Ballet, a company that my friend Miro Magloire started. I offered to help write grants and that sort of thing, and at one point I said, "We should go to my hometown and teach a workshop and do a show—there's nothing there!" So, in 2006, with a grant from the Tahoe Truckee Community Foundation, Miro and I came to teach the advanced students at Tahoe Dance School and gave a lecture/demonstration. There was an obvious need for culture here: The students were hungry for more and the public was intrigued. That planted the seed. It was very hard for me to decide to leave that beautiful city; New York had been the preeminent goal my entire youth. But in a way, I had fulfilled the life I could have there. Yes, I was artistically very lucky to have beautiful works created on me that I was able to dance alongside my dearest friends and feel very important when my picture appeared in the New York Times the next day, but it was very self-indulgent. I knew that I could come here and create something that would have an impact on an entire generation of dancers and a whole community as an audience. And, outside of dance, there was no future for me there.
Tell us about the genesis of Tahoe Youth Ballet and now, Lake Tahoe Dance Collective.
Tahoe Youth Ballet followed the model I grew up in at Nevada Festival Ballet—serious young dancers alongside professionals. I asked friends to perform and choreograph here and they were always delighted. And, they didn't hold back—our mission was to present the same level of work that was being shown in big cities by professional dance companies. The dancers I formed the company with used to joke, "This ain't no recital!" Soon, more dancers wanted to be a part of our group. We held ourselves to high standards and that impressed everyone, so we formed an apprenticeship program to help bring younger dancers into the fold of taking class five days a week and rehearsing the ballets. More and more professionals and companies were contacting me to perform as guests or create work because they recognized the integrity and the community involvement our company represents, and is maybe lacking in their own careers. Last year at the Lake Tahoe Dance Festival, I realized that what we're doing here had reached beyond our town and into the greater dance world, and so as we approached full incorporation as a nonprofit organization, we decided that "Lake Tahoe Dance Collective" really represented us—dancers from all over the world have come here to perform and still hold it in their hearts until they return again.
Lake Tahoe Dance Festival has become a summer cultural staple here on the North Shore. What are your plans for this year's festival?
We started the festival with the mission of showing a diverse program: holding up great, pivotal works of the past alongside brand-new creations by budding choreographers. We are pleased to present Here and Now by Erick Hawkins, one of the founders of modern dance, alongside new works. Katie Eberle of Aspen Santa Fe Ballet (ASFB) is creating a solo for Stephen Straub, a former dancer with ASFB. Straub is also teaching in our Young Dancers Workshop and creating a new Midsummer Nights' Dream for the students. We'll be presenting a work by Thomas Mattingly (of Visceral Dance from Chicago) in which he'll perform with guests. And, my co-director of the festival, Constantine Baecher, is creating a duet for he and I that we'll perform. We'll actually premiere it in New York in June as part of New Chamber Ballet's tenth anniversary season. We have a few more surprises in the works—but those are the highlights.
Your company is part of a small performing arts community here on the North Shore. Why is it important for Tahoe residents to have access to the arts?
The arts are more vital now than ever. Can you think of any other reason to turn off your phone for two hours and be swept away to witness something that actually makes you think, that might relate to something in your own life, that encourages a real conversation over dinner after the performance, performed by actual people right in front of you? I'm very picky about the work I present: It has to mean something. There is always space for pretty dancing, but I'm also always going to put something on the program that makes you think, feel or perhaps squirm a bit. I feel that this is the best way to educate an audience about dance. Many people here have expressed concern that they "don't know anything" about dance, and I encourage the fact that they don't have to. We all have a body, we all know what it is to move it in space. When we're happy we want to run and jump up and down and when we're depressed we want to curl up in a ball. You don't have to know exactly what the choreographer was thinking in every move to understand dance, you just have to be open to a new experience. Our visitors are accustomed to this—they come from urban areas with great access to good art, they just haven't seen it here before now. My job is to change their perception—Tahoe is now a place to come to see the best in dance.

Christin Hanna, teaching advanced ballet class, correcting company dancer Bryce Walsh
You half-joked at a recent show about spending out-of-pocket for a new stage. Where does financial support for your organization come from?
We have many gracious individuals who believe in our mission and support us from all over the country. We receive grants from organizations like the Tahoe Truckee Community Foundation and the North Lake Tahoe Resort Association, which have been vital to our growth. We recently kicked off a campaign to help buy our own technical equipment instead of constantly renting it. I've spent more than $6,000 renting portable stages since starting the company and we had the option to buy one, during a sale, for $12,000 instead of its usual price of $16,000. We didn't have quite all the money raised so I broke out the emergency credit card and had to take care of the rest until we finished raising the money. We sacrifice more than just our pedicures for this art form.
You're a tireless supporter of Tahoe City and hold most of your events in town. Are you optimistic about the town's future?
Nothing beats showing someone around who's never been here before—you see it through new eyes and you get to experience its magic all over again, which I don't think a lot of people can say about the place they grew up. I love having someone fly in, taking them to breakfast at Fire Sign Café, walking through town along Commons Beach to the marina and having a great dinner at Wolfdale's. Tahoe represents getting away from everything for a lot of people, so they come here and hole up in their cabins and read a book. That's great, but we're also a community. When I lived back east, I was fortunate to spend a lot of time on Cape Cod. People have been going there every summer for generations and part of their summer family tradition is having tickets to the shows at Wellfleet Harbor Actors Theater or working at Hatch's Fish Market in their teenage years. Being a part of a place that's maybe not your primary home is a wonderful thing. The artists I have brought here feel that way about Tahoe. I think the smaller the world becomes as we are connected through infinite forms of technology, the more important it is to connect in very real, visceral ways with the people who are actually around us.
You met your husband, Alpenglow Sports owner Brendan Madigan, in town, correct?
Yes. I joined the Tahoe City Downtown Association's Board of Directors in 2009 and Brendan joined the following year. We worked together on issues in town we were passionate about and formed a fast friendship. In all honesty, I was the one who made it happen. I kept inviting him to dinner and finally he caved in and we had a wonderful first date—and it was pretty much on after that. We knew and respected one another already as friends, and could commiserate as business owners. There are nights in our home where we sit side by side on our laptops working, running things by one another and batting ideas back and forth. We both feel incredibly lucky to have found one another—we're really two of a kind.
What do you enjoy doing with your free time?
What's that? Ha! There's not an abundance of free time, but I have learned that even when there's plenty to be done, I have to switch off and get away from it, and that I'll be more productive, creative and effective when I return. Because there will always be more to tackle on that to-do list. We were fortunate enough to be able to purchase a house a few years ago, but it needed a lot of work. With the help of a dear friend, who actually knows how all the tools work and owns them, I did most of the work and found it incredibly rewarding. It has to do with being able to stand back at the end of the day and see your progress. A lot of my creativity is a long process, and unlike most art forms, a new dance only exists in memory after the performance, so it can feel incredibly fleeting. But a painted wall or a new kitchen floor is yours until you decide to rip it up and start over again when you get tired of it.