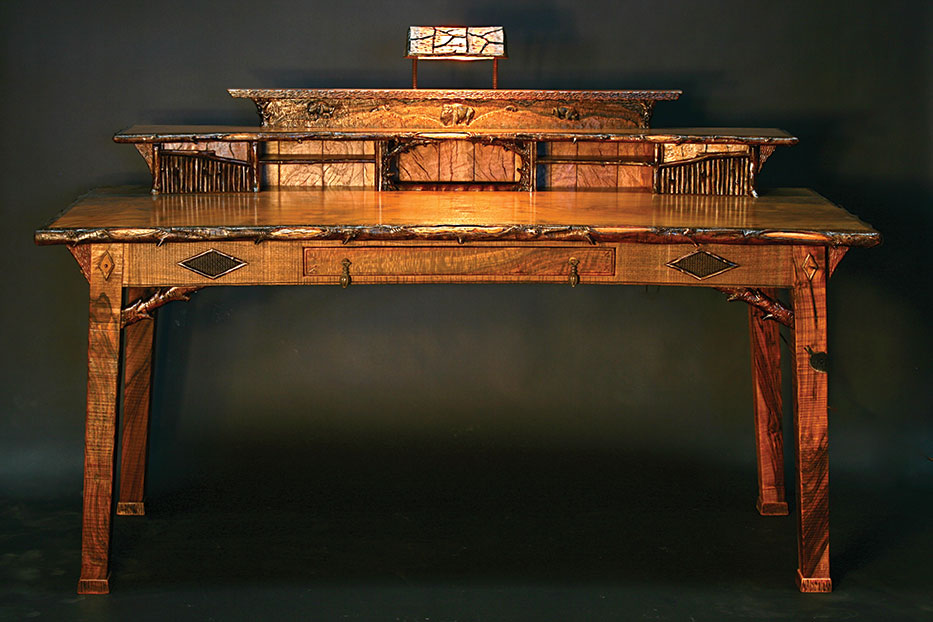 23 Feb

What's Old is New
Artist turns rustic antiques into timeless furniture
Brad Greenwood creates sophisticated rustic furniture from his studio located in the Sierra Nevada Mountains of Northern California. He takes an innovative approach to the craft, and in some pieces he incorporates mechanical components or carved images of natural scenes.
"I get a lot of inspiration from antiques and, believe it or not, old artifacts that can be used in furniture. I like to use old parts. Those kinds of things really inspire me, but something about the wood does as well, with its patterns, and sizes and shapes. Wood can definitely get your thought process going," Greenwood says.
Greenwood has worked as a full-time furniture maker since 1985, and his well-composed pieces are mostly made from naturally felled California hardwoods, such as walnut, oak, elm and madrone. These materials tend to be more vibrant in color, and he likes to mix a variety of hardwoods to avoid the "monotone look that a lot of manufactured furniture can have."
Along with considering the color of the wood, he adds artistic elements by carving detailed images into his furniture pieces, including bears that roam through the woods or a telegraph rider on horseback with free-standing fence posts.
There are also elements of surprise in his work, and some pieces include antique mechanisms, such as coin-operated animatronic shows, a repurposed prairie dog shooting game or hidden compartments with different locking mechanisms. He also "hides" a signature aspen leaf somewhere on each piece.
Similar to using naturally felled wood, Greenwood enjoys giving found objects and old machinery a second chance.
"One thing I really like about the coin-operated pieces and antique machines is giving them a new theme and a new life," Greenwood says, explaining that he recently brought to life a gambling game created during the Depression. "I think that makes it a lot of fun, and it makes it interactive. It kind of engages you to touch it and find the hidden drawing or aspect to it."
His work is represented by the Trailside Gallery in Jackson Hole, Wyoming; by Tierney Fine Art in Bozeman, Montana; and Montgomery Lee Fine Art in Park City, Utah.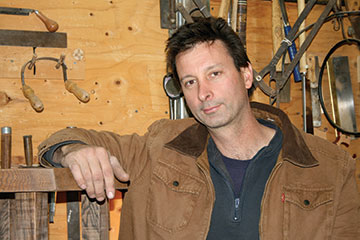 Brad Greenwood
Christine Rogel is a Bozeman-based multimedia journalist and a Carnegie-Knight fellow. She earned a master's degree from the Walter Cronkite School at Arizona State University and worked as a newspaper editor at the Las Cruces Sun-News.