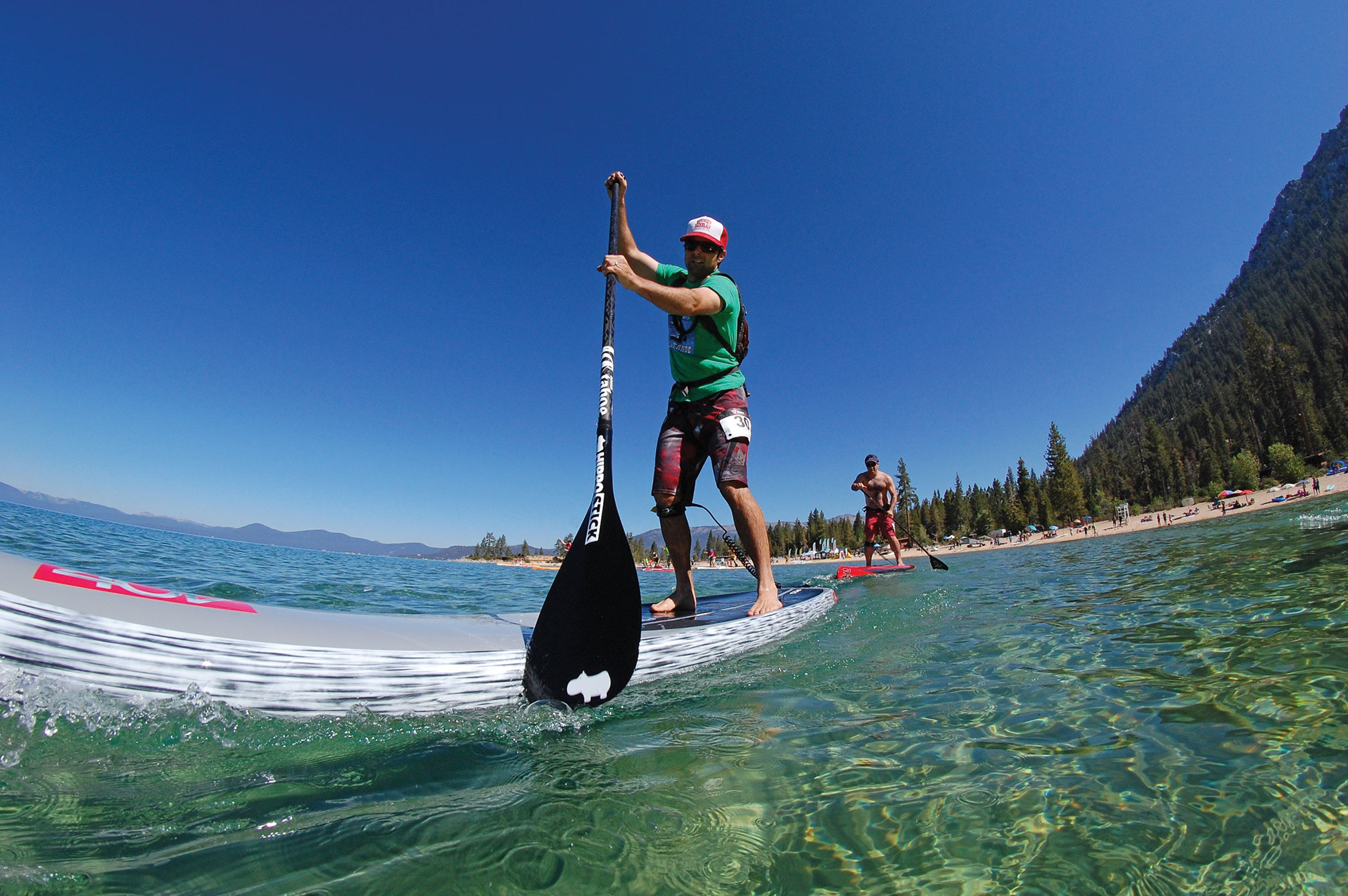 Thunderbird Paddling Festival racers compete along Tahoe's East Shore, photo by Harry Lefrak
03 May

Tahoe's Best Summer Races

There's a moment, if you hit leg 14 of the Reno-Tahoe Odyssey running relay race just right, where you see the literal inspiration for the 'purple mountains majesty' lyric. That particular leg of the 178-mile classic pipes runners uphill over 6.7 miles on Highway 89 from Rubicon Bay toward Emerald Bay, and just before sunset the mountains towering above South Lake Tahoe take on a purple hue that temporarily negates the pain.

It's for these types of moments that so many Lake Tahoe–area races hold a special place in the hearts of runners and swimmers, bikers and paddlers, and the reason so many competitors return year after year. They also happen to make great motivators to achieve your fitness goals—what better training objective than performing in a race near Big Blue, where the views best those of almost any local fun-run in America? Here's a list of the best Tahoe races to train for:
June
June 3–4
Founded by third-generation Nevadan and avid runner Eric Lerude, the Reno-Tahoe Odyssey (RTO) is now in its 12th year. The 178(ish)-mile course wends from Reno to Truckee, past Squaw Valley and Alpine Meadows, down the West Shore of Lake Tahoe, through South Tahoe's casino corridor and up (and down) the daunting Kingsbury Grade to Minden, Nevada. From there it hugs the Carson Range under a starry sky as it loops toward Virginia City—and a Bloody Mary at the infamous Bucket of Blood Saloon—before descending back into Reno via Geiger Grade. Teams of 12 runners usually take on the two-day race, though it has been attempted by six-packs, duets and even a single runner. Come for the challenge and stay for the camaraderie and inventive team names. That lone runner who finished? Juan de Oliva in 2014, racing under the moniker "Army of Juan."
June 11
Named for the famed Thunderbird Lodge and billed as "Tahoe's Most Scenic Paddle," this aquatic race begins at picturesque Sand Harbor in Nevada's Lake Tahoe State Park on the East Shore and heads south on both 4- and 8-mile loops. The race—part of the Big Blue Adventure Series—is mainly a stand-up paddling contest but is open to all types of paddling craft including kayaks and outriggers. The course glides over the East Shore's famously clear, boulder-strewn waters, but be sure to sightsee after you round the halfway-point buoy and head for the finish line. Open to all age-groups, the race coincides with the Big Blue Waterman Challenge—a fun skills race that combines swimming with beach running and paddling. Visit the website for more, and have your cheerleader pack a camera for the big day.
July
July 30
Considered a bit of a 'Granddaddy of them all' race for Tahoe running aficionados, the Mountain Run is a 36-year tradition starting at the base of Squaw Valley and climbing 2,000 feet to High Camp. Racers run up a road-grade dirt trail known as Mountain Run for 3.6 miles, and finishers have ranged from the ages of 5 to 90-plus. The 500 or so participant field is split between aspirants looking to check a famed course off their list, serious runners and racers out to enjoy the always-thinning mountain air on the jaunt to a beer and a break at High Camp. Operated by the Auburn Ski Club, 20 percent of the funds raised from the race go to support patients at the Gene Upshaw Memorial Tahoe Forest Cancer Center in Truckee.
August
Aug. 27
Grab your goggles and try not to get mesmerized by the rays of sunshine cascading through clear water toward the rocks and sand beneath you off of Ed Z'Berg Sugar Pine Point State Park in this classic open water race. Sheltered in the lee of The Lake on the West Shore, this swim lets racers stroke through waters that stay calm even when Tahoe is white-capping. With options for a short, half-mile swim, a triathlon distance of 1.2 miles or an IRONMAN-like 2.4 miles, racers can choose their adventure and enjoy swimming over a shallow shelf the entire distance. Spectators will enjoy watching their contestant from the beach and grounds in front of the historic Hellman-Ehrman Mansion, as well as the views across 12 miles of open lake ahead of them.
September
Sept. 11
Forget entering Yosemite National Park by car and instead trot, trudge or sprint to the park's eastern entrance on your own two feet. The annual Tioga Pass Run is a grueling test of endurance; runners start in Lee Vining on the shores of Mono Lake and climb 3,200 feet over 12.4 miles of the iconic Tioga Pass Road to finish at the entrance to Yosemite. The race changes elevation from 6,781 to 9,945 feet at its finish and was won in 2015 by a 29-year-old South Lake Tahoe resident, Patrick Parcel, with a time of 1:29:43. Most racers come in around the two-and-a-half hour mark. Afterward, entrants (80 runners and 21 walkers completed the race last year) are treated to a taco lunch at Lee Vining's beloved Whoa Nellie Deli and granted bragging rights.
October
Oct. 9
A new entry on the must-race calendar, the Great Trail Race was born out of ambition and necessity. A handful of less-than-stellar snow seasons meant the annual Great Ski Race from Tahoe City to Truckee—a yearly Nordic skiing race that served as the fundraiser for the Tahoe Nordic Search and Rescue team (TNSAR)—didn't run for the four winters prior to 2016. To assist the all-volunteer, nonprofit TNSAR—which frequently rescues lost alpine and Nordic skiers, hikers and climbers—Todd Jackson of Big Blue Adventure and former Tahoe Quarterly publisher Chaco Mohler collaborated to come up with the much-anticipated Great Trail Race. Designed for both runners and mountain bikers, the 20-mile race will wind from Tahoe City to Truckee's Cottonwood Restaurant on dirt fire roads, the Sawtooth Trail and across private property. A citizens' race will stick mainly to dirt roads, while an 'elite' category will test the technical abilities of racers on singletrack between the two Tahoe hubs. Proceeds from the event will support TNSAR.
---
Kyle Magin is Tahoe Quarterly's Incline Village–based editor and a three-time Reno-Tahoe Odyssey finisher. Remarkably, his team keeps asking him back despite a complete lack of speed.