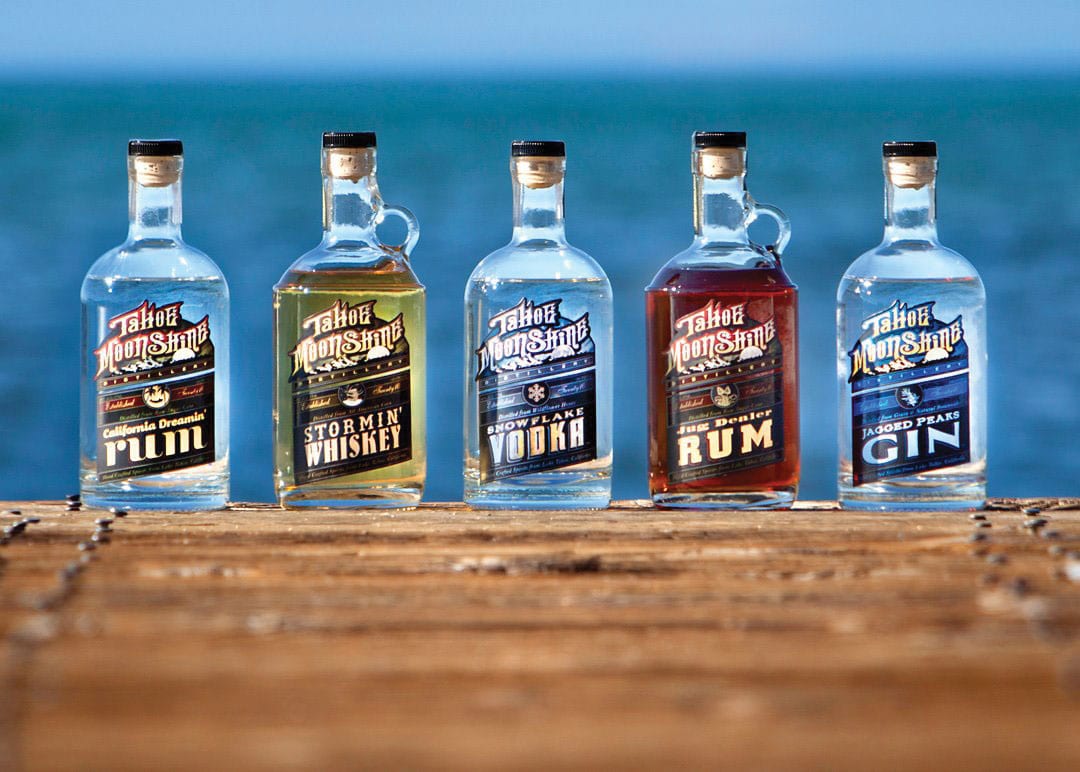 Tahoe Moonshine, courtesy photo
27 Apr

Beyond Beer
Fill your cup with these Tahoe-based tipples, teas and coffees
Yes, Tahoe brews beer, but other oft-craved beverages also have their humble high-altitude beginnings here. Most can be enjoyed at cafés, restaurants and bars around The Lake and purchased via area retailers or online. Here are a few to pursue:
Alpen Sierra Coffee
www.alpensierracoffee.com
Christian Waskiewicz started Alpen Sierra Coffee Company in South Lake Tahoe in 1991, the name inspired by his native Austrian Alps and new home in the Sierra Nevada. One of the first Northern California organic certified micro roasters, Alpen Sierra buys and blends beans from top coffee-producing regions worldwide. Try the full-bodied signature Alpenglow House blend or the 25th anniversary heirloom Ethiopian Geisha Bebeka. The company closed its retail store and relocated its roasting facilities to Carson Valley a decade ago to accommodate its growing business, but its beans are widely sold and served around Tahoe; a subscription service ships a pound of beans to your door every month.
Sierra Pacific Coffee Company
www.sierrapacificcoffeeroasters.com
Gale Klenk put her three-decade passion for coffee roasting to work two years ago when she purchased Truckee-based Sierra Pacific Coffee Company from previous owner Susan Reynolds. A small-batch artisan wholesale roaster, Sierra Pacific's production facility is located on West River Street (follow your nose). Klenk sources only high-grade Arabica beans from around the world, most of which are grown at elevation and European-processed. Some are procured via the nonprofit International Women's Coffee Alliance. Over 20 blends and single-origin beans are available for sale, including fair trade organic options such as the popular Truckee River French Roast.
Tahoe Teas
www.tahoeteas.com
A harrowing drive through a Donner Summit whiteout several winters ago made Tahoe City resident Alenka Vrecek realize she craved a more balanced lifestyle. Drawing on childhood memories of picking berries and herbs in the foothills of her native Slovenia, the Squaw Valley ski coach and mother of three started Tahoe Teas, which sells seven somewhat complex blends of teas made with certified organic ingredients, some of which are sourced close to home when possible. The energizing Tahoe Local is made with yerba mate, gingko biloba, gotu kola, damiana (a natural aphrodisiac), spearmint and lemon peel, while the Tahoe Blue blends blueberries with Oolong. There's also a sweet herbal tea for kids.

Tahoe Blue Vodka, photo courtesy Mike Breshears
Tahoe Blue Vodka
www.tahoebluevodka.com
Made with cold, clear Lake Tahoe water along with sugarcane, grapes and corn, super smooth Tahoe Blue Vodka is thrice distilled in small batches in Mountain View, California, and bottled in Sparks, Nevada. Founded by Maryland native and South Lake Tahoe resident Mike Levitt, Tahoe Blue has taken first prize at several major spirits competitions, holding its own against bigger players like Chopin and Belvedere. In keeping with its mission to keep Tahoe blue, the company donates a portion of the proceeds from every bottle toward preserving The Lake via organizations like the Tahoe Fund and the League to Save Lake Tahoe.
Illanta Wines
www.illantawines.com
Pals Jessica Stanley and Allison Yonto love wine and Tahoe, and figured what better way to blend the two passions than in a bottle? With an eye on exclusive, small-batch production, they named the Tahoe City–based winery (pronounced "Yahn-Ta") after Allison's hard-working Italian immigrant great grandfather. With the help of experienced winemaker Eric Hansen, they released their first bottles of Illanta Wines last year, a 2013 Howell Mountain (Napa) Zinfandel, a 2014 Dry Creek Valley (Sonoma) Zinfandel and a 2014 Chardonnay from the Santa Rita Hills outside Santa Barbara. A portion of the proceeds benefits nonprofit Sierra Watershed Education Partnerships.


Illanta Wines, photo courtesy Kevin Wright
Tahoe Moonshine
www.tahoemoonshine.com
A woodworker and homebuilder, Jeff VanHee took his craftsmanship to the still, learning how to make rum in Costa Rica and gin at Fat Dog Spirits in Florida. After attending the American Distilling Institute at UC Davis, he launched Tahoe Moonshine with a copper kettle in South Lake Tahoe seven years ago. Nine flavors—with more on the way—are bottled in squat glass jugs: Jagged Peak Gin is distilled with mountain juniper, cucumber, cardamom, coriander, rose petals and ginger, while Hot Stinking Garlic infuses Moonshine's Snowflake vodka with garlic, serrano and jalapeño peppers.
Truckee River Winery
www.truckeeriverwinery.com
Russ and Joan Jones started making wine in their Truckee garage in 1989, eventually moving their gig into a two-story barn and tasting room near the Truckee River. Russ, who has a degree in oenology and viticulture from UC Davis, figured that Truckee's elevation and temperature would naturally cool and slow the fermentation and barrel-aging processes, resulting in award-winning pinot noirs; the country's highest, coldest winery also produces, among others, pinot gris, chardonnay, merlot and zinfandel. In addition to wine, the tasting room, complete with fireplaces, sells tapas and deli items. Come summer, the party moves outside, where bocce courts and barbecues await.