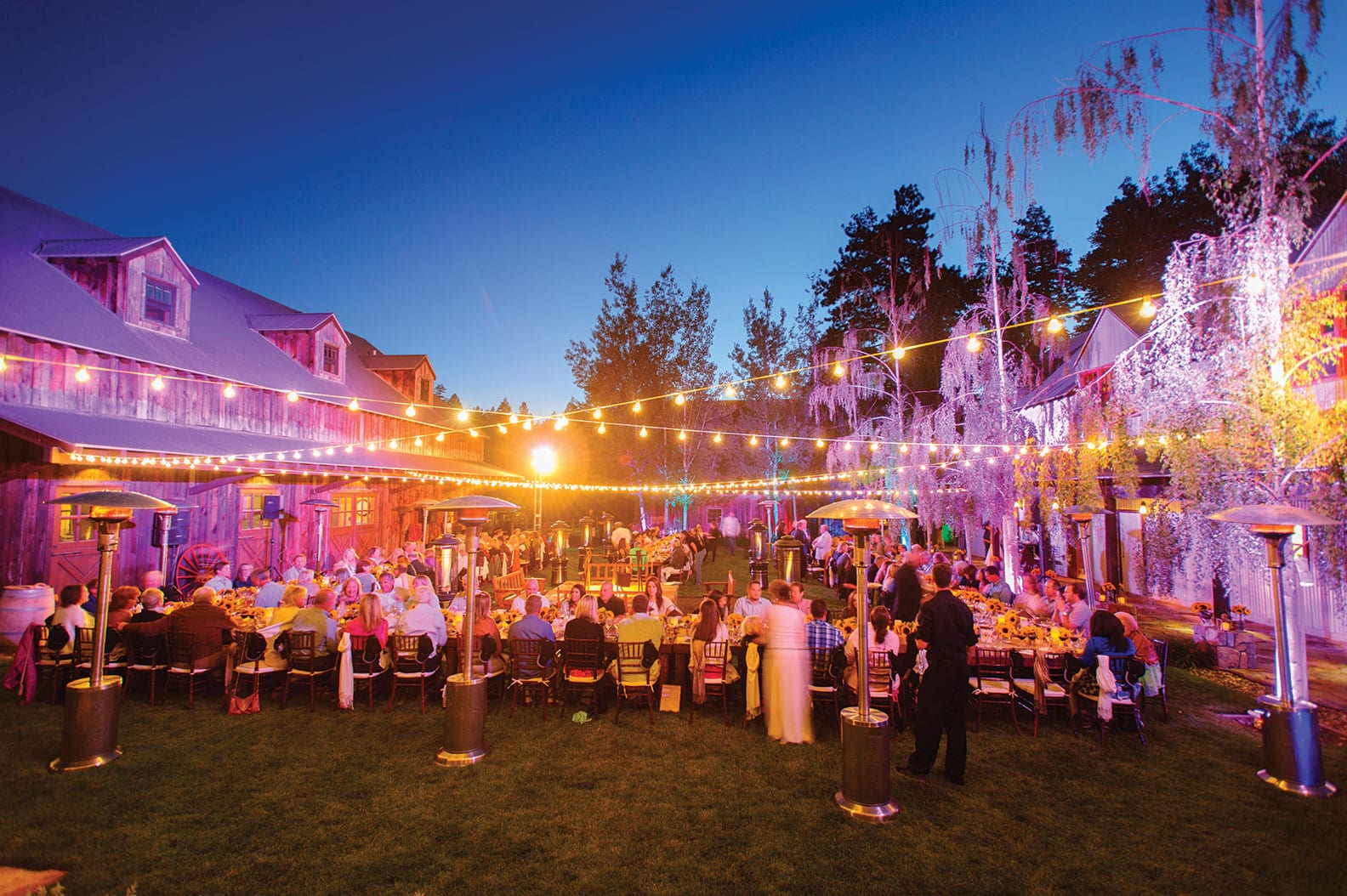 A gourmet long-table dinner prepared by chef-restaurateur Emeril Lagasse is one of the event's highlights
26 Apr

Best Spot to See Shakespeare Saddle Up
Glenbrook's cowboy history comes alive with summer fundraiser
What do the Bard, bucking broncs and a celebrity chef famous for the catchphrase "Bam!" have in common? All three converge on Lake Tahoe's East Shore every summer for a weekend of doing good and having fun.
The annual Keep Memory Alive Summer Social and Rodeo at Glenbrook's historic Shakespeare Ranch is a two-day event that starts with bull riding, barrel racing and barbecue and finishes with a gourmet meal prepared by restaurateur and television personality Emeril "Kick it Up a Notch" Lagasse.

Emeril Lagasse and his crew commandeer the Entertainment Barn's commercial kitchen to prep his signature cuisine for the crowd on Saturday night
Proceeds from the weekend benefit Keep Memory Alive, which supports the Cleveland Clinic Lou Ruvo Center for Brain Health. The clinic is named for ranch owner Larry Ruvo's father Lou, who died from Alzheimer's disease. The younger Ruvo, vice president and general manager of Southern Glazer's Wine & Spirits, together with his wife Camille, spearheaded the foundation and its impressive Frank Gehry–designed facility that opened in Las Vegas in 2010.
Back to the ranch. Named for the bluff bearing a likeness of the Bard that overlooks the 129-acre East Shore parcel, the Shakespeare Ranch dates back to the Comstock era, when the Bliss family property provided timber for Nevada's silver mines and later served as a summer destination for San Francisco's affluent who came to stay at the Glenbrook Inn until it closed in the 1970s.

Hungry cowpokes and guests chow down at the weekend's Western-style barbecue
The Glenbrook Rodeo, a tradition dating back to the 1940s, had been discontinued in 1965. Camille and Larry Ruvo, with the help from the McGill family, who own Zephyr Cove Stables, resurrected the event in 2000 after finding themselves intrigued by the ranch's cowboy history.
"We spoke to other neighbors in Glenbrook who shared some of their incredible experiences of going to the rodeo and how fondly they remembered that as one of the highlights of their summer vacation growing up," says Camille Ruvo, who is co-founder and vice chairman of the Keep Memory Alive Foundation.
"We started out hosting the rodeo for our family, friends and neighbors to enjoy for the simple reason of bringing back the tradition that earlier generations enjoyed. After seeing the successful turnout, we transitioned the neighborhood gathering into a Northern Nevada community fundraising event," adds Ruvo, who also leads the development, event planning and fundraising efforts for the Lou Ruvo Center, and whose daughter and step-daughter both ride in the rodeo.

Bull and bronco riding, ribbon roping and barrel racing competitions are regular rodeo events
The event eventually evolved into a full weekend featuring a long-table dinner Saturday night outside the 5,111-square-foot Entertainment Barn, a building that dates back to 1873 that was restored and outfitted with a gourmet kitchen and wine room, and where chef Emeril Lagasse, a longtime friend of the Ruvo Family and supporter of Keep Memory Alive, works his culinary magic.
The evening also includes a private performance by an A-list entertainer, this year rocker Sammy Hagar. Past headliners have included Robin Williams, Jay Leno, Lionel Richie, Kenny "Babyface" Edmonds, Kenny Loggins, the Commodores, America, Michael Bolton, Three Dog Night and Smokey Robinson.
This year's Summer Social and Rodeo is slated for June 29 and 30. For more information or to purchase tickets, go to www.keepmemoryalive.org.
---
Northeast Ohio native Susan D. Rock is a big fan of the Cleveland Clinic.

The Summer Social and Rodeo features family-friendly carnival games, a face painter and a watermelon-eating contest for kids