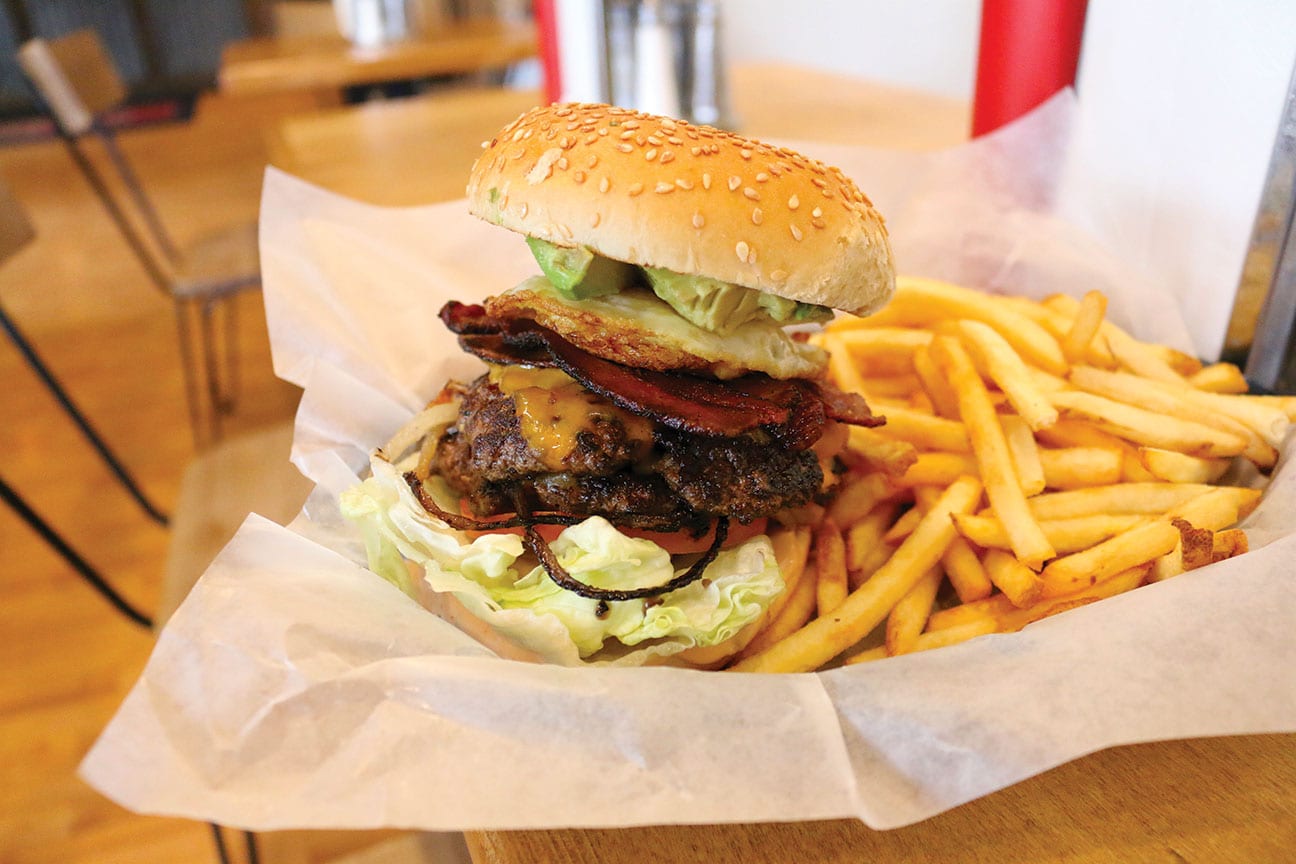 A Double Inclined burger with all the fixings, photo by Sylas Wright
01 May

Best New Burger Joint
Inclined Burgers and Brews serves it simple and straight up
Seemingly no single food item can stir the pot like the beloved burger, from theories on the provenance of the portable patty to postulations as to who does it best.
Tahoe's latest burger king? Inclined Burgers and Brews, a small, simple, 29-seat counter-service spot that opened in Incline Village in November.
The brief menu boasts the Inclined and Double Inclined burgers, served with lettuce, tomato, grilled onion and Thousand Island–style special sauce atop a soft white sesame bun; bacon, avocado and fried eggs are available add-ons. The beet-juice "bleeding" Beyond Meat burger provides a plant-based option, and the bread bypassers can pop a patty atop a green salad.
"We wanted it to be simple and straightforward, and have all the classic elements of the other iconic burgers out there," says co-owner Mitch Penning, an Incline resident and Ritz Carlton alum, who, with lifelong pal and newly relocated Scott Beck, seized the opportunity when the space adjacent to T's Rotisserie became available. The two men, who had long talked about owning a hamburger joint together, sampled some eight options between Lake Tahoe and the Bay Area in a one-day napkin-strewn taste test road trip.
They ultimately opted for an 80/20 blend of U.S.D.A. prime ground sirloin, chuck and short rib delivered fresh from Reno's Sierra Meat & Seafood, six days a week. Hand-shaped burgers—no pre-formed frozen patties here—are smashed on the flattop grill old-school diner style; raw onions on top flavor the meat while it cooks, then caramelize when flipped on the hot griddle.
The must-order side: Crispy hot garlic fries topped with parmesan, garlic oil and roasted garlic clove that knock the San Francisco Giants version out of Oracle Park.
As for the brews part, Inclined Burgers features six rotating beers on tap and over 30 bottled brews from which to choose, as well as several wines by the glass. Customers also dig the kids meals, soft-serve ice cream, outdoor seating and, soon, online ordering.
The real secret sauce that's helped this storefront sell some 15,000 burgers in its first three months of doing business? Beyond focusing on doing a few things really well, Penning and Beck are often at the register and on the floor, checking in on customers and clearing tables. "We worked hard to get it right," says Penning.
---
Susan D. Rock's two teen boys can devour a Double Inclined in under two minutes.
---
Inclined Burgers and Brews
901 Tahoe Blvd., Incline Village, NV
(775) 298-7909
www.inclinedburgersandbrew.com
Open daily from 11 a.m. to 8 p.m.