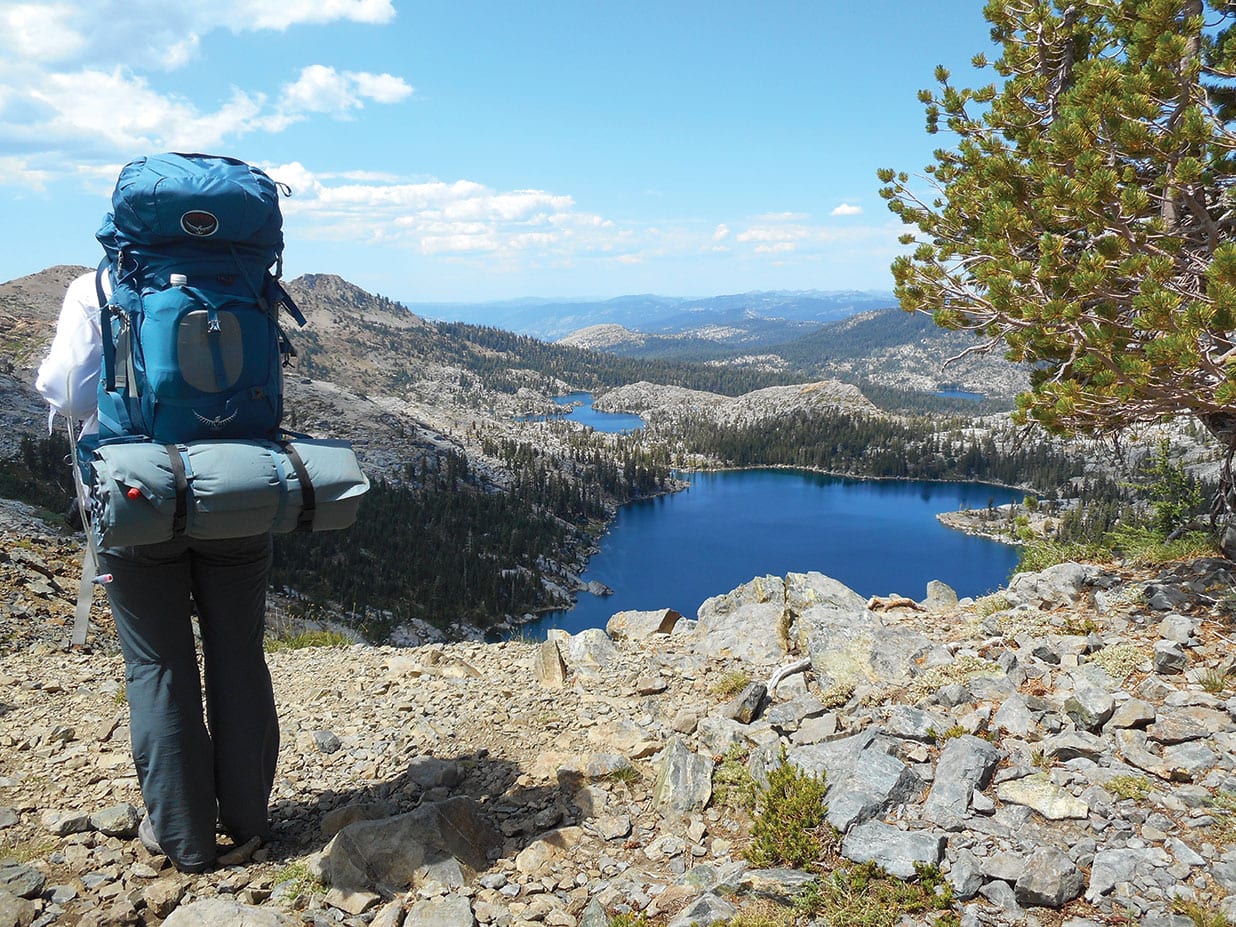 A backpacker soaks in the view of Dicks Lake in Desolation Wilderness from the Tahoe Rim Trail, courtesy photo
01 May

A 165-Mile Trail For Everyone
The Tahoe Rim Trail's views, backcountry adventure and community spirit can be enjoyed in many ways
Have you dreamed of connecting with the wild side of Lake Tahoe?
The Tahoe Rim Trail offers a variety of experiences for everyone's imagination all year long —from winter survival snowshoe treks to easy interpretive day hikes, hardcore backpacking through-trips, volunteer trail work days and self-guided solo adventures.
And it's right in our backyard.
"What really makes the trail special is the wide range of adventure it offers," says Justine Lentz, operations and marketing manager of the Tahoe Rim Trail Association. Like many, her memories and love for the trail run deep.
Folks who crave solitude or a true backcountry backpacking experience can find it. On the flip side, for locals or people who want something a little less daunting, the easily accessible trail offers interpretive loops and connections to populated communities, providing a sense of comfort that civilization is not far off.
"You get to circumnavigate one of the most spectacular alpine lakes in the world. It's really a neat experience when you are trekking the entire trail and you are high up on the ridgeline and get to look out across at landmarks you traversed a few days prior," says Lentz.
Climbing the ridgelines of the Lake Tahoe Basin, the 165-plus-mile singletrack trail passes through six counties, two states, four national forests, three wilderness areas and one state park. It is an outdoor lover's playground, attracting 440,000 visitors each year—segment hikers, backpackers, mountain bikers and horseback riders—who come from around the world for the adventure, the challenge, the iconic beauty, the solitude and the camaraderie.
"The Tahoe Rim Trail is without a doubt unique. There really isn't any other trail system out there quite like it," says Lentz.
The Tahoe Rim Trail Association is a volunteer- and member-supported organization that maintains the trail system, inspires stewardship, preserves access to the Lake Tahoe region, and offers guided outings to the community in summer and winter.
In 2013, the Tahoe Rim Trail Association recognized the need to supply trail users with more resources so they could become their own trail guides.
"It can be intimidating exploring a new area you haven't been before," says Lentz.
So the organization launched the Tahoe Rim Trail Challenge. Each year, the Tahoe Rim Trail Association releases six trek routes with easy and more difficult options ranging from 1 to 13 miles. Each route is accompanied with maps, driving directions, step-by-step pictures and interesting information. It's free to join and registration opens May 20.
One Trail, Many Paths
The Tahoe Rim Trail Association offers backcountry youth camps, backpacking trips, educational guided day hikes, winter snow camping and backcountry skills courses. Also extremely popular are the two flagship programs designed for people with a goal of completing the entire trail in a season. It takes about 15 days to backpack the entire length of the trail and about 11 weekly guided section hikes to complete the trail and become part of the 165 Mile Club.
The website is a go-to resource with maps, trail conditions, resupply information and other tips for going solo.
"We are thrilled to offer a new trip this trail season called the Taste of the TRT. The Taste of the TRT is a guided multi-day backpacking trip aimed at completing roughly one-quarter of the Tahoe Rim Trail. It's a great opportunity for those who might not have the time to complete the entire trail in a season," says Lentz.
This summer, backpackers can look forward to two trips—one traveling from Kingsbury Grade to Tahoe Meadows and the other from Mount Rose to Tahoe City.
Volunteers are the lifeblood of the organization. The trail was built and still is heavily maintained by volunteers, with as many as 300 each year donating their time. Winter storms can create havoc on mountain trails and the mantra is "trails don't maintain themselves." During the big winter of 2016-17, more than 600 trees fell across the trail and had to be removed by volunteers.
This year, the volunteer season kicks off on National Trails Day, June 1, and extends through mid-October. Several projects are underway, including a few overnight backcountry trail camps working on a new trail reroute overlooking Marlette Lake and another at Echo Summit. The organization is always looking for new volunteers and no experience is necessary.
"Reroute projects like this are exciting because you really do get to build a piece of the trail to call your very own," says Lentz. "Our most difficult project will be work in Desolation Wilderness. Due to the remoteness of the work, volunteers backpack in with supplies and camp out overnight for several days. Working on a trail crew really does change how you look at the trail. It's a big labor of love."
A Trail That Changes Lives
The entire Tahoe Rim Trail is designated as a National Recreation Trail (aside from approximately 50 miles that coincide with the Pacific Crest National Scenic Trail) and is therefore part of the National Trails System.
The trail ranges from roughly 6,200 feet in elevation at lake level to 10,338 feet at Relay Peak. That elevation gain was a concern for Jan Nishikawa, a Sacramento native who always dreamed of hiking around Lake Tahoe. Last year, she completed the entire trail as a Sunday segment hiker.
"It was a great accomplishment mentally and physically for me to complete the Tahoe Rim Trail in 11 consecutive Sundays with an amazing group of hikers and guides," Nishikawa says. "I was concerned about getting altitude sickness since living in Sacramento is only 30 feet above sea level. I work out regularly, but not in high altitude."
After finishing 190 miles of the trail, the 58-year-old hiker felt like she could do anything. Two months later she finished the New York City Marathon, a feat that she says was easy in comparison. 
Her favorite sections of the trail were above Marlette Lake while hiking from Tahoe Meadows to Spooner Summit and Desolation Wilderness, particularly the otherworldly landscape of Lake Aloha. After training this spring, Nishikawa is planning to return to the trail as a volunteer guide as her way of giving back.
Guy Mikel completed the loop trail along with Nishikawa and the steadfast group last summer. His wife Beatriz was with him for most of the way.
"As newbies to Lake Tahoe, we wanted a good way to explore our new home," says Mikel. "By taking the guided Tahoe Rim Trail Association hikes, we experienced areas we would not have seen otherwise. For example, Echo Lake and Dicks Peak in Desolation Wilderness are great areas that we would probably not have experienced without doing the hike."
Another favorite were the wildflower fields between Tahoe Meadows and Spooner Lake—one of the longest days at 24 miles. Mile 15 of the journey was particularly grueling, when Mikel realized he had 9 miles left to go.
His recommendation for anyone interested in hiking the entire trail?
"Walk, walk, walk before you start."
---
Laura Petersen is a freelance writer from Nevada City and founder of Hiking For Good. She completed the Tahoe Rim Trail in 2018 and is training to be a guide in 2019. Contact her at laurapetersenmedia@gmail.com.