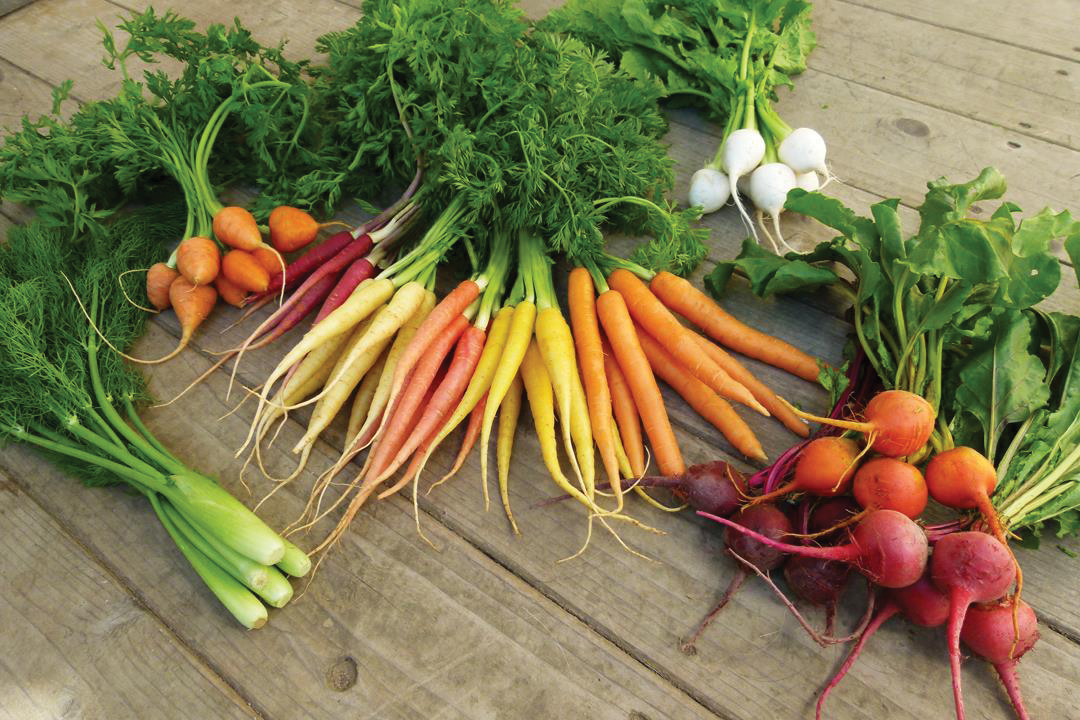 Habeger Produce Plus publishes a yearly calendar as well as market outlook that helps client chefs plan their menus, courtesy photo
23 Apr

Prime Purveyor
Habeger Produce Plus provides top-notch ingredients to Tahoe chefs
You may not know Bob Habeger, but you should be glad that some 150 Tahoe-area chefs, cooks and assorted culinarians do. The longtime North Lake Tahoe resident and his family have owned and operated Carnelian Bay's Habeger Produce Plus for nearly three decades, supplying area eateries and restaurants with high-quality fruits and vegetables and a long list of specialty items.
Natives of Ramona, South Dakota, Habeger, 68, and his wife Vickie moved to Tahoe sight unseen with their young family in 1976, purchasing the Dollar Point Shell station on a tip from his brother, who had relocated to Reno. Sales jobs with ARA Linens and Mutual of Omaha Insurance followed, and in 1993 a corporate downsizing led to a fresh opportunity: A small local company called Produce Plus was on the block, which Bob and Vickie bought from owner Larry Dunning, later of Truffula in Tahoe City and Reno's Sezmu, Bowl and Gaman Ramen note.
With no prior experience in the green grocer trade, Habeger learned on the job, gaining a chef's perspective from Dunning, whom he hired back to help manage the business.
"We would go to the market and Larry would say, 'This is what you want in a chanterelle, this is what you want in a hedgehog,'" Habeger recalls. "It was a big learning curve. It still is. With changing culinary trends, you learn something every day."
Habeger thinks back to that first trip down to the Sierra foothill farms in his station wagon, returning fully loaded to service his 14 accounts, which included Soule Domaine, Christy Hill and Wolfdale's. Of those original clients, Habeger says, "If they're still open, we still have the account."
Many miles and round-trips over Donner Summit later, Habeger now rolls a fleet of 11 trucks in rain, snow, sleet and hail down to a 40,000-square-foot refrigerated warehouse in Sacramento; Habeger's longtime crew of drivers depart Tahoe four days a week at 2:30 a.m. and deliver the same day to nearly 150 customers around the lake and Reno. The long list of clients ranges from Fireside and Rubicon Pizza at Squaw and Northstar to South Shore's Edgewood, The Landing, Gunbarrel Tavern and Azul Latin Kitchen. Reno restaurants include Liberty Food & Wine Exchange, La Vecchia, Roundabout Catering, Centro Bar & Grill and Monaciello, to name but a few.
Habeger focuses on buying local and organic, from small and family-owned farms within a 100-mile radius. "We personally know every farm we buy our produce from," he says. "What they're harvesting this afternoon, Charlie, Andrew or Douglas will have it on their plate tomorrow night.
"If there's one thing that's done well for us, it's consistency," Habeger adds. "If we sell it to a chef, they can feel comfortable putting it on a menu, having a consistent product for the menu run, and that the quality is there. It may not be the cheapest, but it's always the best."
One of Habeger's small suppliers is Del Rio Botanicals in Yolo County, owned by Suzanne Ashworth, a botanist, farmer and recognized authority in the area of seeds and seed saving. She targets chefs and restaurants with varied and rare produce from horseradish leaves to pineapple sage, grown from her collection of over 1,600 varieties of seeds.
Produce Plus prints a yearly calendar with what's available by the month. "If it's on our list, a chef can feel comfortable making up a menu for the next season," says Habeger, who also publishes a monthly market outlook of what's in season, from Asian pears to zucchini squash blossoms, plus a featured purveyor, which is popular with chefs.
Over the years the business has flourished on the sale of specialty items. "The slow food, farm-to-table movement has fueled the business ten times over," Habeger says, adding that smaller-scale baby vegetables and micro-greens are increasingly sought after, especially as cocktail garnishes.
Charlie Soule, chef-owner of Crystal Bay's long-running Soule Domain and a North Lake Tahoe native, has known Habeger for over three decades, and has been buying from Produce Plus for nearly as long.
"We order all of our produce from them, also dairy, cheese, pasta, hedgehog mushrooms, local goat cheese, whatever local produce is in any given season," says Soule, who appreciates being able to leave a voicemail order at 11 p.m. for next-day delivery and great customer service. "They really want to keep the customer happy, and if there's a discrepancy they always take care of it."
"The family are longtime locals; I love supporting that," says Andrew Shimer, executive chef at Christy Hill, who attended North Tahoe High School with the Habegers' son, Andy. "When I returned to Tahoe, after training and running kitchens in San Francisco, I was concerned about getting quality local produce delivered. Produce Plus has always amazed me, getting me very high-quality products. Bob is very knowledgeable and able to track down any strange specialty products I'd throw at him—everything from seasonal ramps or fiddleheads to high-quality lettuces. Bob's just an all-around good guy. He loves what he does, which includes supporting our community and local farms."
In addition to the produce delivery service, the Habegers own and operate the cheery Central Market in Kings Beach, which they opened in 2013, "after a couple cocktails at my son's birthday," says Bob, referring to Andy, who owns North Tahoe Watersports across the street and who was well acquainted with the former Napa Auto Parts space. Youngest son Bobby manages the market that sells produce and dairy items, made-to-order gourmet sandwiches, salads and sides, and freshly pressed juices. Ben Kenny, a former customer and sous chef at Wolfdales, tends to food prep and fields phone call orders for Produce Plus.
There's another field where Habeger has been known to spend his time and energy—coaching community baseball for some 35 years. He served as North Tahoe High School baseball coach starting in 1985, with the team going to two state championships before bringing home the trophy in 1993. In 2009 he helped launch the Tahoe Twins, a semi-pro baseball team mostly made up of the kids who came home from college in summer and wanted to play ball. He also helped run the local Vida Blue baseball camps.
Now "retired" from the game, he watches his oldest son, Jamy, a teacher and varsity baseball coach (and summer employee) in Sacramento. "I consider myself an advisor. I'm not sure if Jamy has accepted it for sure," Habeger says with a smile.
The community-focused Habeger family also supports several nonprofit organizations, including the Boys & Girls Club, Project MANA and the Tahoe-Truckee Unified School District via the Harvest of the Month program (recently 680 pounds of mandarins from Newcastle).
"Personally, I love that Bob and his family and staff contribute to making our community a better place," says Soule, echoing a sentiment that seems to surround the Habeger orbit.
If there's a common ingredient to the growth and success of Produce Plus, it's people and relationships, and that extends to the folks who bring the farm to the table.
"We've been fortunate to have a good group of loyal employees," says Habeger, who has over the years hired many of the kids he coached. "They are what has helped us make it for 28 years. They are like family."
---
Note: Due to COVID-19 conditions. Habeger Produce Plus is currently delivering just two days a week, with most accounts now closed. Residential delivery is available on Monday and Friday. The order form, found here, must be in by 11 p.m. the night before. Or call (530) 581-1525.
---
Tahoe Quarterly longtime Food & Wine editor Susan D. Rock hopes that area businesses pull through the current coronavirus pandemic, and is very much looking forward to her first meal out.