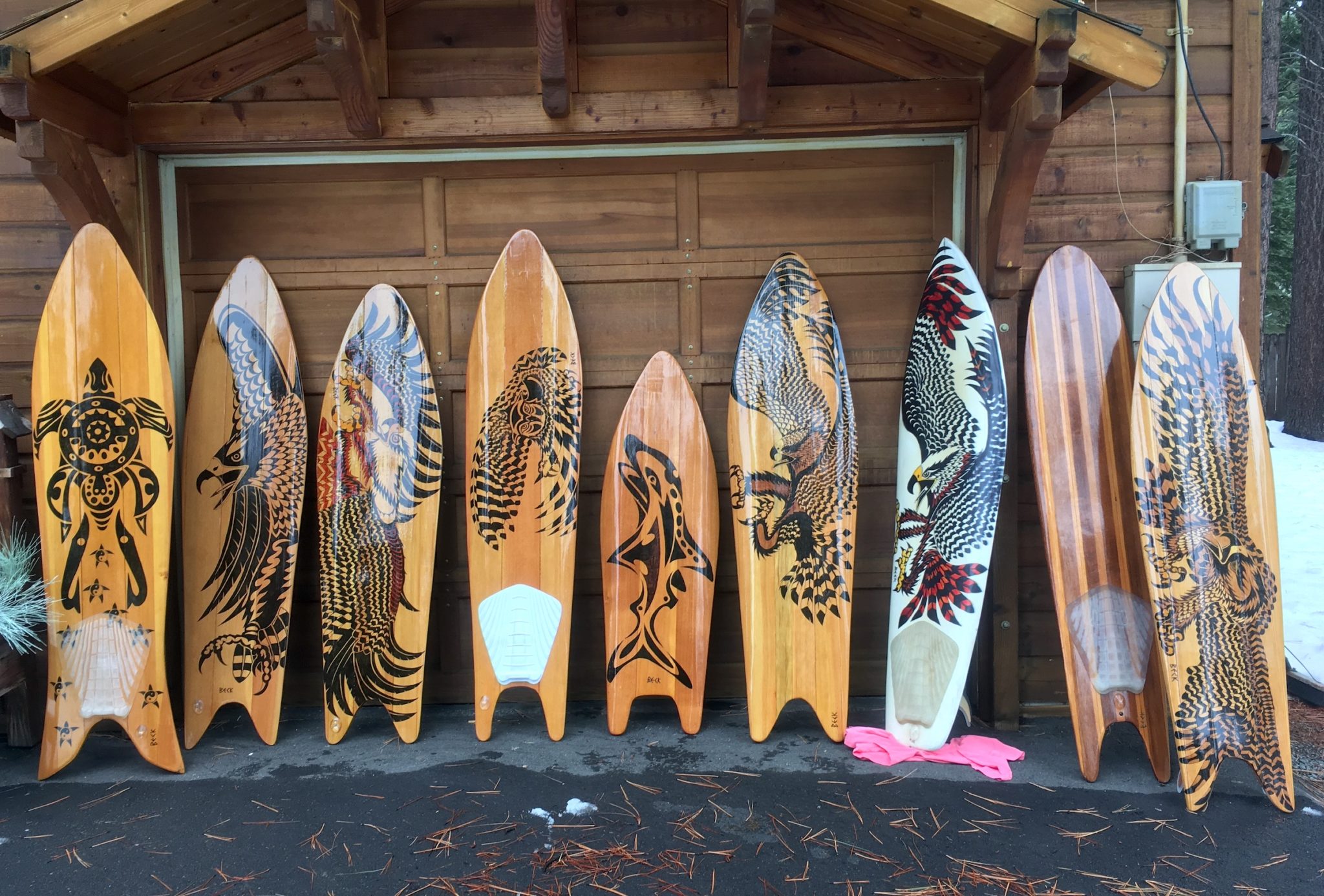 Tahoe Native Surfboards by Craig Beck, courtesy photo
23 Apr

TQ Market: Watersports Therapy

Given the theme of our Best of Tahoe feature well, we thought it would be fitting to showcase some of the hottest products in watersports ahead of the summer season. After all, we could all use some leisurely fun in the sun after the rocky start to 2020. What better way than to take to the clear waters of Lake Tahoe?
---
TAHOE NATIVE SURFBOARDS
$600–$3,000
The beauty of Tahoe Native Surfboards is undeniable. They are strikingly elegant creations, worthy of wall art when not in action on the water. Inspired by images he saw of early Hawaiian surfers, riding both wooden longboards and shorter boards called "alaias," longtime North Lake Tahoe resident Craig Beck set out to build his own. He and his crew of test riders tried out the first board behind a boat in 2011 and were hooked. Tahoe Native Surfboards was born. To start, Beck's customers select the shape and artwork he or she would like on the board. Beck then visits local lumberyards, where he picks out six to eight pieces of the best vertical-grain Douglas fir available (or redwood for his longer Hawaiian Big Wave "Guns"). He then glues the wood together into a large plank, with a second layer added for rails and reverse hydrofoils on the tail. Next he cuts out the board with a jigsaw and begins the hand-shaping process, which requires several hours of hand-planing and sanding until reaching perfection. Finally, Beck carefully paints on the artwork before applying up to 10 coats of varnish. Two to three weeks after the order is placed, the board is ready to rip behind a boat on Lake Tahoe or in ocean surf.
Find at: Tahoe Native Surfboards 
---
EPIC V8 SURF SKI
$3,395 (Performance)
$4,395 (Ultra)
$4,995 (Elite)
Sleek. Fast. Stable. The Epic V8 surf ski is all of these and more. This attractive and versatile boat, available at Tahoe Waterman's Landing in Carnelian Bay, is ideal for fitness paddlers and racers who don't want to skimp on stability, but also touring kayakers and leisurely cruisers looking to make the transition to high-performance surf skis. The Epic V8's deck features all the surf ski simplicity of its V10 and V12 brethren, including a fully adjustable foot brace and rear deck bungees. It also has convenient carry handles molded to the bow and stern and a water bottle holder in the cockpit. The V8 includes three construction options: the 34-pound Performance, the 26.5-pound Ultra and feather-light Elite, which is made of 3K carbon fiber laminate and weighs in at only 23 pounds.
Find at: Tahoe Waterman's Landing
5166 North Lake Boulevard, Carnelian Bay
---

TAHOE SUP TAHOMA 11'
$799
Don't let its unconventional appearance fool you. While Tahoe SUP's inflatable Tahoma looks nothing like a typical paddleboard, its array of innovative concepts make it the ultimate utilitarian vessel. The board's patented Tri-Hull design, with dual air chambers running alongside the main hull, provides incredible stability without forfeiting efficiency and glide, allowing paddlers to plow through choppy water with ease. What's more, with its wide 34-inch stance, the Tahoma boasts the volume to carry 450 pounds of gear. Numerous mounts and tie-downs allow users to conveniently carry accessories such as coolers, while anglers will enjoy the fishing rod holders, transom mount for a trolling motor (sold separately) and attachable kayak seat. On top of its many features, the Tahoma is nearly indestructible thanks to its military-grade PVC exterior. The boat takes just over 10 minutes to fill with the included double-action pump.
Find at: 4theoutdoors.com
---

MALIBU M240
NA
Malibu's new M240 is not for the budget-minded boat owner. The undisputed flagship of the iconic Malibu brand, this luxury tow boat delivers the highest level of comfort, technology and performance available on the market today. The boat is absolutely loaded with features, including a ballast system that fills in less than three minutes and a state-of-the-art hull that creates the largest and cleanest surf swells in the industry. The plush interior is complemented by a 7,000-watt entertainment system by Wet Sounds, with Rev 10 tower speakers and 12 interior speakers for surround sound, as well as RGB lighting and a tower that automatically raises and lowers in 9 seconds with the turn of a dial. Meanwhile, the M240's high-tech command center offers the most intuitive touchscreen interface in tow sports, with a high-resolution color screen, rearview camera and easy-to-read graphics. While he is not allowed to divulge the price, Greg Mickiewicz of Tahoe Marine Supply says to give him a call at (530) 414-5291 to work out a deal.
Find at: Tahoe Marine Supply
700 North North Lake Boulevard, Tahoe City
---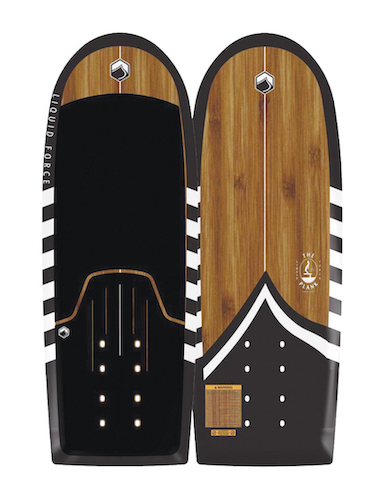 LIQUID FORCE PLANK FOIL PACKAGE
$1,749.99
Wake foiling is all the rage these days, and for good reason. Imagine the sensation of riding fluffy powder on a snowboard or skis, but while floating 2 to 4 feet above the water behind a boat full of friends. And the best part: It can be done in any water condition and behind any type of boat. Founded in 1995 by wakeboarding pioneers Tony Finn and Jimmy Redmon, Liquid Force has joined the foiling movement. The brand's Plank Foil Package is its highest-performing foil set, with a relatively short board and "Impulse" wing designed to carve up and down the face of the first wake with ease. The sturdy wood board has a slim profile and offers two mounting positions—a rear position for beginners and forward for more advanced riders. It comes with a quick-release system that makes assembly and removal of the foil a cinch.
Find at: wakemakers.com
---
CONNELLY SUPER SPORT
$179
A leader in the watersports industry for over 50 years, Connelly continues to produce some of the most trusted skis on the market. In addition to its high-end slalom skis, the brand offers quality combo skis for children at reasonable prices, such as the Super Sport. These small and light shaped skis are designed with a wide nose and tail to make it easier to get up on deep-water starts, while the narrow width underfoot keeps them responsive and playful. Junior-size, heel-slide adjustable bindings fit most kids' feet, giving them solid control of the ski. Beginners can use the front stabilizer bar to keep the skis in line and the proper distance apart.
FIND AT: connellyskis.com