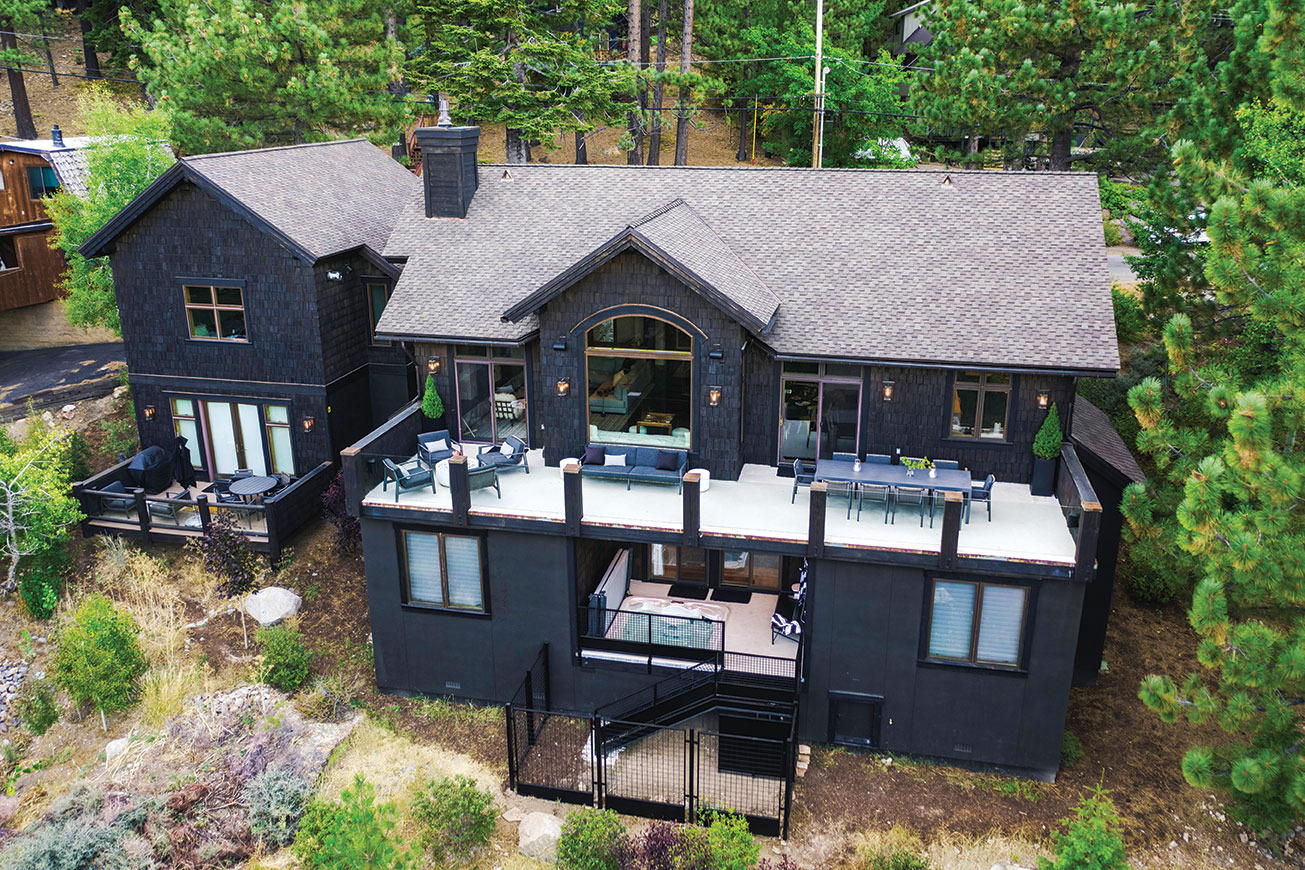 The home features a large upper deck that serves as an entertaining area off the kitchen, living and dining area
23 Apr

A Mountain Lodge with a Modern Twist
Celebrated interior designer Holly Hollenbeck turns an outdated home in Olympic Valley into a timeless family treasure
When interior designer Holly Hollenbeck of San Francisco-based HSH Interiors and her husband were searching for a second home in the Lake Tahoe area, they quickly honed in on Olympic Valley because of its proximity to the slopes. "It's a real cross-section of homes, the oldest of which date back to the 1950s," says Hollenbeck. "You can literally have anything from a '70s A-frame next to a '90s giant log lodge."
After months of house-hunting, the couple fell in love with Broken Arrow Chalet, a 4,000-square-foot, two-story house with five bedrooms and four bathrooms. The property stood out to them because of its views of surrounding ski ridges, functional floor plan and flat driveway with room for at least six cars. From the first walkthrough, the couple knew it would serve as a practical family ski home that would accommodate their kids and future grandkids for years to come.
"The bones were great and the layout was great, but the house had been neglected and the finishes were dated," says Hollenbeck.
So in January 2020, the couple began a five-month renovation process with Brad Chalstrom of Chalstrom Builders to update 95 percent of the home's interiors.
"The house itself is what I would call a chalet-style, with very large cut wood shapes on the exterior and a more classic look," says Hollenbeck. "My personal taste is more modernist. We needed to keep enough of a classic look for the interior to make sense with the architecture, but I definitely wanted to clean it up and make it feel more modern."
Hollenbeck opted for a mountain-modern look in a very edited color palette.
She used white, black and gray accents and classic finishes to refresh the aesthetic throughout. Brass and black hardware and plumbing were used to keep the home feeling up to date, while warm wood tones added a sense of coziness. The flooring on the upper level was replaced with a black honed limestone, while wide-plank oak flooring was used on the lower level.
"I didn't want to create something that was so trendy that I would be sick of it in five or 10 years," says Hollenbeck. "I wanted it to be a place that hopefully will look as fabulous in 20 years as it looks today."
The kitchen, which had initially been dark with wood trim and wood cabinet doors, was in major need of a renovation. So Hollenbeck elevated the kitchen backsplash with handmade ceramic tile and swapped out the original dual-height island for a counter-height breakfast bar with waterfall countertops. She also repainted the interior doors, cabinets and big supporting posts charcoal to tone down the space.
To give the kitchen a timeless look, Hollenbeck chose a diamond-white leathered quartzite for the countertops.
"I just fell in love with that stone because it has a crystalline quality to it," she says. "In certain lights, it almost looks like an ice-skating rink, where people have skated over it, and you get the blade marks on ice. It's just a really amazing stone, and I felt like it would pop the most and have the most interest if it were contrasted against the dark charcoal cabinet on the bottom."
In the living room, HSH Interiors replaced the small arched wood-burning fireplace insert with a larger gas fireplace that serves as the centerpiece of the room. The living room was further updated with a new full-height bookcase (which houses the TV) as well as a long window bench seat. Hollenbeck also added a game table so the kids could play chess or backgammon.
Downstairs, Hollenbeck updated the lower-level media room with a modern wet bar.
"We had our decorative painter paint a scene from a vintage postcard I found on eBay of the Olympics in 1960 that showed what Squaw Valley looked like," she says. "It's so charming to see what was there back in 1960 because it's so tiny. I tried to put a little bit of that '60s retro feel."
Bathrooms throughout the house were updated with marble counters and floors. The upper powder room was further reimagined with Cole & Son tree wallpaper, a custom antler mirror and a floating gray concrete sink. 
"I think in that bathroom, we really encapsulated the look and feel that we were after," says Hollenbeck. "It's a distinctly mountain feel, but done in a modern way."
The furniture is a mix of vintage and new, from armchairs upholstered with curly Mongolian sheepskins to dining chairs dating back to the 1950s. Wanting to instill a strong sense of place, Hollenbeck also incorporated different plaids, cozy wool and fur, layers of wallpaper, drapery and antlers to create a log-style aesthetic.
"I wanted [people to know] you were in the mountains and not in a city," she says.
The upper deck runs the full length of the house and shows off sofas, a fire pit and an outdoor table that can seat 10.
"I consider it to be indoor-outdoor entertaining space in conjunction with the kitchen, living and dining area," says Hollenbeck. The lower-level deck is much smaller because it is off the media/game room, and includes a hot tub and an outdoor heated sofa from Galanter & Jones.
The end result is a mountain home that feels elevated, accessible and, perhaps most importantly, timeless.
"My hope is that my grandchildren will use this house someday and love it just as it is," Hollenbeck says.
---
Rebekah Bell is a Los Angeles-based writer.