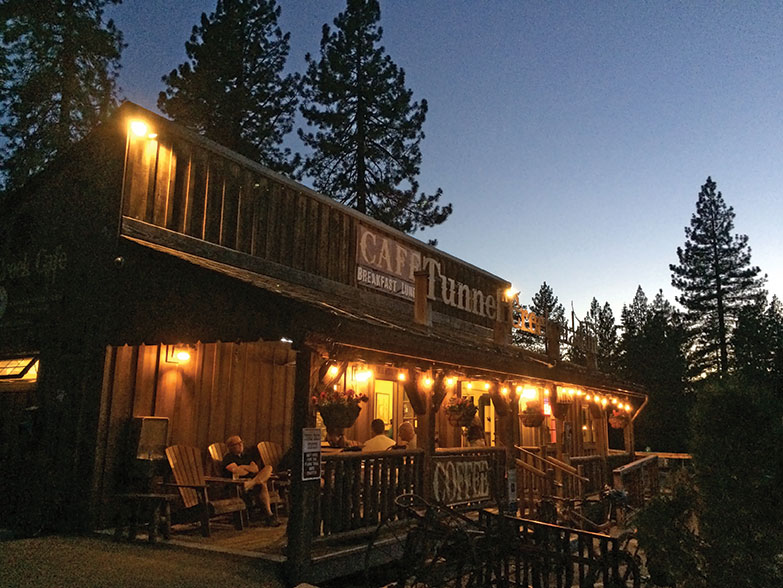 23 Apr

Tahoe's Best End-of-Trail Eats
Tunnel Creek Cafe in Incline Village serves scrumptious meals in an ideal location
Tahoe's top outdoor adventures are best served with a side of something tasty. Perfectly positioned at a pair of popular recreational paths on the eastern edge of Incline Village, Tunnel Creek Cafe hits both the mark and the spot with its trailhead location, healthy yet hearty menu and plentiful outdoor space to savor it all.
Whether starting off or finishing up a hike, bike or stroll on the Tunnel Creek, Flume or East Shore trails, rest assured you'll be well fed and watered here.
Opened in 2012 and relaunched in August 2019 after a nine-month hiatus for its latest renovation, the twice remodeled building used to house the stable hands working at the adjacent Ponderosa Ranch; it still retains its Bonanza Old West vibe with plenty of sturdy wood, stone and hog wire fencing. At maximum capacity, the cafe can seat up to 64 patrons inside and some 150 outside at umbrellaed picnic tables on the expansive decks, terraces and grounds; four-legged friends are welcome here as well, on the back dirt patio area. In addition to the paid parking along the main road, Tunnel Creek Cafe has its own monitored lot, free for customers.
National mountain bike champion and hall of famer Max Jones and his wife Patti McMullen operate Tunnel Creek Cafe, as well as the adjacent Flume Trail Bike Shop and shuttle.
"I randomly met our landlord, Craig Olson, up at Spooner in the state park when we were operating our bike rentals and shuttles up there," says Jones, who in 1983 cleared the Flume Trail for hiking and biking and has served on the Tahoe Rim Trail Association board. "He asked if we would be interested in bringing our bike shop and shuttle operation down to Tunnel Creek and mentioned that it would be cool to offer a cold beer after people ride. The cafe grew from that idea."
Tunnel Creek Cafe's menu is built around made-to-order items with all-natural ingredients. Start the day here with a breakfast burrito or bowl layered with scrambled eggs, bacon, ham or sausage, potatoes, black beans, onions, cheese and salsa. The Swedish oatmeal pancakes are made with buttermilk and can be ordered with fresh berries, and the fluffy French toast begins with brioche. Breakfast sandwiches are served on a croissant or English muffin, while pastries baked in-house daily include muffins, scones, cookies and "a few surprises," says Jones.
To get you going, the hard-working folks behind the counter crank out Hood River Coffee, tea and hot chocolate drinks from the shiny espresso machine; drip coffee orders come with free refills. Almond, oat, soy and coconut milks stand at the ready.
Lunchtime faves include the turkey pesto sandwich with mozzarella and tomatoes, grilled on Truckee Sourdough bread. The Tunnel Creek Reuben piles pastrami, Swiss cheese, sauerkraut and spicy brown mustard atop marble rye, while the signature chicken sando gets bacon, lettuce, tomato, avocado and mayo on toasted whole wheat bread. In addition to the mozzarella pesto tomato combo grilled to a golden brown on tandoori naan, the menu also includes vegan burger and hummus wrap options. Gluten-free bread is available on request.
Daily specials feature selections such as a cheese steak sandwich with bell peppers and onions on a grilled pretzel roll, tacos, chicken enchiladas and burritos, and bison chili, plus a soup of the day—perhaps potato corn chowder, black bean, tomato or butternut squash. There's also a kids menu. Smoothies are blended to order, made with real strawberry, mango and blueberry; a self-serve fridge is stocked with sodas, juices, wine and vodka drinks.
Back to that post-adventure cold beer. In addition to a selection of bottles and cans, Tunnel Creek offers eight rotating brews on tap, including local pours like West Coast Haze IPA and Donner Party Porter from Truckee's FiftyFifty Brewing, Reverb Red by Alibi Ale Works in Incline and Lead Dog's Drink Local Blonde Ale out of Reno, as well as hard cider from Golden State Brewing. Wines by the glass are also available in summer.
There's a bonus at the bottom of the glass, cup and plate. By partnering with organizations like the Tahoe Area Mountain Biking Association, Tahoe Rim Trail Association and Tahoe Fund, Tunnel Creek Cafe is making sure that doing good, having fun and eating well will all continue in this corner of the lake for the foreseeable future.
---
Tunnel Creek Cafe is open daily.
1115 Tunnel Creek Road, Incline Village, NV
(775) 298-2502, tunnelcreekcafe.com
---
TQ Food & Wine editor Susan D. Rock would gladly sprint to the top of Tunnel Creek Trail for a grilled turkey pesto sandwich.