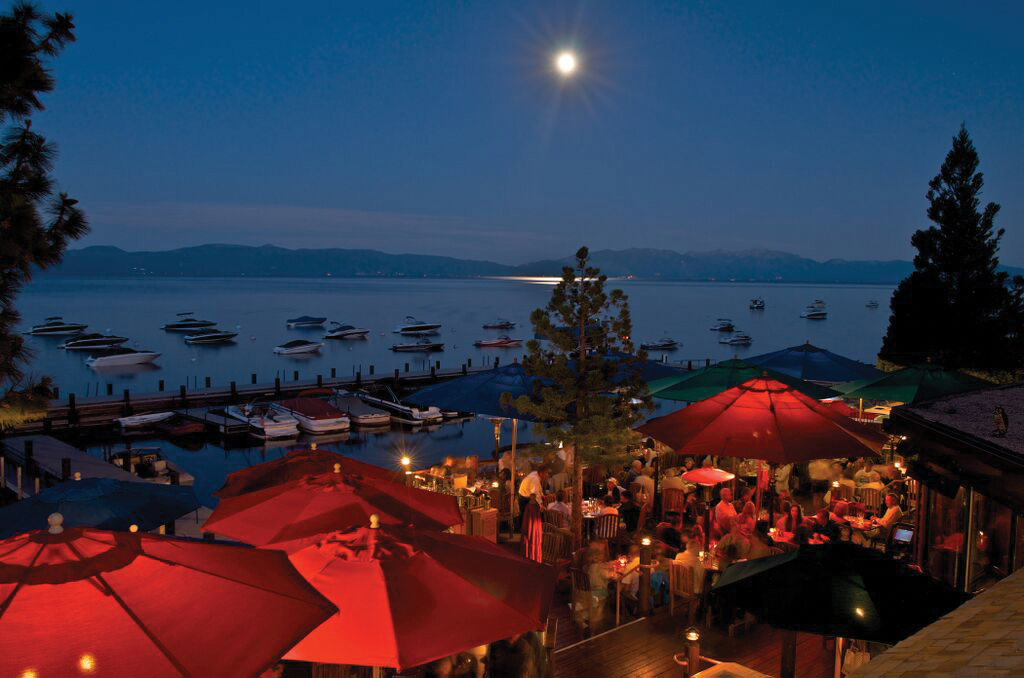 Sunnyside's spacious deck, photo courtesy Sunnyside Restaurant & Lodge
25 Apr

Tahoe's Best Boat-Up Dining
North America's largest alpine lake features an array of quality restaurants that cater to hungry and thirsty water lovers
Warmer weather is in the air and boat-up eateries around Lake Tahoe are dusting off their docks for the season. Pulling up to a restaurant by boat adds a little splash of something special, maybe even cinematic, to dining out. Be it for breakfast, lunch, happy hour or dinner, here are some top local spots to tie up and fill up. Reservations are strongly recommended where available, and, as always, check all information before heading out.
Best of the West (Shore)
Dating back to 1859, Lake Tahoe's original boat bar, Chambers Landing Bar & Grill, has long been a beacon for generations of West Shore families and summer-smitten 20-somethings; lore has it that its famous frozen punch was first mixed in owner Rick Brown's boating trophy. Casual eats like lobster rolls, turkey tacos and pulled pork sandwiches are served at the bar's dockside tables topped with wood salvaged from UC Berkeley's Memorial Stadium, while the grill goes higher-end with steak, fish and pasta dishes. (Reservations may be required to dock.)
Deep wicker chairs, a large and lovely outdoor deck that seats some 200 people, Old Tahoe architecture and dockside valets await at Homewood's upscale West Shore Cafe. Seasonal California cuisine here includes items like ahi tuna poke, house-made burrata and juniper-crusted elk loin, easily paired with craft cocktails such as the popular Mountain Mule or a glass or bottle from its Wine Spectator–awarded list. Call ahead, as this popular spot also hosts many private events.
Much-loved Sunnyside Restaurant & Lodge on Tahoe's West Shore is famous for the largest outdoor deck on the lake, its signature mai tai, crispy zucchini sticks (sold by the tens of thousands of pounds every year), fish tacos, sesame-crusted salmon rice bowl, hula pie and hustling boat valets and dock attendants who will assist with pier-side docking or buoy assignment. New executive chef Christian Novak's updated menu is also served indoors in the casual Mountain Grill and the more formal Lakeside Dining Room.
Northern Cravings
Tahoe City Marina's complimentary buoys and slips are available on a first-come-first-serve basis for two hours, providing boaters access to Christy Hill Lakeside Bistro, where chef Andrew Shimer's sophisticated modern American menu includes hamachi tartare and Moroccan spiced lamb, served in the lakefront dining room and deck and more casual "sand bar."
For something a little more lively, long-running Jake's on the Lake Hawaiian-themed restaurant at the Boatworks Mall rocks a mountain aloha "speak softly and wear a loud shirt" motto in its spacious dining room and deck, where customers come for Kimo's mai tais and seasonally selected seafood.
Gar Woods Grill & Pier in Carnelian Bay is famous for its 20 varieties of the Wet Woody, a cheeky frozen rum concoction replete with umbrella, as well as its surf-and-turf lunch and dinner menus. Boat valets can help navigate the buoys or pier.
Next door, paddlers of all sorts prefer to pull out at Watermans Cafe at Patton Beach for a healthy breakfast or lunch nosh, locally roasted Alpen Sierra and Pacific Crest coffee drinks, and Tahoe Teas to power up for the onward trip.
Eastward Bound
In Incline Village, pull up to the Hyatt Regency Lake Tahoe Resort, Casino and Spa's 275-foot floating pier and bar, hand your keys to the valet and order a Tahoe Blue Vodka Lakeside Lemonade. The casual picnic table beachside grill operates during the day, and for something more upscale head for the Lone Eagle Grille's dramatic lounge and dining room, al fresco patio and fire pit for New American classics and a wide-ranging wine list. Reservations required to dock.
A visit to spectacular boulder-studded Sand Harbor State Park can work up an appetite. Whether arriving by boat, kayak or paddleboard, you'll want to head to family-owned Kokanee Bar & Grill, where counter-service offerings like burgers, dogs and fish-and-chips, plus milkshakes, smoothies and soft serve, all scream "Day at the beach!"
Perhaps Tahoe's most exclusive on-water destination, the storied Thunderbird Lodge historic site welcomes its flagship-level supporters to tie up in its East Shore cove for members-only events, including winemakers' dinners, Thunder Thursday receptions and networking socials that the nonprofit holds each Tuesday and Friday night all summer long. 
Southern Hospitality
While boat captains may only dock briefly for passenger drop-off and pick-up at Zephyr Cove Resort, diners can linger as long as they like at the Sunset Bar & Grill, a stick-your-toes-in-the-sand sort of spot on the mile-long pine tree–lined beach, where rum runners and blue-cheese burgers are on the menu. The property's Zephyr Cove Restaurant, often referred to as "the Lodge," serves a simple breakfast, lunch and early dinner menu in its log cabin–themed dining room.
South Lake Tahoe's Riva Grill offers complimentary valet service and dockside dining at this South Shore sister to Gar Woods, where the Wet Woody also reigns and a similar menu of seafood-inspired apps, salads and entrées awaits. Ski Run Marina is also home to Artemis Lakefront Café, serving Greek-style breakfast, lunch and dinner indoors and on a patio within a stone's throw of the water.
Calamari, clam chowder, salmon tacos and fish-and-chips are perennial faves at the family-friendly Beacon Bar & Grill at historic Camp Richardson (aka Camp Rich), where the folks at the on-site marina will help find a spot for your ride while you dine on the deck or indoors. Their rum runner is so popular they sell the mix by the bottle.
---
Tahoe Quarterly Food & Wine editor Susan D. Rock looks forward to lots of time in her kayak and on these appetizing decks this summer.