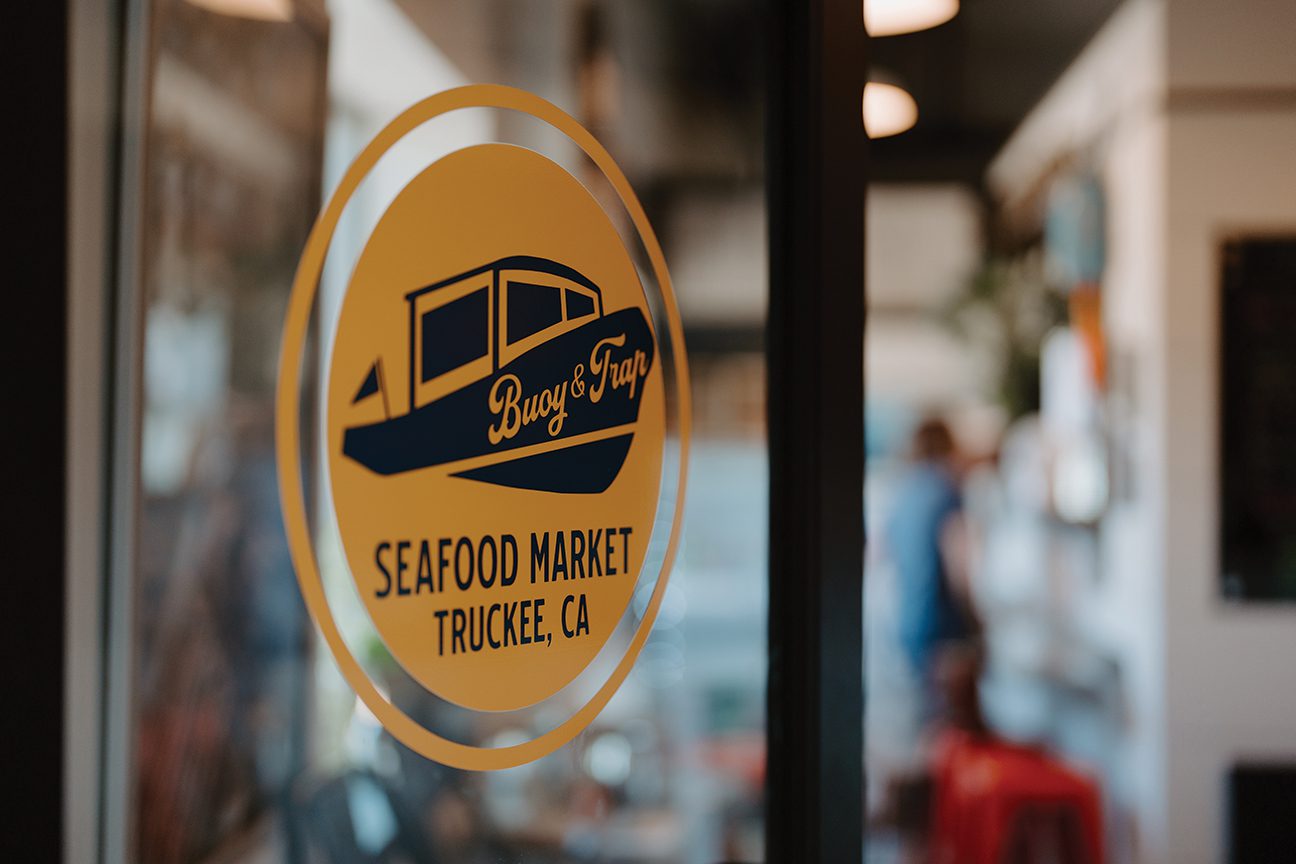 Photo by Tucker Adams, courtesy Buoy & Trap Seafood Market
25 Sep

New Spots
North Shore
SMOKE DOOR–LAKE TAHOE SARYO
9980 North Lake Blvd.  |  Kings Beach, CA | (530) 553-1064 | instagram.com/smokedoor_tahoe
Tyler Burges, former executive sous chef of San Francisco's multi-Michelin-starred Saison, heads up the hearth at this Japanese-inspired spot, which specializes in wood-fired cuisine presented in an impeccably styled eatery at the state line. Order a la carte or the omakase (tasting menu), which might include avocado toast (unlike any other of the ubiquitous offerings out there), seasonal "Toyosu" fish fresh from Tokyo's famous fish market by the same name, crispy pork belly, roasted eggplant, grilled cauliflower with soy butter and crispy shallot, smoked Mary's chicken, Japanese wagyu beef, and donabe rice made in an earthenware hot pot. Fifteen percent of proceeds go toward community activities, including culinary cultural experiences for children. D; $148 for 10-course tasting menu, $88 for six-course tasting; drink pairing is additional $78.
WHOLE TREATS BAKERY & COFFEE HOUSE
10015 Palisades Dr.  |  Truckee, CA | (530) 563-5096 | facebook.com/WholeTreats
Owner Elizabeth Weir, who previously collaborated with Coffeebar, has relocated to and remodeled the former Lifthouse Coffee space off Old Brockway Road next to Blue Coyote Bar & Grill. She specializes in baking gluten-free goodies such as quiche by the slice or whole, as well as spinach artichoke brioche buns, sausage or veggie breakfast burrito and sandwiches such as a bagel with Black Forest ham, Havarti cheese, arugula, house-made pickles and aioli. Of course, gluten-free cupcakes, cookies and breads also fill the cases. Coffee drinks are made with Truckee-based Pacific Crest beans; B, L; $7.75–$9.75
BUOY & TRAP SEAFOOD MARKET
10825 Pioneer Tr.  |  Truckee, CA | (530) 536-5301  |  buoyandtrap.com
Fifth-generation Rhode Islander Zack Duksta, whose motto is, "We don't shuck around," launched this spot in Pioneer Commerce Center selling sustainably sourced seafood as well as prepared items made from family recipes to take away or enjoy in-house. On the menu: "Stuffies," which are quahogs (clams) steamed, chopped and mixed with linguica, herbs and sourdough breadcrumbs, as well as lobster, asparagus and gruyere quiche, crab cakes, New England clam chowder, oysters, clams, lobster rolls, poke bowls and, on Fridays, fish tacos. They also operate Shuck Truck catering. L, D; $12–$28
South Shore
CANTARITO COCINA Y BAR
4125 Lake Tahoe Blvd.  |  South Lake Tahoe, CA  |  (530) 600-1695
Located at the Chateau at the Village in the former Ace High Saloon and Smokehouse space, this family-owned cantina serves up a menu stocked with Mexican standards plus standouts such as mango ceviche and aguachile verde, veggie empanadas, flaming queso, salmon Maya marinated in citrus achiote adobo and pollo Mextizo (half a rotisserie chicken with smoky roasted poblano sauce). Tortillas are made in-house, and the bar boasts a long list of tequilas and mezcals mixed into cocktails such as a spicy mango or hibiscus margarita, as well as plenty of Mexican beers by the bottle and on tap, and micheladas. Outdoor patio in season. L, D; $22–$35
SHEDCAT DISTILLERY & KITCHEN
3668 Lake Tahoe Blvd.  |  South Lake Tahoe, CA | (530) 600-2707  |  shedcattahoe.com
This rustic-styled spot in the Ski Run Center across from Red Hut Cafe serves a Latin-tinged menu that starts with breakfast—chilaquiles, jalapeño hushpuppies, skirt steak and eggs, horchata French toast, sourdough pancakes, beignets and açaí bowls. Lunch brings the likes of Lake Tahoe crawfish and trout ceviche, birria tacos, crawfish (also from the lake) po' boys, pork belly bao buns and a flank steak melt. Dinner entrees include an achiote-rubbed pork chop, fish in parchment and a Filipino-style rotisserie game hen. Small-batch spirits are distilled on-site; sip on creative cocktails such as bourbon-based smoked Caldor's Inferno. Open late on weekends; 20 percent service charge added to all checks. BR, L, D; $26–$39
THE WOODS BAR & RESTAURANT
3115 Harrison Ave.  |  South Lake Tahoe, CA | (530) 600-0921  |  thewoodslaketahoe.com
Born and raised in South Lake Tahoe, brothers Dillon and Connor McKeen remodeled and revamped the former two-story Pick 6 sports bar next to Sprouts Cafe in the Al Tahoe neighborhood, keeping the outdoor rooftop deck and some of the TV screens. Chef Chris Ibarra, who worked for the Anaheim Angels and Marriott hotels, oversees the gastropub-style offerings such as poke or carnitas nachos, burrata citrus salad, burgers, mac and cheese grilled cheese, as well as buttermilk fried chicken and ricotta beignets, ribeye asado with chile negro sauce and crispy-skin king salmon. The drink menu includes beers by the bottle, on tap and brewed on-site, as well as a few wines and cocktails such as the Sunburn martini mixed with mezcal, tequila, grapefruit, blood orange, mango and lime. L, D; $14.95–$26.95
Reno
PAPA WHAT YOU COOKING
50 South Virginia St.  |  Reno, NV | (775) 772-1229 | instagram.com/papawhatyoucooking
William Lyons, a local Baptist pastor who retired from his 25-year career as an investigator for the Nevada DMV, opened this New Orleans-inspired counter-service spot in the Basement shops at downtown's historic post office. The Southern bakery and soul food menu is stacked with fond memories of family favorites—sandwiches from fried bologna with melted cheddar to roast beef and gravy and po'boys. Shrimp and grits, red beans and rice, seasoned baked chicken wings and greens, and ham hocks with cornbread are also on the menu. Breakfast items include scrambled eggs, grits and bacon or a sausage bowl. On the sweet side, find sweet potato pie, pecan pie, German chocolate cake, Seven-Up pound cake and Southern caramel cake, as well as 20 flavors of house-made sorbet. B, L, $6–$11
MAPLE MOON COFFEE COMPANY
50 South Virginia St.  |  Reno, NV | (775) 384-1881 | maplemooncoffeeco.com
This spot, also located in the Basement, originally took over the Vida Coffee space, then shuffled spaces and now, in addition to its specialty coffee and tea drinks (think maple brown sugar shaken espresso and butterfly tea latte with vanilla matcha cold foam), has expanded its food offerings. Breakfast brings items like bacon and cheddar or spinach and bell pepper egg bites, as well as blueberry white chocolate or strawberry mango scones, while lunch offerings include grilled cheese on focaccia, chicken salad on a croissant and turkey pesto on ciabatta. Online ordering available. BR, L.
J RESORT
345 North Arlington Ave.  |  Reno, NV | (775) 348-2200  |  jresortreno.com
J Resort, Jacobs Entertainment's flagship property and Nevada's first art- and entertainment-themed resort, launched in the former Sands Regency after a multi-year remodeling and reimagining. The site serves as the anchor of a new 20-block mixed-use entertainment district called the Neon Line, which includes the Glow Plaza Festival Grounds. While improvements continue (ultimately totaling nearly $1 billion), the following beverage outlets have recently opened:
J PAUL'S ITALIAN STEAKHOUSE
(775) 348-7712 | jresortreno.com/restaurants/j-pauls-italian-steakhouse
This clubby steakhouse makes its own statement on classic dishes, starting with antipasti like JP's meatball rolled with beef, veal and pork, San Marzano tomatoes and Grana Padano, as well as wagyu steak tartare and lobster bisque, and a cold bar stacked with shrimp, oysters, lobster, clams on half shell and king crab. Entrees include steaks such as wagyu filet mignon, a 35-day dry-aged bone-in rib eye, along with pasta dishes like bucatini with pan-seared gulf shrimp, roasted lobster, sherry lobster sauce and fresh tarragon. For a sweet finish, save room for the After-Dinner Cigar—hand-rolled chocolate "cigar" with a praline and chantilly filling, chocolate raspberry matchbox and snifter of Godiva chocolate milk. D; $28–$102
HANNA'S TABLE
(775) 348-2352 | jresortreno.com/restaurants/hannas-table
This all-day eatery starts with the likes of streusel crunch French toast brioche and steak and eggs, later adding apps including house-smoked chicken wings with a desert honey sambal glaze and blue cheese crumbles, as well as fried Wisconsin cheddar cheese curds served with a smoky chipotle dipping sauce. Sandos such as Reuben and Philly cheesesteak are on the menu, along with plates like meatloaf with caramelized onions and tomato jam and Faroe Islands salmon with creamy farro, blistered tomatoes and asparagus. The full bar serves several local beers; outdoor seating available in season. B, L, D; $20–$32
HANNA'S EXPRESS
(775) 348-2200 | jresortreno.com/restaurants/hannas-express
Basically Hanna's Table to go, this quick-service grab-and-go spot sells breakfast burritos and croissants, muffins and pastries, salads, sandwiches and wraps, desserts such as seasonal cheesecake, and specialty coffee drinks. Open 24 hours.
THE BUFFET
(775) 348-2267 | jresortreno.com/restaurants/the-buffet
Located on the second floor, the Buffet boasts an array of stations featuring cold seafood selections such as crab legs, shrimp cocktail and clams, a prime rib carving station and eclectic offerings of roasted pork loin with picatta sauce, barbecued ribs, curried mussels, clams in spicy red sauce, fajitas, pork carnitas and a wide variety of desserts, including soft serve ice cream. Opens at 4 p.m. nightly. $26.99 adult, $16.99 child
BELLEVILLE WINE BAR
400 West Fifth St.  |  Reno, NV | (775) 622-0202 | instagram.com/bellevillewinebar
Located in the former Starbucks space, this casual wine bar at the corner of Nevada Street done up in indigo blue got its name from the colorful Parisian neighborhood. Owner Nico Gourdon has created several seating areas including a bar, tables, comfy sofa and shaded patio in season. Small plates are designed to pair with a long list of French-focused wines sold by the glass and bottle, and include foie gras, smoked salmon tartine, house-made pate, various bruschetta, a charcuterie selection and sweets such as chocolate pot de creme and mascarpone cheese pie with pecorino, guava and papaya jam. D; $8–$25
MO'S BY THE RIVER
718 Jones St.  |  Reno, NV | (775) 830-3043
After several years of plotting and planning, Reno resident Monique Moultrie, aka "Mo," has converted her single-family home garage in the historic Powning District near the Truckee River (same block as Beaujolais Bistro, Hub Coffee Roasters and Dorinda's Chocolates) into a wine bar specializing in organic small-batch wineries that are dry-farmed and are low- or sulfite-free, many of European origin. Hosting together with her partner, Glenn Klupsak, they keep the outdoor patio seating open seasonally and weather permitting. The Garage bar tasting room is available by appointment as well during inclement weather, and all wines are also available for purchase by the bottle. Bring your own food or order from nearby eateries for delivery.
FOX BREWERY & PUB
124 Wonder St.  |  Reno, NV | (775) 451-5010  |  foxpubs.com/reno
The former Silver Peak Restaurant and Brewery and, more recently, Huntsman Brewing space is now the second location for the Carson City-based Fox Brewery & Pub, which has kept the exposed brick, multiple dining areas and patio seating. Signature brews include Seamus O'Faolain Irish-style red ale, Hazy Street New England-style IPA and Buzzed Bee honey blonde ale. For food, look for a dozen flavors of wings, street tacos, beer-braised brisket (made with Imperial brown ale), Foxy fried chicken (employs Irish red ale), top sirloin steak, fish and chips, jambalaya, Santa Fe chicken salad, burgers and sandwiches such as pastrami Swiss. L, D; $12.95–$27.95
ATLAS LANDING
772 South Virginia St.  |  Reno, NV | (775) 273-8146 | atlaslanding.bar
Recent UNR grad Stephen Stewart now owns this former Midtown Whispering Vine space where he once bartended (Whispering Vine locations remain downtown at 4th Street and South Reno's South Creek shopping center). The sleek, stylish bar with large windows, steel, wood beams, exposed brick and outdoor seating, including a fire pit, features cocktails, local beers and wines by the bottle and glass as well as retail sales. A couple of snacks—a charcuterie plate and mixed nuts—are available, and you can also order from neighboring Mari Chuy's or Cafe de Thai.
NOODLE BOX KITCHEN
555 South Virginia St.  |  Reno, NV | (775) 633-4379  |  riceboxkitchen.com
Taking over the former Holey Schmidt Donuts space adjacent to the Discovery Museum, this airy, industrial-vibey spot comes courtesy of Perapol, the charismatic proprietor of the popular Rice Box Kitchen, also in the same complex. Decked out with a colorful stylized mural, tagline "Slurp Eat Drink Gossip" and floral-patterned oil cloth table coverings, the menu here is an all-you-can-eat shabu shabu-style hot pot—select normal or spicy broth, seafood, meat and vegetables, plus udon, rice or ramen noodles and cook it yourself in the bubbling hot pot at the table. High tea sim sum is served on Sundays. Reservations required. D; $37.50 adults, $15.95 children
REBEL PIONEER BAKERY
704B South Virginia St.  |  Reno, NV | (775) 771-7600  |  rebelpioneer.com
This unabashedly irreverent and activist woman-owned bake shop in business since 2017 with the motto "Not your mama's bakery" has opened a brick-and-mortar location at the restaurant-rich Sticks shopping center in Midtown. Closed for retail operations during their busy wedding season, this sweet spot turns out whimsical cakes, baked goods including cinnamon rolls, sourdough brownies, scones, cake balls and a six-inch frosted Lake Tahoe-shaped cookie, as well as breakfast sandwiches, using all-natural ingredients with many gluten-free and vegan options.
MEDITERRANEAN BAE
299 East Plumb Ln.  |  Reno, NV | (847) 346-7041  |  mediterraneanbae.com
Turkish native and recently relocated Reno resident Can Uzay brings this latest counter-service entry to the Reno Public Market Food Hall. The menu features Med favorites such as baba ganoush, hummus, tzatziki, falafel and kibbe (ground beef, onion, parsley and spices rolled in bulgur wheat and deep-fried). Entrees include shawarma-style shaved chicken or beef roasted on a vertical spit and shish kebabs, both served with rice pilaf and salad or wrapped with onion and tomatoes. Save room for the syrup-soaked double pistachio baklava. L, D; $9.95–$20.95
SILK ROAD INTERNATIONAL MARKET
1300 East Plumb Ln.  |  Reno, NV | (775) 410-9981
The first halal market in Northern Nevada, this tidy store in Airport Square (aka the Costco shopping center), which carries a wide variety of groceries and freshly baked goods from the Middle East and Central Asia, also has a small takeaway counter. The short menu features ground lamb or chicken kebobs grilled and served with rice and salad, and qabuli palaw, an Afghani-style rice with beef, raisins and carrots; bolani kachaloo is a potato-stuffed flatbread served with yogurt cilantro chutney. For something sweet, try the chickpea cookies, sesame date rolls or baklava. $13.99–$16.99
TACOS TIJUANA CANTINA
7499 Longley Ln.  |  Reno, NV | (775) 686-6342
This family-run business, which owns Tacos Tijuana in Sparks and at the Gold Dust West casino, moved into the airy mustard-colored modern building that was most recently An Asian Kitchen, adding Mexican-themed artwork; the plentiful booths, tables, bar and outdoor patio seating in season remain. The day starts with a breakfast menu of burritos, chilaquiles, chorizo and eggs, and El Jefe's Favorite El Borracho scramble. Lunch and dinner options include citrus-braised pork carnitas, chicken mole and house specialties such as molcajete with chicken, steak, chorizo, grilled cactus on a heated lava rock, and tacos pastor delivered to the table on a spit right off the grill. B, L, D; $15.99–$44.99
TAHOE NATURAL CAFE
10105 Veterans Pkwy.  |  Reno, NV | (775) 622-3630  |  tahoenaturalcafe.com
After 33 years running the successful and popular Sprouts Natural Cafe in South Lake Tahoe, owners Tyler and Cheryl Cannon expanded to Reno with a newly constructed 3,800-square-foot building at the corner of Steamboat Parkway, part of the new Downtown Damonte development. Branded to avoid confusion with Sprouts Farmers Market in South Reno, this spot serves the same South Lake menu of healthy soups, salads, sandwiches and bowls, including specialty items such as curry tofu bowl, spinach hummus burrito and Santa Fe tempeh burger, along with fresh-pressed juices and smoothies. Breakfast items include burritos, bowls and bagels; online ordering available. B, L; $10.50–$13.95
HUB COFFEE ROASTERS
15425 Wedge Pkwy.  |  Reno, NV  | (775) 622-0137 | hubcoffeeroasters.com
Mark Trujillo, who started out roasting beans in a tiny Midtown garage and is now partnered with three Colombian farms, launched his latest coffee shop location in South Reno's brand-new Meadow Creek shopping center, across from Reno ICE (the other two locations are downtown on River Street and Pine Street). In addition to coffee-based beverages, this fresh, light and bright bike-themed spot with plentiful seating inside and out serves up chai, tea, matcha and hot chocolate drinks. Food items include sweet and savory pastries, overnight oats, yogurt parfaits, avocado toast, and breakfast and lunch burritos. Online ordering available. B, L; $2–$12
THE CHEESE BOARD AMERICAN BISTRO & CATERING COMPANY
15435 Wedge Pkwy.  |  Reno, NV | (775) 323-3115 | cheeseboardcatering.com
Krista Kintop Phillips and her sister, Caitlin Kintop Fletcher, who bought the iconic Midtown Cheese Board in 2017 after working there for a decade, opened this second brand-new store in South Reno's Meadow Creek shopping center (ironically, on Wedge Parkway). The menu includes new items in addition to longtime customer-favorite soups, salads, hot and cold sandwiches, and graze board with artisan cheeses, plus cured meats, fresh and dried fruit, nuts, olives, whole-grain mustard, savory-sweet jam and crackers. Online ordering available. L; $10.95–$28.50
LONGBOARDS BEACH FIRED PIZZA
15435 Wedge Pkwy.  |  Reno, NV | longboardspizza.com
Also located in the new Meadow Creek shopping center, this is the second location for this beachy-themed pizza place (the first is in Golden Valley). This one is decked out in a big wave surfer mural and large TV screens, including a live ocean webcam. Meatballs and wings are on the menu for starters, along with a trio of salads. The 600-degree stone oven turns out calzones and pizzas (gluten-free crust available) ranging from 11-inch thin-crust to Detroit-style rectangular deep dish, its dough tossed with garlic, butter, olive oil and parmesan and topped with red sauce, oregano and parmesan. Wash it all down with a milkshake or pour from the impressive self-serve beer wall with some 25 rotating taps. Online ordering available. L, D; $10.50–$34