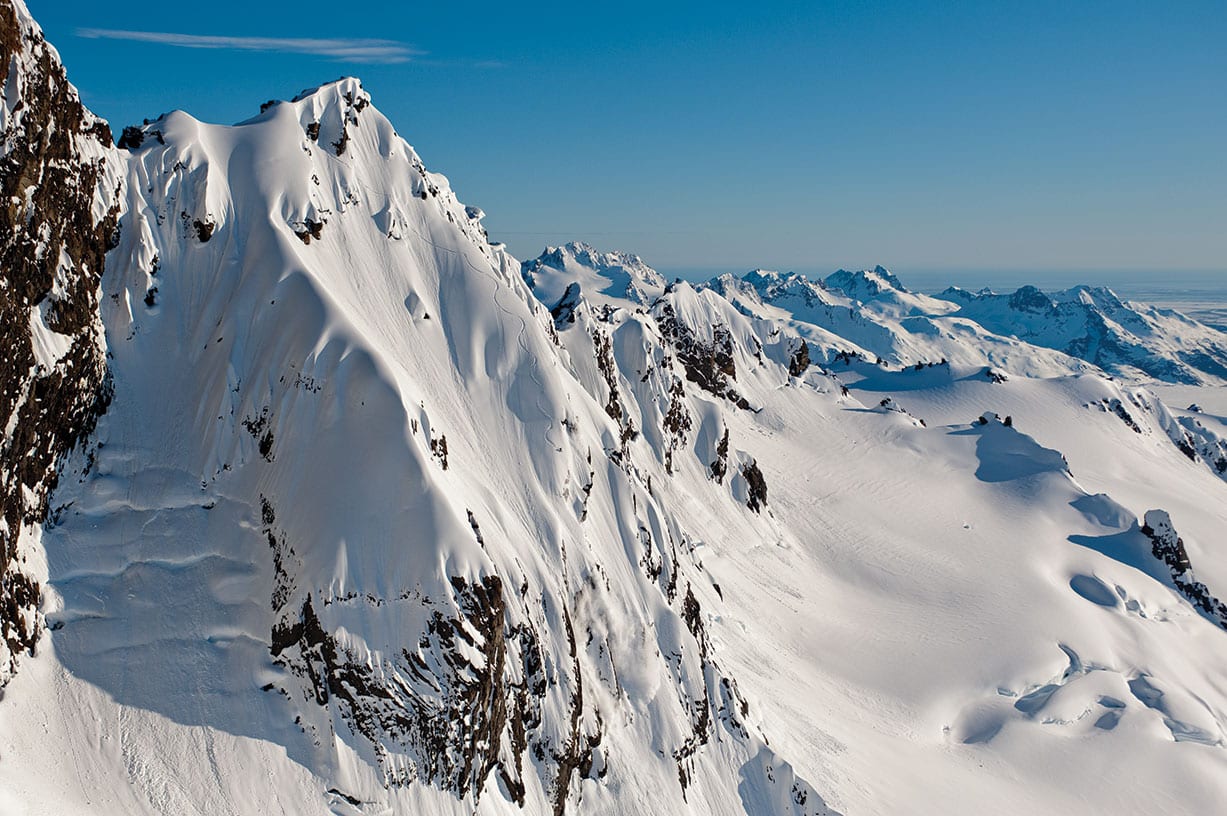 Mitch Tölderer's first descent of "Rattlesnake," shot on location with Points North Heli-Adventures while filming for Warren Miller's Flow State, photo by Court Leve
29 Sep

Frozen in Time
Tips for better ski and snowboard still photography in the expanding world of video
With drones buzzing around the backcountry and GoPros on every other helmet in the KT line at Squaw Valley, the amount of video being captured on the slopes is continually increasing. So why bother to craft a still image?
Take a look at the work of Tahoe's world-class ski and snowboard photographers—Tom Day, Hank DeVre, Jeff Engerbretson, Keoki Flagg, Jason Abraham, Court Leve, Seth Lightcap and Ming Poon, to name a few—and there is no doubt: Still photography not only has value, but the quality evolves and increases each winter.
It could be argued that the explosion of motion content has flooded our senses. But when you view an amazing video, there's always one perfect moment that sticks out—a freeze frame that lingers in your subconscious. It may even drive you to seek your own moments in the snow. The carefully crafted still image can deliver the same awe-inspiring reaction as a superb moving video, but with much greater impact. Standing in front of a beautiful large print of a skier or snowboarder ripping a pristine slope in the best imaginable light and conditions can be a near religious experience.
Here are a few pointers to help you create your own dream images on Tahoe's slopes.

Court Leve skis fresh snow above the East Shore of Tahoe on a bluebird day, photo by Grant Kaye
Visualizing the Shot
Before picking up a camera and thinking about settings and other technical aspects of the art form, think like a painter in front of a blank canvas. What is and what is not in your frame? Where are the strong elements—the skier, the horizon, the trees, the clouds, perhaps even Lake Tahoe below you—and where is the sun in the sky? The answers are dictated by where you stand, the time of day and the weather.
  Pre-visualization is the key to all great photography. Skilled snow-sport shooters will evaluate the light and the alignment of the athlete and terrain, either on slope before the shoot or even the night before as they toss and turn while fat flakes swirl down outside.
  On the day of, shooters will position themselves in just the right spot, at precisely the right time, shoot some test shots, and then make sure their camera settings are correct to capture the impending action. Only when they have their frame "ready" will they radio the athlete to head down the slope. 

Seth Frank on a cloudless Alaska day with Points North Heli-Adventures, photo by Grant Kaye
Nailing the Settings
When shooting skiers and snowboarders in action, shutter speed is key. Imagine a rider slashing down a field of powder under a crisp blue sky. The camera's shutter speed determines whether that athlete will be frozen sharply against a snowy backdrop or leaving a blurred trail of colors. Fast shutter speeds of 1/2000 up to 1/4000 can freeze the athlete mid turn, allowing that rooster tail of snow to hang in the air behind him or her.
Note that this may require a higher ISO setting, and a wide (fast) aperture in order to achieve the correct exposure (brightness versus darkness). If in doubt, set your camera to auto ISO and then choose the TV mode on a Canon or S mode on a Nikon or Sony. Select a fast shutter speed, and let the camera choose the ISO and aperture value. Use the (+/-) button, a two-finger operation, to bump the exposure either up or down as desired. Don't forget to check your white balance, and shoot in RAW, if you can, for maximum dynamic range.
  If your camera is a phone, you won't have as much control over settings as you would with an SLR camera—unless you use a third-party app that allows for manual settings, such as "Camera+" or "ProShot." So take care to shoot with the sun at your back and during the early morning or late afternoon.
The best tactic to avoid missing a shot is to shoot like the pros: In burst mode, where you hold down the shutter and your camera takes as many images as it can while you hold down the button. On an SLR, this is typically achieved with a button on the top of the camera. On an iPhone, you simply hold down the camera button. Try to frame your shot upwards and let the athlete pass through it without moving, holding the shutter down as he or she speeds through the composition. If you shoot 15 photos, review them, pick out the best one and discard the rest.


Rob McCormick tours on Donner Pass, photo by Grant Kaye
Court of Opinion
I spoke with one of my favorite local ski and snowboard photographers, Court Leve, who has been in the trenches producing compelling imagery for nearly 20 years. Leve shoots frequently for Warren Miller Entertainment and Points North Heli-Adventures, jetting to the best slopes in the world to shoot the best athletes.
  I asked Leve why still photography remains relevant in the motion era.
"If you think about the technical for a moment, video and film are captured at 1/50th of a second," says Leve. "This is too slow for freezing action, and a 'screen-grab,' or freeze frame from the video, will show the rider blurred, which looks bad. Still photography offers you the ability to shoot at much faster shutter speeds so you can perfectly freeze and capture the action."
  Leve's favorite snowboard photo of all time is a shot of Mitch Tölderer on the "Rattlesnake" line in Alaska's Chugach Mountains, which Leve captured during filming of Warren Miller's Flow State in 2012.
"This particular image has special meaning to me. It was a first descent—and hasn't been ridden since—on a really crazy line with significant consequences. When I shot this photo I was working with Tom Day, who was filming the line," Leve says, noting they both shot from a precarious little perch across the valley. "Video tells the story in motion over time, with music and editing, whereas a still photograph needs to try and capture all of that with one frame."
  He adds, "This shot of Mitch really needs to be viewed in large format to fully appreciate the line, risk and energy of the athlete and mountain. I have a copy over my fireplace that is several feet wide, and people typically stare at it for long periods of time just to try to take in the whole story."
  Still ski and snowboard photography, like Leve's shot of Tölderer, always offers a sense of awe that video can't deliver. To quote the venerable Ferris Bueller, "Life moves pretty fast. If you don't stop and look around every once in a while, you might miss it." Do yourself a favor: Slow down, and stop to take a look at ski and snowboard still photography from your favorite local artist. You won't regret it.
---
Grant Kaye has lived in the Tahoe area since 2000 and has been a full-time professional photographer and educator for the last five years. To learn more about the art of photography, join Kaye for one of his classes, workshops or seminars, www.grantkaye.com.


Alexa Hohenberg makes turns down a sun-splashed face in Alaska, photo by Grant Kaye