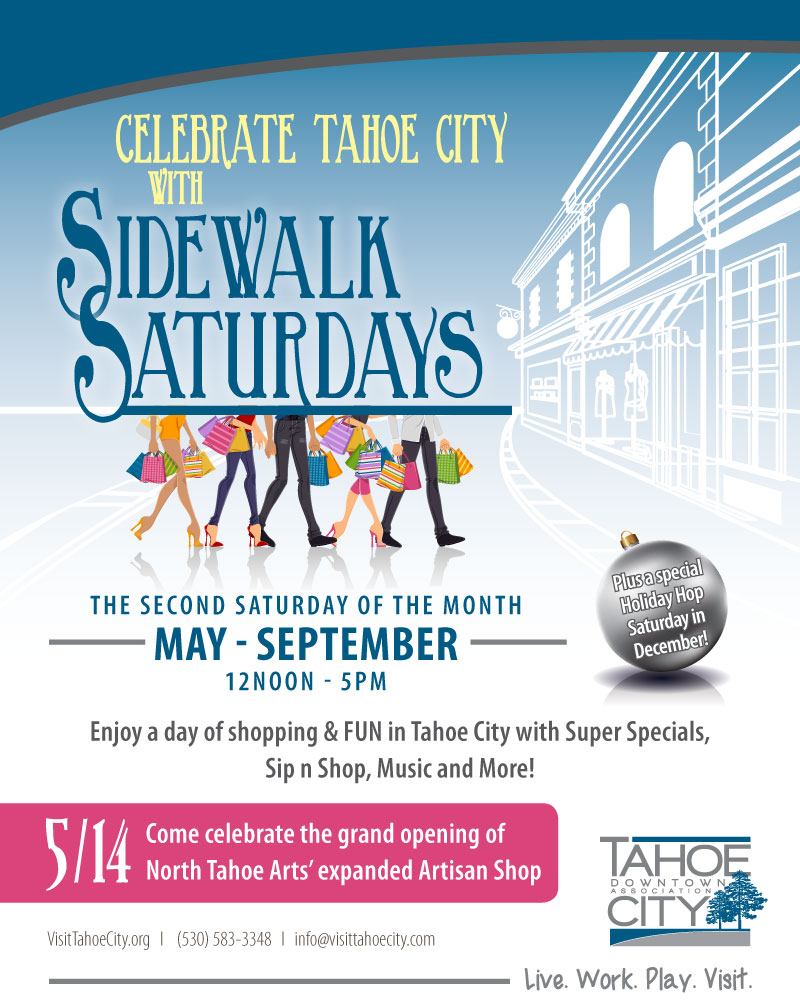 27 Apr

Sidewalk Saturdays in Tahoe City

The Tahoe City Downtown Association (TCDA) is excited to announce a NEW town wide event – Tahoe City Sidewalk Saturdays – scheduled on the second Saturday of each month, beginning May 14 and continuing through September 10, noon to 5pm.

The May 14 kick-off event coincides with the grand opening of North Tahoe Arts expanded ARTisan Shop. The ARTisan Shop offers visitors a larger selection and greater diversity of handmade local art such as painting and photography, jewelry, fiber art, glass, ceramics and more. This special grand opening event, held in conjunction with TCDA's new Sidewalk Saturdays, will run from noon-4pm and include complimentary snacks and wine. The ARTisan Shop is located at 380 North Lake Blvd, in downtown Tahoe City.

Fun activities will occur at every Sidewalk Saturdays event in downtown Tahoe City. Check the Tahoe City Downtown Association website, www.VisitTahoeCity.org, for monthly updates.

Bring your friends and family for shopping, dining, music and fun, all while supporting our incredible Tahoe City businesses. Just another fabulous reason to shop small in Tahoe City!

For more information, email Stacie Lyans at stacie@visittahoecity.com, call 530.583.3348, or visit www.visittahoecity.org.