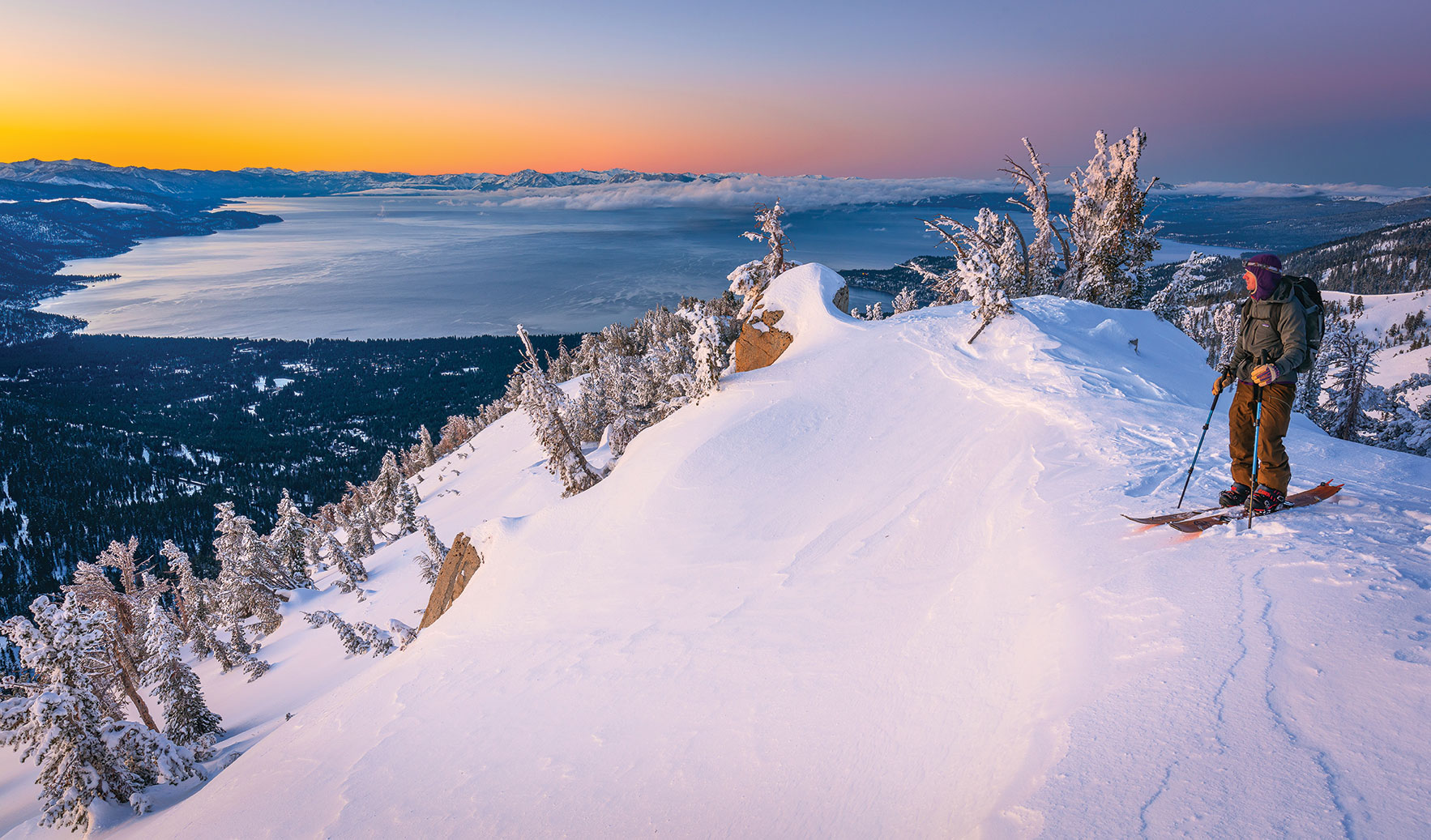 The view from Incline Peak, particularly at sunrise, is well worth the effort to get there, photo by Chad Brown
24 Sep

Turns Well Earned

The sweat, pre-sunrise alarms and taxing trail breaking are all worth it once you click into your skis or strap into your bindings. What awaits out there in the Tahoe backcountry—both the journey and the destination—is a bliss that is hard to describe. It's the bottomless powder, but also the pin-drop silence that envelopes you on a still winter day—the exhilaration of giving in to the fall line, but also the moment the winter sun crests the ridgeline and lights up your line like a headlight. You never know what a backcountry mission will bring. And capturing those fleeting, snow-cloaked moments is a passion of the talented artists who venture deep into the backcountry each winter with camera in tow.
---
---
---
---
Photographer Bios
Chad Brown is a Reno-based photographer and teacher at O'Brien Middle School. He is the father of two, including an almost-9-year-old who has appeared in two winning photos in Tahoe Quarterly's Best of Tahoe photo contest. Brown, who held his first photography show nearly a decade ago, is an enthusiastic backcountry splitboarder and backpacker and a mediocre mountaineer. If school is out, you're likely to find him trail running in the Mt. Rose Wilderness or on a backpacking trip in the Eastern Sierra between Mammoth and Bishop. You can find him on Instagram at @thesageandthepinesphoto
Ming T. Poon is an adventure sports photographer and director of photography based in Tahoe. Passionate about outdoor pursuits, travel and making a difference, Poon is inspired by culture, nature, music, friends and family. His work has been featured by Teton Gravity Research and Matchstick Productions, and has appeared in a variety of publications as well as international marketing campaigns for O'Neill, Jones Snowboards, POC Sports, NOW Bindings, Hestra Gloves, Intuition Liners, Leki Poles and more. www.mingpoonphotography.com
South Lake Tahoe resident Anthony Cupaiuolo is the owner of First Tracks Productions and can often be found enjoying the extensive backcountry playground beyond the South Shore. He is a regular contributor to Tahoe Quarterly, providing captivating images from his many adventures, regardless of the season.
Bronwyn Huddleson is an environmentally inspired photographer based in Truckee who is focused on capturing the essence of nature and our presence here. Huddleson's motivation is to make a positive impact on the environment and the people through her photography.  Sustainability and wellness practices, exploration and experiences with different cultures continue to offer creative inspiration.