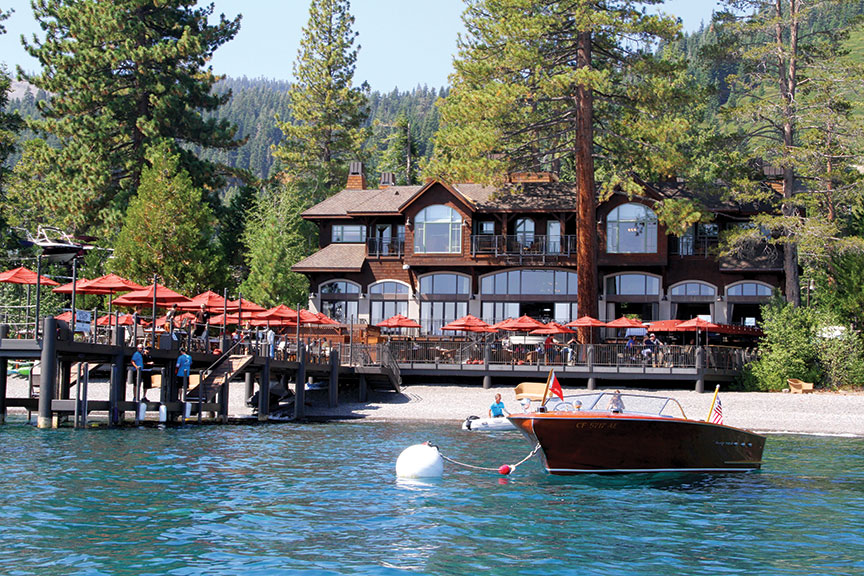 The West Shore Café on Tahoe's West Shore
01 Jul

A Homewood-Cooked Meal

Along a certain stretch of The Lake the locals like to boast, "The West Shore is the best shore."

Indeed, of the many fine reasons to chart a course for those parts, the West Shore Café sits high on the list, especially in summer.

A long-running lakefront landmark that has reinvented itself over the years, the West Shore Café dates back to the 1980s when developer Nate Topol bought a collection of cottages and a pier. A complete remodel kicked off in 2002 but troubles delayed completion and reopening of the eatery for several years. In 2010, San Francisco–based real estate investment firm JMA Ventures, which owns adjacent Homewood Mountain Resort, purchased the property and re-launched the restaurant that Christmas—to the joy of many a West Shore fan.

Panoramic lake and mountain vistas and a contemporary menu pair nicely here, whether inside the 120-seat soaring Old Tahoe–style space with floor-to-ceiling windows or, in the warmer months, out on the 130-seat deck, where valet boat service delivers diners to the dock.

Enjoy a hops and rye cocktail on West Shore Cafe's famous deck
Chef Kristi Ritchey, who came aboard last summer, built her skills and resumé with the Patina Group, starting at Pinot Blanc in Napa, then opening Eat at the Desert in Palm Springs and Eat on Sunset in Los Angeles. She helped plan and launch L.A.'s Murano Restaurant and Lounge and at age 26 was named one of the city's top chefs by L.A. Direct magazine. Recruited by celebrity chef (and Patina alum) Jonathan Rollo to help develop the concept and menu for award-winning Greenleaf Gourmet Chop Shop in Beverly Hills, Ritchey found herself on Food Network's Extreme Chef, NBC's Biggest Loser and Good Day L.A. as well as OC Metro magazine's 40 under 40 list.
How did a media savvy celebrity chef make the leap from star-studded L.A. to Lake Tahoe's sleepy shores?
"I am a small town girl at heart," says Ritchey. "I was born on a farm in Pennsylvania and my favorite town to cook in throughout my career was Napa. I was ready to go back north and this opportunity was too amazing to pass up. It's so beautiful here."
She adds, "Being at West Shore Café has allowed me to go back to my roots of seasonal cooking. There aren't really seasons in Southern California. I love that our produce comes straight from the Sacramento farmers market daily." Ritchey has grown fond of local purveyors like Habeger Produce and the Pasta Queen out of Gold River, California, sourced from the Tahoe Food Hub.
Ritchey's summer menu draws on Italian and French standards with starters like fritto misto as well as Prince Edward Island mussels in white wine. There's beef tartare with kettle chips and a house-made charcuterie plate. Seared scallops are fat, juicy and caramelized, sitting pretty on a brilliant orange carrot jus and topped with thinly shaved fried carrot. Her signature risotto "fries" are a rectangular take on the usually round arancini; the mushroom and goat cheese flatbread is topped with baby arugula, pecorino and truffle oil. And the ahi poke, while neither Italian nor French, with its shimmering cubes of chili-soy tossed tuna nested in a crispy wonton, is just plain delicious.

West Shore Cafe's ahi poke is a slam-dunk appetizer
One of the salads that says summer is a grilled peach and creamy burrata mix on a bed of arugula, topped with crispy prosciutto, spiced pecans and a peach balsamic vinaigrette—blending texture, flavor and color all on a long white rectangular palette of a plate.
Sometimes, Ritchey likes to blend Italian and French influences "to create new experiences." That approach is best seen in entrées like the duck confit cannelloni with roasted onion jus, as well as the rack of lamb with crispy polenta panzanella salad. Also look for a grilled rib eye steak with truffled potatoes, sweet pepper relish, topped with a farm egg and finished with a demi-glace. There's cioppino as well as an Alaskan halibut on a bed of brightly colored summer succotash finished with fresh herbs and thyme vin blanc. Vegetarians can opt for quinoa pilaf with grilled asparagus, mushrooms, baby tomatoes, shaved fennel and lemon ricotta.
The brunch-ish (as the café calls it)lunch menu includes many of the dinner selections, plus items like a pan-roasted salmon and quinoa salad, and a grilled chicken BLTA wrapped in naan, as well as early-in-the-day items like croque madame or a breakfast flatbread with goat cheese, fennel, potatoes, sausage, arugula and a farm egg.
While desserts like steamed lemon pudding cake and almond cake with roasted peaches are very grown up, the layered peanut butter Kit Kat bar satisfies a lingering childhood sweet tooth.

The peanut butter Kit Kat bar
At the bar, the hard-working staff cooks up their own bitters and syrups such as the lavender blueberry shrub used in the pretty-in-pink gin-based Homewood Meadows drink. Barrel-aged cocktails employ spirits and liquors put on oak for a month. The approachable wine list boasts a variety of smallish producers primarily from California, Oregon, Italy and France, with a number of wines by the glass; the highly rated Failla Russian River chardonnay listed on the menu for $90 was going for $10 a glass one evening.
During the summer months, live music fills the deck on weekends, provided by favorites like Ike & Martin, Ben Fuller and Jeff Jones; there are free s'mores at the lakeside fire pits on weeknights, family friendly movies on the lawn on Tuesdays and Painted Vine art classes Wednesday nights.
Hmmm. We're thinking there might be something to this 'best shore' business after all.
---
Susan D. Rock is Tahoe Quarterly's Food & Wine editor. During the summer months, find her kayaking, hiking with her two sons or, for the sake of research, at Tahoe's many food and wine events.
---
West Shore Café
5160 West Lake Boulevard
Homewood, CA 96141
(530) 525-5200
Summer hours: brunch/lunch from 10 a.m. to
3 p.m., dinner 5 p.m. to 9 p.m. daily; reservations recommended. Please check online schedule as hours may vary due to private events and functions.